Save Time & Money with the Hiboy S2 Electric Scooter
If you see someone riding an electric scooter in your town, it's most likely a Hiboy Electric scooter. These exciting, zippy, inexpensive electric scooters are perfect for newbies and steadily sweeping the globe.
Light-weight electric scooter to get you all around town
The Hiboy S2 is a conventional, powerful, sleek, and dependable 18.6 mph scooter that won't break the bank. This scooter is equipped with everything you'll need to go where you're going without the extra frills. This low-cost commuter electric scooter is ideal for short excursions, cost-efficient maintenance, and beginner riders searching for the most bang for their budget.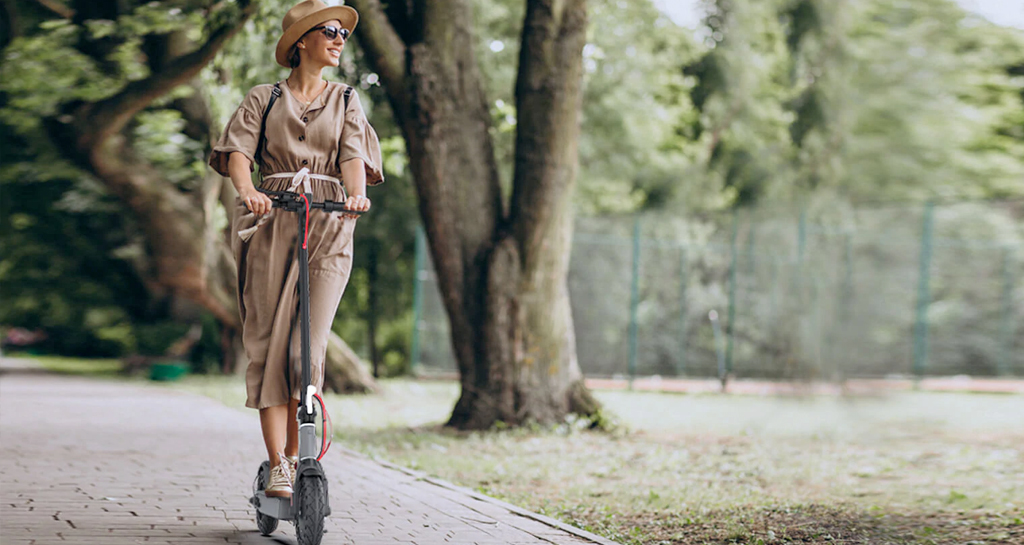 Big Bang for Small Bucks
No more traffic, buses, or late trains
The Hiboy S2's 18.6 mph top speed, 17-mile range, and sturdy build quality will get you on the road and where you need to go without a hitch for riders who need the necessities. Riders may rest easy knowing that Hiboy will back them up with a warranty and customer service for a smooth ride down the stretch.
Power: The 350W electric brushless hub motor allows for speeds of up to 19 mph and has a long battery life, providing a maximum range of 17 miles
Chassis: Hiboy electric scooters are composed of strong and durable quality with solid tires and a full frame, making them extremely smooth when accelerating and turning.
Braking: The Hiboy Electric Scooter S2 has three lights at the front, middle, and back. A disc brake and E-ABS regenerative anti-lock braking system make up the double braking system.
Hiboy S2 Mobile App – Simply link your scooter to the Hiboy Electric Scooters app to lock it and modify your speed and cruise control. It's compatible with both iPhones and Android phones.
Folding: Hiboy e-scooter collapses for simple storage in car trunks and closets, under subway seats, and other tight locations. For a more comfy ride, an additional detachable scooter seat is offered.
Warranty: New Hiboy S2 Electric Scooter is designed to be a reliable and enjoyable city commuting electric scooter with a quality warranty
News & Deals:
Hiboy S2 Features:
Thumb throttle for easy acceleration and fatigue free riding
Custom dash displays speed, battery, cruise control and more
Rear Dual shocks for plush comfort
Easy folding stem and handlebar for transport
Built in headlight, side lights, and taillights
Folding mechanism
Mobile App allows for locking scooter, speed control, ride modes, and ride preferences
Reasons to Buy:
For its size, this scooter is quite powerful
One of the most trusted and popular cheap scooters on Amazon

Light weight and easy usage
Reasons to Avoid:
Only good for short trips

Top

speed isn't the best for keeping up with traffic
Build quality reflects price, not goo for heavy usage
Is the Hiboy S2 Electric Scooter worth it?
When it comes to electric scooters, you get what you pay for. Manufacturers must budget their materials, components, design, and scale, a tricky balance for many to understand. The Hiboy S2 is a beautiful budget 18 mph scooter that will get you where you need to go for a fair price. It's made of rigid materials and has a good battery life to get you through the day. People adore this scooter, which is unquestionably a strong contender in the low-cost budget scooter category.
Technical Specs:
Top Speed: 18.6 mph
Motors: 350W Single/Dual Hub Motors
Brakes: Mechanical Disk Brakes (Regen)
Materials: Aluminum Alloy Frame
Price: $469
Gradient: 14 degrees
Battery: 36V 7.5AH Generic battery pack
Charge Time: 5 hours
Range: 17 miles
Tires: 8.5 pneumatic
Suspension: Rear dual suspension
Weight: 29 lbs
Max load: 220 lbs
Gotrax GXL V2 Electric Scooter
Summary
The Hiboy S2 is an excellent blend of power and cost. For less than $400, you get a top speed of 18 mph, a maximum range of 17 miles, and the Hiboy's build quality, which is not bad when compared to scooters that cost $900. Due to its low cost, this scooter is an excellent option for beginners, and it has received generally positive feedback from the community.

Similar Models to Hiboy S2
Frequently Asked Questions
Are there any known issues or defects with the Hiboy S2?
There aren't any significant issues with the Hiboy S2. We looked through forums, review videos, and scooter groups and discovered that the Hiboy S2 scooter is trustworthy. In general, this model's fabrication and quality assurance are great. Some riders may have noted minor issues, such as slight paint scratches or missing accessories, but nothing to be worried about.
What is the Hiboy S2's top speed?
While the Hiboy S2 is rated for 18.6 mph, most riders will be able to achieve this top speed; you can expect to cruise between 14 – 18 mph. To achieve maximum speed, ensure that the battery is fully charged and that you are in a safe area where you can safely ride this scooter at high speeds. The top pace will be slower for heavier riders climbing a steep hill or with a low battery charge. For added safety, please wear a helmet, gloves, and knee pads.
What is the Hiboy S2's maximum range?
The Hiboy S2 has a range of 17 miles, which is sufficient for getting around town and running errands. Please remember that maximum capacity varies depending on the rider, road conditions, weather, and usage. Most riders expect at least 60% of the advertised range in real-world situations.
Is the Hiboy S2 suitable for commuting on the last mile?
The Hiboy S2 is an excellent choice for last-mile commuters. Because this scooter is only 29 pounds, it will be simple to lift it into your car or up a flight of stairs. The stem of the scooter, like all scooters, folds down for easy storage and transportation.
Is the Hiboy S2 hard to maintain?
Electric scooters are effortless to maintain compared to bicycles or even automobiles. Learning a new skill or performing maintenance work can be difficult at first, but it is usually straightforward once you get the hang of it. Most scooters are low-maintenance, requiring only brake pads and tire replacements. We recommend that riders consult their Hiboy about tire and brake pad replacements. There are a lot of videos online that show you how to maintain your scooter, so do your research before buying. You can also rely on scooter mechanics to complete the task, though this can be costly over time.
Is the Hiboy S2 a good investment?
The Hiboy S2 is a fantastic value for money and one of the most popular scooters in North America. The S2 has a lot to offer, including a top speed of 18.6 mph, a maximum range of 17 miles, and Hiboy builds quality. This scooter is an excellent choice for commuter performance riding and has a lot of positive feedback from the community. Check out the Gotrax GXL, Inmotion S1, and Dualtron Mini for scooters that are similar to this model in terms of features, performance, and price.
Disclaimer: The information presented in this article is derived from extensive research, user reviews, and publicly available information. Our aim is to provide accurate and up-to-date content; however, it is crucial to understand that the opinions expressed are based on the information available at the time of writing. We strongly encourage readers to conduct their own thorough research and carefully evaluate their individual needs before making any purchasing decisions.
eWheels 2023 Summer Deals and New Launches are here!!!
Cheap, reliable, and powerful! TurboAnt Electric Scooters 2023 Sale!
Hi guys! This post may contain affiliate links, sponsored content, and advertisements. We get a small commission for covering topics that interest us (helps us keep the doors open). For more information, please see our privacy policy and disclaimer. Ride safe yall!
2023 Electric Unicycles:
Coupons & Deals:
Apollo Scooters: Get $50 USD worth of free accessories, upgrades, or spare parts with the purchase of a scooter. Code: VROOOMIN
REV Rides: Save $50 off Scooters and EUC's, Code: VROOOMIN
EVOLV Electric Scooters: Free Folding Lock (worth C$80) for every EVOLV model! Use Code: VROOOMIN-LOCK
To keep the site running and information flowing, Vrooomin.com participates in affiliate linking programs. We're also an Amazon Associate, which means we get paid for referring people to Amazon. Please support the channel by clicking on our links.