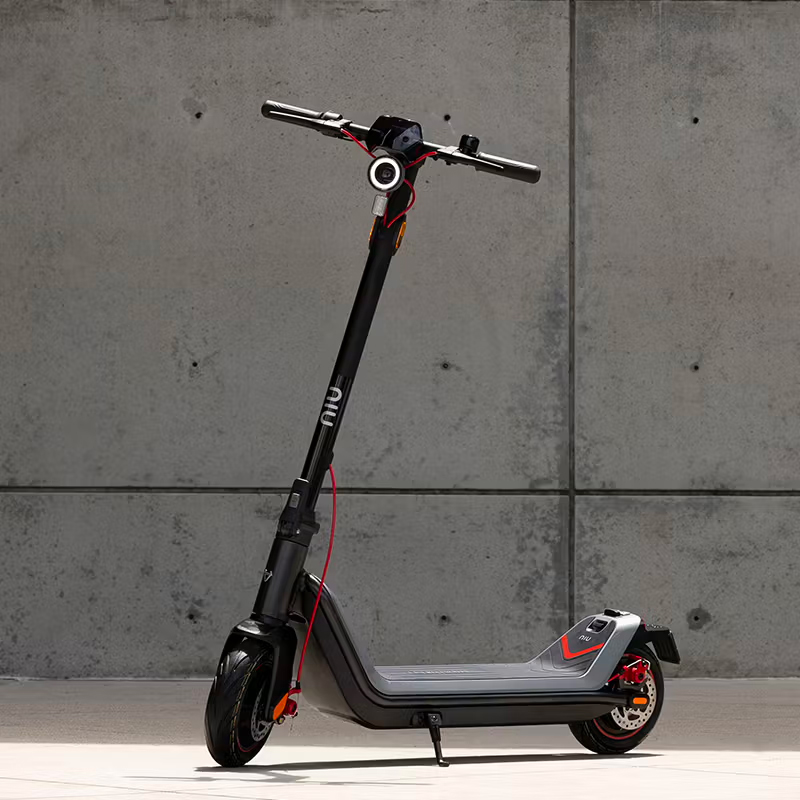 NIU KQi3 Max Electric Kick Scooter for Adults
The Biggest and Strongest Electric Scooter in the NIU Portfolio
I enjoy many things in this life: craft beer, rib-eye steaks, and bass tunes, but electric scooters are my absolute favorite. In the beginner commuter electric scooter category, NIU electric scooters are one of my top choices of brands to recommend to friends and family. They're some of the best value scooters in the market!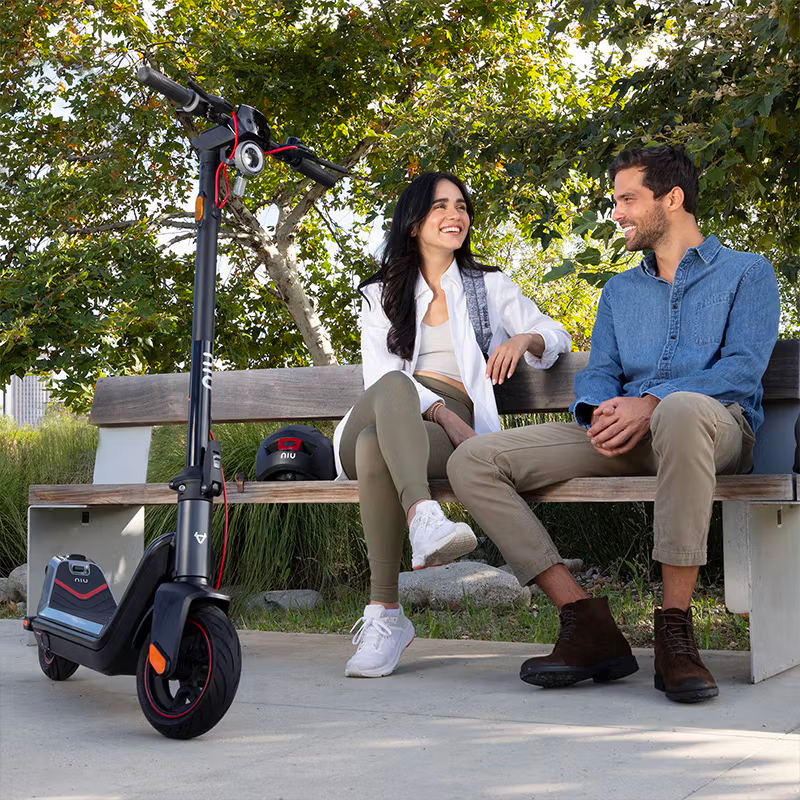 Quality & Affordable Scooters
The quality is hard to beat, especially for the price
We've reviewed two NIU scooters, the KQi3 and KQi2 models, and let me tell you this, NIU delivers on quality, performance, features, and taste, like a middle-shelf high-value whiskey. The thumb throttle has an easy, smooth feel and is neither too hefty nor too light, and it's perfect for the size and price. The KQ series scooters have everything you need to get to the office, grocery store, run errands, and even gong to the dentist.
Max Performance, Max Thrill
Scooters are fun and low maintenance
Go Farther
Go Faster
Max Comfort
Safe, Easy Folding
App-Connected
Be Safe, Be Seen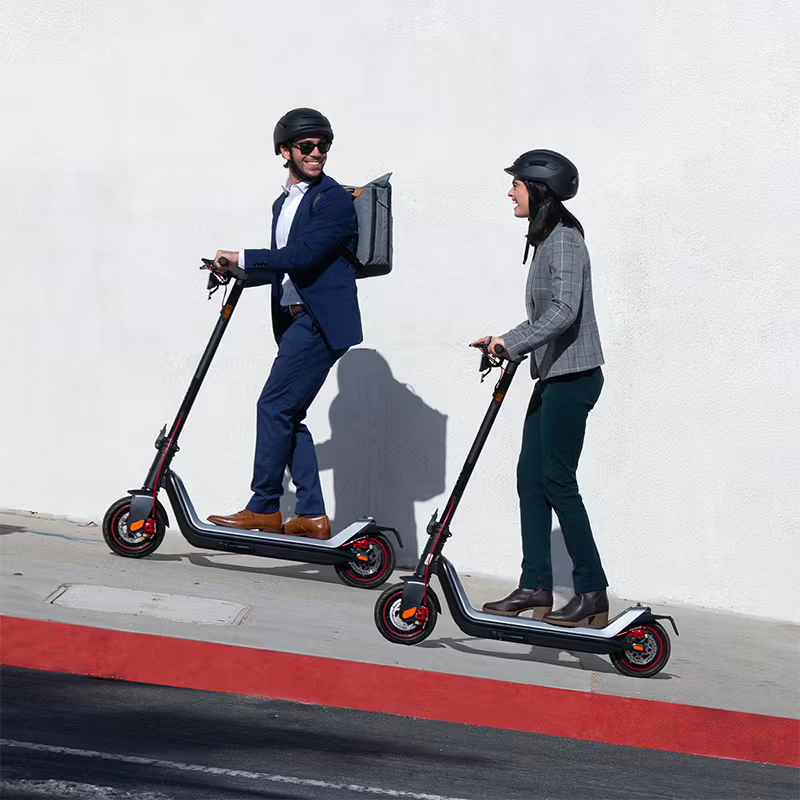 Commuting Made Fun
Once you scoot, you'll never want to go back to public transportation
Why bother with traffic, bus stops, and subways when you don't have to? I'll take the NIU over any experience with finding parking and parallel parking. While the NIU won't replace my vehicle when I pick up the girls from ballet, it's all the scooter I need to get to my local plaza and run errands. DMV, taxes, take-out food, and procuring knick-knacks, the NIU KQi3 will make any mundane task an urban adventure.
Save Money: You can ride up to 362 miles further for free every year
Safety: When you slow down, you get more power. NIU's smart regenerative braking system will help you charge the battery when you hit the brakes.
City Riding: 40+ miles on a single charge is enough to get you around the city.
NIU KQi2 Pro Electric Scooter Review Video
Strongest in the Line-up
23 MPH top speed, max range of 40 miles!
The NIU KQi3 MAX is my favorite NIU scooter since it's the big kahuna, the big dog, and the strongest and largest NIU model in their portfolio. This model has a 900W maximum motor and a 48V 608WH battery pack that can go up to 40 miles on a single charge. Can you imagine all the fun you'll have, the time saved, and all the fresh air you'll enjoy? Riding an NIU scooter can be quite addicting.
Stronger Power Output
450W rated Power
25% Uphill Climb
10+ Year Lifespan
High Commuter Performance
900W of pure fun, you'll love the acceleration
At its top performance setting, this scooter can reach speeds of up to 23 mph. Yes, you read that correctly. For its size and price, the KQi3 is a beast that can be stored easily. With only 46 pounds, this scooter is easily folded and small enough to tuck under your desk or in your closet while you're crushing it at work or washing the dishes in the kitchen.
Brakes: The KQi3 Max has a patented dual-action brake caliper made of die-cast aluminum alloy that allows it to stop very quickly and get rid of heat well.
Color: NIU's well-known red paint makes it "pop."
Tires: Self-healing tires will automatically seal when punctured, preventing flat tires and making your ride worry-free.
Folding: The NIU mechanism for folding is safe and easy to use. With just a straightforward move, you can fold or unfold.
App: Use the app to make riding better, keep track of your rides, and lock your kick scooter.
Fully Featured
Everything you need in a scooter
You get a lot of value and features for around $950, some times this scooter goes on sale, so look out for the sales that happen periodically. The developers behind the KQ series ensured that everything you needed was included in this scooter and did an excellent job.
The KQi3 Max comes standard with dual solid disc brakes, a comprehensive lighting system, an IP54 water certification, an LED display, and a complete mobile app. This scooter is well-built and equipped with cutting-edge technology.
Many of the same functions are available with NIU and competing companies, NIU has a superior finish and build quality. If you've ever had a cloned Amazon product, you'll be able to recognize the difference between the imitation and its premium counterpart.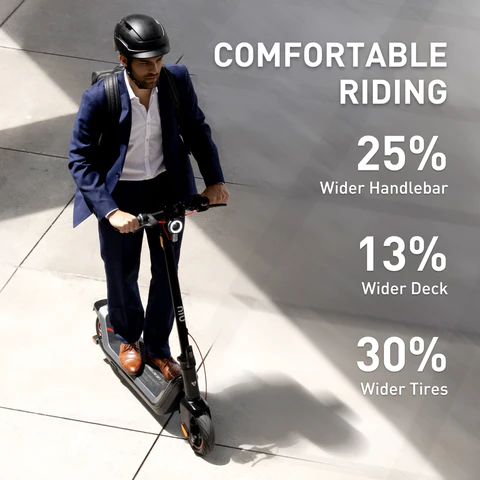 Technical Specs:
Name: NIU KQi3 Max
Range: 40.4 miles
Top Speed: 20+ mph
Max Rider Weight: 265 lbs.
Min Rider Age: 14+
Vehicle Weight: 46.3 lbs
Brake: Dual Disc Brake (Front & Rear) + Regenerative braking
Lights: Front & Rear LED/Side reflectors
Riding Modes 4 modes: E-Save/Sport/Custom/Pedestrian
Wheel Size: 9.5″
Display: LED Dashboard
Waterproof: IP54
Voltage: 48V
Battery: 608.4Wh
Battery Charge Time: 8 hours
Rated Power: 450W
Max Power: 900W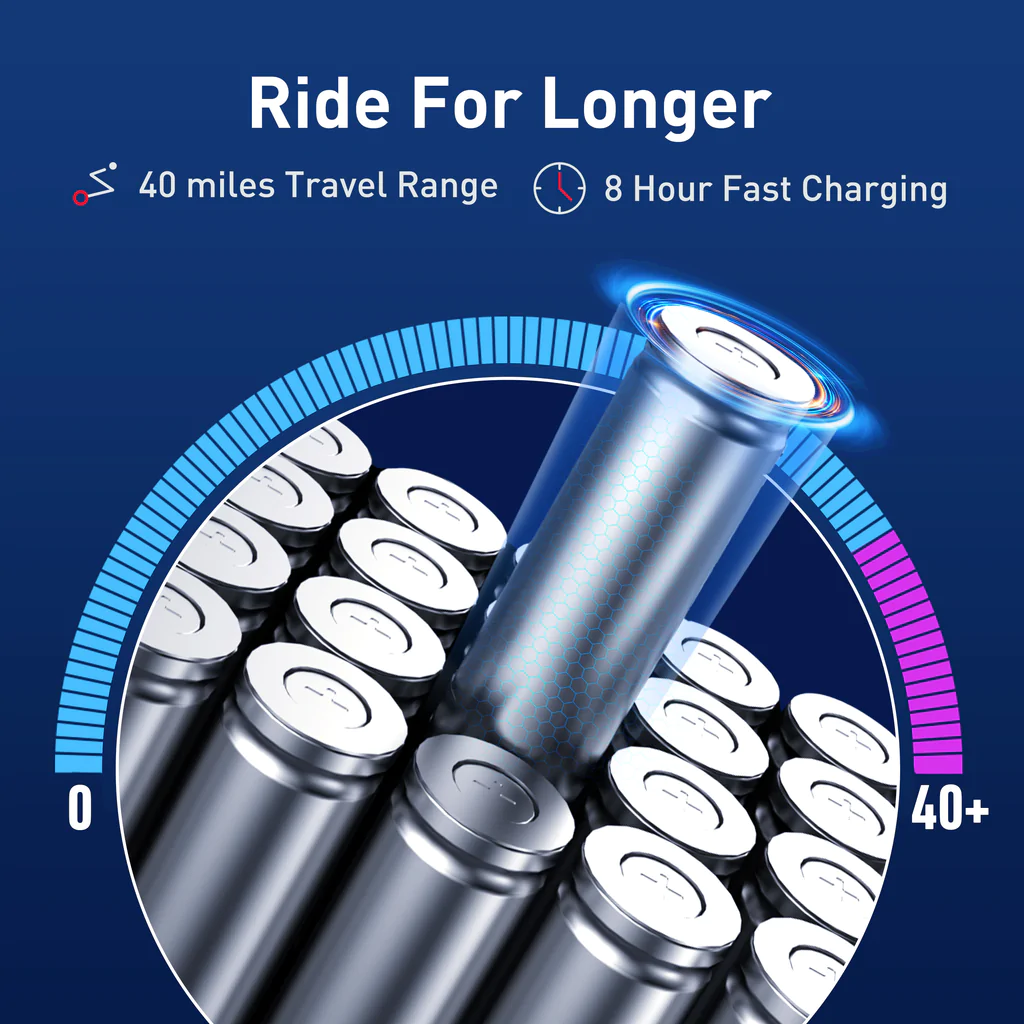 NIU KQi3 Pro Electric Scooter Review Video
Worth it?
The best NIU in the portfolio and also the most expensive!
Speed: At 23 MPH, this is more than torque, power, and speed for any adult in any urban or suburban commute. This scooter is a fantastic primary or secondary for riders who want a quality, low-cost scooter.
Range: The 608WH is rated for 40 max miles of riding. In its highest setting, the Max will get a minimum of 20 miles per charge, which is plenty of range within a day.
Features: The Max has everything you need, lights, bells, tires, app, and speed. It's an all-inclusive model for any adult.
Quality: NIUs have some of the best quality molds, features, components, and drivetrains in the industry. Their packaging, QA, and designs remind me of Apple's standards and design aesthetic. The app has excellent features to customize the ride experience, troubleshoot issues, and register ownership. I hardly use the app outside of set up, and I regularly use the display console to turn on the scooter and its lights and change drive modes.
Improvements: All this scooter needs is a digital bell and a complete suspension system. I would love to see a more robust model with a 52V battery and higher speed. I would be willing to pay extra money for a high-performance version.
NIU KQi3 Max Electric Scooter Review
The KQi3 Max is the most powerful and expensive model in the NIU lineup. We love the performance, specs, features, and build quality. We highly recommend this scooter to riders looking for the best bang for their buck. This can be your day-to-day scooter to rack up miles for advanced riders.
Summary
You get what you pay for with NIU. This scooter has everything you need to ride safely. A two-year warranty covers each NIU. That's how sure they are of their product. Contact their customer service if you have any problems, and they will ensure you are taken care of if any replacement parts or repairs are needed.
Niu Electric Scooters:
Disclaimer: The information presented in this article is derived from extensive research, user reviews, and publicly available information. Our aim is to provide accurate and up-to-date content; however, it is crucial to understand that the opinions expressed are based on the information available at the time of writing. We strongly encourage readers to conduct their own thorough research and carefully evaluate their individual needs before making any purchasing decisions.
eWheels 2023 Summer Deals and New Launches are here!!!
Cheap, reliable, and powerful! TurboAnt Electric Scooters 2023 Sale!
Hi guys! This post may contain affiliate links, sponsored content, and advertisements. We get a small commission for covering topics that interest us (helps us keep the doors open). For more information, please see our privacy policy and disclaimer. Ride safe yall!
2023 Electric Unicycles:
Coupons & Deals:
Apollo Scooters: Get $50 USD worth of free accessories, upgrades, or spare parts with the purchase of a scooter. Code: VROOOMIN
REV Rides: Save $50 off Scooters and EUC's, Code: VROOOMIN
EVOLV Electric Scooters: Free Folding Lock (worth C$80) for every EVOLV model! Use Code: VROOOMIN-LOCK
To keep the site running and information flowing, Vrooomin.com participates in affiliate linking programs. We're also an Amazon Associate, which means we get paid for referring people to Amazon. Please support the channel by clicking on our links.