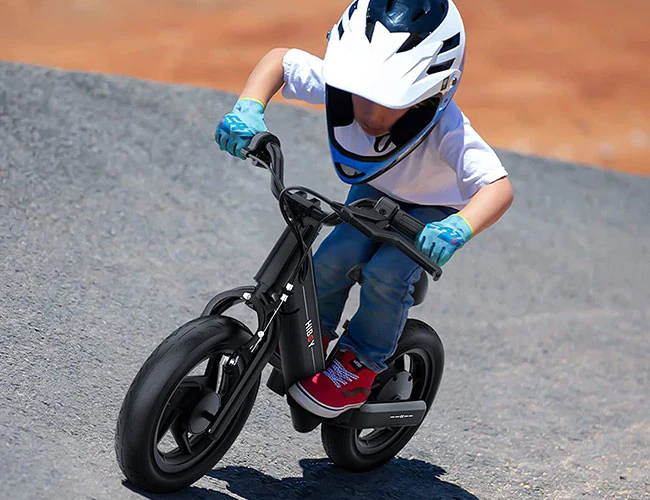 Hiboy BK1 Electric Balance Bike For Kids
9 MPH, 17 lbs, 50WH Performance Champion for Kids
This bike is so awesome. It brings a smile to my face. I love the idea of kids starting a little earlier than we did on our electric journey. The Hiboy BK1 is a 17-pound starter bike with some monstrous specs for its size. The BK1 has a 25V 50WH high discharge pack, a 100W nominal motor, a single disc brake, and can top off at nine blistering miles per hour. The BK1 performance e-bike has a max 50 min ride time and is ready to bring envy to the neighborhood kids on the block. Let's look at the specs and features listed by HIboy below.
Balance with the Hiboy BK1 Balance Bike
Balance and coordination at a young age
The BK1 is an electric balance bike for younger riders from 2 to 5 years old and under 77 lbs. The cycle is for kids who are comfortable balancing or riding on two wheels and needing a larger platform to practice their skills.
Technical Specs:
MODEL: Hiboy BK1
Size: 34.7 × 19.5 × 22.2 inch
Battery Capacity: 25.2V/2AH, Lithium Battery
Max Distance: 6miles ( 10km )
Product Weight: 17.64 lb (8 kg)
Recommended Age: 3 ~ 9 years old
Motor: 5.5inch, 100W, brushless motor
Max Speed: 9 mph (15km/h)
Max Climbing Capability: 5°
Max Load: 77 lbs / 35 kg
Speed Mode: 1 gear
Brake System: Disc brake
Charger Time: 3-5 hours
IP Rating: IPX4
Confidence at an early age
For kids 2-5 years old, under 77 lbs
By the time they're ready to upgrade to their next bike, the BK1 electric balance bike will have to help them develop confidence and skills for that next stage in their biking.
Easily Adjust Height – You may easily adjust the cushion height to suit your children. The children can efficiently operate the e-bike thanks to the adjustable handlebars. With a weight of only 17.6 lbs, the bike may be used without power, just like a traditional balance bike.
100W Safe Power – The 100W nominal motor will make your child happy. The EK1 electric balancing bike's 100W motor allows the kids to experience the thrill of power-assisted speed while building confidence on two wheels.
Super Smooth Ride – The long-range battery extends the range of the kids' electric bikes, allowing them to run for 30-50 minutes. A persistent beep indicates that the bike needs to be charged when the battery is low. With the BK1 balancing bike, your children may safely learn the fundamentals of handlebar controls and bar-mounted front brakes!
Develop your Children's Coordination
Earlier the better!
The Hiboy BK1 electric balancing bike is designed for little children to help them learn to ride a bike. It can be the first bike for small children aged 2 to 5, allowing them to enjoy fast speeds while still developing their coordination abilities.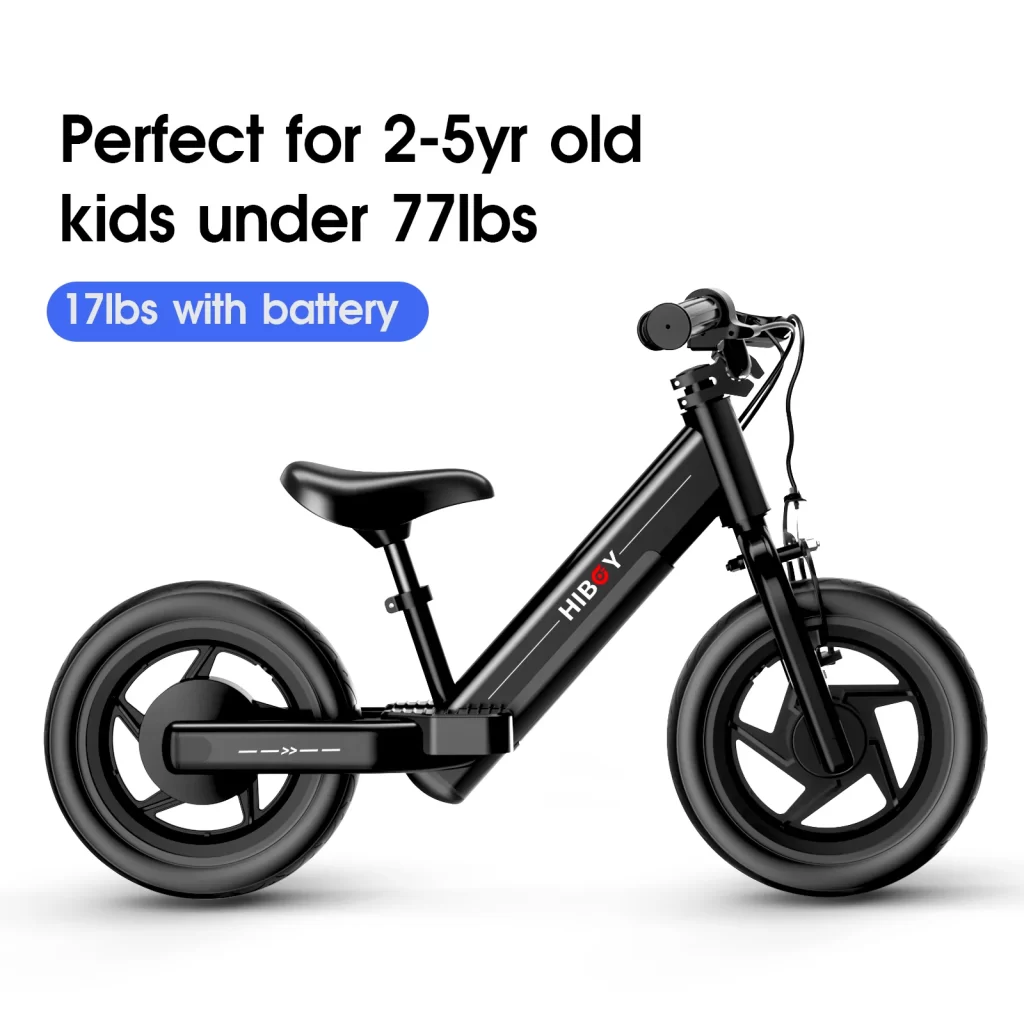 Easily Adjust Cushion Height
Adjustable as your child grows
Adjusting the cushion height for your children takes roughly 3 seconds. This bike has more safety features than any other electric starter bike, which will help keep your children safe while they learn. We all know that youngsters, especially boys, enjoy having memorable outdoor experiences. The Hiboy electric bike allows youngsters to ride with family and friends, making them courageous and outgoing.
Strong and Smooth Ride
Easy riding for the young ones
The Hiboy balance bike, which has a solid and smooth 100W electric motor, allows kids to ride at speeds up to 9 mph. This bike features an auxiliary engine that accelerates smoothly, making it easy for your child to ride. Please ensure your child is wearing safety gear and being watched while riding.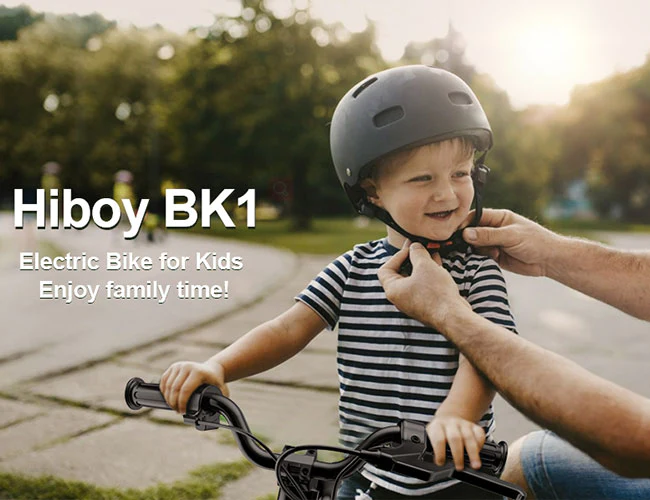 This is the bike you've been waiting for
Ready to ship!
The bike is intended for children who, like their parents, wish to experience the freedom and joy of riding a motorbike. A kids' electric bike you can rely on for every youngster. The BK1 electric bike incorporates anti-slip grips and a foot pedal to keep youngsters from falling off while riding. The traditional break level on the front wheel and the e-brake on the rear motor wheel allows the children to stop the bike, making riding safe, exciting, and secure.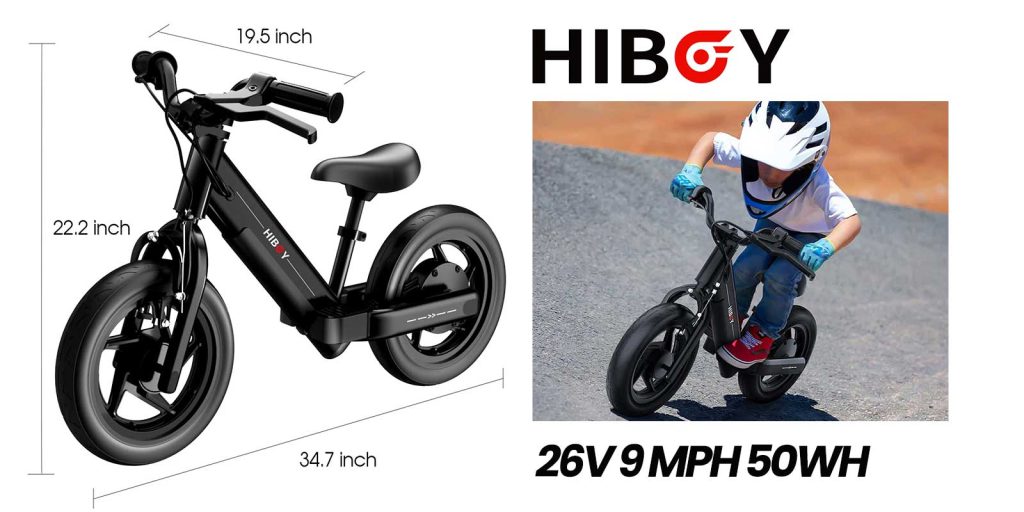 Worth it?
Fun bike to get kids started, discover balance without pedaling
We're all busy adults nowadays, and taking your kids to preschool can be time-consuming. Why not have a device that empowers your toddler to be self-sufficient and to learn lifelong bike lane commuting skills? (We're kidding, of course!)
All jokes aside, this looks like a fantastic bike. I appreciate the fact that children may begin riding at an early age. It's fascinating to imagine that, as technology progresses, future generations will grow up riding about in low-powered lithium-powered bikes on weekends.
Speed: More than enough power for your child; please monitor when riding.
Range: Again, more than enough range for any child
Quality: Please check all components, screws, and wiring before enjoying
Is it too early for children? Would you consider purchasing a BK1 bike for your child? Please use prudence regarding safety measures, equipment, and riding. Please let us know whether you believe the BK1 is suitable for children in the comments section.
Best Electric Unicycles
Disclaimer: The information presented in this article is derived from extensive research, user reviews, and publicly available information. Our aim is to provide accurate and up-to-date content; however, it is crucial to understand that the opinions expressed are based on the information available at the time of writing. We strongly encourage readers to conduct their own thorough research and carefully evaluate their individual needs before making any purchasing decisions.
eWheels 2023 Summer Deals and New Launches are here!!!
Cheap, reliable, and powerful! TurboAnt Electric Scooters 2023 Sale!
Hi guys! This post may contain affiliate links, sponsored content, and advertisements. We get a small commission for covering topics that interest us (helps us keep the doors open). For more information, please see our privacy policy and disclaimer. Ride safe yall!
2023 Electric Unicycles:
Coupons & Deals:
Apollo Scooters: Get $50 USD worth of free accessories, upgrades, or spare parts with the purchase of a scooter. Code: VROOOMIN
REV Rides: Save $50 off Scooters and EUC's, Code: VROOOMIN
EVOLV Electric Scooters: Free Folding Lock (worth C$80) for every EVOLV model! Use Code: VROOOMIN-LOCK
To keep the site running and information flowing, Vrooomin.com participates in affiliate linking programs. We're also an Amazon Associate, which means we get paid for referring people to Amazon. Please support the channel by clicking on our links.