NYC DOT Releases Classifications Electric Bicycles & More
Do you know what kind of e-bike you have? Concerned that your bike may not be legal to ride on New York City streets? Not to worry, we've got you covered. The NYC DOT has released revised e-bike classification lists. Keep in mind that not everything is an e-bike. In the micro-mobility market, there are a variety of new machines and technologies, some of which blur the distinctions between e-bikes.
Some bikes include pedal assist and throttle, while others are e-scooters, mopes, unicycles, and other variations. Let's look at the categorization lists below to find out what kind of e-bike you have.
It may or may not be an E-bike
Not everything is an e-bike. Learn the difference between emerging micromobility options, including pedal assist, e-bikes, e-scooters, mopeds and more.
Get There Safely by E-Bike
Types of Electric Bikes & Mopeds
Where you are allowed to ride and how you ride in NYC depends on the type of e-bike or vehicle you have. E-bikes and mopeds can look quite similar. Check the chart below to see what type you have.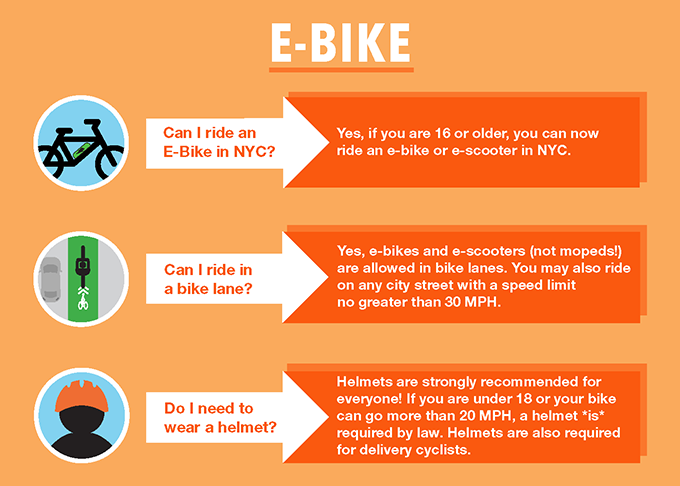 Electric Scooters
E-scooters are allowed in NYC. They have handlebars and a floorboard or seat and may be powered by electric and/or human power.
You must not operate an e-scooter over 15 MPH.
E-scooters may be ridden in bike lanes and on streets with speed limits no greater than 30 MPH. Do not ride e-scooters on sidewalks.
Helmets are recommended for all e-scooter riders and required for 16 and 17-year-olds.
Bicycle Maps
New York City Bike Map 2022
Request NYC Bike Maps or Bike Smart Guides
Looking for a copy of the NYC Bike Map? Visit a local NYC bicycle shop! Free copies are available at most shops, citywide, as well as at many libraries and community centers.
Printed copies of the 2022 NYC Bike Map will be available in late Spring.
For fastest service for small requests (25 or fewer) of NYC Bike Maps or Bike Smart Guides, please call 311. For larger requests, please use the online order form.
The NYC Bike Map is updated annually in the spring.
Bike Safety
Cycling is one of the truly great ways to travel around New York City — biking is efficient, affordable, equitable, healthy and environmentally friendly.
Bike Smart: The Official Guide to Cycling in NYC
Bike Smart: The Official Guide to Cycling in New York City is a helpful handbook with information on making your cycling trip safer and easier, including tips on using newer bike facilities such as protected lanes and bike boxes, and basic tips for locking your bicycle. NYC DOT distributes up to 325,000 copies per year of the New York City Bike Map, which contains the most important rules of the road highlighted in the Bike Smart Guide.Download Bike Smart in English, Arabic, Bengali, Chinese, Haitian Creole, Italian, Korean , Polish, Russian or Spanish
Helmet Fittings and Giveaways
NYC has provided over 260,000 free bicycle helmets to New Yorkers.
NYC DOT's Office of Safety Education and Outreach partners with organizations and council members to host free helmet fitting events across the city.
Helmet fittings and giveaways follow special protocols:
All events will be socially distanced
Waivers must be completed on-site
The person receiving the helmet will need to be present at the event
Participants will view a training video to learn how to properly fit a helmet
Participants will be given disposable tape measurers to measure their head's circumference to select a helmet that is right for them
Six Steps to Properly Fit a Bike Helmet (pdf)https://www.youtube.com/embed/WNWyGYB4owg?rel=0
Audio described version of this video in EnglishConsejos para medir cascos de bicicleta (Spanish)腳踏車安全帽佩戴須知 (Chinese)
Free Contactless Helmet Fitting Events Calendar
Please check with your local council member to see if they will be hosting a helmet fitting. You may also visit NYC DOT's Facebook Events page, or contact NYC 311 to check for an event near you.
Date
Time
Borough
Location
Sponsor
10/2/2022
12:00pm – 3:30pm
Manhattan
Party On Park (Park Avenue & East 118th Street)
Council Member Diana Ayala
10/15/2022
11:00am – 2:30pm
Queens
Bowne Park (32nd Avenue & 159th Street)
Council Member Vickie Paladino
10/22/2022
11:00am – 2:30pm
Bronx
Pelham Bay Park
Council Member Marjorie Velazquez
10/23/2022
8:00am – 11:00am
Bronx
Tour De Bronx (Joyce Kilmer Park, East 161st Street & Grand Concourse)
10/29/2022
11:00am – 2:30pm
Manhattan
Dunlevy Milbank Center (14-32 West 118th Street)
Children's Aid Society
Get There
NYC DOT's Get There bike encouragement campaign features real New Yorkers enjoying bike lanes across the City. The ads include a mix of familiar neighborhoods and landmarks, along with average cycling time, highlighting how quick a trip by bike can be. The campaign includes a collection of postcards, each focusing on an important cycling topic. NYC DOT's Bicycles and Greenways Unit and Safety Education and Outreach Unit distribute the campaign postcards, bike lights, and bike bells at public outreach events.
We know you're enjoying the ride, but there's more than just getting there by bike! Check out some common myths and facts about biking:Biking Myths vs Facts Postcard, Spanish & Chinese (pdfs)
NYC Biking Laws
Cyclists have all the rights and are subject to all of the duties and regulations applicable to drivers of motor vehicles.Download a complete list of New York City bicycle rules
Ride in the street, not on the sidewalks (unless rider is age 12 or younger and the bicycle's wheels are less than 26 inches in diameter).
Ride with traffic, not against it.
Stop at red lights and stop signs. Obey all traffic signals, signs and pavement markings, and exercise due care to avoid colliding with pedestrians, motor vehicles or other cyclists. At red lights, wait for the green light and/or the bike or pedestrian signal.
Go with the walk, unless there's a bike signal or sign, cross the intersection when the pedestrian signal shows the "walk".
Use marked bike lanes or paths when available, except when making turns or when it is unsafe to do so. If the road is too narrow for a bicycle and a car to travel safely side by side, you have the right to ride in the middle of the travel lane. Bicycling is permitted on all main and local streets throughout the City, even when no designated route exists.
Use a white headlight and a red taillight, as well as a bell or horn and reflectors.
Bike Laws Postcard, Spanish & Chinese (pdfs)Go with the Walk Postcard, Spanish & Chinese (pdfs)
Safety Tips
For a Safer Ride
Ride in a straight line, obey traffic signs and signals, and do not weave in and out of traffic. Riding predictably reduces your chances of a crash with a motor vehicle.
Look, signal and look again before changing lanes or making a turn. Establish eye contact with drivers. Seeing a driver is often not enough. Make sure drivers see you before executing a turn or riding in front of a turning car.
Watch out for car doors. Be prepared for the possibility that a car door may be opened in your path. When possible, leave room between yourself and parked cars (3 feet is generally recommended) so that you can avoid a door that opens unexpectedly.
Stay visible. Wear brightly colored clothing for daytime riding. At night, use reflective materials and lights.
Use your bell. Your bell alerts drivers, pedestrians and other cyclists to your presence, it is required by law.
Don't wear earphones. By law you may wear one earbud, but keeping your ears clear is a much safer choice.
Wear a helmet. Helmets are required by law for children age 13 or younger and working cyclists, helmets are a good idea for cyclists of all ages.
Get There Safely Postcard, Spanish & Chinese (pdfs)
Look Out for Others
Watch: Look out for people with long white and red canes or traveling with guide dogs. Remember, people with disabilities cannot always see or hear you, or tell how far away you are.
Wait: Always let people walking go first and keep the crosswalk clear. Remember, pedestrians have the right of way on shared paths and Greenways. Do not ride up behind or around a guide dog and owners.
Warn: Slow down near people walking, and ring your bell or call to let them know you're coming close.
Slow Your Roll Postcard, Spanish & Chinese (pdfs)
While we continue to promote cycling as a means of transportation, we also want to help you identify our 175,000+ low vision or blind pedestrians.https://www.youtube.com/embed/tBc8DJtuRic?rel=0Watch an audio described version of the Cycle Eyes video
For Children on Bicycles
Children under age one cannot be carried on a bicycle.
Children must be carried in a properly affixed child carrier.
Cyclists 13 or younger must wear an approved helmet.
Children 12 or younger should ride on the sidewalk, while adults must ride on the street.
NYCycles Newsletter Archive
The official newsletter of NYC DOT's Bicycle Program is NYCycles, an email newsletter providing updates on new bike lanes, bike-friendly events, and tips for new and experienced riders.
Subscribe to NYCycles monthly cycling email newsletter
Best Electric Unicycles
Disclaimer: The information presented in this article is derived from extensive research, user reviews, and publicly available information. Our aim is to provide accurate and up-to-date content; however, it is crucial to understand that the opinions expressed are based on the information available at the time of writing. We strongly encourage readers to conduct their own thorough research and carefully evaluate their individual needs before making any purchasing decisions.
eWheels 2023 Summer Deals and New Launches are here!!!
Cheap, reliable, and powerful! TurboAnt Electric Scooters 2023 Sale!
Hi guys! This post may contain affiliate links, sponsored content, and advertisements. We get a small commission for covering topics that interest us (helps us keep the doors open). For more information, please see our privacy policy and disclaimer. Ride safe yall!
2023 Electric Unicycles:
Coupons & Deals:
Apollo Scooters: Get $50 USD worth of free accessories, upgrades, or spare parts with the purchase of a scooter. Code: VROOOMIN
REV Rides: Save $50 off Scooters and EUC's, Code: VROOOMIN
EVOLV Electric Scooters: Free Folding Lock (worth C$80) for every EVOLV model! Use Code: VROOOMIN-LOCK
To keep the site running and information flowing, Vrooomin.com participates in affiliate linking programs. We're also an Amazon Associate, which means we get paid for referring people to Amazon. Please support the channel by clicking on our links.