Juiced Bikes Introduces the $1,499 28 MPH RipRacer E-bike
The RipRacer comes in 2 models, a 20 MPH and 28 MPH variant
A $1,499, 28-mph e-bike is available from Juiced Bike. You read it correctly: they're selling a fat-tire Class 3 e-bike for half the price of other premium fat-tire bikes. This will be a fantastic deal; fat-tired e-bikes have seen a boom in demand since the pandemic, and the market is only increasing.
I'm a stickler for finding a good deal, not wasting money, and investing in worthwhile things. I only had one question: do you think bikes that go 28 mph can cost $1,499? Finally, do you believe it will be worthwhile in the end? In this case, I would choose Juiced Bike's RipRacer electric bike, which has a top speed of 28 mph and is of good quality and value.
Range: Up to 55+ Mile Range
Speed: Up to 28 MPH
Motor: 750 Watt
Bike Weight: 66lbs (54lbs w/o battery)
Tires: 20″x4″ All-Terrain
Classification: Up to Class 3
Transmission: Single Speed
Weight Capacity: 275 lbs
Pedal Assist: Cadence Sensors
Security: Integrated AirTag & SmartTag Compartment
Safety: Integrated Headlight & Tail Light
Brakes: Hydraulic Disc Brakes
Juiced Bikes RipRacer Electric Motorbike
The demand for personal electric vehicles is growing
The market for electric bicycles has changed dramatically in the last two years, and inventories are increasing. Due to drastically shifting labor markets and inflation, the market is currently exceedingly unclear.
The RipRacer is an option for people like me who are more frugal with their money. Where else can you get an e-bike with fat tires, a top speed of 28 miles per hour, a 52-volt battery, a stunning hardtail frame, and hydraulic brakes? Furthermore, the RipCurrent has a cadence pedal assist, a safety bell, an LCD, and a twist throttle.
There are numerous affordable bikes available on the market for $1,500. However, just a few of these bikes have a 1.3-kilowatt drivetrain, 25 amp controllers, and a range of 55 miles.
Class 2 Model
Motor: 750W (1,040W Peak)
Battery: 52V 10.4Ah
Watt: 541 Watt Capacity
Controller: 20 Amp
Display: Basic LED Display
Torque: 64 N.m. Max Torque
Throttle: Half Length Twist Throttle
Charger: 2Amp Charger
Class 3 Model
Motor: 50W (1,300W Peak)
Battery: 52V 15.6Ah
Watt: 777 Watt Capacity
Controller: 25 Amp
Display: LCD Advanced Matrix Display
Torque: 80 N.m. Max Torque
Throttle: Half Length Twist Throttle
Charger: 2Amp Charger
They don't compare
Only few come close
None of them will feature a stunning chassis weighing 66 pounds and housing a security AirTag compartment. Not a single one of them. When you buy a bike with this much value, you are making a long-term investment that will pay off in the form of a pleasurable commute, fuel savings, and good times all around.
Worth it?
You can't be the price, some come close
We love everything about this bike; the only disadvantage is that it lacks suspension; it has a rigid fork and hardtail frame. What are your thoughts on whether the Class 2 and Class 3 electric bikes is the bike you need or deserve?
Juiced Bikes debuts the RipRacer with a top speed of 20-28 MPH. Is this the ultimate budget performance bike for $1,299 and $1,499? The RipRacer comes in two models, class 2 and class 3. Class 2 goes to 20 MPH, and Class 3 to 28 MPH.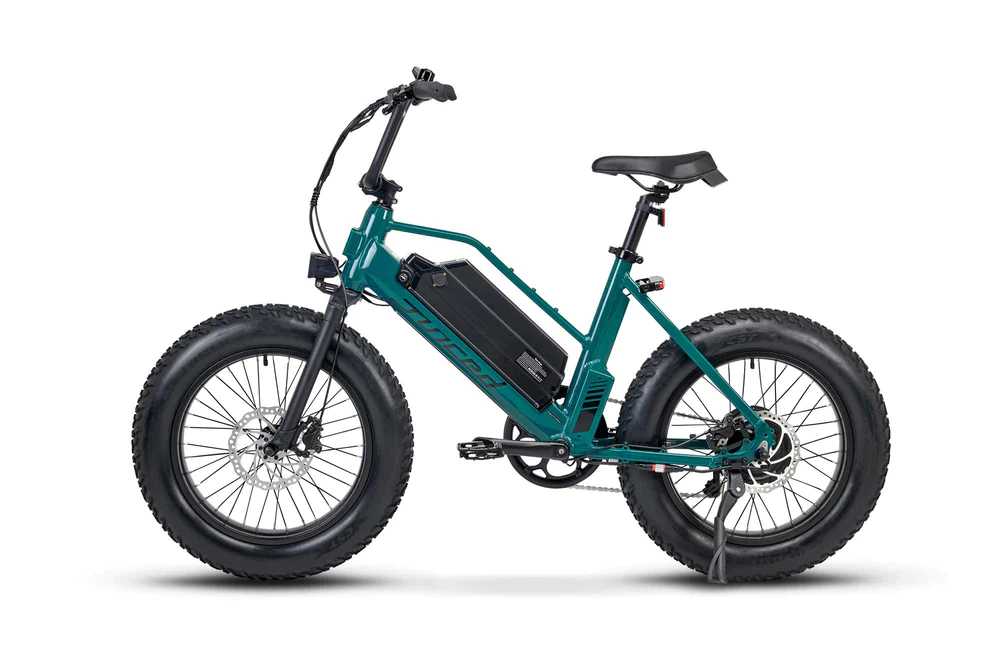 Affordable 28 MPH Electric Bike
Details and specs taken from Juiced Bikes
Meet the new RipRacer, the ultimate FUN SIZE fat-tire electric bike. Featuring an upgraded 52-Volt battery and powerful 750-Watt motor, you'll have plenty of torque and power for conquering hills and dominating the road!
The RipRacer has premium features like hydraulic disc brakes, Cadence Pedal Assist Technology, integrated brake light, and a convenient adjustable-height seat. Our most size-inclusive electric bike comfortably fits riders 5′ – 6'3.
CLASS 2 MODEL: Equipped with a 52V/10Ah upgraded battery, improved water-resistant construction & an Apple AirTag compartment. The Class 2 model offers a smooth and fun ride with speeds of 20MPH and a riding range of app—35 miles on a single charge.
CLASS 3 MODEL: The upgraded Class 3 RipRacer features a new 52-Volt 15Ah battery, improved water-resistant construction & an Apple AirTag compartment, PLUS our signature Advanced LCD Display can unlock the popular Race riding mode. The Class 3 model operates confidently at speeds up to 28MPH and an impressive 55-mile riding range on a single charge.
Battery
You won't come close to finding this size battery on a comparably priced e-bike. The NEW RipRacer 52V 10Ah or 15Ah battery comes with an AirTag/SmartTag compartment, an attached handle for carrying, IP65 waterproofing allowing for water to be sprayed on the battery from any direction, and built-in LED battery power level monitoring.
The formula for e-bike batteries is straightforward: BIGGER BATTERY = MORE RIDING RANGE among the largest capacity available for removable downtube battery packs. These batteries offer unrivaled value in the e-bike market and power a riding range of 55+ miles per charge.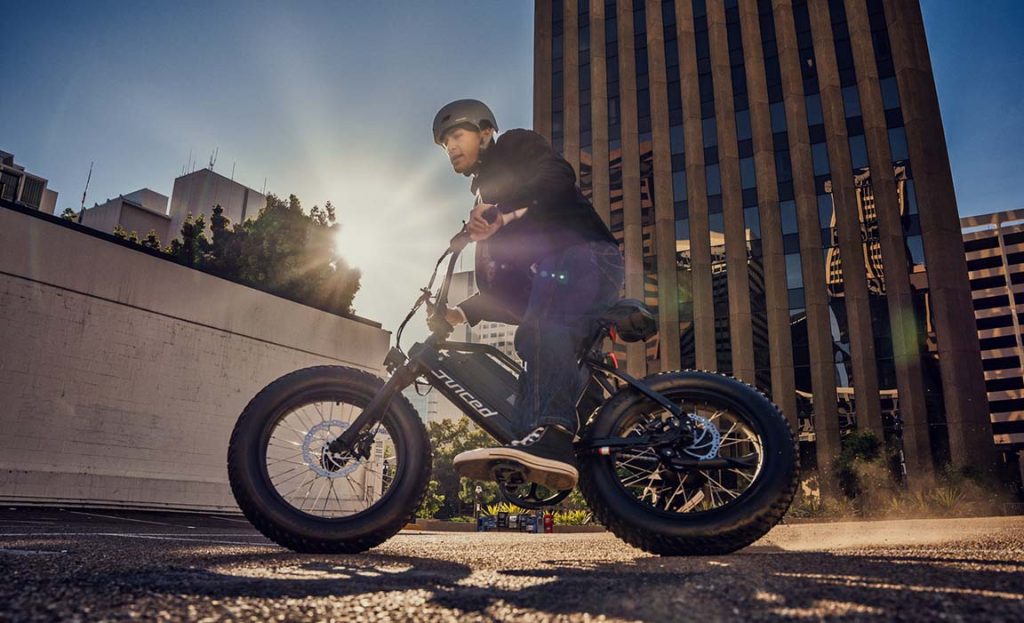 Power
With a 1,040W – 1,300W peak, the powerful RipRacer motor can fuel you throughout all your rides. The high peak wattage allows extra surging power riders need when crushing a hill or keeping up with crowded city streets.
Headlights
We've covered you with a super bright headlight and an integrated tail light for safer night riding. The water-resistant headlight lights up your way with over 1,050 lumens with just a press of the button on your display. The integrated tail light has two settings: always on or brake light capability to illuminate while braking.
LCD
Class 3 Model – The back-lit LCD is visible at any time of day and provides a myriad of trip tracking options. With five ride modes, including easy-pedaling, battery-saving ECO mode, and high-speed riding with Sport and Race mode, there is always a power level for your ride.
The simplified Class 2 display includes a single push button to engage its five levels of pedal assist. Still, it can be upgraded by purchasing the Advanced LCD Display as a separate accessory.
Brakes
A safer and more enjoyable braking experience with the hydraulic disc brakes of the RipRacer. At high speeds, the ability to stop on a dime is crucial to safety.
Pedal Assist
Feel the power of the RipRacer with five modes of pedal assist and on-demand throttle to get up and go.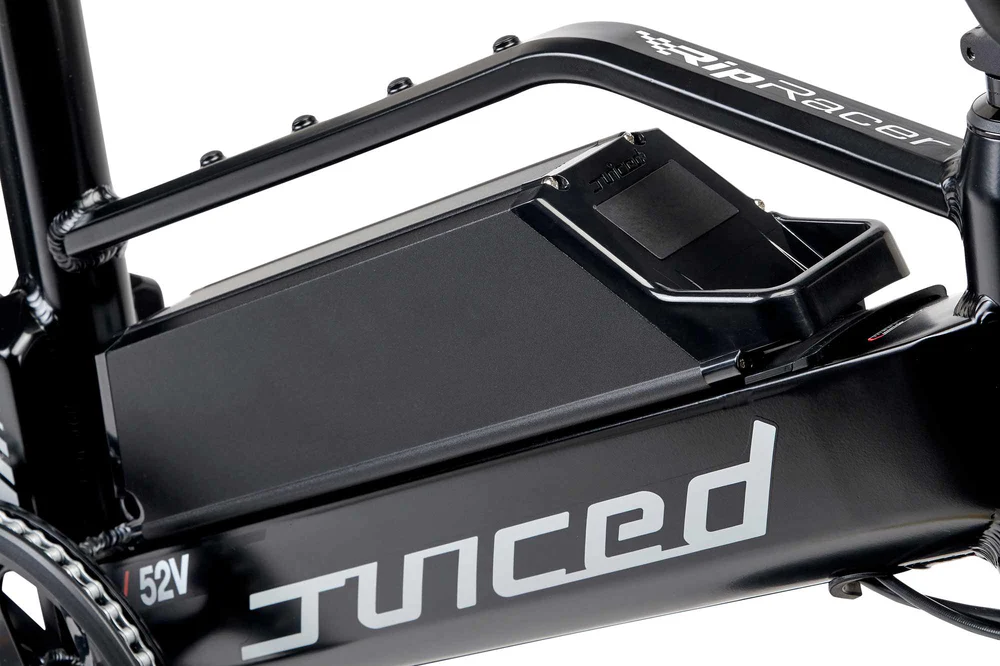 Seats
Carrying your RipRacer is a breeze, with the built-in handle on the back of the saddle allowing for easy transporting. The adjustable seat lets riders find their perfect fit at almost any height.
Tires
Crush anything in your path and enjoy a smooth ride with the robust fat tires on the RipRacer. Equipped with 20'x4′ fat tires, the RipRacer is built for off-road riding just as much as it is for city streets.
The knobby fat tires allow for a relaxing smooth ride no matter what terrain.
Components
Frame: Custom Aluminum Heat-Treated

Brakes: Hydraulic Disc
Wheels: Double Walled Aluminum
Tires: 20″x4″ All-Terrain
Transmission: Single Speed
Headlight: 1,050 Lum LED
Chainring: Pro Wheel 52T/170MM
Pedals: Platform Pedals
Rear Rack: Optional
Horn: Bell Included
Rear Suspension:Hardtail Configuration
Seat: Custom Design with Integrated Handle
Best Electric Unicycles
Disclaimer: The information presented in this article is derived from extensive research, user reviews, and publicly available information. Our aim is to provide accurate and up-to-date content; however, it is crucial to understand that the opinions expressed are based on the information available at the time of writing. We strongly encourage readers to conduct their own thorough research and carefully evaluate their individual needs before making any purchasing decisions.
eWheels 2023 Summer Deals and New Launches are here!!!
Cheap, reliable, and powerful! TurboAnt Electric Scooters 2023 Sale!
Hi guys! This post may contain affiliate links, sponsored content, and advertisements. We get a small commission for covering topics that interest us (helps us keep the doors open). For more information, please see our privacy policy and disclaimer. Ride safe yall!
2023 Electric Unicycles:
Coupons & Deals:
Apollo Scooters: Get $50 USD worth of free accessories, upgrades, or spare parts with the purchase of a scooter. Code: VROOOMIN
REV Rides: Save $50 off Scooters and EUC's, Code: VROOOMIN
EVOLV Electric Scooters: Free Folding Lock (worth C$80) for every EVOLV model! Use Code: VROOOMIN-LOCK
To keep the site running and information flowing, Vrooomin.com participates in affiliate linking programs. We're also an Amazon Associate, which means we get paid for referring people to Amazon. Please support the channel by clicking on our links.