2022 RipCurrent S Electric Bike Technical Review
Is the RipCurrent S worth the $2,400 price tag?
There are plenty of e-bikes on the market today. Since the 2020 lockdowns made the e-bike and micro-mobility crazes grow, the age of lithium-powered transportation is here and in full force. The 52V 28 MPH RipCurrent is fun, powerful, and ready to ride on the open road. The top-rated and best-selling electric sport-utility bike by Juiced bikes got a performance upgrade that makes it even better.
The RipCurrent S is a crowd favorite with fat tires and even more power and acceleration to make your daily commute more exciting. With a bigger 1000W motor, the NEW G2 52V/19.2AH battery pack, updated controller programming, an improved fender package, and more, the RipCurrent S is ready to tear up any terrain.
With a range of up to 70+ miles and speeds of up to 28+MPH, the New RipCurrent S has unmatched power, versatility, and usability. Let's take a close look at each of the features.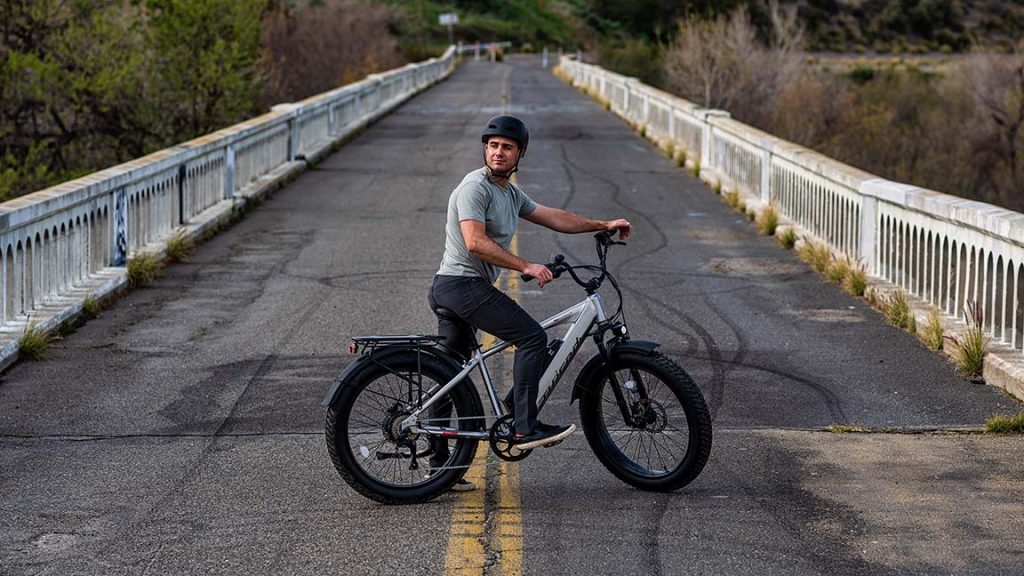 Powerful Motor
28 MPH performance
The new RipCurrent S's powerful 1,000-Watt Rear Gear Hub motor can power even the most ambitious rides, on or off-road. The RipCurrent S motor has a peak power of 1,300 watts, enough for your daily commute and weekend trips. Get excited about your weekend rides on the fastest fat-tire electric bike on the block.
Range: 70+ Miles
Speed: 28 MPH
Bike Weight: 76 lbs (65 lbs w/o battery)
Suspension: Front Air Suspension
Tires: 26″x4″
Classification: Up to Class 3
Weight Capacity: 300 lbs
Transmission: 9-Speed Cassette
Pedal Assist: Cadence & Upgraded Torque Sensors
Extras: Rack & Fenders
Fantastic for everyday riding
You're not going to get a battery like this for the same price. Upgrade to the next level with the new G2 52V 19.2AH battery pack for even more performance and riding range. The new G2 battery has a built-in handle for carrying it off the bike, works with Powershift Docking, has a place for an Apple AirTag, has an LED battery power meter that shows the charge status, and is water-resistant up to IP65, which makes maintenance easy.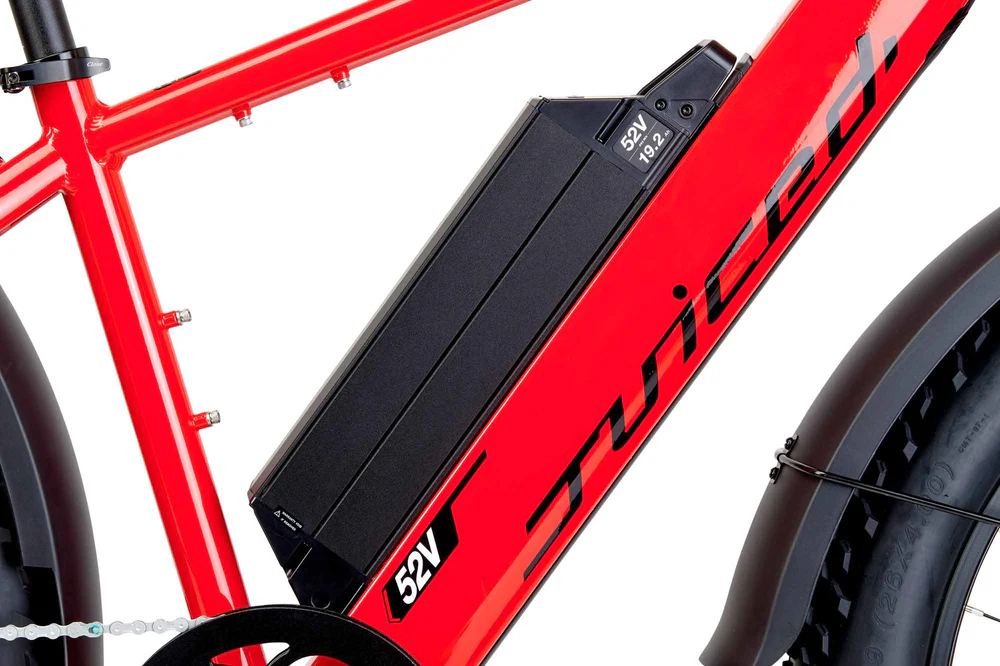 Pedal Assist
Thumb or pedal throttle
The RipCurrent uses advanced pedal sensor technology and has pedal assistance for torque and cadence. This dual-sensor technology checks how hard you pedal 1,000 times per second and gives you the right amount of power based on how hard you pedal.
In addition to a precise torque sensor, Juiced bikes use a high-definition cadence sensor that sends over 100 signals for every turn of the crank. This level of sensitivity eliminates almost all of the delay you feel with traditional 12-magnet cadence sensors. With its excellent torque sensor, this bike can deliver more variable power than other bikes, allowing for smooth and exciting acceleration.
Motor: 1,000W Rear Gear Hub (1,300W Peak)
Battery: New G2 Dockable 52V/ 19.2AH
Controller: 9 Transistor / 25 Amp Peak
Throttle: Upgraded Thumb Throttle
Charger: 2Amp Charger
Display: Advanced LCD Display
USB Charger: Optional
Display
All the critical information
The RipCurrent uses advanced real-time metrics and adjustable parameters for your daily ride. The backlit LCD is easy to see at any time of day and gives you a lot of options for tracking your ride. The LCD screen on a Juiced Bikes display has been upgraded to make it easy to change settings.
It has five riding modes: the easy-pedaling, battery-saving ECO, and the high-speed Sport and Race. The bike's display will show you all the essential information you need while riding, like how many miles you've gone and how much power is left in your battery pack.
Hydraulic Brakes
Full hydraulic stopping power
The RipCurrent is a high-performance e-bike that needs much more stopping power than most other bikes. The hydraulic disc brakes on the RipCurrent S let the rider stop with less force than mechanical brakes.
Hydraulic brakes are better because the fluid doesn't compress like cable wire, so the pad and rotor can work together best. In the end, hydraulic brakes make riding safer and more enjoyable overall, especially at high speeds. Most hydraulic brakes don't need to be adjusted or fixed over time unless you drop your bike or your bike takes a hit from the exterior.
Accessories
Everything you need
The RipCurrent comes with a single-piece fender and a rear rack. The kit lets riders carry all kinds of things on their bikes while keeping them clean and stylish.
Fat Tires
Thick tires for grip and comfort
The RipCurrent S is a fat tire bike with 26″x4″ knobby fat tires that are versatile and resistant to punctures. This makes the bike stable and comfortable to ride on a wide range of terrain and weather conditions. These big tires take full advantage of your grip, making the ride comfortable and smooth.
Throttle
Acceleration at the press of your thumb
The 28 MPH RipCurrent S has a simple, easy-to-use thumb throttle that gives you power when needed. Pedal when you want, and throttle when you want more motor assistance and better acceleration. Thumb throttles make things safer and separate your arm movements, so you can always stay in control.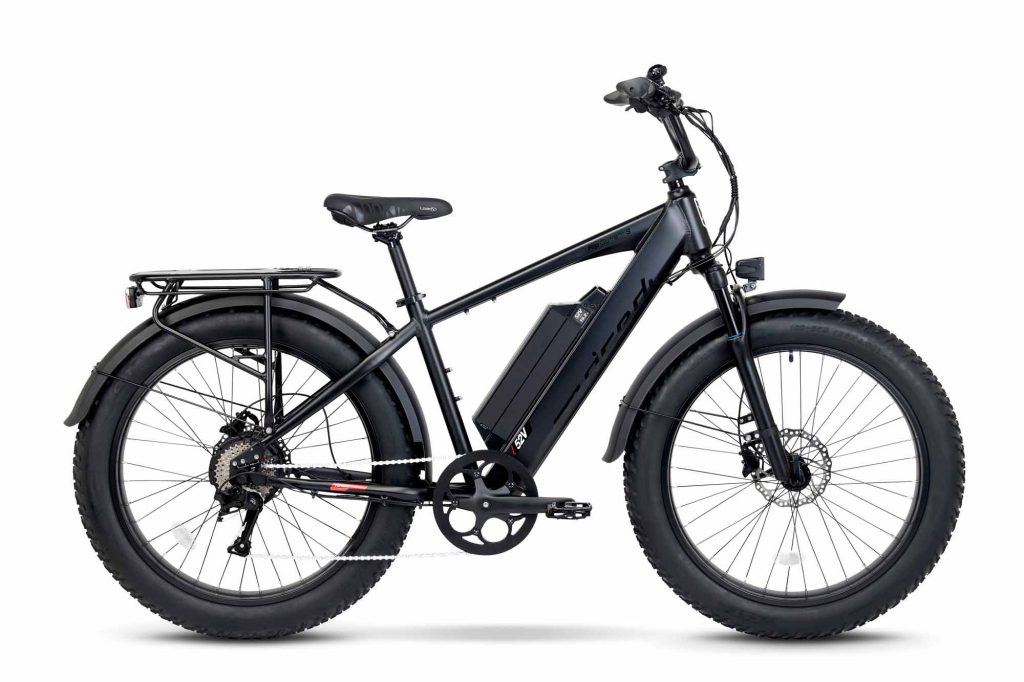 Transmission
Easing shifting
The RipCurrent comes with a nine-speed cassette transmission that shifts smoothly and ranges from 11T to 32T. Reliable geared riding is hard to find in this price range, but it makes riding much more fun and is great for going up steep hills and cruising at high speeds on the road. Get rid of the clunky shifts between gears on your new fat-tire electric bike so that you can ride faster.
Frame: Custom Aluminum Heat-Treated
Brakes: Hydraulic Disc
Wheels: Double Walled Aluminum
Tires: 26″x4″
Fork: Air Suspension
Transmission: 9-Speed Cassette
Mirrors: Optional
Headlight: 1,050 Lum LED
Tail Light: Star Union Rear LED
Chainring: Pro Wheel 52T/170MM
Mud Guards: Front & Rear Fenders
Pedals: Platform Pedals
Rear Rack: Included (50LB Capacity)
Horn: Bell Included
Seat: Selle Royal | A306 URO
Lighting
Safety first
The RipCurrent S comes with an upgraded, super bright, water-resistant 1050-lumen headlight powered by the battery pack. This makes riding at night safer and more fun. Bright lights that help you see on the road ahead, both during the day and at night, will keep you safe on every ride.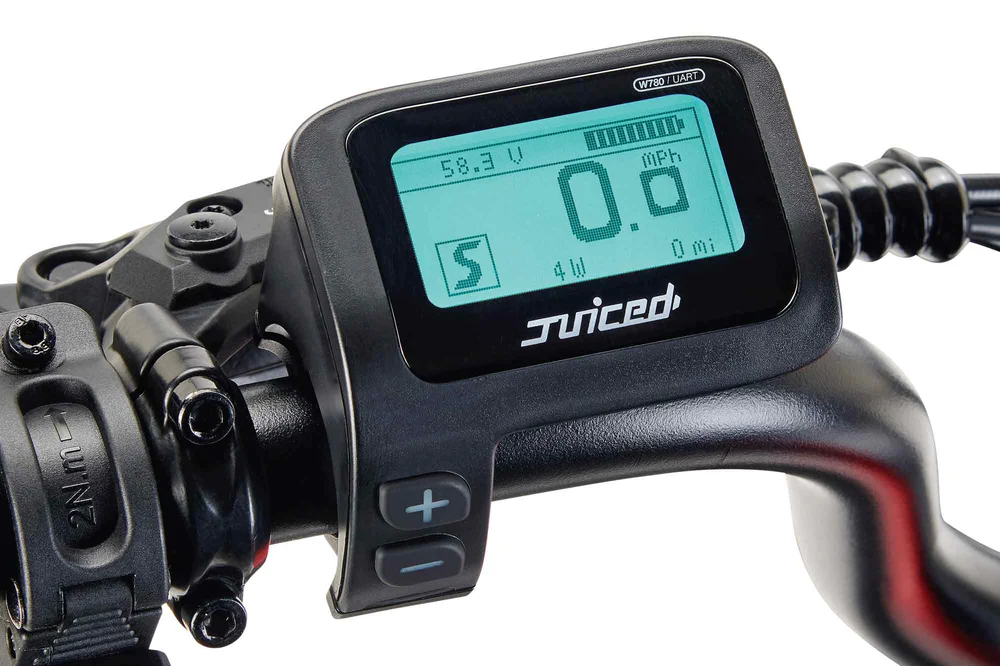 Grips and Handling
Easy handling
The RipCurrent S comes with Velo ergonomic lock-on grips, making it easier to ride and handle the e-bike. All RipCurrent S e-bikes come with upgraded grips, which are made to fit the palms and fingers of the rider. You can say goodbye to hand and finger fatigue when riding the RipCurrent to work or for fun.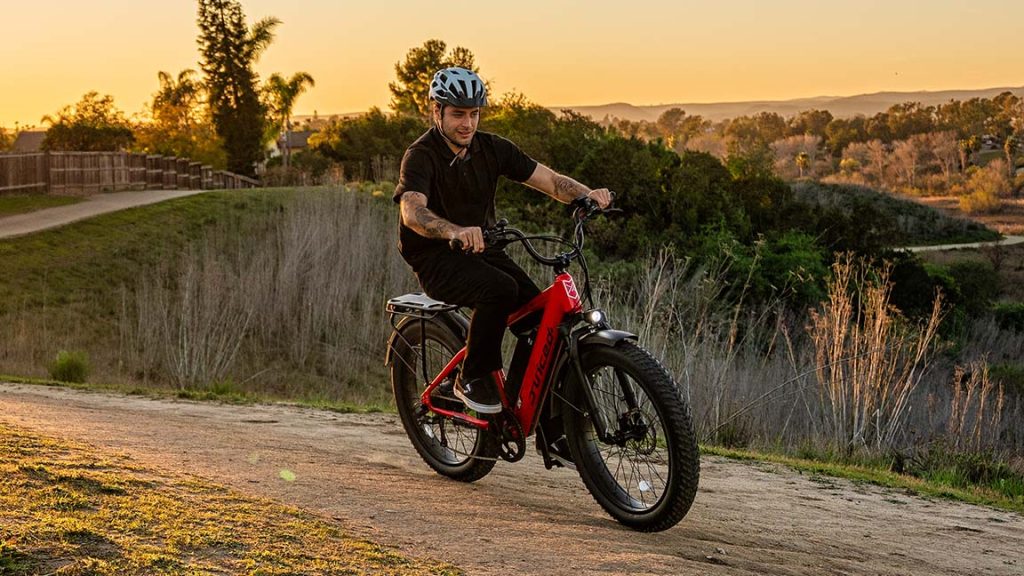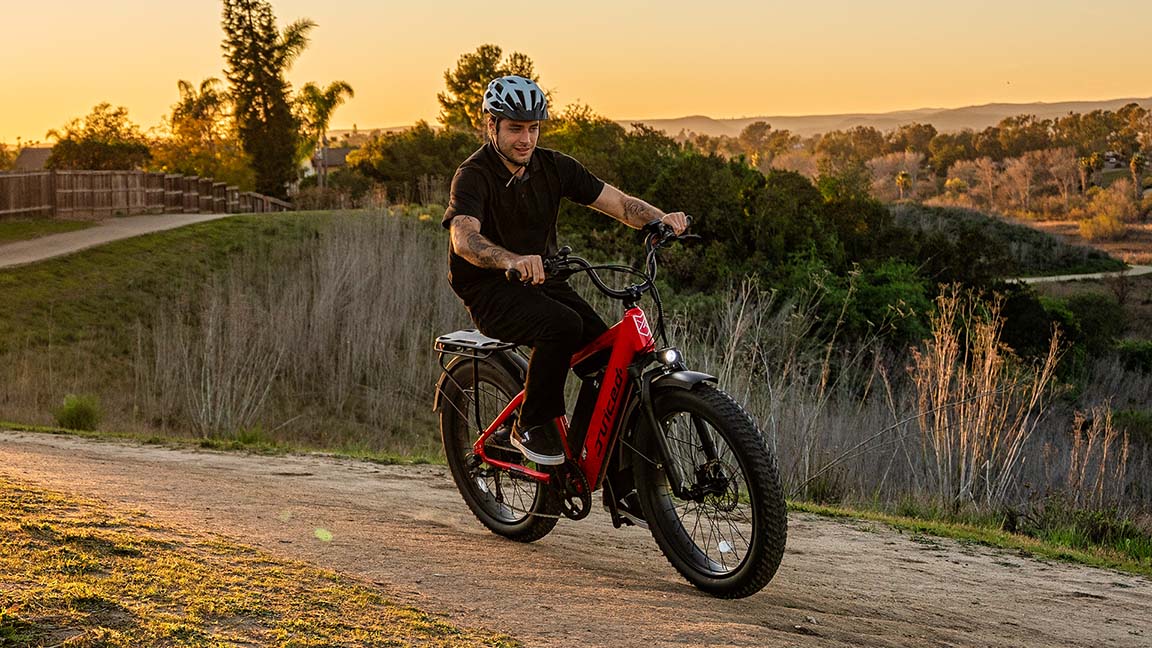 Handlebars
Upright ride position
The RipCurrent S upright handlebars set you up in a more comfy riding position and make it easier for you to see the road and other people, which makes you safer. The higher grip location takes pain-causing pressure off your wrist, giving you more control and letting you ride for longer. It's the perfect combination of comfort and speed on an e-bike.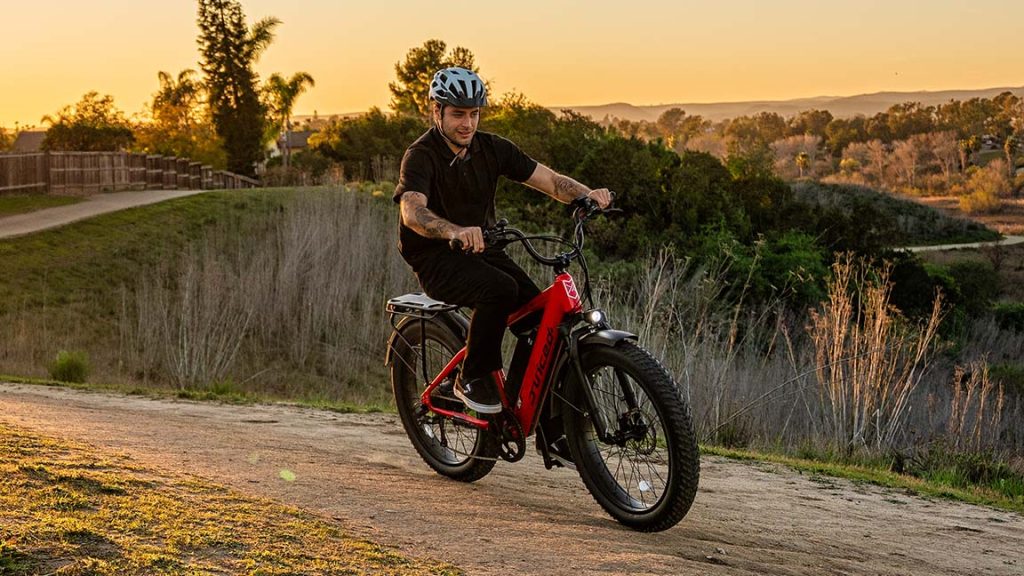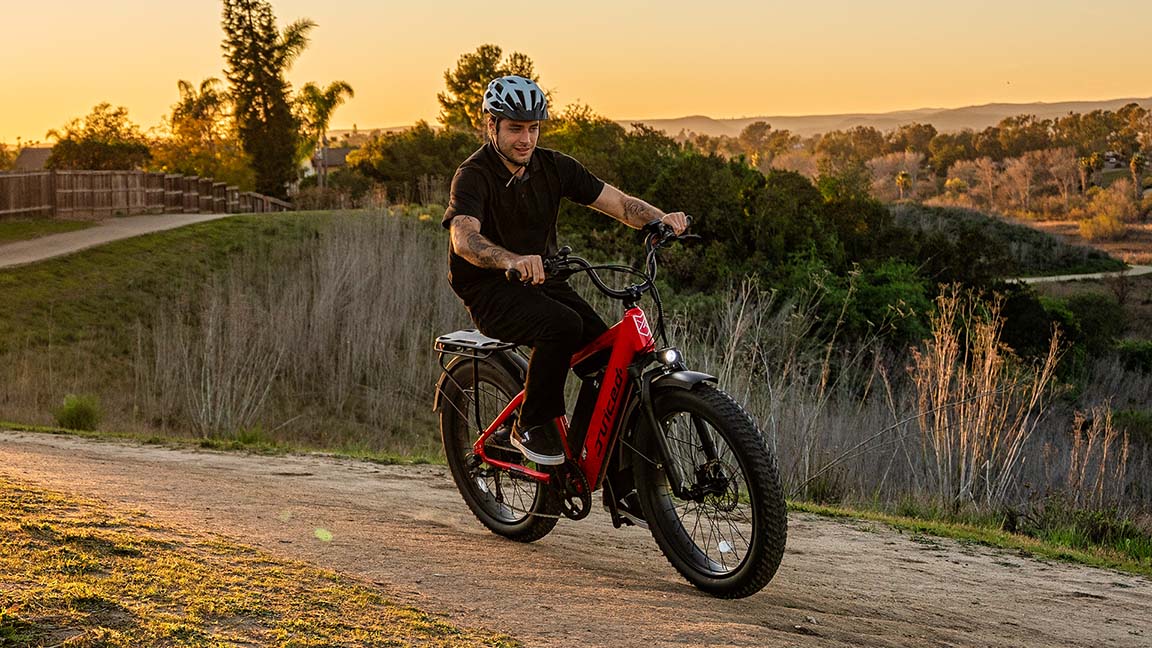 Worth it?
A fun, powerful and expensive $2,400 option
There's no shortage of e-bikes on the market. The options are endless for cheap, middle, and high-performance e-bikes. Riders in the community will opt for whichever model best fits their needs, budgets, and appetites. It ticks on many features and performances I would want in a reliable daily commuter. I could use this bike for my everyday adventures and not worry about packing on the miles on the frame of the battery. I have a 72v e-bike for group rides and high-speed therapy sessions. Is the RipCurrent right for you? Let me know in the comment section, or send a quick note in our contact section.
Best Electric Unicycles
Disclaimer: The information presented in this article is derived from extensive research, user reviews, and publicly available information. Our aim is to provide accurate and up-to-date content; however, it is crucial to understand that the opinions expressed are based on the information available at the time of writing. We strongly encourage readers to conduct their own thorough research and carefully evaluate their individual needs before making any purchasing decisions.
eWheels 2023 Summer Deals and New Launches are here!!!
Cheap, reliable, and powerful! TurboAnt Electric Scooters 2023 Sale!
Hi guys! This post may contain affiliate links, sponsored content, and advertisements. We get a small commission for covering topics that interest us (helps us keep the doors open). For more information, please see our privacy policy and disclaimer. Ride safe yall!
2023 Electric Unicycles:
Coupons & Deals:
Apollo Scooters: Get $50 USD worth of free accessories, upgrades, or spare parts with the purchase of a scooter. Code: VROOOMIN
REV Rides: Save $50 off Scooters and EUC's, Code: VROOOMIN
EVOLV Electric Scooters: Free Folding Lock (worth C$80) for every EVOLV model! Use Code: VROOOMIN-LOCK
To keep the site running and information flowing, Vrooomin.com participates in affiliate linking programs. We're also an Amazon Associate, which means we get paid for referring people to Amazon. Please support the channel by clicking on our links.