Looking for a more effective commute to work? Consider the 143-pound, 60-volt Talaria sting
The Talaria STING electric dirt bike was created to deliver cutting-edge performance to all riders seeking to advance to the next level. It has a CAD-designed lightweight chassis, a powerful electric motor offering instantaneous torque, and a sophisticated gear drive while functioning silently and flawlessly.
Off Road Fun:
Its sleek, well-balanced frame is highly maneuverable and requires minimal maintenance, making ownership simple for most riders. All of these qualities make the Sting the ideal off-road motorbike for more individuals than ever before to experience the passion and excitement of off-road riding excursions.
The Talaria features a similar chassis, specs, and design as the Surron. The owner of Talaria has defected from Surron to create a bike that fixes all of the Surron's shortcomings. The Talaria Sting is a powerful electric vehicle with more tech and features than any other electric scooter or unicycle.
While heavy, you get much more quality and physical components than any other machine with similar pricing. Riders seeking this bike over the Surron will appreciate its larger chassis, larger clearance, larger battery pack, upgraded wiring, new cockpit, off-the-line acceleration, and improved handling.
Technical Specs:
Motor: 6KW PMSM Motor FOC Controller 284 N.M (44T Sprocket) / 309 N.M (48T Sprocket)
Battery: 60V 38.4AH
Charge time: 4 hours
Max mileage: 30 miles
Max Speed: 46 mph
Braking System: 4-Piston Caliper Hydraulic Brakes
Tire: 19″
Lighting: LED headlight
Max Load: 220 lbs
Weight: 143 lbs
Product Material: 6061 T4 & T6 Aluminum Alloy
The Sting is come to change the game, forget about catching the bus or getting stuck in traffic.
Features:
Transfer case (Gearbox), Wider Rear Wheel, Real-time Adjustable Motor Regen, Enhanced Battery Connector, and Stronger Headset Bearings are a few of the new and improved features of the Talaria Sting. When riding with Talaria, all premium features and performance are included.
Feel the sting with its powerful 2280-watt-hour 60V 38Ah lithium-ion power pack that is readily swappable. The power packs can be quickly swapped out for another, ultimately charged one for an endless range.
With electric vehicle grade LG 21700 lithium-ion battery cells, a cutting-edge BMS that has been specially programmed, and an internal structure that has been optimized, this battery pack enables the bike to deliver safe, high-performance off-road riding.
Who needs a 48v grocery ebike when you can get a 2280WH electric motor bike?
Nominal Voltage: 60V (DC)
Nominal Torque: ≥5.7 N.M
Peak Torque: 34 N.M
Rear Wheel Torque: 284 N.M (44T Sprocket) / 309 N.M (48T Sprocket)
Gear Ratio: 8.35 (44T) / 9.18 (48T)
1st Transmission: Gearbox
2nd Transmission: Chain
Chassis
The Sting is a sight to behold, owing to its performance and geometry. The frame's cutting-edge engineering is purpose-built, lightweight, and compact. Using 6061 aluminum alloy and a unique forging process with 6000 tons of pressure, the structure can guarantee a safe, enjoyable, and fearless riding experience on even the most challenging terrains.
Battery Pack: 60V 38.4AH
Battery Size: 170mm x 140mm x 380mm
Battery Weight: 12.85 KG / 28 lbs
Battery Cells: LG Brand 21700 Cell (5000 MAH/Cell)
Speedometer: Speed / Battery Level, Voltage, cycle / Odometer
Regen Adjustment: 4 Levels Adjustable in the Speedometer
Controller
The controller's exceptional transient current impact resistance, ultra-strong anti-interference, high-precision EABS voltage and discharge current control, error inspection, high and low-temperature protection, anti-runaway, and intelligent energy regeneration are enabled by the controller's superior hardware, design, and programming. This ensures the rider will have a robust, thrilling, safe, and creditable range riding experience.
Chassis Material: 6061 T4 & T6 Aluminum Alloy
Process Method: Forged by 6000 Tons Pressure
Surface Method: Anodizing
Headlight: LED
Front Fork: RST / DNM / Manitou (Optional)
Rear Shock: Fastface / DNM
Max. Range: 50 km @ 70 Km/h / 31 miles @ 43 mph
Net Weight: 65 Kg (Including Battery) / 143 lbs
Vehicle Dimension: 1850mm x 770mm x 1075mm
Seat Height: 870mm
Handlebar Length: 760mm
Ground Clearance: 280mm
Drivetrain
The combination powertrain design tailored to the needs of the lightweight electric MX bike is excellent. The high-efficiency brushless permanent magnet synchronous mid-drive motor with premium magnet material and sophisticated processing can produce 34Nm of peak and 284Nm of peak torque to the rear wheel. With its exquisitely crafted, high-precision gears, the gearbox operates even more quietly and is considerably more resilient than belt drive systems. It is time to let go of your broken-belt anxiety.
Motor type: PMSM
Mounting Position: Middle of the Frame
Weight: 7.0 kg / 15 lbs
Motor Ext. Diameter: 180mm
Peak Efficiency: 92%
Cooling Method: Air Cooled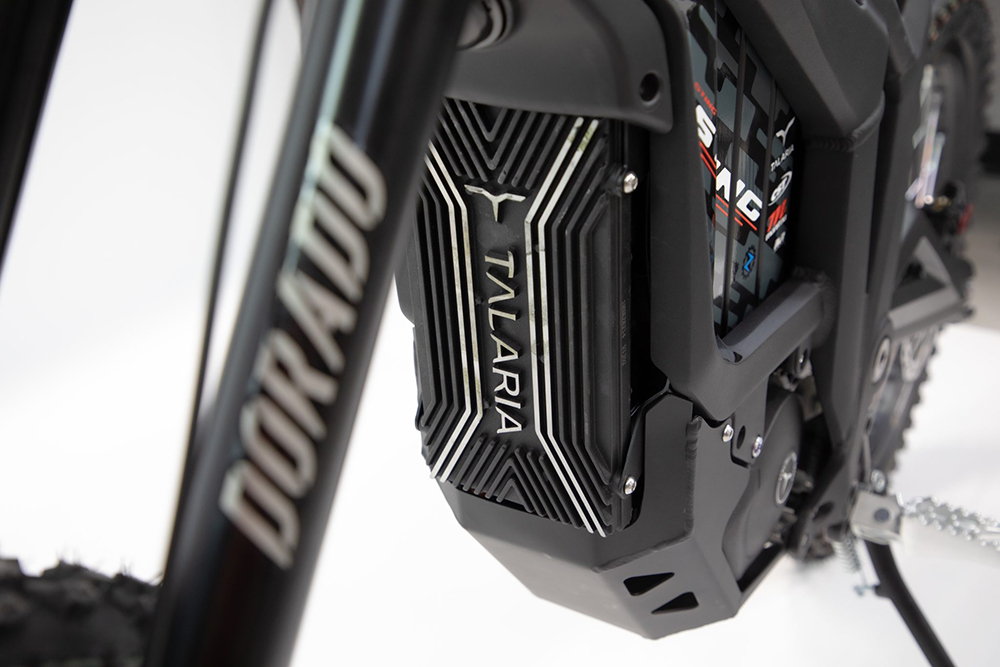 Display
The dashboard features a high-contrast OLED display, providing riders with a clear, low-power data display. The dashboard can exchange data with the battery management system (BMS) and the motor controller with CAN communication.
Controller Type: FOC
Weight: 2 Kg / 4.4 lbs
Dimension: 248mm x 128mm x 50mm
Peak Efficiency: 92%
Highest Work Temp: 100°
The display menu provides a variety of data, including top/average speed, range, battery data, riding mode, error codes, and regen level. To increase the compatibility of the bicycle, the dashboard is also programmable to accommodate different settings for wheel size, sprocket size, motor regen levels, and conversion between kilometers per hour and miles per hour.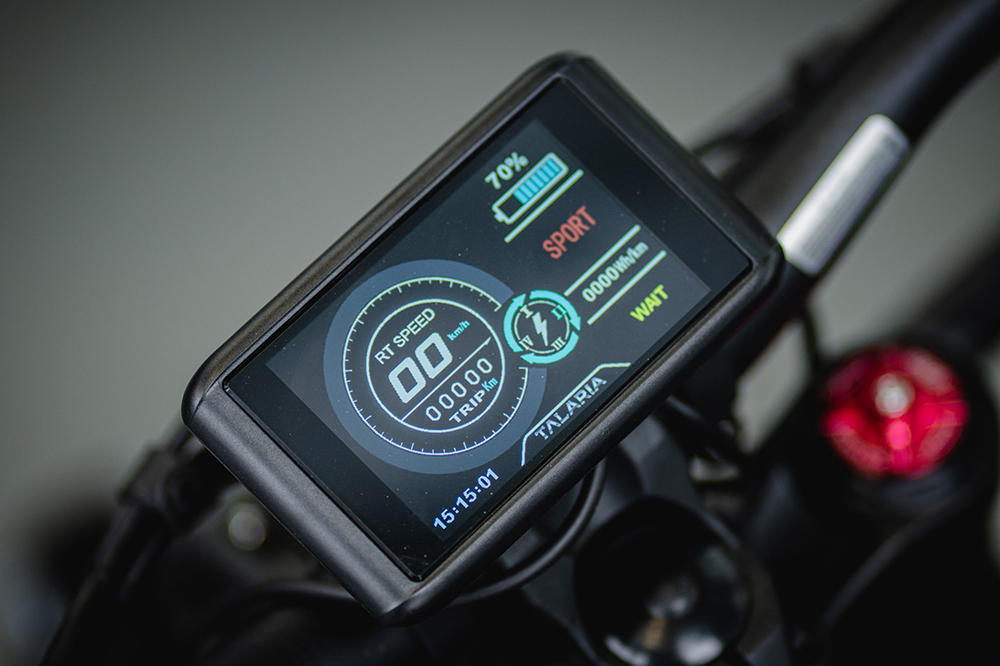 Acceleration
The Sting's unique gear twist structure protects the throttle's vital components, allowing the throttle to function even if the throttle tube sustains impact damage. And with the vehicle's level encoder, the throttle allows the rider to control acceleration easily. It is a specialized item that is ideal for an electric off-road motorbike.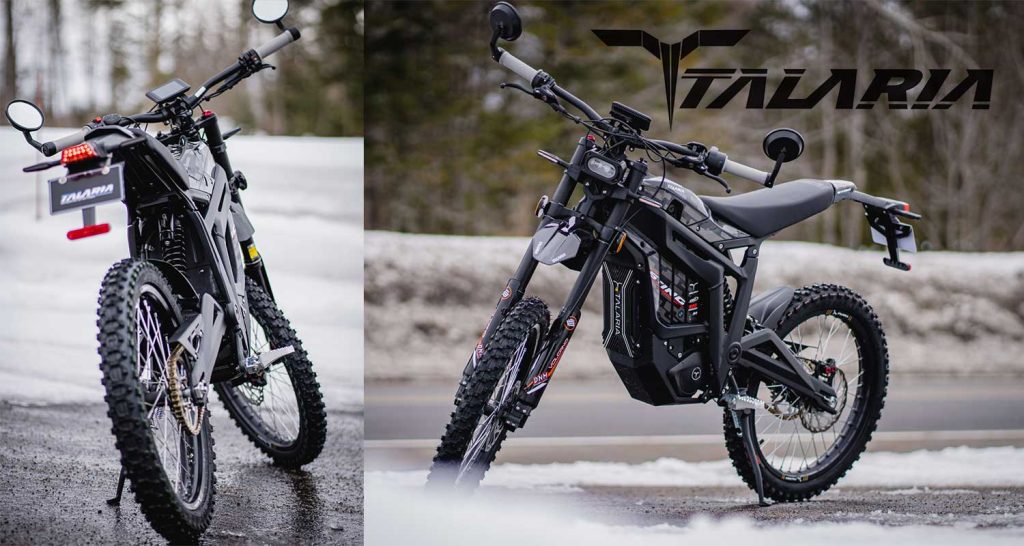 Which is right for you?
There are numerous bikes available, and many of them are pretty impressive. People are drawn to large numbers like Super73, Surron, Segway, and Talaria's, and many add more robust drivetrains. Whether you want a road bike or a dirt bike, you can spend your money on various upgrade options. We think the Talaria is the top dog for value, performance, and quality on the market. Please let us know your favorite in the comment section below.
Best Electric Unicycles
Disclaimer: The information presented in this article is derived from extensive research, user reviews, and publicly available information. Our aim is to provide accurate and up-to-date content; however, it is crucial to understand that the opinions expressed are based on the information available at the time of writing. We strongly encourage readers to conduct their own thorough research and carefully evaluate their individual needs before making any purchasing decisions.
eWheels 2023 Summer Deals and New Launches are here!!!
Cheap, reliable, and powerful! TurboAnt Electric Scooters 2023 Sale!
Hi guys! This post may contain affiliate links, sponsored content, and advertisements. We get a small commission for covering topics that interest us (helps us keep the doors open). For more information, please see our privacy policy and disclaimer. Ride safe yall!
2023 Electric Unicycles:
Coupons & Deals:
Apollo Scooters: Get $50 USD worth of free accessories, upgrades, or spare parts with the purchase of a scooter. Code: VROOOMIN
REV Rides: Save $50 off Scooters and EUC's, Code: VROOOMIN
EVOLV Electric Scooters: Free Folding Lock (worth C$80) for every EVOLV model! Use Code: VROOOMIN-LOCK
To keep the site running and information flowing, Vrooomin.com participates in affiliate linking programs. We're also an Amazon Associate, which means we get paid for referring people to Amazon. Please support the channel by clicking on our links.