Looking for Adventure?
If you want speed, the X-Class can provide plenty of it at an affordable price. Ready to push the throttle to its limit and experience the X-Class's turbo power? Willing to take command of your commute and no longer waste time or gas money? We'd recommend a full-face helmet before saddling up on a beast like this.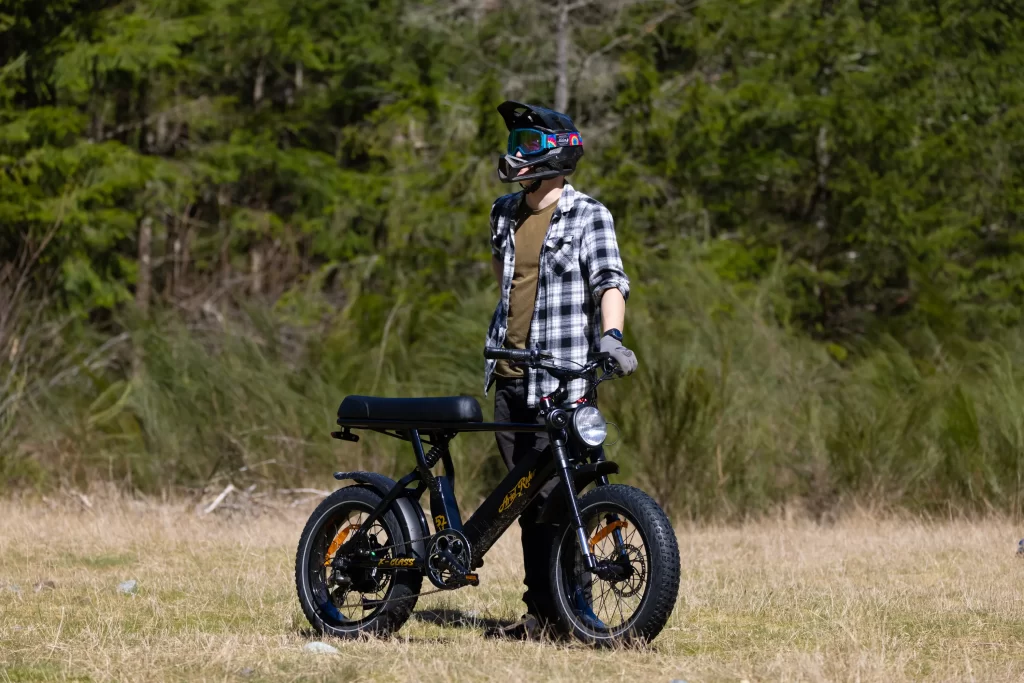 Ariel Rider X-Class 52V Electric Motorbike
I enjoy an excellent fat tire e-bike, especially one that offers the best bang for your buck. The Ariel Rider X-Class is a 52V moped-style electric bike that can reach +35 MPH at top speed. This rocket has a 52V 20ah battery with a range of 70+ miles, full suspension, lighting, hydraulic brakes, and 20×4 fat tires.
All of this is on top of some elegant moped-style geometry; you can decide if the X-class is effectively an electric motorcycle or e-bike.
Top Speed: 35 MPH
Battery: 1040WH Generic Cells
Weight: 78 lbs
Max load: 300 lbs
Suspension: Front / Rear
Brakes: Tektro Hydraulic
1040WH Battery Pack
The 52V high-speed X-Class was designed to be a powerful e-bike. Thanks to a 52V battery system with a significantly higher current 35A controller, the X-Class 52V is even better, faster, and more powerful than ever. It now has a massive 20Ah battery, brighter headlights with daylight capability, turn signals, brake lights, updated shocks, and more. Let's take a closer look at Ariel's impressive specs down below.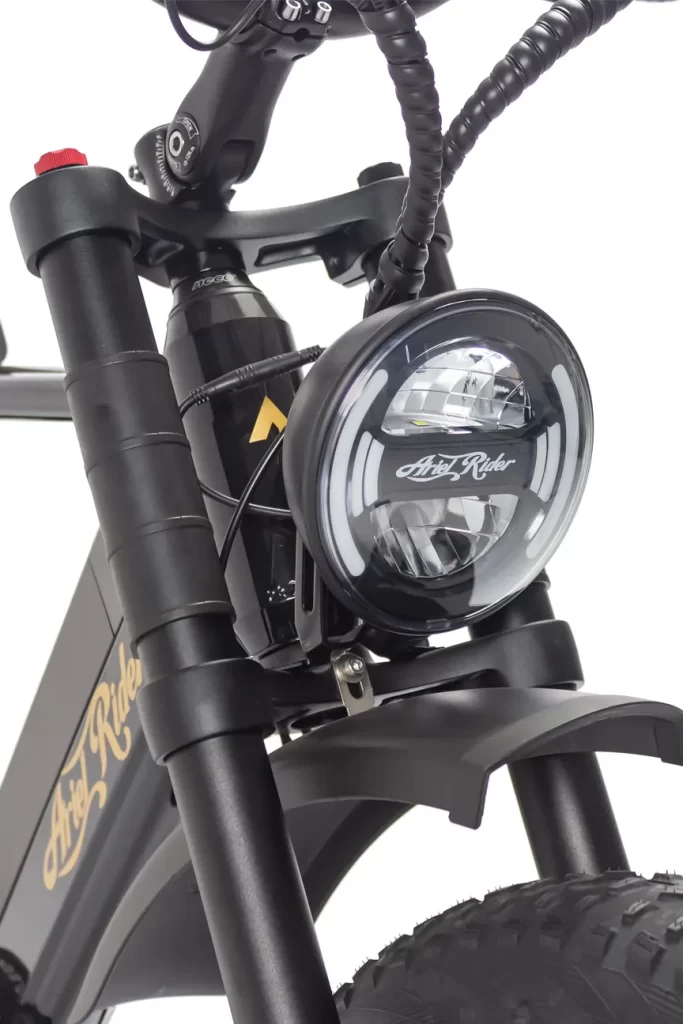 Power
All new 1000W 52V motor custom-designed by Bafang
Most city commutes are less than 5 miles long, so we don't have to go very far on most days. The big 1040WH battery pack (52V, 20ah) in the integrated battery lets it go up to 75 miles on a single charge. You can cruise for days without having to charge it.
Ariel batteries stand out because they have safety features built in a 90-amp protection board, high-voltage, and low-voltage regulators, current regulators, and a temperature sensor to make riding safer.
BATTERY: 52V 20Ah battery rated for 800 charges. The battery comes with an integrated USB port.
CHARGER: 52V, 2.5 Amp smart charger, operates on 100V-240V AC power outlets
CONTROLLERS: Smart Controller 52V 33Ah (Continuous peak current).
DISPLAY: Backlit LED display with easy diagnostics feature and USB charging port.
HUB MOTOR: 1000 Watt Nominal, 2000 Watt Peak Bafang Motor.
Front: Motorcycle style bright headlight with daylight function.
Rear: Integrated taillight with brake light mode and turn signals.
PEDAL ASSIST: 5 Level Pedal assist with 12 magnet cadence sensor.
RANGE: 40-75+ Miles,
THROTTLE: Twist throttle
WIRING: Water-resistant connectors and wiring harness
USB PORTS: 1 on the screen, 1 on the battery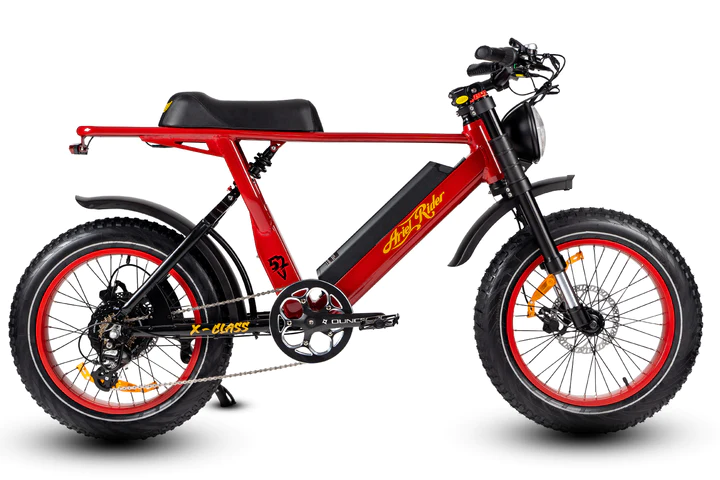 Suspension
Adjustable Front Suspension Fork
The bike has a seductive modified fork made for a motorcycle. We wouldn't use just any bicycle fork on a powerful e-bike like this one; no expense was spared. These are some of the best suspension forks you can buy, and you can adjust them to your preferred settings.
Industry Leading Rear Shocks
For more comfort, the X-Class has one of the best rear shocks on the market, which is 100% CNC-machined for accuracy. It also has a rebound adjustment that makes it easier to control, gives you more support, and lowers your stance.
The position of the rear shock is also better now that the point where it turns has been changed. When you're on an x-class, you won't have any more bumpy rides.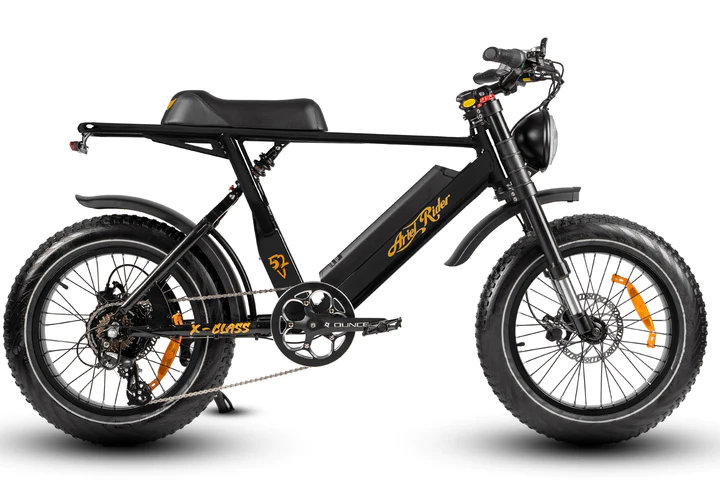 Tandem
Optional 2-piece saddle and standard foot pegs
With the X, you and your family have options. Your X-52 can fit two people with two different optional seats. All X-52 e-bikes come with footpegs, which means they can carry one more person.
These pegs give the back passenger's feet a comfortable place to rest, so they can relax and enjoy the ride.
BRAKES: Hyrdaulic Tektro HD-E 350
BRAKE ROTORS: Tektro 180mm
BRAKE LEVERS: Tektro Dorado HDE350 Hydraulic Disc with 180 Rotors, Dual Piston Calipers, Three-Finger Levers with Motor Inhibitors and Adjustable Reach
CHAIN: KMC Z7
CRANK SET: Prowheel, Forged Alloy, 170mm Length, 48 Tooth Steel Chainring with Plastic Guide
DERAILLEUR: Shimano Altus TZ25007428 Derailleur
FENDER: Standard
FORK: Motorcycle Level Alloy Heavy Duty Fork, Adjustable
FRAME: AL 6061
GEARING: 7 Speed 1×7 Shimano AltusTZ25007428 Derailleur, 14-28 Tooth Freewheel
GRIPS: Durable faux leather
HANDLEBAR: Fork-Handlebar Integrated Aluminum Alloy, 670mm Length
STEM: Promax adjustable stem,
HEADSET: Neco, Internal Cups, Straight 1-1/8″
KICKSTAND: Since leg steel, spring loaded, height adjustable
Racks
Got cargo? No Problem
The X-Class comes with several standard features, and you can even use our rear rack accessories to turn your X-Class into a utility vehicle. The X-Class has two cargo racks, one of which can be used with the rear passenger saddle (pro rear rack). You can also get a basket on your rear rack to carry heavier items.
Lighting
All new LED Headlight
The Ariel Rider X-Class is stunning because it has a vast headlight that looks like a motorcycle from the old days. This headlight also has a daylight mode to make it safer. Besides how they look, nothing about the specs is old or outdated. It is one of the most powerful headlights on the market because it has 2W of power and 80 lux of light.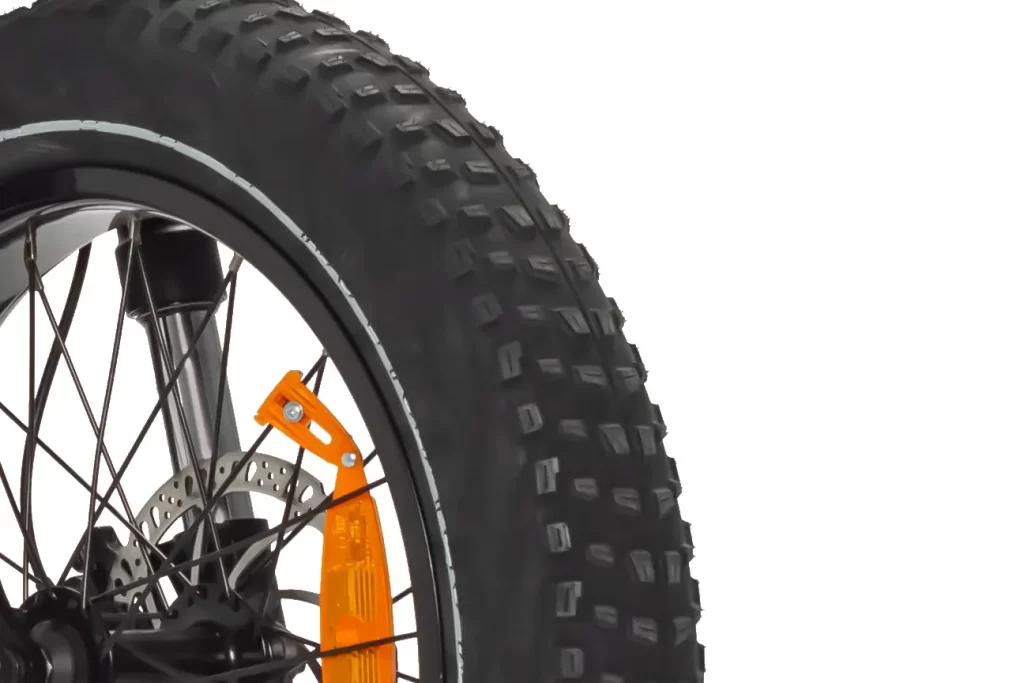 Signals
Integrated Brake Light and Turn Signals
The primary safety lights, like the brake lights that turn on when the brakes are pressed, are powered by the introductory battery pack. Riders should always let others know what they plan to do on the road.
Tires
High-Performance Fat Tires
The X has some big, beautiful tires that work well for comfort and look great. The 20×4.0 CST, the Fat Tires on the X52, are made to be used both on and off-road. Did we say that they can't be punctured and have side reflections to make them easier to see?
Brakes
Hydraulic Disc Brakes
The X-Class is a powerful e-bike, and a powerful motor needs brakes that can stop on a dime at both low and high speeds. Powerful hydraulic brakes on the front and rear stop the car quickly. Since hydraulic brakes have a closed-circuit system, you don't have to worry about cleaning dirt or mud off them.
They're so easy to maintain. The front and back rotors are both 180 mm, which gives it better-stopping power than bikes with 140-160 mm rotors.
PEDALS: Wellgo B087DU Aluminum Alloy Platform
Rear: Optional RIMS: Double Walled, Aluminum Alloy, 36 Hole, 80mm Width.
SADDLE: Exclusive Ariel Rider Ebikes moped-style, banana seat (height isn't adjustable).Note: X-Class comes standard with the short harness, the long saddle is an optional/additional accessory,
SHIFTER: Shimano AMFLTX50RCT SIS Index Thumb Shifter
SPOKES: Stainless Steel, 12 Gauge Rear, Silver with Nipples
TIRES: CST 20×4.0: Puncture Resistant
WHEEL SIZES: 20 in (50.8cm)
TIRE DETAILS: 5-30 PSI, 0.4 to 2.1 bar, 60tpi casing, wire bead
REAR SUSPENSION: Rebound Adjustable Rear
FOOT PEGS: Cast iron heavy-duty foot pegs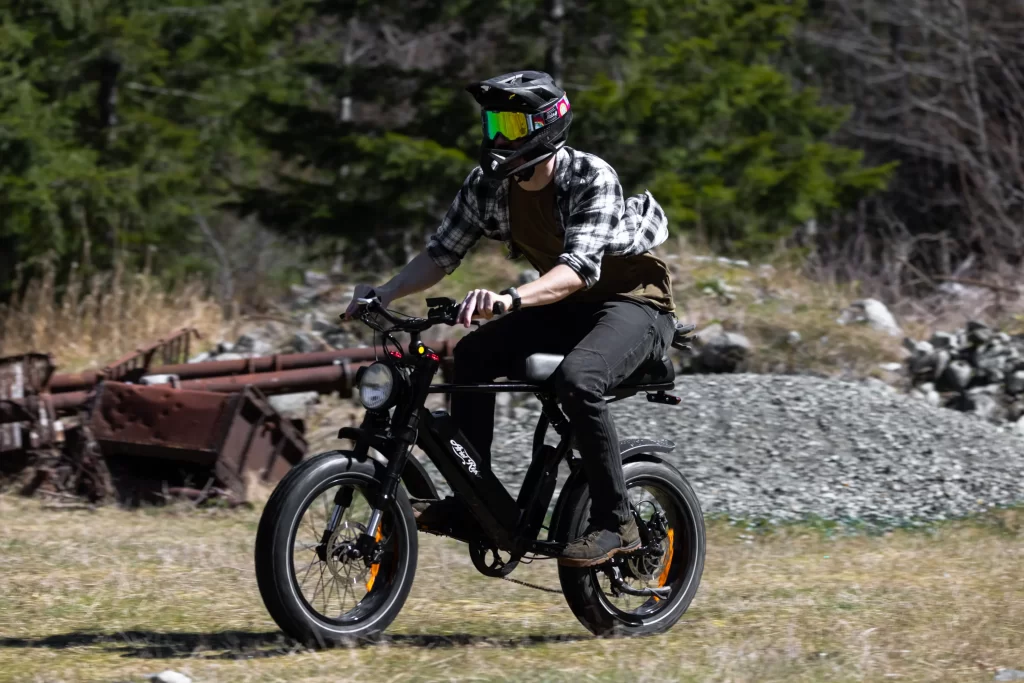 Reasonable Price
Do you think this bike is worth $2,600 of your money? If so, you're lucky because this speedy bike sells for $2,399. It's not a bad deal. I already have an electric moped, but this one makes me question my decision. The price is significantly lower, and the specifications are superior.
Best Electric Unicycles
Disclaimer: The information presented in this article is derived from extensive research, user reviews, and publicly available information. Our aim is to provide accurate and up-to-date content; however, it is crucial to understand that the opinions expressed are based on the information available at the time of writing. We strongly encourage readers to conduct their own thorough research and carefully evaluate their individual needs before making any purchasing decisions.
eWheels 2023 Summer Deals and New Launches are here!!!
Cheap, reliable, and powerful! TurboAnt Electric Scooters 2023 Sale!
Hi guys! This post may contain affiliate links, sponsored content, and advertisements. We get a small commission for covering topics that interest us (helps us keep the doors open). For more information, please see our privacy policy and disclaimer. Ride safe yall!
2023 Electric Unicycles:
Coupons & Deals:
Apollo Scooters: Get $50 USD worth of free accessories, upgrades, or spare parts with the purchase of a scooter. Code: VROOOMIN
REV Rides: Save $50 off Scooters and EUC's, Code: VROOOMIN
EVOLV Electric Scooters: Free Folding Lock (worth C$80) for every EVOLV model! Use Code: VROOOMIN-LOCK
To keep the site running and information flowing, Vrooomin.com participates in affiliate linking programs. We're also an Amazon Associate, which means we get paid for referring people to Amazon. Please support the channel by clicking on our links.