Its all about Experiences
Starting at $1,999 for the base Rhino
Do you desire power? Do you need speed? Do you want to ride a 28 mph electric moped? Zugo's +60 lb Rhino and Rhino Step-Thru electric motorcycles are ready to help. The e-bike community is obsessed with these bikes because of their appearance, feel, colors, and performance.
Consider the massive headlamps, the tubular frame, the broad saddle, and the fat tires. This bike appears to be both smooth and aggressive. Let's take a deeper look at the characteristics and specifications of this bike.
ZuGo Rhino Electric Motorbikes
Models come in classic and step-thru
The 48V 750W Rhino Series, a class 3 E-bike by kind and a motorcycle at heart, provides some outstanding performance and chassis for $2,500. The Rhino has a range of up to 80 miles and a top speed of 28 mph.
That's a lot of power for getting to the store or the office. Not to mention the time and money you'll save while riding an electric moped that will make your neighbors jealous.
Power: 750W
Battery: 48V 750WH or 48V 1000WH
Top Speed: 28 mph
Range: 30–80 miles
Brakes: hydraulic 2 piston
Weight: 65 lbs
Max Load: 325 lbs
Colors: Black, White, Purple
The Rhino is supposed to be capable of managing any terrain, including sand, snow, and mud, thanks to its large tires and 750W powertrain. Shimano Altus shifters handle the Rhino series, built on top of an aluminum alloy frame with two-piston hydraulic brakes.
This bike can also support a payload of up to +300 lb. That means you can bring your significant other along for the ride!Riders can choose to use the throttle or the pedal assist. We prefer the pedal assist since it puts less strain on the fingertips and provides more work to get your heart beating.
Extras
$700 IN FREE ADD-ONS INCLUDED
Aluminum Fenders ($150 value)
Suspension ($200 value)
1200 Lumen Headlight ($100 value)
High-Quality 2-Piston Hydraulic Brakes ($150 value)
Double Wall Punch-out Rims ($100 value)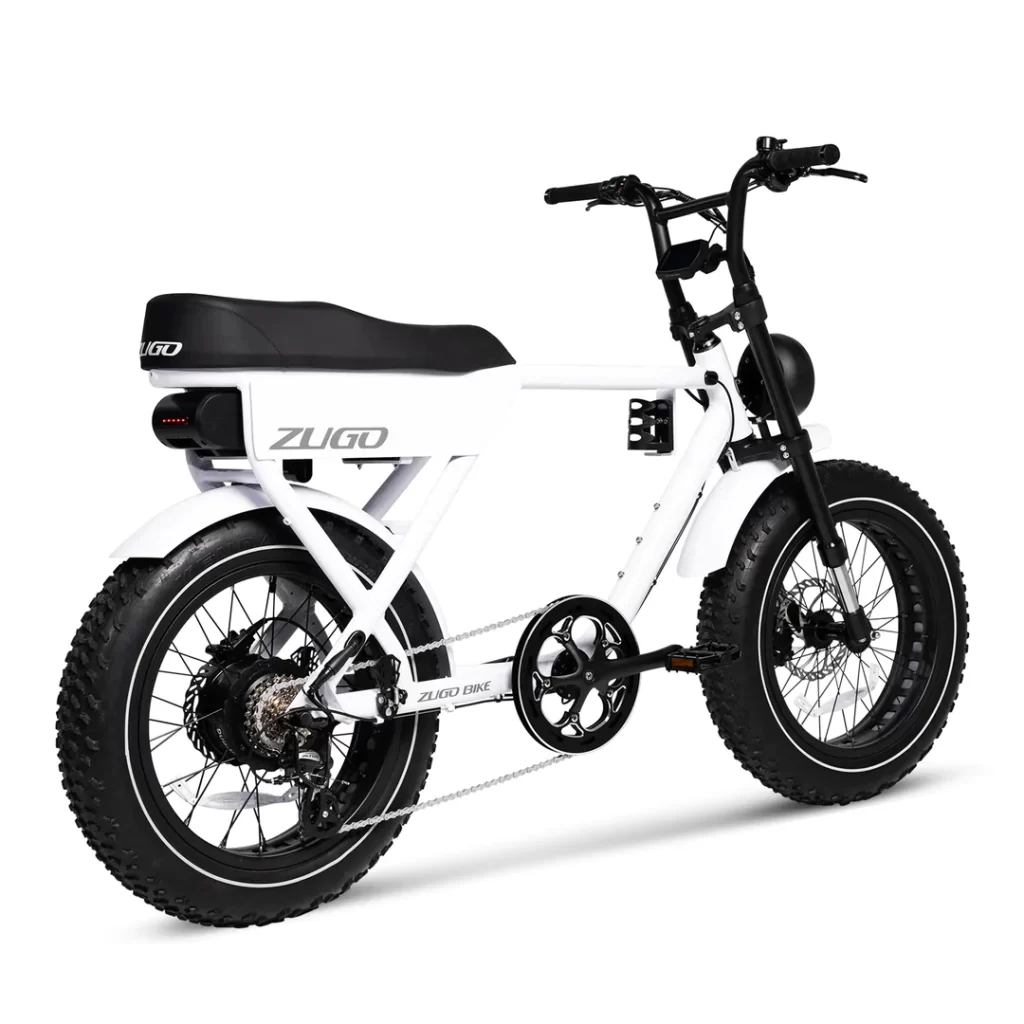 ZuGo RHINO ELECTRIC FAT BIKE
Classic Rhino E-bike
Are you ready for some high-speed, high-torque action? Experience the ZuGo Rhino electric fat bike in the sand, snow, mountain climbing, city riding, or desert terrain. The ZuGo is constructed for toughness and can withstand everything you can throw at it.
The Rhino electric fat bike model has a powerful 750-watt motor, multiple gears, an ergonomic thumb throttle, a front suspension fork, bright lights, and fenders.
It easily adapts to any fun outdoor experience. Upgrade to the Zugo high-capacity 21AH battery, and you won't have to worry about running out of juice for up to 80 miles on a single trip charge! The ZuGo Rhino has a motorcycle-styled design that differs slightly from the step-thru bike, which are terrific bikes for any commute!
Electronics
Up to to 21Ah (1008 watt-hours) Samsung Cells Lithium Removable Battery
48V 750W Geared Hub Motor
Thumb Throttle
Beautiful Display w/ 7 level Electronic Pedal Assist System
USB Phone Charging Port on Handlebars
IP67 Water & Dust-proof Electronics & Connectors
AC 120V 2A ChargerUse Pedal Assist and/or Throttle
ZuGo RHINO STEP THRU ELECTRIC FAT BIKE
Step-thru model
Are you looking for a ZuGo that is simple to mount? ZuGo Bike has developed a commuter-friendly hybrid bicycle for all terrains that outperforms traditional bikes and is more comfortable to ride than the competition. This e-distinctive bike's design is built on providing you with greater stability and control when cruising the streets.
The step-thru bike's dual suspension forks and thick tires make it exceptionally smooth and pleasant to ride on any terrain. In addition, the step-thru e-bike makes dismounting easier and safer, especially for riders with limited mobility. The strong ZuGo Rhino Step-Thru is an excellent commuter bike. Its design is lightweight and aerodynamic, yet it provides fat tire bike performance.
Drivetrain
750W Geared Hub Motor
Up to 80 miles of Range per Charge (with 21Ah Removable Battery)
Hydraulic Brakes – Class-Leading 2-Piston stopping force
Rain & Dust Proof – Rated IP67
Aluminum Alloy 6061 Frame
Adjustable Handlebar Height (from ground to handlebar 44″ to 49″ height adjustment)
Shimano Altus 7 Speed Trigger Shifter Drivetrain
Large Platform Forged Aluminum Pedals
All-Terrain Fat Tires (20″ x 4″)
Cup Holder Built Into Frame
Black Spokes
Maximum Load (including rider): 300-325lbs
Suggested Rider Height: 5ft 1in – 6ft 5in
Experience the ZuGo Rhino motorized step-thru fat biking in sand and snow, mountain climbing, or riding through a city or suburb. The Rhino electric fat bike model boasts a dependable 750-watt engine, multiple gears, an integrated thumb throttle, a suspension fork, lights, and fenders, and it is easily adaptable to any outdoor adventure!
Upgrade to a high-discharge 21AH battery to extend your ride's range and avoid running out of juice for up to 80 miles on a single charge. Step-thru bikes have grown in popularity as a result of their frame design, which allows for a comfortable, upright riding position for a casual ride. The ZuGo Rhino resembles a motorcycle more than the Rhino step-thru bike. It has a more aggressive appearance!
Rider Heights – 5ft 1in – 6ft 5in
Handlebar Reach – 16in
Total Length – 68in
Handlebar Height – 9-13in
Handlebar Width – 27.5in
Bike Weight – 65lbs
Rider Seat Height – 32.5in
Crank Length – 170mm
Payload Capacity Including Rider – 300-325lbs
Standover Height – 30in
Wheelbase – 45in
Adventure at your finger tips!
What are you waiting for?
Get ready to go on exciting adventures with the ZuGo Rhino Electric Fat Bike! The motorcycle-style ZuGo Rhino allows you to attach additional e-bike accessories for a more personalized ride. Enjoy a 750W Geared Hub Motor and a range of up to 80 miles each charge! The combination of large tires with puncture protection and a powerful engine provides improved traction and grip in sand, snow, mud, or water. Ride in any weather condition, any time and any where!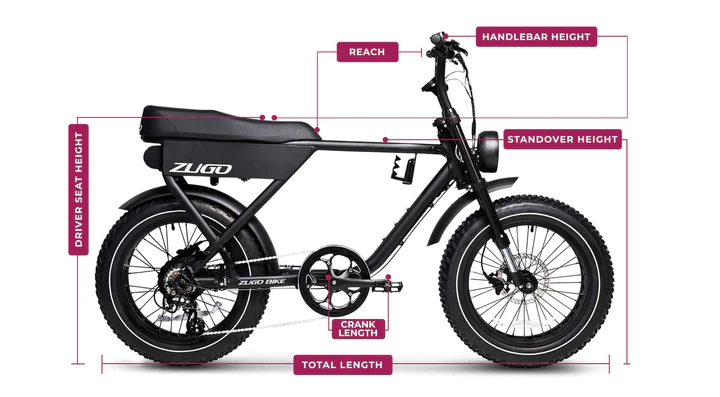 Worth it?
Models start at $1,999 to $2,499
We're very excited about this bike and everything it has to offer. What are your thoughts? Is the Rhino Series' $2,000 price tag justified? Would you like the larger capacity of the 21 Ah battery? Tell us in the comments.
Best Electric Unicycles
Disclaimer: The information presented in this article is derived from extensive research, user reviews, and publicly available information. Our aim is to provide accurate and up-to-date content; however, it is crucial to understand that the opinions expressed are based on the information available at the time of writing. We strongly encourage readers to conduct their own thorough research and carefully evaluate their individual needs before making any purchasing decisions.
eWheels 2023 Summer Deals and New Launches are here!!!
Cheap, reliable, and powerful! TurboAnt Electric Scooters 2023 Sale!
Hi guys! This post may contain affiliate links, sponsored content, and advertisements. We get a small commission for covering topics that interest us (helps us keep the doors open). For more information, please see our privacy policy and disclaimer. Ride safe yall!
2023 Electric Unicycles:
Coupons & Deals:
Apollo Scooters: Get $50 USD worth of free accessories, upgrades, or spare parts with the purchase of a scooter. Code: VROOOMIN
REV Rides: Save $50 off Scooters and EUC's, Code: VROOOMIN
EVOLV Electric Scooters: Free Folding Lock (worth C$80) for every EVOLV model! Use Code: VROOOMIN-LOCK
To keep the site running and information flowing, Vrooomin.com participates in affiliate linking programs. We're also an Amazon Associate, which means we get paid for referring people to Amazon. Please support the channel by clicking on our links.