Meepo Mini Dual Electric Skateboard
The Absolute Best Electric Skateboard For Teens and new beginners
If given the option of walking, riding the bus, or shredding on a Meepo Mini Dual electric skateboard, I would choose the latter. The Mini Dual is a 12-pound beginner board that demands action. The Mini is powered by two 200W motors and a 72WH battery pack, with a top speed of 18 mph and a range of up to seven miles. Consider how much fun you'll have on this board and how much time and money you'll save.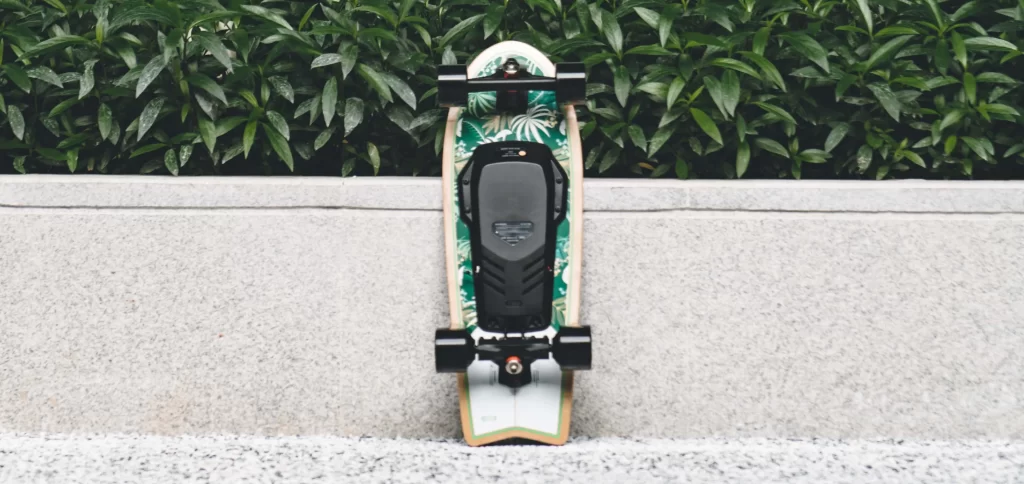 Beginner Friendly
The Mini Dual is constructed of 7-ply Canadian maple, features Shredder downhill trucks, and is operated by the M5 remote and LY-FOC controller. Remember, this board is only suitable for beginners and teenagers. The maximum load is only 110 lbs. Therefore it's better suited to lighter shredders.
8 Ply Maple Deck – Sturdy and secure
LY-FOC 12H ESC – Smooth start and brakes
Forged Truck – Flexible kingpin
If you prefer a larger board for bigger riders, we recommend the Meepo shuffle, that board is more appropriate for adults.
Features
Easy to Ride
18 Mph Top Speed
7 Miles Range
10% Hill Grade
4 Riding Modes
110 lbs Max Load
Recommended Age:12-18 years old
1 Hour Fast Charge (Using 2A charger)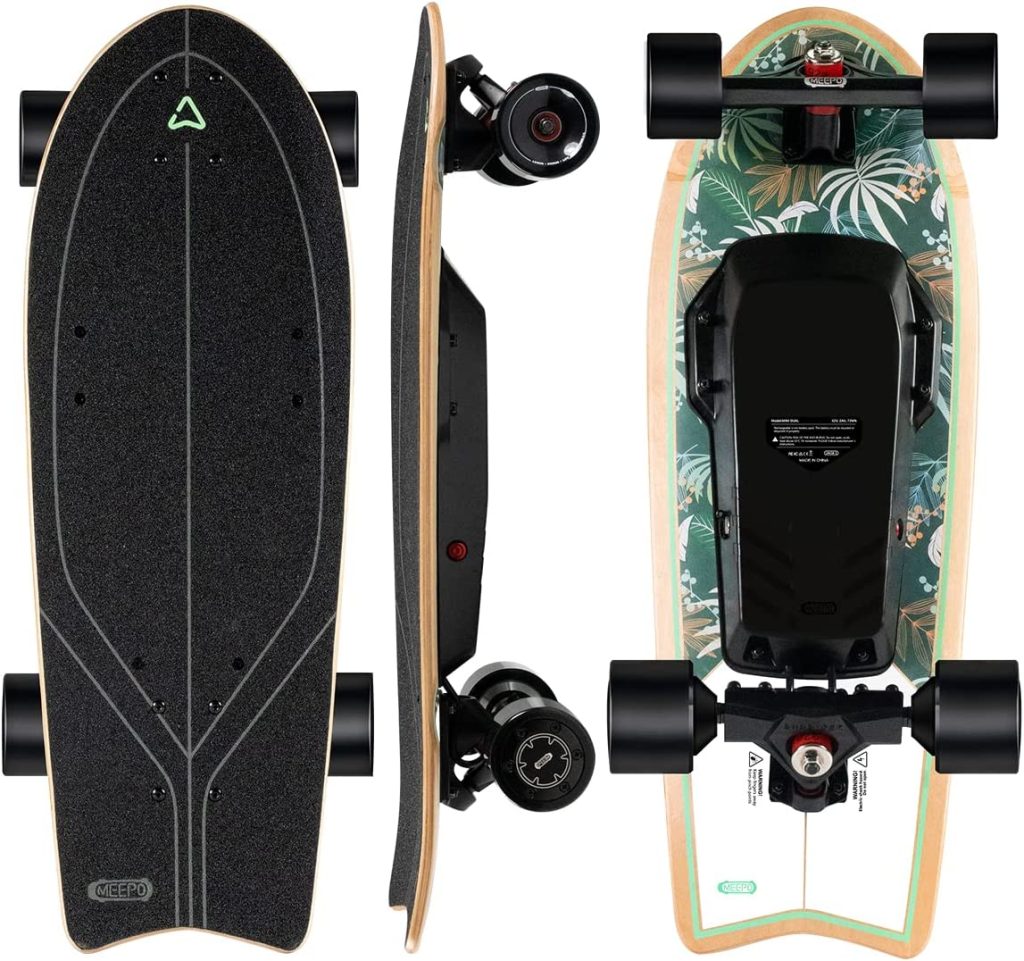 The Best Electric Skateboard For Teens And Novice Riders
The Meepo Mini Dual is a great starter electric skateboard. This board will teach you how to e-skate safely and excitingly, thanks to its unique safety features and light and beautiful design.
Electric Skateboard for Beginners – This board is excellent for teenagers and nearly any starting rider.
Have fun while remaining safe – Top speed and acceleration are restricted, allowing rookie and teen riders to progress safely.
Lightweight and compact – The design makes it portable and easy to travel. You may perform even more nimble motions with a kicktail.
Elegant style – Perfect for showing off your riding skills this summer.
Power
High Performance
Mini Dual Electric Skateboard, equipped with a 200W*2 motor, can run at a top speed of 19 MPH and quickly climb up to 10% inclines. The 2000 mAh battery allows Mini Dual Electric Longboard to run a range of 7 miles once fully charged in 1 hour with a 2A charger (5h with a standard charger), which will bring skateboarders a lot of fun.
Design
Sturdy, Secure, and Stylish
The Mini Dual Skate Board weighs 11.9 pounds and has a 27.5-inch 7-layered maple non-slip deck that can support a rider weighing up to 110 pounds and does not flex at all. Premium 75mm PU wheels offer good ground grip for a secure ride, while the fish-shaped exterior design ensures a smooth glide. The Hawaiian print on the bottom of the deck adds a cool and trendy touch to the board, making it suitable for summer cruising.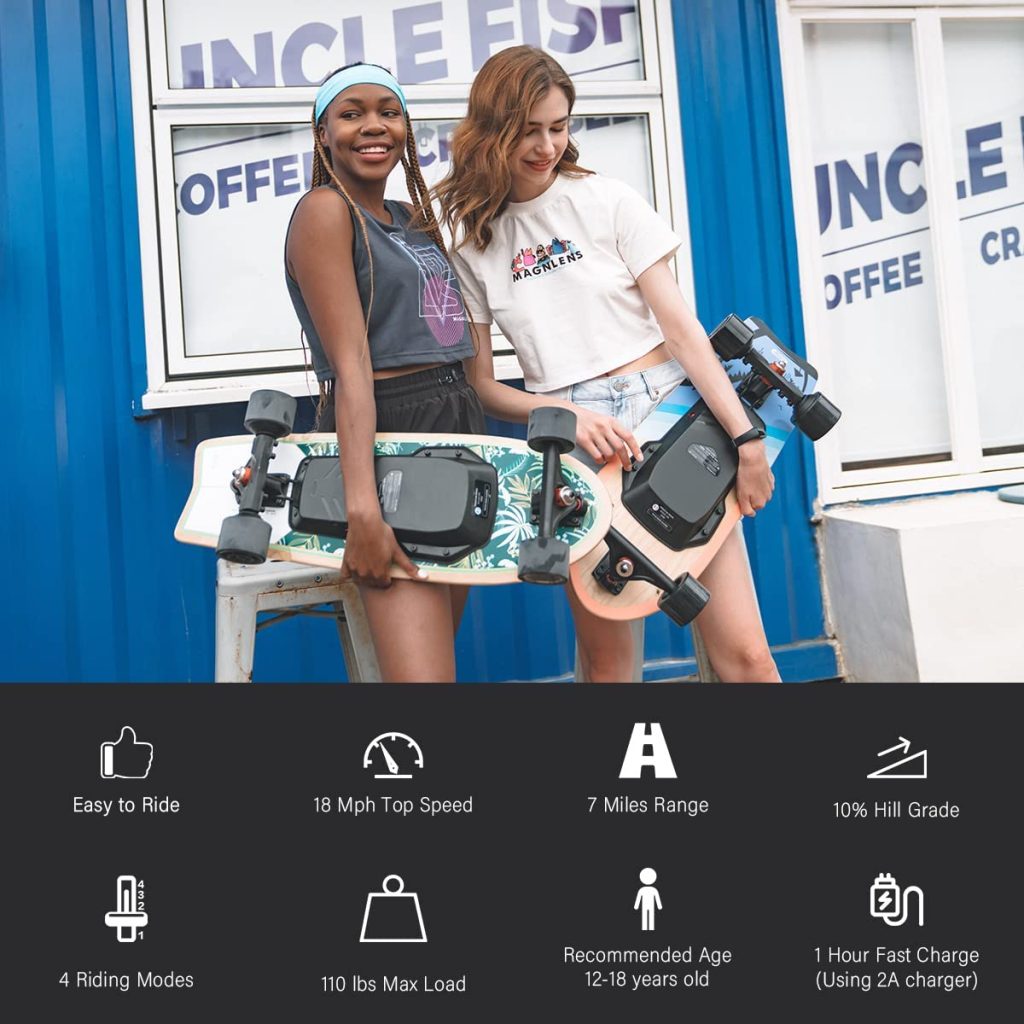 Ride Modes
4 Speeds Modes
Mini Dual skateboards are suitable for both beginners and experienced riders due to their four-speed adjustment. Beginners should choose the low-speed mode for safe riding and gradually accelerate over time; mode 4 is more suited for skilled skateboarders due to its speed.
M5 Remote
Wireless Remote Control
The MEEPO M5 wireless remote control allows you to adjust the skateboard's riding speed and adjust the direction, accelerate, brake, forward, and backward. The longest operating distance is up to 10 meters, allowing you to enjoy the street landscape freely.
Warranty
6 Months Warranty by MEEPO
Mini Dual Long Board has passed UL 2272 safety certification and comes with a 6-month warranty; if you have any questions, please get in touch with us. Also, if any of your skateboard's parts are damaged, please get in touch with Meepo for assistance; we will give you a satisfactory solution.
Technical Specs
Model: Meepo Mini Dual
Top Speed: 18mph / 30kph
Range: 7 miles / 11.3km
Weight: 11.9lbs / 5.4kg
Deck: 7 Ply Canadian Maple
Dimensions: 700*255*135mm
Hill Climbing: 10%
Battery: 10S1P 18650 72Wh
Motor Power: 200W × 2
Trucks: Shredder 50° downhill truck
Charging Time: Standard charger: 5h
2A charger: 1h to fully charge (sold separately) Also compatible with Meepo V3, Mini 2 Standard charger (42V / 1.5A)
Max Load: 110lbs / 50kg
Wheels: 75*52mm
Remote: M5
Warranty: 6 Months
Meepo Boards
MEEPO will make your commute more enjoyable and efficient. Riding an e-board will make your travel much more convenient and enjoyable. Whether biking to work or riding around town with buddies, make your commute fashionable. We have no better source of inspiration than our clients.
Our customer-first strategy aims to produce high-quality, low-cost electric skateboards. Meepo was among the first to make high-quality, value-driven electric skateboards. Kieran Mao founded the company, which relies on creativity, enthusiasm, and quality. Over 120,000 Meepo Board riders have fallen in love with electric skateboarding in over 70 countries.
Best Electric Unicycles
Disclaimer: The information presented in this article is derived from extensive research, user reviews, and publicly available information. Our aim is to provide accurate and up-to-date content; however, it is crucial to understand that the opinions expressed are based on the information available at the time of writing. We strongly encourage readers to conduct their own thorough research and carefully evaluate their individual needs before making any purchasing decisions.
eWheels 2023 Summer Deals and New Launches are here!!!
Cheap, reliable, and powerful! TurboAnt Electric Scooters 2023 Sale!
Hi guys! This post may contain affiliate links, sponsored content, and advertisements. We get a small commission for covering topics that interest us (helps us keep the doors open). For more information, please see our privacy policy and disclaimer. Ride safe yall!
2023 Electric Unicycles:
Coupons & Deals:
Apollo Scooters: Get $50 USD worth of free accessories, upgrades, or spare parts with the purchase of a scooter. Code: VROOOMIN
REV Rides: Save $50 off Scooters and EUC's, Code: VROOOMIN
EVOLV Electric Scooters: Free Folding Lock (worth C$80) for every EVOLV model! Use Code: VROOOMIN-LOCK
To keep the site running and information flowing, Vrooomin.com participates in affiliate linking programs. We're also an Amazon Associate, which means we get paid for referring people to Amazon. Please support the channel by clicking on our links.