MEEPO Hurricane 2 in 1 Off-Road All Terrain Electric Skateboard
Ultra-Long 44-Mile Range Mountain Board, Fastest Maximum Speed of 35 MPH
If you're looking for power, the all-terrain Meepo Hurricane has plenty. Harnessing a 7KW drivetrain, a 725WH Molicel pack, and its 70A Meepo FOC controller, the Hurricane is ready for you to touch down and burn rubber on the streets.
Starting at $1,599
Meepo Hurricane, 35 MPH Molicel-powered Electric Skateboard.
The Hurricane is one of the most potent and longest-range electric skateboards on the market. Tested with a 75kg rider, the Hurricane produced 44 miles of real-world range, pushing out a 35 mph top speed. The torque on this board is ridiculous. Please ride with full gear at high speeds.
Technical Specs:
MODEL: MEEPO HURRICANE
Top Speed: 35 mph
Range: 31 miles (All Terrain), 44 miles (Street)
Weight: 15.6 kg / 34.4 lbs (All Terrain), 14.4kg / 31.8 lbs (Street)
Deck: 3K Carbon Fiber
Dimensions: 1125*340*125mm
Hill Climbing: 46%
Battery: 12S4P Molicel P42A, 725.8Wh
Motor Power: 3500W ×2
Trucks: Double Kingpin Truck
Charging Time: 2.8h
Max Load: 250 kg / 552 lbs
Wheels: 155*50mm (All Terrain), 90*62mm (Street)
Components: Switch, Motor, Motor Pully, Bash Guard, Motor Mount,Truck Axle, Baseplate Cover, Fiberglass Lid, Deck, Battery, CNC heatsink, 9.25'' Double Kingpin Trucks, Charging port wheel pulley
Powerful Performance
The Hurricane produces insane off-the-line torque and hill-climbing ability. As we mentioned, this board is rated to go up to 35 mph, which is insane for a board with four wheels.
Convenient and revolutionary mode of transportation – The 3500W*2 motors, 165kv BLDC motors, 15:55 gear ratio, and 155mm rubber wheel provides you outstanding launch and hill climbing capabilities.
In gear 4, you should attempt full throttle with utmost caution and full gear
Carbon Fiber Deck
The Meepo Hurricane longboard is built like a tank. This deck protects the battery pack from punctures and bending along with the battery box. Even a car driving over the committee could not split the Hurricane in two.
The board's deck is robust and designed using T700 carbon fiber to keep you and your velocity in check.
Extended 40″ deck for comfort and stability.
Custom LY-FOC 70B Board
The Hurricane ESC is built for high accuracy and short response and takes signal input from the remote controller within milliseconds.
It provides the smoothest acceleration and braking control with no lag while operating.
70A power settings provide insane acceleration and gradient climbing.
Riders have the option for a 100-amp controller upgrade.
Four gears and four brakes are built from weak to robust to accommodate the varying needs of riders. A wireless remote control enables you to alter the speed mode flexibly.
Molicel P42A Battery Pack
The Hurricane comes with a Molicel option, some of the highest discharge and most expensive lithium cells on the market. Each cell has a 45A's of continuous discharge.
Whats in the box?
Meepo Hurricane
User Manual
M4S Remote
Remote Charger
T-tool
50.4V/6.5A Fast Charger
Modular Compatibility
Meep's designs leverage standard pulley axles (10mm). This setup allows the rider to swap any wheels (street, pneumatic) with the correct pulley.
Warranty
Meepo offers two sets of wheels for exchange, 90mm PU wheels and 155mm off-road wheels, and 365 days warranty for this professional off-road electric skateboard. Your views on the product are valuable to Meepo; if you have any opinions on product improvement or dissatisfaction, please feel accessible to Meepo.
Is the Meepo Hurricane right for you?
At $1,599, the Hurricane is expensive, fast, modular, and harnesses some of the most potent cells on the market. If you're ready to drop some serious coin for extreme performance, the Meepo Hurricane is one to consider.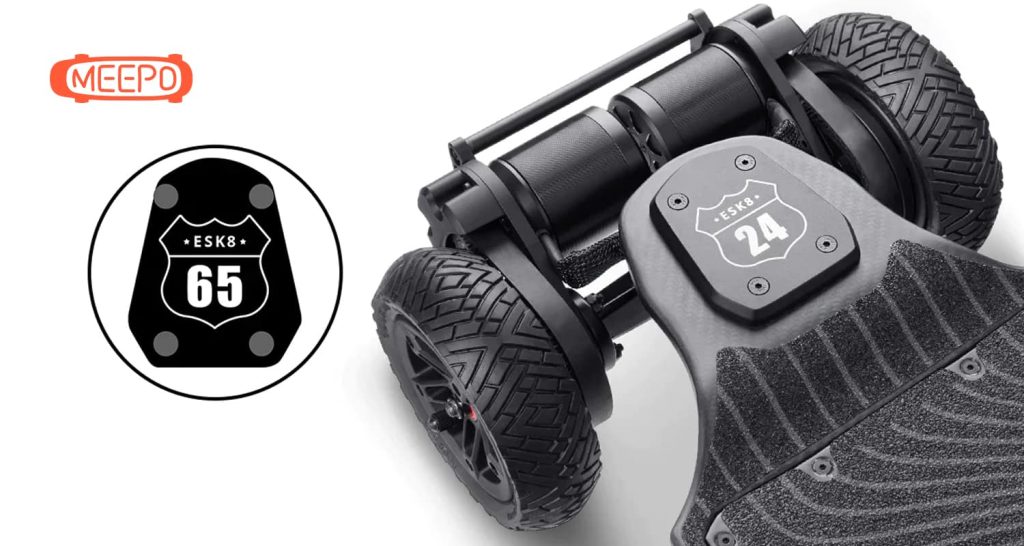 Best Electric Unicycles
Disclaimer: The information presented in this article is derived from extensive research, user reviews, and publicly available information. Our aim is to provide accurate and up-to-date content; however, it is crucial to understand that the opinions expressed are based on the information available at the time of writing. We strongly encourage readers to conduct their own thorough research and carefully evaluate their individual needs before making any purchasing decisions.
eWheels 2023 Summer Deals and New Launches are here!!!
Cheap, reliable, and powerful! TurboAnt Electric Scooters 2023 Sale!
Hi guys! This post may contain affiliate links, sponsored content, and advertisements. We get a small commission for covering topics that interest us (helps us keep the doors open). For more information, please see our privacy policy and disclaimer. Ride safe yall!
2023 Electric Unicycles:
Coupons & Deals:
Apollo Scooters: Get $50 USD worth of free accessories, upgrades, or spare parts with the purchase of a scooter. Code: VROOOMIN
REV Rides: Save $50 off Scooters and EUC's, Code: VROOOMIN
EVOLV Electric Scooters: Free Folding Lock (worth C$80) for every EVOLV model! Use Code: VROOOMIN-LOCK
To keep the site running and information flowing, Vrooomin.com participates in affiliate linking programs. We're also an Amazon Associate, which means we get paid for referring people to Amazon. Please support the channel by clicking on our links.