Meepo Voyager
The Meepo Voyager X is a rather incredible feat of electric skateboard technology
Considering that the 5KW Voyager can speed up to 40 MPH and has a range of up to 36 miles on a single charge, it is safe to say that this vehicle packs some serious heat. The Voyager also boasts a fiberglass and bamboo deck for durability, which is not a terrible combination when going +25 MPH.
The Voyager has a Samsung 40T battery pack with a capacity of 518WH. That's a lot of high-amp riding range with this high-discharge battery pack. The drivetrain and battery pack combo also allows riders to attain a peak output of 5544W, making it an insanely powerful board on four wheels.
High-Speed Voyager
I wouldn't call this board a beginner board; it's very far from it. Everything from its forged RKP trucks to its 90*60mm polyurethane wheels and M5S remote combine to produce the Voyager, one of the most potent and capable electric skateboards currently available on the market.
Power: MEEPO Voyager Electric Skateboard has a peak speed of 40 MPH and can effortlessly climb up to 46% inclines thanks to its 2800W high torque hub motor. Its 518Wh battery allows the Voyager Electric Longboard to run a range of 31 miles once wholly charged in 4 hours with a 3A charger.
Deck: MEEPO Voyager electric skateboard weighs 23.8 lbs, has a 38.6-inch deck composed of bamboo and one ply of fiberglass, and has a strong rebound.
Chassis: The MEEPO Voyager Skateboard employs a robust RKP truck, allowing responsive turning while being stable and smooth even at high speeds. The maximum weight capacity is 330 lbs, and the 90mm shock-resistant polyurethane road wheels provide a solid and smooth glide.
Support 80mm-120mm Wheels: MEEPO Voyager professional skateboards offer wheel sizes ranging from 80mm to 120mm; you may replace the wheel at your leisure depending on the road conditions, increasing the wheel's service life and having more fun with the glide.
Warranty: Every MEEPO Voyager skateboard has been checked by their QA team, and every part has been tested. A one-year warranty on all boards.
Ride Features
Top speed: 40 MPH
Max-Range: Long Range 36 Miles
Gradient: 46% Hill Grade Conquer Steep Hills
Modes: 4 Riding Modes, Beginner to Pro
Battery Pack: Samsung 40T Cells 518WH
Remote: Next-Level Riding Control on Acceleration and Brakes
Motors: BLDC Motor X 2 2775 Watts 6358
Controller: LYFOC 55B ESC, Smart and Precise
In Box: Meepo Voyager, User Manual, M5S Remote, Remote Charger, T-tool, Standard 3A Charge
The Most Versatile Electric Skateboard Available Today
King of the Streets
The Meepo Voyager is the first electric skateboard to have everything a rider requires to ride safely integrated into a single, adrenaline-inducing package. It is also known as the King of street boards owing to its 5KW peak output and Samsung 40T battery pack. It has speedier acceleration than most all-terrain boards, and it claims a real-life proven top speed of 40 miles per hour and a range of 36 miles on a single charge.
No competition!
This board is head and shoulders above its rivals, setting itself apart from any other street performance skateboard on the market. It is unquestionably the fastest in its class and less in weight.
Riding Control on a Whole New Level
Easy Riding
The Voyager was explicitly designed for OG's longboarders who are infatuated with the rush of quick acceleration and the traditional carving technique of longboards. When it comes to torque and mobility, the Voyager easily exceeds any other belt-driven street board, and it is in a class all by itself.
Due to its incredible power, the Voyager can reach 15 miles per hour in just 2.5 seconds and can travel upwards at 20 miles per hour on a slope that is 15% steep. It is possible to come to a complete stop at a speed of 15 miles per hour in less than six meters, enabling riders to ride quickly while also being able to stop quickly.
Premium Bamboo Deck
All decked out
The Voyager longboard deck is 38 inches long and made of bamboo and tri-axle fiberglass. These boards are not inexpensive since they were created with quality in mind. Since 2018, when Meepo first introduced the bamboo deck on the Meepo NLS models, the company has been working to enhance the quality of its products, and each year the quality has improved.
The bamboo surface of the Voyager deck is both flexible and comfortable, making it ideal for long-distance cruising; at the same time, it is sufficiently rigid to provide exciting riding with solid acceleration and braking.
In addition, it has a responsive carving feel similar to that of a traditional longboard and excellent vibration absorption as standard equipment. When riding on a Meepo, the comfort of your feet is just as important as its ability to go at high speeds.
Keep Riding, Stay Cool
High Powered Riding
When riding the Voyager, we don't have to worry about reaching our power limitations or overheating the motherboard, this board was designed to keep us cool. Even if you ride aggressively, the battery and power train has enough capacity to keep you safe on the road. The temperature of the Voyager X controller's newly built super 12S3P battery will remain stable during the whole riding session, over 36 miles of high speed fun!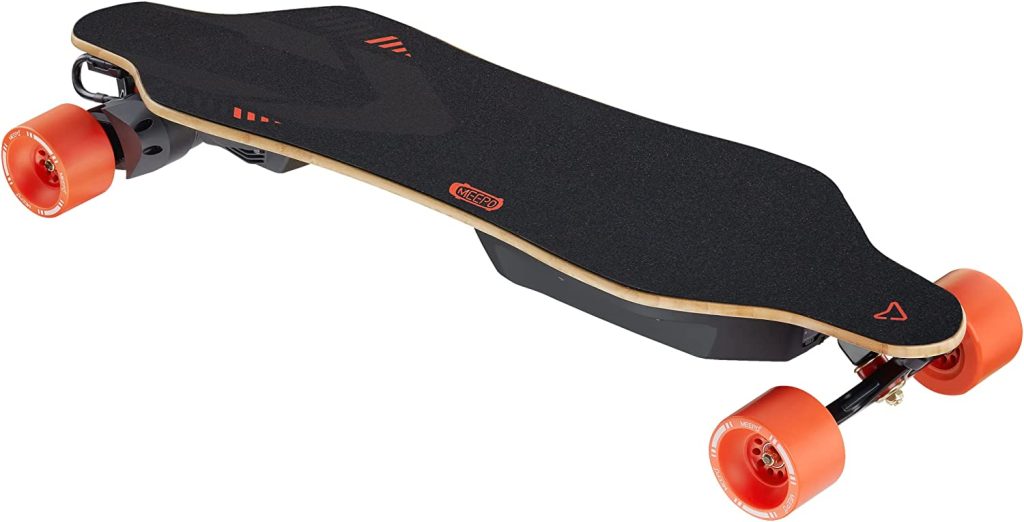 Heavy riders in the 330-pound weight class, please have fun with the ride and go as quickly as you like up the hill; there is no reason to be concerned. You no longer need to worry about running out of juice or running out of range since the Voyager Samsung 40T pack and bamboo deck are both made to be very durable and able to handle whatever you can throw at them.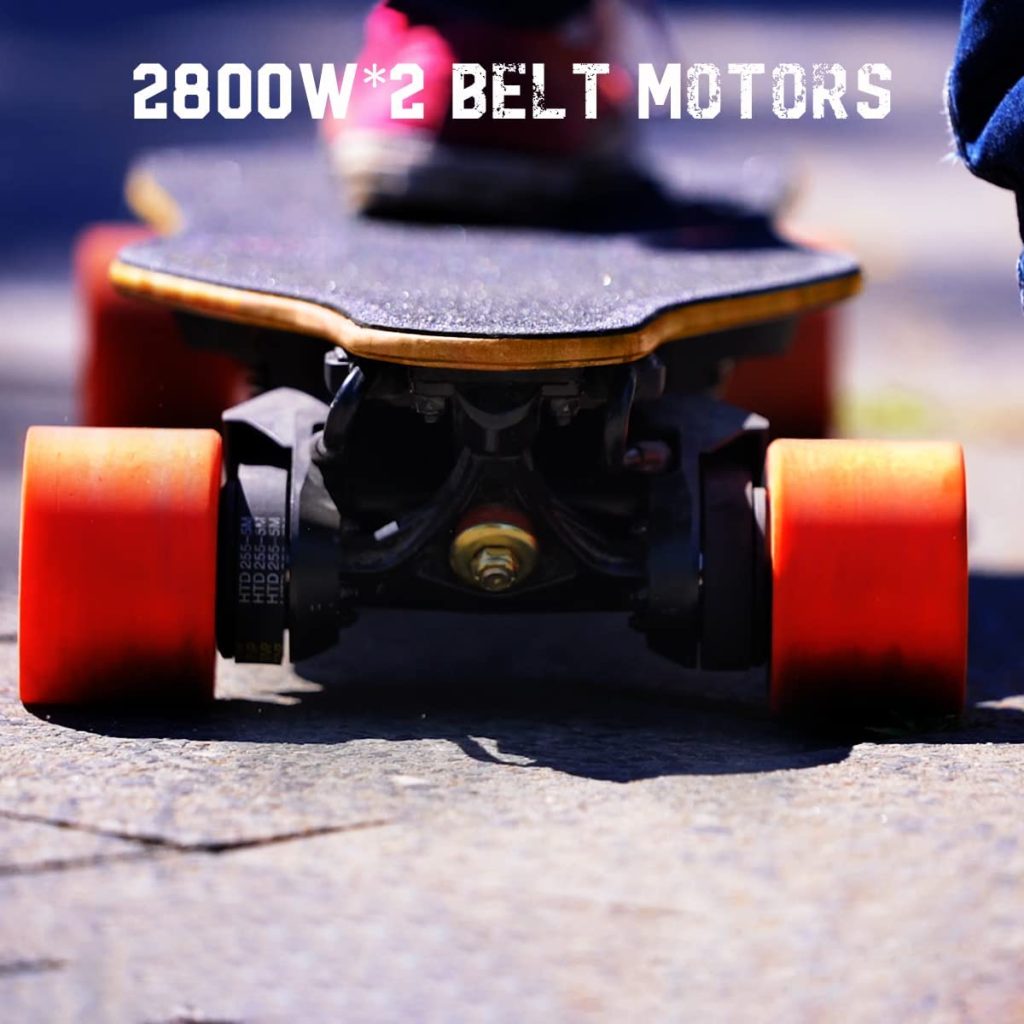 Technical Features:
Model: Meepo Voager X, Meepo Voager S
Top Speed: 40 mph / 66 kph
Range: 24-36 miles / 38-58km, 18-25 miles / 29-40km
Deck: Bamboo + Fiberglass
Dimensions: 38.6″ * 11.7″ * 5.7″, 980mm298mm145mm
Hill Climbing: 46%
Battery Arrangement: 12s3p 518WH, 12s2p 346Wh
Battery Cell Model: Genuine A-Grade 21700 Samsung 40T
Combined Constant Power: 2772 Watts
Combined Peak Power: 5544 Watts
Trucks: Forged 50° RKP
Charging Time: Standard 3A Charger: 4h, Standard 3A Charger: 2.5h
Max Load: 330 lbs / 150kg
Wheels: 90*60mm Poly-Urethane
Remote: M5S
Warranty: 12 Months
Best Electric Unicycles
Disclaimer: The information presented in this article is derived from extensive research, user reviews, and publicly available information. Our aim is to provide accurate and up-to-date content; however, it is crucial to understand that the opinions expressed are based on the information available at the time of writing. We strongly encourage readers to conduct their own thorough research and carefully evaluate their individual needs before making any purchasing decisions.
eWheels 2023 Summer Deals and New Launches are here!!!
Cheap, reliable, and powerful! TurboAnt Electric Scooters 2023 Sale!
Hi guys! This post may contain affiliate links, sponsored content, and advertisements. We get a small commission for covering topics that interest us (helps us keep the doors open). For more information, please see our privacy policy and disclaimer. Ride safe yall!
2023 Electric Unicycles:
Coupons & Deals:
Apollo Scooters: Get $50 USD worth of free accessories, upgrades, or spare parts with the purchase of a scooter. Code: VROOOMIN
REV Rides: Save $50 off Scooters and EUC's, Code: VROOOMIN
EVOLV Electric Scooters: Free Folding Lock (worth C$80) for every EVOLV model! Use Code: VROOOMIN-LOCK
To keep the site running and information flowing, Vrooomin.com participates in affiliate linking programs. We're also an Amazon Associate, which means we get paid for referring people to Amazon. Please support the channel by clicking on our links.