Inmotion is proud to introduce the 22 MPH Air Pro, a beginner electric scooter that is both powerful and affordable.
The fact that electric scooters are all about portability, capacity, and speed doesn't seem to be understood or even accepted by most people. Budget scooters are extremely popular because they balance performance, cost, and portability. You don't require a large and expensive electric scooter on most days.
All you need
All you need is a nice 39 lb + 20 mph scooter. You want one sturdy that will last you for years; you don't want one too flimsy. True to its name, the Inmotion Air Pro is a work-week-friendly, lightweight electric scooter that's designed to get you where you need to go quickly and safely.
22 MPH
30 miles range
750W Motor
438WH Battery Pack
39 lbs
264 lbs max load
Pricing
Guess what? The Air Pro is competing against other $1,000 models, costing only $700! You get a lot of value for your money. The 750W motor, 10″ pneumatic-solid tires, dual braking system, and sophisticated battery BMS system on this scooter will keep it running for years.
*10-inch big tire

Wiring hidden design
48km long range*
Dual-braking system
Aircraft-grade aluminum frame
Smart BMS
2 riding modes
Silent
The Air Pro is a silent, quick scooter with a massive 428WH battery pack to get you to work on schedule. Many people find it annoying when scooters have flat tires on the back. By adding a strong solid rear tire, InMotion has solved this problem. Now, there are fewer annoying tire hassles on the road now.
Protection
A lithium device shouldn't have any battery problems. The Air Pro has safety features that keep it from overcharging, overheating, discharging too soon, using too much current, or shorting out. Is this battery sufficiently safe?
over-charge protection
over-temperature protection
over-discharge protection
over-current protection
over-voltage protection
short-circuit protection
Weekday Ready
Drum brakes and dual braking with regen add the best stopping power. On this scooter, you're not traveling too quickly, you will have more stopping power than you require thanks to the dual brakes. Water protection on battery-powered devices is one issue that troubles people. The chassis of this Air Pro is rated IPX5, and the battery is rated IP67.
Riders can see and be seen at night thanks to the ultra-bright headlamps powered by the battery as well. Also highly praised by riders is the easy-fold system. The scooter can be folded up in three easy steps and lifted into a car trunk or up a flight of stairs. The Air Pro is a fantastic budget scooter with so many great features.
Here are the specifications in more detail.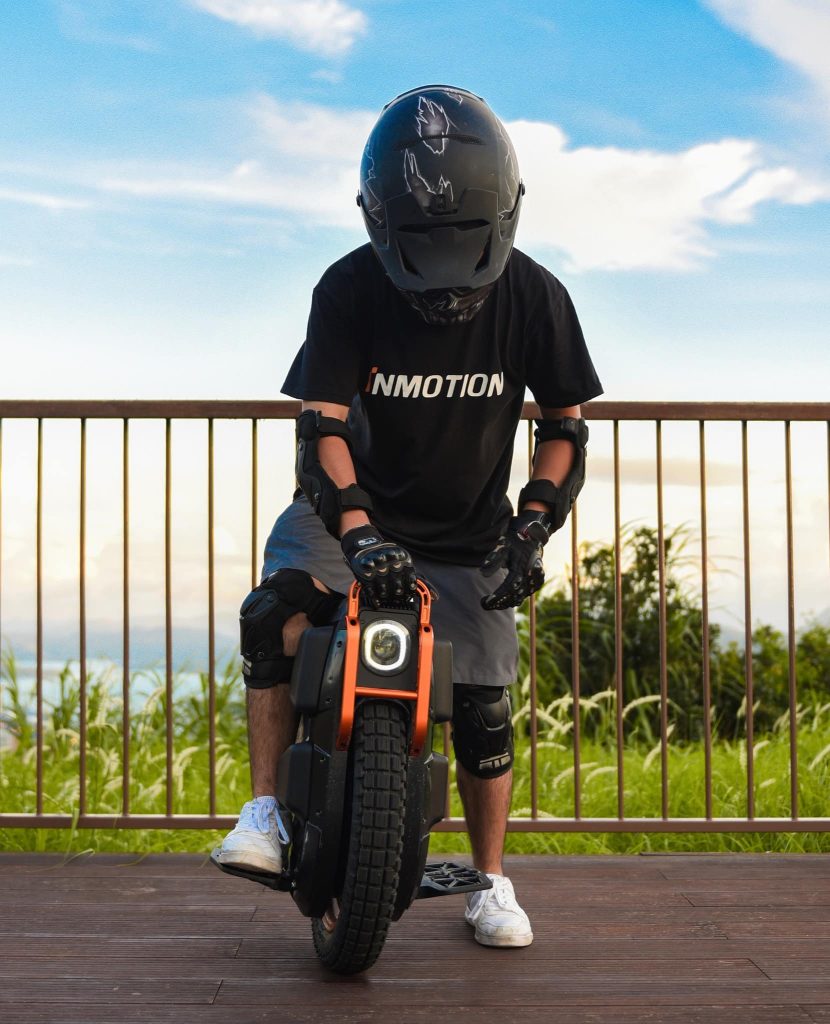 Power
TRULY UNBELIEVABLE SPEED: The rear-drive motor on the INMOTION AIR PRO is capable of producing a whopping 750w of peak power in mode 2. In the beginner category, its top speed of 35 km/h makes it the most exciting option.
WITHOUT RANGE ANXIETY, A LARGE BATTERY CAPACITY: With its massive 438Wh lithium battery, the vehicle can travel up to 48km. You can relax and have fun on your daily commute without worrying about how much power you're using.
MAINTENANCE-FREE REAR TIRE: Since the back wheel is the most common site of punctures on scooters, INMOTION AIR PRO uses a 10″ pneumatic tire up front to provide a more pleasant, trouble-free ride.
SMART BATTERY MANAGEMENT SYSTEM: The AIR PRO e-scooter is equipped with a smart battery management system that allows for constant monitoring and instantaneous feedback, guaranteeing your scooter's readiness and safety at all times.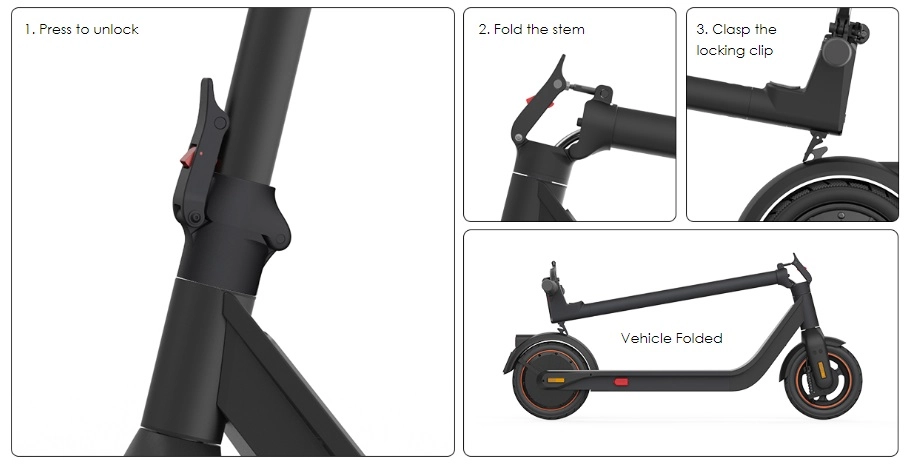 DUAL-BRAKING SYSTEM ENSURE YOUR SAFETY: Because the INMOTION Anti-Roller system activates the rear regenerative brake ahead of the front drum brake and distributes the different torque applied to the wheels, you can rest assured that your braking system is always working properly.
EXCELLENT WATER RESISTANCE CAPABILITY: We're not making toys but transportation tools. The INMOTION AIR PRO is a durable and reliable scooter that will get you where you need to go in a timely and secure fashion (IPX5 for the entire scooter, IP67 for the battery pack).
ULTRA BRIGHT HEADLAMPS: The AIR PRO is equipped with a high-lumen and ultra-bright headlamp that can throw up to 15 meters, allowing you to see further ahead and keeping you safe even when riding at night.
WIRING HIDDEN DESIGN: With the wiring hidden design, AIR PRO achieves a futuristic and streamlined look without sacrificing durability or strength in its ergonomic design. It also significantly improves safety against extreme weather events and defacement.
2 RIDING MODES: By simply pressing the power button twice, you can toggle between Drive mode (D) and Sports mode (S), with the latter being a very enjoyable ride mode on the INMOTION AIR PRO.
Technical Specs:
Model: AIR PRO
Charging Time: approx. 8.5hrs
Wheel Types: 10" Front Pneumatic Tire; Rear PU-filled Solid Tire
Max Range*: 48km / 30 miles
Max Speed: 35km/h / 22mph
Net Weight: 17.7kg
Max Slope*: 20%
Max Loading: 120kg(264.6lbs)
Motor Power: 400W(Rear)
Battery Capacity*: 438Wh
Charger Output Voltage: 42V
Charger Output Current: 2A
Brake Types: Electronic & Drum brake
IP Ratings(Body/Battery)*: IP55 / IPX7
Unfolded Dimensions: 1125*445*1200mm
Folded Dimensions: 1125*445*520mm
About Inmotion
Inmotion is a globally-focused tech company creating electric vehicles for personal transportation. We are responsible for R&D, manufacturing, marketing, and everything in between. The company was founded in 2012 and is run by a technical team with rich experience in robotics and vehicles.
These top talents work closely with the growing design and R&D teams to continually produce exciting new products. Our goal is to use high-tech to change the personal transportation industry and give commuters and travelers all over the world use, cutting-edge solutions.
Best Electric Unicycles
Disclaimer: The information presented in this article is derived from extensive research, user reviews, and publicly available information. Our aim is to provide accurate and up-to-date content; however, it is crucial to understand that the opinions expressed are based on the information available at the time of writing. We strongly encourage readers to conduct their own thorough research and carefully evaluate their individual needs before making any purchasing decisions.
eWheels 2023 Summer Deals and New Launches are here!!!
Cheap, reliable, and powerful! TurboAnt Electric Scooters 2023 Sale!
Hi guys! This post may contain affiliate links, sponsored content, and advertisements. We get a small commission for covering topics that interest us (helps us keep the doors open). For more information, please see our privacy policy and disclaimer. Ride safe yall!
2023 Electric Unicycles:
Coupons & Deals:
Apollo Scooters: Get $50 USD worth of free accessories, upgrades, or spare parts with the purchase of a scooter. Code: VROOOMIN
REV Rides: Save $50 off Scooters and EUC's, Code: VROOOMIN
EVOLV Electric Scooters: Free Folding Lock (worth C$80) for every EVOLV model! Use Code: VROOOMIN-LOCK
To keep the site running and information flowing, Vrooomin.com participates in affiliate linking programs. We're also an Amazon Associate, which means we get paid for referring people to Amazon. Please support the channel by clicking on our links.