Mention Code "VROOOMIN" for possible discounts to your dealer!
Coupon Codes & Deals:
eWheels Spring Sale on electric scooters and electric unicycles
Save $50 off Kaabo and EMOVE electric scooters with Code: VROOOMIN
Save $50 off VSETT, Begode, King Song, Segway with Code: VROOOMIN
Get $50 worth of accessories at Apollo scooters with Code: VROOOMIN

In this Article
First Impressions
Build Quality
Performance
Ride Experience
Specs & Features
Is the Dualtron Ultra 2 worth it?
Monster Truck of Electric Scooters
On my very first ride, I can still remember the feel of the handlebars, the weight of the chassis, the firm 11″ off-road tires, and the moment I felt the thrust of acceleration after pulling the throttle; it made me feel like I was riding the Monster Truck of Electric Scooters. Ten minutes later, I was plowing through an empty field, traversing the bumpy, uneven gravel; it finally hit me; the Ultra 2 was the real deal.
Dualtron Ultra 2 Electric Scooter Review
Power – 6,640 watt BLDC dual hub motors
Battery Pack –  72 volt – 35 Ah – 2,520Wh – LG 3500 cells
Top Speed – 60 MPH/80 KM
Range – 87 miles (average could be 30-50 mixed speed miles)
Build Quality – Aviation grade aluminum alloy, SCM440 steel, and plastic covers
Ride Comfort
Price – $3,990
Weight – 88 lbs/ 40.2 KG
Brakes – Nutt Hydraulic Brakes
Warranty & Customer Service – MiniMotors USA
Summary
The Ultra 2 is one of the strongest and fastest scooters on the market and provides more than enough power than most riders would want to ride comfortably. While the Ultra 2 is not the fastest electric scooter (Weped FF, Thunder 2, and Rions are for the extreme speed demons), the Ultra 2 wasn't designed to be.

The package that the Ultra 2 offers is a strong, reliable, an all around 72V scooter to enjoy at low and high speeds, on or off road, ride all day on any terrain type of scooter.

For similar electric scooter options, check out the Best 50MPH Electric Scooters, and Best 72V Electric Scooters.

My First Impressions on the 2021 Dualtron Ultra 2
There are so many words I can use to describe the Ultra 2. It's big, bold, loud, heavy, strong, powerful, and fast; it's an absolute beast! This isn't your run-of-the-mill Lime rental electric scooter, and it isn't pretending to be… this is the Dualtron Ultra 2, one of the most robust electric scooters on the market! The Ultra 2 is many things, my car, bus, subway, stress reliever, hot rod, rocket-ship, all above! A "quick grocery store trip" can take 3 hours.
Dualtron Ultra 2 Quick Facts and Performance Tests:
Cruising Speed: 30-40 MPH Easily
Top Speed: +55MPH with off road tires on very windy day, will retest with PMT Road tires in better weather conditions
Battery Range depends on performance settings: Low settings (40-60 Miles), Mid Settings (30-40 Miles) High Settings (30-40 Miles)
Comfort & Handling: Very comfortable & secure ride, firm suspension for high speed
Weight: Heavy Scooter, not easy to lift up stairs if needed
Build Quality: High quality build and chassis
Tires: Knobby great for off road and uneven pavement
Recommended upgrade for enthusiasts who ride 30-45MPH scooters.
Not recommended for absolute beginners, learn how to ride on smaller scooters first!
I've personally owned 3 Dualtrons (Dualtron Mini, Dualtron Eagle, Dualtron Ultra 2); for anyone interested in my experience with Dualtrons, check out my Dualtron Shopping Guide for information on the 2021 models and my Dualtron owner's guide to help riders know what to expect for upgrading and maintaining their electric scooters! Currently, I'm working on an entire drivetrain rebuild project on the Eagle Pro; make sure to subscribe to the newsletter for more information!
The Legend Continues
In September 2020, the first leaked Dualtron Ultra 2 photos made a ripple through the forums and generated excitement and anticipation in the electric scooter community.
When I first laid eyes on the Ultra 2, the classic Dualtron frame, it's knobby tires, the new rear wing external controller… I was smitten. I had to have one!
Fast forward to 6 months later, I was ready for my next electric scooter upgrade (I had already started purchasing Ultra 2 aftermarket parts) and was planning to keep the Eagle Pro as my daily commuter and ride the Ultra 2 for the big group rides. After a few email exchanges with John (MiniMotors USA), his February shipment arrived, and my Ultra 2 was already on its way to New York City!
The Dualtron Ultra 2 Build Quality
The 2021 Dualtron Ultra 2 is the 2nd generation (3rd major iteration) of the Dualtron Ultra series. Based on its 2nd Gen chassis, the Ultra retains its classic look, structure, suspension, and off-road capabilities. Design-wise, the Ultra 2 is the spitting image of the Ultra 1. Inheriting most of the Dualtron Thunders's premium features, the Ultra 2 is upgraded with folding handlebars, hydraulic brakes, LED lighting, and more (we'll go through each element below).
Coming in at 88 lbs, the Ultra 2 is a heavy scooter (for a good reason); it's capable of a +62 MPH top speed. The Ultra 2 carries a pair of 11″ motors and a 72V battery pack and is built on a heavy-duty (aviation-grade) aluminum chassis.
The Ultra 2 chassis is built to go the distance, whether if its on road or off road.
Pre-Ride Scooter Check List
When unboxing and configuring the scooter, I noticed that all of the critical structural components (headset, stem, folding clamp, handlebar, brake calipers) were secure and tight, and no loose parts or wobble could be found. The quality control on my Ultra 2 was on point; I ensured the tightening/torque of any visible bolts before my maiden voyage.
How Does the Dualtron Ultra 2 Perform?
The Ultra 2 is one of the first electric scooters to feature an external 40-amp controller/footrest. This design choice allows for better controller heat dissipation and deck space to accommodate its massive 2,520WH LG battery pack.
Boasting a MAX 6,640-watt BLDC dual hub motor, this scooter's drivetrain will gobble up any current. One huge improvement is that MiniMotors removed the single/double motor switch; the Ultra 2 only operates in dual motor mode!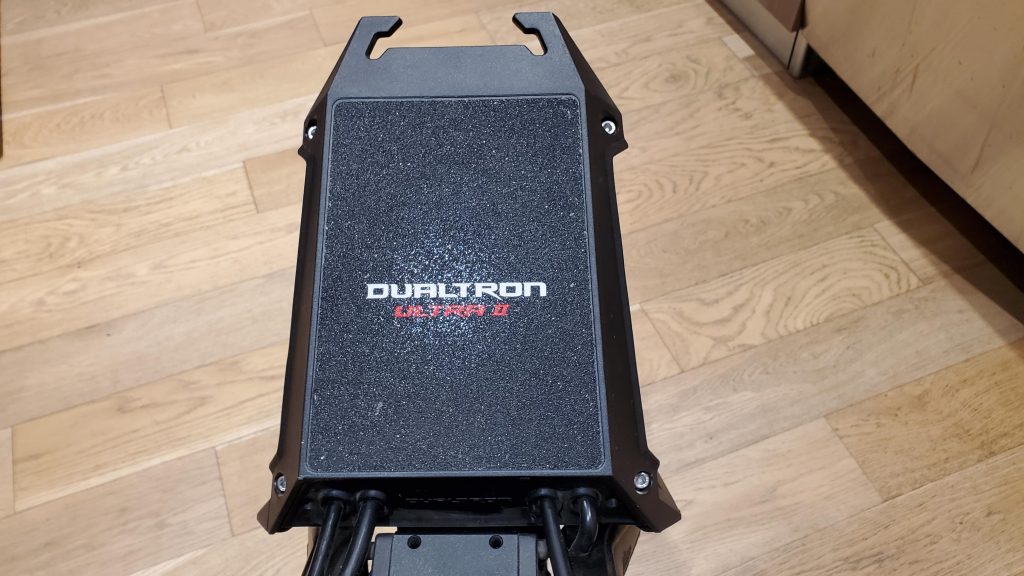 Economy Mode
EYE Throttle Settings (P7:0 P8: 100 P9:3)
My first ride experience was unreal; I was able to hit 30 MPH in gear 1! To put that speed metric in perspective, the Dualtron Eagle Pro averages 30 MPH in its highest settings (nonturbo). When it came to torque, I didn't understand how vital the Ultra 2 is until I experienced the butt-clenching acceleration; I needed a drink and cigar after my first ride experience.
Turbo Mode
EYE Throttle Settings (P7:0 P8: 100 P9:3)
The Ultra 2 is the evolution of Dualtron performance. After finding an open stretch of road, I maxed out the settings and lightly pulled the throttle … to my utter shock; I found the front motor lifting off the ground; just barely tugging the throttle, I was already on my way to hitting wheelies!
The external controller design is absolutely brilliant!
Not to mention, the controller/footrest is absolutely clutch. When the torque pulls you forward, you'll find your rear foot digging into the footrest to retain your balance. Living in New York City, riding with the top performance settings is not advisable, especially with pedestrians, cyclists, red lights and stop signs on every corner.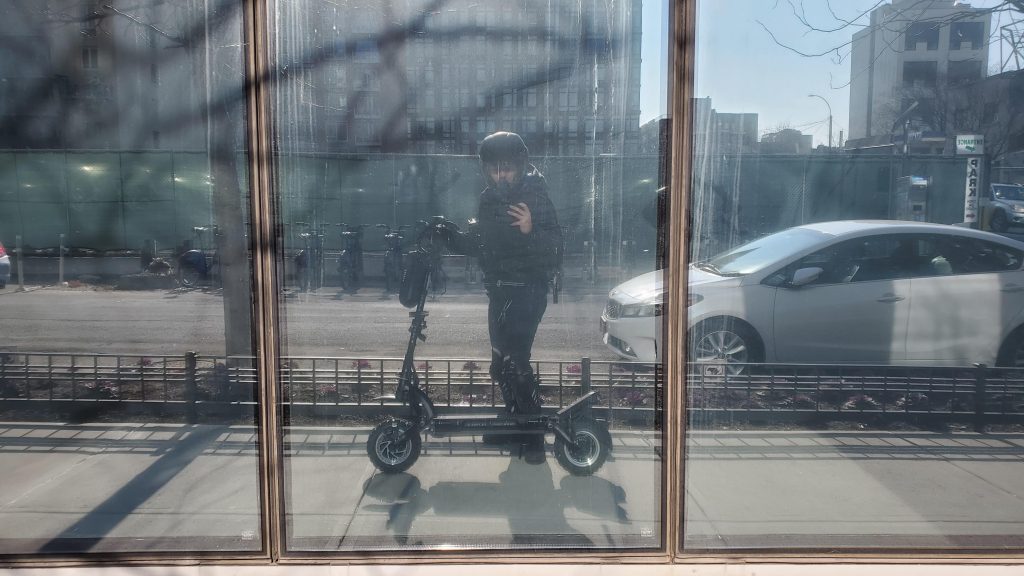 Cruising & Top Speed
For cruising speeds, dialing the settings to ECO and P9:1 is more than enough power for any inner-city riding. Through the neighborhoods of Astoria and Queens, 20-25 mph is a safe speed for the internal city grid structure.
The Ultra 2 is pure power, at 84V when fully charged, the throttle can be very sensitive.
Recommended settings for beginners – P7: 5, P8: 70, P9:1
Throttle Gear Settings: For beginners, use gear two on the throttle display. The gears are speed governors that will place a cap on your top speed. On New York City streets, you won't need more than 25-28 MPH top speed, and gear two will suffice for most people, especially in the bike lanes. For street and traffic, gear three will help you keep up with cars if needed.
Gear 1: 13-15 MPH top speed
Gear 2: 29-30 MPH top speed
Gear 3: +30 MPH and above top speed
P9 is the torque and battery performance modes. P9:1 uses 50% power, P9:2 uses 70% power, P9:3 uses 100% power. P9:3 will drain the most charge, but will give you the most speed.
P9: 1 – 28 MPH
P9: 2 – 33MPH
p9: 3 – 37MPH
Eco Mode – Activating eco mode will allow you to enable the speed governor/gear. If you're unsure if turbo mode is activated, lower the gear to 1. If you can't go past 13/15 MPH, that means you're in eco mode. If your speed has no limit, then you have turbo mode activated.
Turbo Mode – Activating turbo mode will disable your speed governor. You will be able to ride at max speed/current based on your P settings. If your P9 setting is set to 1, you will not be able to use turbo mode.
Top Speed: After finding a slight stretch of a deserted road in Woodside, I could easily hit 45 MPH safely. Given that the weather is currently 32F and still have knobby tires, I will opt to do a top-speed run once the weather gets better, and also planning to purchase road tires or PMT slicks.
UPDATED TOP SPEED:
Today I was able to do a speed run with my friend Karem. He took his Thunder; I took out the Ultra 2 with the brand new speed damper installed.
By the time we arrived at an empty expressway by Rockaway Beach, I could hit +45 MPH easily. Today was pretty windy and cold; once I started tightening my body position and crouching my head down, the wind resistance and aerodynamics improved, and the GPS climbed to 55 MPH. By the time I reached this speed, the runway was getting shorter, and the roads became sketchier, so
My key takeaway is the Ultra 2 can get to 45 easy, and climb up to 55 MPH.
Once you get to 45, that's when the adrenaline is dumped, and things get dicey. After hitting +55 MPH for the first time, I'm set on not trying this again until I get PMT's tires and find a better stretch of runway. The Ultra 2's torque and acceleration of 45 MPH are more than enough speed for me, especially since the pothole-riddled roads in New York City are not ideal for high-speed riding.
For the speed demons, I'm sure you can get past 55 and into the '60s with the right conditions, warm weather, road tires, full charge, and a long stretch of runway. If you try this out, please be safe, know your roads, and wear protective gear; I had four close calls with bumps and giant potholes and could have easily wiped out at 50 MPH.
I'll release a video on top speed in the near future, make sure to subscribe to my youtube channel in the meantime.
New Upgraded Damper (Ken Sonken Kit):
Battery Range
It's still Winter in New York City, while under heavy wind and cold conditions, I could drain my battery down to 60% after a long hour of hard riding. I'll release a video about the shortly expected range in warmer conditions soon.
The Ultra 2 features a 72V, 35AH, 2,520WH, 100A discharge MJ1 LG battery pack, rated up to 87 miles of range; for my fast riding style, the Dualtron Ultra 2's range will likely be 35-45 high torque/speed miles. Their range performance will be lower than expected for riders carrying a heavy load, riding at full speed, up hills, uneven roads, or even in frigid temperatures.
It does depend on how you ride the Ultra; if you mix settings and hit the turbo button, you'll get different results. Based on my usage, here's my real-world range estimate based on high-speed and city riding:
Max Performance Settings: +30 Miles (+45 MPH)
Medium Performance Settings: +30-50 Miles (15 MPH – 30 MPH)
Lowest Settings: +40-60 Miles (15 MPH – 30 MPH)
At 180 lbs and riding at slower cruising speeds in eco mode (low gear settings), I could see the battery pack outputting possibly 55-75 miles.
How's the ride experience?
On Road:
Having owned a Dualtron Eagle Pro, learning how to ride the Ultra 2 was a slight learning curve. One of the first things you'll notice is your newfound height. The Ultra 2 features 11″ tires; add that to the deck height and my riding boots; the Ultra 2 makes me stand at 7 feet tall! You'll want to watch for tree branches and low ceilings when riding.
The knobby tires take some getting used to on-road; each tire outputs a unique buzzing sound as the tires rotate on the pavement. The wide tires and rod rubber suspension provide a softer and more comfortable ride as they absorb any uneven bumps in the road. The more expansive deck is a massive upgrade in my book, as it allows me to ride at a wider stance compared to the thinner Eagle Pro deck.
Off Road:
With its wide 11″ knobby tires and 6,640W of torque, the Ultra 2 shines off the road. On my first chance, I spun a few laps around an empty grass park; the Ultra 2 exceeded my expectations as I climbed the steep sections of the park and traversed across the field with little to no effort.
Braking:
Nutt Hydraulic brakes are some of the best brakes offered on performance electric scooters; they're usually equipped on scooters that go past +45 MPH. Pushing past 35 MPH, I felt the Nutt Hydraulic brakes provide smooth and reliable stopping power. When comparing hydraulic to mechanical brakes, the bite is softer on the hands, reducing strain/fatigue on long-range rides.
Hydraulic brakes are also easier to maintain, as the brake pads self-adjust, unlike mechanical brakes that require regular cable adjustment. I've upgraded the Ultra to Magura MT7 for even more braking power.
Dualtron Ultra 2 Specs Explained (specs taken from MiniMotors USA)
Motor: MAX 6,640 watt BLDC dual hub motor (very powerful drivetrain)
Controller: 40A 2-1 external controller (strong torque, please dial down settings for inner city)
Battery: 72 volt – 35 Ah – 2,520Wh – LG 3500 cells (large battery pack for power and range)
Charge time: 23 hours with standard charger, 11 hours with 2 standard chargers, 5 hours with the quick charger (Larger battery take longer to charge)
Max mileage: 87 miles (average could be 30-50 mixed speed miles, see battery range section above)
Max Speed: Up to 62+ MPH (About 55 MPH, could depend on road conditions and state of battery charge)
Climbing Grade: 70% or 35 degrees depending on rider weight and state of charge (climbs very steep hills no problem)
Braking System: Front and Rear disk brakes with ABS standard (powerful stopping power with Nutt Hydraulic brakes)
Lighting: Stem lighting, Dual LED Headlight and Taillight, Brake Light (Great for Visibility, most lighting on any Dualtron)
Max Load: 330 lbs (Stronger motors and battery supports heavier riders)
Scooter Weight: 88 lbs (heavier scooter, not easy to carry up flight of stairs)
Product Material: Frame and Handle are aviation grade 6082-T6 aluminum alloy, the shaft is SCM440 steel, and plastic covers (high quality materials)
72V 40A External Controller (Powerful rear wing controller and foot rest)
Upgraded Ultra Chassis (Beautiful updated classic Dualtron design)
11″x4 Pneumatic Off-Road Tube Tires (Great for offroad and winter riding)
Hard Front suspension & Rear Swappable Suspension cartridge (Great for high speed and swappable in rear if needed)
Full Hydraulic Disc Brakes (powerful brakes for safety)
Foldable Handlebar (great for handling and storage, not much room for accessories though)
EYE Throttle (premium quality controller with customizations for acceleration and performance)
Stem & Deck LED Mood Lighting (great for night riding visibility)
Front & Rear LED lights (Great for visibility and supplementary for seeing roads)
Is the Dualtron Ultra 2 worth it?
With three 72V models for the 2021 riding season, MiniMotors offers three great options for your extreme-performance electric scooter needs. The Dualtron Ultra 2 is the lowest cost, but don't let the price tag fool you; the Ultra 2 is packed with extreme performance and the latest innovative features, giving you the best value for your money.
If you're looking for:
Insane torque and power
Long range, high discharge, 72V system
Tested and Proven Dualtron Chasis and Drivetrain
Reliable chassis with countless aftermarket and customization options
Best in class customer service and aftercare with MiniMotors USA
Then I would personally recommend the Dualtron Ultra 2 electric scooter to you, its absolutely worth its price tag.
What I love about the Ultra 2
Powerful: Delivers on performance and range
Features: Best lighting, handling, & braking
Build Quality: 1st class design, high quality chassis and materials
Comfort: Suspension and tires provide firm and comfortable ride
Now, if you are an absolute beginner or need to carry this 88 lbs scooter up a flight of stairs, I would consider different scooters.
Things to consider:
Powerful: This scooter is extremely powerful, not the best scooter for beginners to learn how to ride. I recommend learning on a Dualtron Mini or Eagle Pro.
Heavy: This scooter is not easy to carry, and can be large if you live in a small space. It's one thing to lift the scooter, but another thing to carry it up a flight of stairs.
Tires: Knobby tires are great for off road, not the best for high speed. Road tires are best for going speeds past 40 MPH.
Damper: Will Need a steering damper for riding at high speeds (+40 MPH)
Expensive: $4,000 is a big investment, MiniMotors USA offers high performance scooters at lower price tags, see list below.
More 72V Electric Scooter Options
For more options for 72V electric scooters options, check out my posting the latest 2021 72V models
At a lower price and lower voltage, the Thunder and Ultra V2 are powerful cult classic options to consider
At a higher price tag, the Dualtron Storm has a removable battery, control panel, electric horn, 4th generation chassis for easy maintenance
Thanks for checking out my Ultra 2 Review!
I'll be writing more content on my Ultra 2 as my 72V journey continues. Check out MiniMotors USA, these guys rock; they'll sort you out with anything you need. Check out my Instagram and Youtube channels for more content! Also, check out my Dualtron Shopping Guide for information on the 2021 models. Also, check out my Dualtron owner's guide to help riders know what to expect for upgrading and maintaining their electric scooters!
Also check out the Dualtron Storm & Ultra 2 Facebook Group
Need more help finding the right scooter? Check out the MiniMotors USA Dualtron Comparison Guide and Dualtron finder Quiz. Both of these apps will help you find the right Dualtron model for your needs.
More MiniMotors Electric Scooters:
Dualtron Electric Scooters: What You Need to Know
Here are some of the main reasons why MiniMotors USA customers choose Dualtron scooters:
Powerful – MiniMotors is the frontrunner of high-performance dual-motor electric scooters. Motors, controllers, and batteries from Dualtron are among the strongest available.
Build Quality – When it comes to quality, MiniMotors has a solid track record of producing scooters with cutting-edge electronics that are easy to maintain and cost-effective for the average rider to own.
Easy Maintenance – Scooters, in comparison to automobiles, are a fun, powerful, and low-maintenance mode of transportation. Brake and tire service are two of the most common maintenance items.
Spare Parts – All MiniMotors scooters have a large selection of spare parts available, you can order or get any part you need for your vehicle's upkeep. Check out MiniMotors USA for more information.
Customer Service – MiniMotors USA's customer service team is available by phone and email to answer questions about maintenance, repairs, and accessory suggestions. The quality of MiniMotors USA's service and products is well-known.
eWheels 2023 Spring Deals and New Launches are here!!!
Cheap, reliable, and powerful! TurboAnt Electric Scooters 2023 Sale!
Hi guys! This post may contain affiliate links, sponsored content, and advertisements. We get a small commission for covering topics that interest us (helps us keep the doors open). For more information, please see our privacy policy and disclaimer. Ride safe yall!
2023 Electric Unicycles:
Coupons & Deals:
Apollo Scooters: Get $50 USD worth of free accessories, upgrades, or spare parts with the purchase of a scooter. Code: VROOOMIN
REV Rides: Save $50 off Scooters and EUC's, Code: VROOOMIN
EVOLV Electric Scooters: Free Folding Lock (worth C$80) for every EVOLV model! Use Code: VROOOMIN-LOCK
To keep the site running and information flowing, Vrooomin.com participates in affiliate linking programs. We're also an Amazon Associate, which means we get paid for referring people to Amazon. Please support the channel by clicking on our links.