California Rider, PEV modder, speed bender, Bolectric, zooms past the crowd at a mind bending, +62 MPH
The video came without warning. A few minutes after 6 p.m. on Thursday, the post headline "62 mph / 100kph Dualtron Eagle Pro" is now cemented in North American PEV History.  No need to squint your eyes, Ronel's Dualtron Eagle Pro clocks in butter smooth, jaw-dropping, bottom-clenching, +62 miles per hour!
How did he do it?
Interested in featuring your modded electric scooter on vrooomin.com? Reach out to info@vrooomin.com for more info!
News & Deals
First of all, who is Bolectric?
Ronel is 34 years old, a proud husband and father of 3 (2 girls and one boy), a dog lover (a 6-year-old Yellow Labrador, Hudson), a Filipino Bay Area native, a Micro Gym owner (Dunamis Gym), USAF Veteran, and a passion for electric scooters. I got into electric scooters in 2017 after riding my first Lime rental scooter in Oakland, CA. Shortly after, I purchased my first electric scooter, a Razor E300; the rest is history.
What's your goal?
My first mid-high-end electric scooter was a Dualtron Spider Limited. After riding that scooter for about a year, I loved its light, elegance, and agile also helped me discover my riding style—fast with lots of carving and cornering. After upgrading to the Eagle Pro, I knew I didn't want a "production scooter" heavier than 70 lbs, especially with my riding style. In addition, Dualtron has a long-standing history of reliability, build quality and many options for upgrading and mods.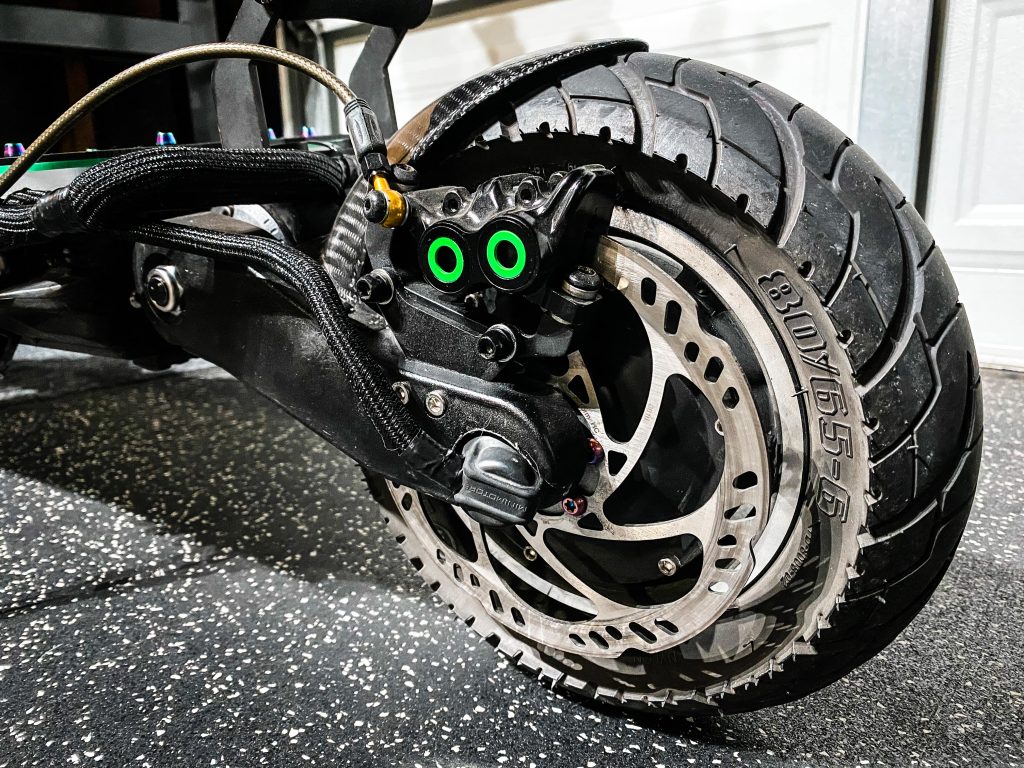 Ronels Modded Eagle Pro Specs:
Motor: 72v 4000w (10″)
Battery: 72v 29.4Ah (20s7p), 280a discharge, Molicel P42a
Controller: Stormcore 100D
Charge time: From 0% or 60v: 5a – 6 hours, 7a – 4 hours, 10a – 3.5 hours
Max mileage: 31+ w/aggressive – moderate riding as a 143 lb rider
Max Speed: 62-65 mph
Braking System: Magura MT5e Higo Closer
Scooter Weight: 81 lbs
Import Tuner
I've always been a big DIYer from my early days of modding and upgrading my 2004 Honda Civic EX and doing the same with my previous 2002 Alpine White E46 M3. I've always loved tinkering, making something better, adding my personal touches, and the satisfaction and joy of the final product. After considering the dozens of options and even considering selling the Eagle and purchasing a Rion, I decided to make the most out of what I had and go the mod/entire rebuild route. My goal was to build a lightweight scooter under about 75 lbs. capable of 60+mph with at least 30 miles of range and fairly aggressive riding.
PEV Tuner
I know a lot of critics will say that I should have bought a Rion, Ultra 2, WEPED, etc. However, I love modding and making something my own. In addition to having a fantastic modified or custom scooter, the experience, education, relationships, and community that come out of this project are priceless to me.
Build Advice
I strongly recommend finding someone local to assist with any modification work. This makes logistics and convenience much easier if you ever run into issues, which is unfortunately very common anytime you modify something. Do your research and talk to experienced and knowledgeable people before jumping into a modification project, especially if it's a large one, such as a rebuild.
Expectations
Manage your expectations and know that this route takes excellent patience. As I mentioned earlier, one of the unfortunate natures of modding is running into issues. You're essentially making something work outside of its original design or intention. Also, understand that the modding route gets expensive quickly, so try to set some funds aside. I like selling personal items that aren't used much to offset the higher expenses. This route isn't for everybody, so ensure you know what you're getting into before going all in.
Vendors
Work with vendors, people, businesses, etc., with good customer service and communication! I've had a lot of headaches working with complex small companies and people, which unfortunately delayed this project on more than one occasion.
Try to find people who are not only reputable but have good communication and know how to manage the expectations of their customers/clients.

Ronel on finding best quality vendors and service
Try to get feedback from other reputable enthusiasts who have worked with the business or use the product/part that you're looking into.
Connect with Ronel
Facebook: bolectric
Facebook Group: DT Eagle Pro Group
Youtube: YouTube
Instagram: @_bolectric_
Email: hi@bo-lectric.com
Build Process and time
Factory parts removal
Remove factory battery
Remove factory controller
Remove factory motors
Remove EY3 throttle
Remove Single/Dual motor switch
Remove eco/turbo switch
Uninstall damper and damper mounting kit
Prep for WingMods
Install 10×3 tires and tubes on aftermarket motors
Install 160mm Magura Storm HC rotors on aftermarket motors
Treat both motors with ferrofluid/statorade for better heat dissipation
Relocate front and rear banjo on Magura MT5E calipers in order to clear tires
Replace headset and crown w/Ken Sonken Engineering kit for reliability and safety purposes
Mount new motors w/tires on front and rear swing arms
Mount Magura MT5e brake calipers w/new mounting brackets and align
Post WingMods
Install custom ODI grips
Replace Magura hydraulic w/carbon silver Jagwire lines (aesthetic purposes ) bleed and align front and rear brakes
Mount custom dash and outbound headlight w/Gub mtb stem adapters
Install Ken Sonken accessory bar
Mount Gemini 2500 OLED lights on accessory bar
Install 64eCustom dual clamp
Install Ken Sonken damper kit w/steering damper
Install custom 3/4″ acrylic clear spacer from WingMods (had to dremel upper right channel so all cables could clear)
Install two layers of custom acrylic deck pieces on top of spacer (gloss black and kelly green). I had to make all the screw holes on the top acrylic pieces larger to fit the longer titanium deck screws.
(longer titanium coloured deck screws were needed along with longer screws for the ken sonken damper deck mount to accommodate the additional length from the spacer) deck screws were from Amazon and deck damper screws were from a local hardware store
Install front and rear carbon fiber fenders from ScooterMania (a little modification needed for the front fender since one of the mounting holes were not aligning)
Cable management and wire conceal
Parts and labor used for build
Shout outs
My Wife Julie-Anne Marcellano – For the continued support and patience. She has to deal with quite a bit especially when I go into project mode =P
My Mother Andrea Marcellano – Who like my Wife, has always been supportive and loving towards my endeavors from Day 1.
WingMods (Wing Chuen Lam & Sophia Tung) – For working with me on this project, their expertise, professionalism, and making my dream scooter come to life!
Keni San – For his continued willingness to help, support and educate me.
Glendon Suguitan – One of my biggest supports and encouragers. He literally would call me every week to just check on the status of my Eagle and just to chat about e scoot nerd stuff ha!
Bradd Paul – Responsiveness and support even while running a business halfway across the world.
My best friend Alvin Laxamana – For always having an ear to listen and provide support even though his speciality is in a different space/industry.
Niko, Yanni, and Keanu Velasquez – For their feedback on my project ideas, love, and Niko's continued willingness to partner with me on projects with his amazing videography/editing skills
Wil Adajar – Always being encouraging, supportive and putting things in perspective
Danny Tang – Continued help, support, experience and expertise w/PEVs
Sco – For creating one of the best PEV riding groups and for his continued support and love
Aldwin Estoesta: Continued support, love and propagating my many nicknames lol
Franklin Mendoza – Support and entrusting me w/his thunder
Calvin Cheung – For always being there just to chat and for hooking me up with fire deals on scoot accessories
Edmond Kwok – Continued support, helping admin the eagle group, and technical expertise
Antonio Vargas – Keeping me updated on the progress of my scoot and always being there to chat and help w/e scoot stuff
Kevin Grandon – For making PEV Works possible and for being an amazing ambassador for PEVs
Ken Sonken – For always being there to help anytime I'd bug him lol and for revolutionizing the e scoot industry w/his amazing parts and work
ScooterMania – For being the first to make the dopest carbon fiber fenders for the eagle and their great customer service64eCustom – For the dope dual clamp and being a very kind small business.
RatedE Fam – Being a dope, loving, and supportive PEV group who understand how human kindness and the share of a passion goes a long way.
DT Eagle Pro Facebook Fam – each members love, support, and engagement before, during, and after this project
John, Cooper and Caleb at MiniMotorsUSA – For truly exhibiting what it means to deliver amazing products coupled with customer service that is second to none. There's a good reason why people all over the world choose MMUSA for their Dualtrons.
Everyone else who has shown love, support, and follows my electric shenanigans – To everyone that has bought any parts, has liked, commented, sent an emoji, joined the eagle group, shared a video, shared a picture, and shown love or support in any way even if no one knows or sees it.
Disclaimer: The information presented in this article is derived from extensive research, user reviews, and publicly available information. Our aim is to provide accurate and up-to-date content; however, it is crucial to understand that the opinions expressed are based on the information available at the time of writing. We strongly encourage readers to conduct their own thorough research and carefully evaluate their individual needs before making any purchasing decisions.
eWheels 2023 Summer Deals and New Launches are here!!!
Cheap, reliable, and powerful! TurboAnt Electric Scooters 2023 Sale!
Hi guys! This post may contain affiliate links, sponsored content, and advertisements. We get a small commission for covering topics that interest us (helps us keep the doors open). For more information, please see our privacy policy and disclaimer. Ride safe yall!
2023 Electric Unicycles:
Coupons & Deals:
Apollo Scooters: Get $50 USD worth of free accessories, upgrades, or spare parts with the purchase of a scooter. Code: VROOOMIN
REV Rides: Save $50 off Scooters and EUC's, Code: VROOOMIN
EVOLV Electric Scooters: Free Folding Lock (worth C$80) for every EVOLV model! Use Code: VROOOMIN-LOCK
To keep the site running and information flowing, Vrooomin.com participates in affiliate linking programs. We're also an Amazon Associate, which means we get paid for referring people to Amazon. Please support the channel by clicking on our links.