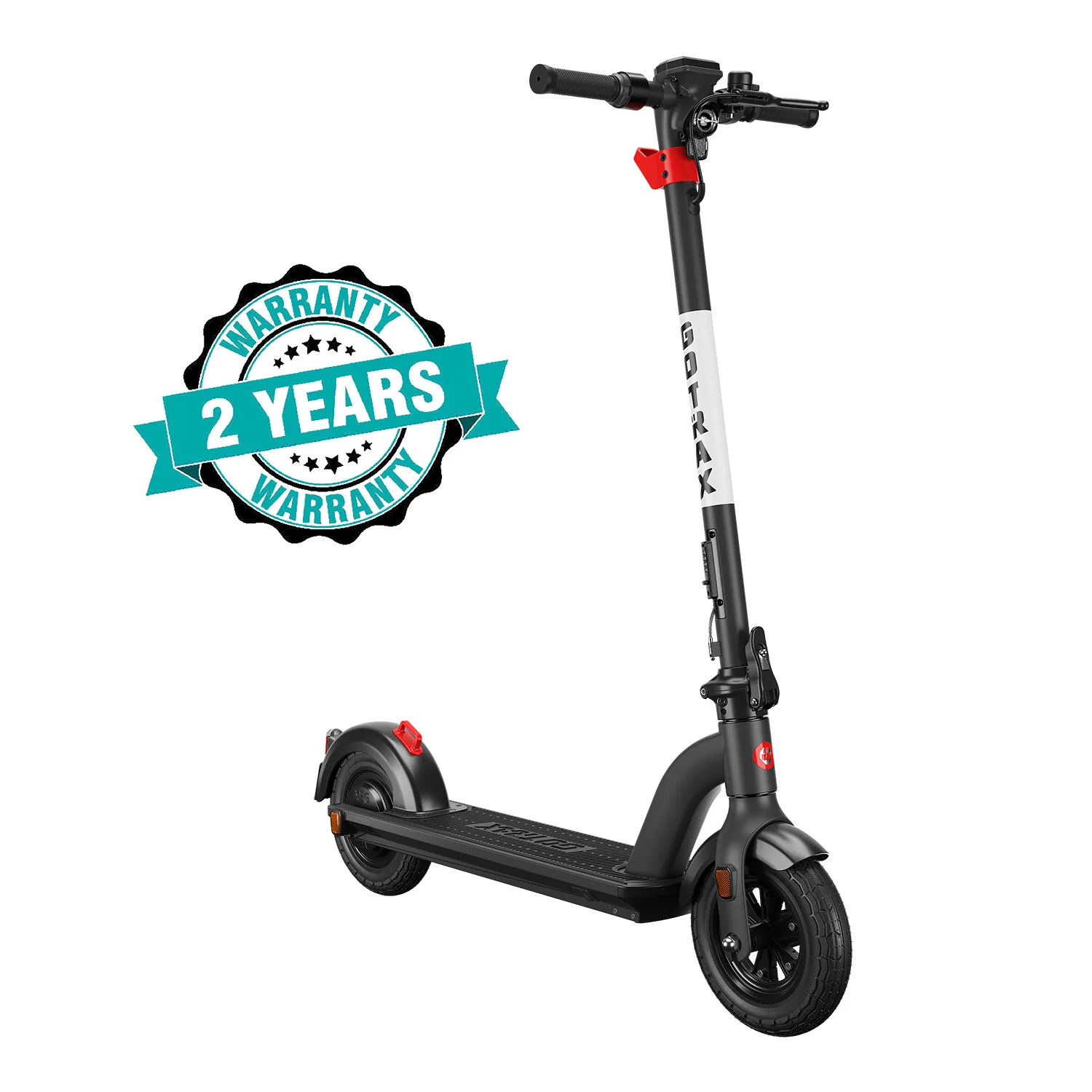 Electric Scooters Database: 2020 Gotrax G3
The G3 is the most affordable GOTRAX scooter at $399. The G3 is lightweight, portable, and powerful, with a top speed of 15 mph, 10 real-world miles of range, a 280WH battery pack, and powerful brakes. The G3 is inexpensive, and the materials reflect this, but the performance will satisfy any beginner or commuter looking to save time.
The GOTRAX G3 is the cheapest workhorse electric scooter you can get
Many people are inclined to dismiss the Gotrax G3 electric scooter, but they should not. The G3 scooter costs $399. It's not expensive, but it packs a lot of punch for its size and price.
To begin with, the drivetrain is propelled by a 300w rear wheel motor. The scooter has a top speed of 15 miles per hour. That's not particularly fast, but it's also not particularly slow. That last mile is critical when you need to get somewhere. You do not have time to travel due to your hectic schedule.
Powerful Motor: Powered by a 300W rear wheel motor the G3 reaches speeds of 15.5MPH
Portable Design: Featuring a safe-locking folding frame. Quickly collapse your scooter for easy storage.
8.5″ Tires: The shock-absorbing 10″ air-filled tires are perfect for city bumpy city streets.
Long Range: The 36v 7.8aH battery powers the G3 for 12-18 miles per charge
Digital Display: Quickly view your riding speed, distance, and battery. You can also set the digital lock directly from the display screen.
Secure your ride: Featuring an easy-to-use built-in steel cable lock.
Built to last: The G3 has high-quality parts, including a steel frame, a best-in-class folding mechanism, and a premium display.
The G3 has 8.5-inch tires as well. They're air-filled pneumatic, which means they'll smooth out any bumpy ride better than solid tires on an electric scooter. The G3 has an 18-mile range per charge, making it ideal for short commutes.
The G3 has a digital display as well. It tells you how fast you are going, and how far you are from the battery and has a digital lock to keep your scooter safe. The G3 is made to last. It has a steel frame, a folding mechanism, and a high-quality display. You get a lot of value for around $400.
You'll get a 15-mph scooter that can travel 80 miles on a single charge and a powerful 300-watt motor that will get you there quickly. The scooter weighs about 37 pounds, making it both lightweight and portable. The scooter will not break your back. It's designed to get you where you need to go quickly.
Technical Specs
MILES PER CHARGE – 18 miles
MAX SPEED – 15.5mph
MAX RIDER WEIGHT – 220 lbs
WATERPROOF RATING – IPX6
MOTOR SIZE – 300W
BATTERY SIZE – 36V 7.8aH Lithium-ion Battery
TIRE SIZE – 8.5 inches
PRODUCT WEIGHT – 37.5 lbs
DIMENSIONS – 42.3″ x 17.9″ x 47.4″
WARRANTY LENGTH – 1 Year Limited
FRAME MATERIAL – Aluminum alloy A6061
COLOR(S) – Black
INNER TUBES – 8.5 inches
BRAKES – (Front) Electromagnetic Brake, (Rear) Disc Brake
SUSPENSION – (IF ANY) None
DISPLAY – LED Digital
HEADLIGHT – LED
TAIL LIGHT – Reactive Tail Light
CHARGER – 42V 2.0A
KICK 2 START – Yes
TILLER LOCK – Yes
About GOTRAX
For over 20 years, Tao Motors worked to become one of the largest gas vehicle-producing factories in the world. Gas vehicles produced by Tao Motors quickly became some of the top-selling products in their market. At the time, there was little interest in or knowledge of electric cars. 
Driven by the GOTRAX vision of personal electric vehicles being the future of commuting and backed by Tao Motors, the expertise in manufacturing, the partnership quickly took off.
Since 2017, GOTRAX has been committed to creating fun, affordable, eco-friendly electric ride-ables that push the possibilities of transportation. In just four short years, Tao Motors has become a leading producer of electric vehicles, having sold more than 1,000,000 units since its inception.
GOTRAX's growth changed Tao Motors' production from entirely gasoline-powered vehicles to having their show filled mostly with electric-powered cars.
GOTRAX is an American company based in Texas. Our long-term partner Tao Motors proudly manufactures our products, and Independently Quality Control is Checked by a 3rd Party.
Best Cheap Electric Scooters:
Disclaimer: The information presented in this article is derived from extensive research, user reviews, and publicly available information. Our aim is to provide accurate and up-to-date content; however, it is crucial to understand that the opinions expressed are based on the information available at the time of writing. We strongly encourage readers to conduct their own thorough research and carefully evaluate their individual needs before making any purchasing decisions.
eWheels 2023 Summer Deals and New Launches are here!!!
Cheap, reliable, and powerful! TurboAnt Electric Scooters 2023 Sale!
Hi guys! This post may contain affiliate links, sponsored content, and advertisements. We get a small commission for covering topics that interest us (helps us keep the doors open). For more information, please see our privacy policy and disclaimer. Ride safe yall!
2023 Electric Unicycles:
Coupons & Deals:
Apollo Scooters: Get $50 USD worth of free accessories, upgrades, or spare parts with the purchase of a scooter. Code: VROOOMIN
REV Rides: Save $50 off Scooters and EUC's, Code: VROOOMIN
EVOLV Electric Scooters: Free Folding Lock (worth C$80) for every EVOLV model! Use Code: VROOOMIN-LOCK
To keep the site running and information flowing, Vrooomin.com participates in affiliate linking programs. We're also an Amazon Associate, which means we get paid for referring people to Amazon. Please support the channel by clicking on our links.