$629 Segway Ninebot KickScooter E25
Commuters in the city and travelers alike will find the Ninebot KickScooter E25 indispensable for making the final leg of their journeys. It's easy to take it wherever you go thanks to its compact size, lightweight, and simple folding mechanism. Test out this tiny but mighty engineering marvel for yourself.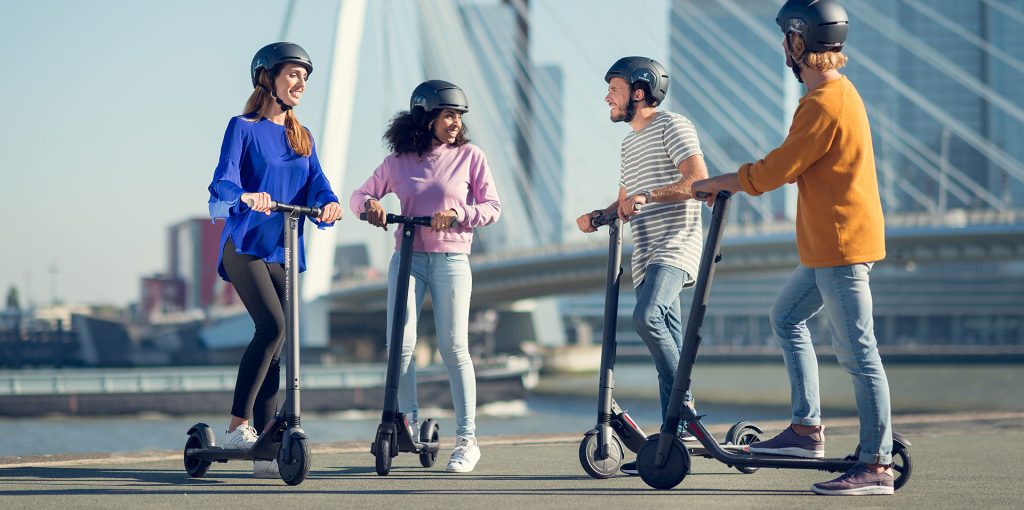 Tires
These tires are long-haul and city-ready. The inner tube of Flat-Free Tires is filled with a new PU foaming material. Thanks to a pneumatic design, this stops the tire from leaking. They offer comfort, practicality, and minimal maintenance. Nine-inch tires provide more stability and comfort than our eight-inch models, so you can handle bumpy roads easily.
15.5 mi Range
17.4 mph Top Speed
215Wh Battery
9 inch Dual-Density Tires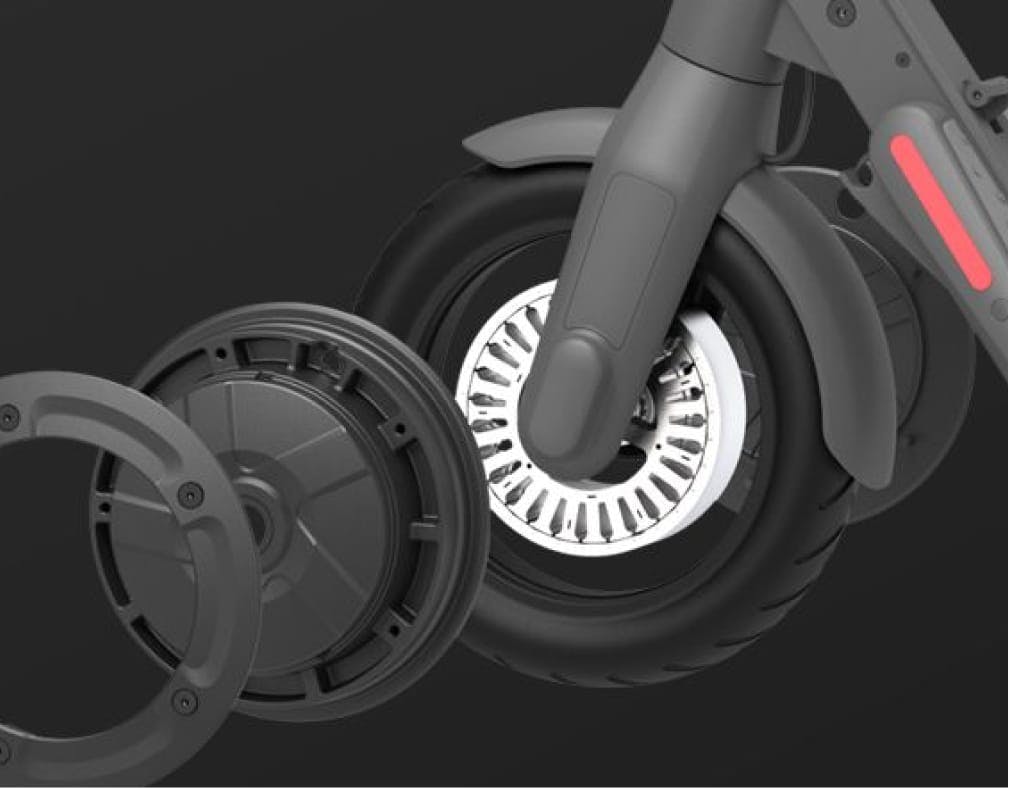 BLDC Motor
Ninebot KickScooter E25 reaches new performance levels with its brushless direct current motor. This upgrade provides a more dynamic ride, faster acceleration, and a 15% hill-grade capability.
Patented Anti-skid Dual-Density Tires
Electric Brake
Built-In Front LED Lights
17.4 mph Max Speed
15.5 miles Range
15% Hill Grade
Mobile App Integration
Easy Folding
Your Ninebot KickScooter E25 folds in just one step and can easily fit in the back of your car. It's also straightforward to carry, with a weight of only 29.8 lbs, so you can grab it with a single hand for unlimited possibilities when you're on the go.
Lighting
The Ninebot KickScooter E25 was designed with a 2.5w high-brightness, front-facing LED light to illuminate the path ahead of you up to 44.3 feet and increase your visibility to others around you.
Ride Modes
Easily switch between three unique riding modes: Choose Cruise Mode for longer battery life, with a max speed of 9.3 mph and an extended range of 13.6 miles. For excellent performance in both speed and capacity, switch to Normal Mode, with a max speed of 17.4 mph.
Enjoy Sport Mode's max speed of 12.4 mph to climb faster and accelerate more quickly. Use the external battery pack (sold separately) to reach top speeds of up to 15.5 MPH.
Suitable for all riders age 14 and up
Accommodates one person weighing up to 100kg/220lb
300W hub motor with a 28km/h top speed and a 25km range gives you plenty of power for recreational riding or commutes
9-inch dual-density tires ensure a smooth ride while the triple braking system helps to keep you safe on the road
2.5W high-brightness LED lights to provide visibility in low-light conditions
Quick-folding system makes it easy to take the scooter with you wherever you go
15% Hill Grade
IPX5 Water-Resistant
6H Fast Charging
Built-In Front LED Lights
Safety Light
The E25's tail light will automatically turn on whenever the headlight is on and lights up when braking for enhanced safety.
Smart Battery Management System
The BMS system at Segway-Ninebot has undergone seven years of continuous technological development and produced 300 million batteries. Our Smart-BMS system closely monitors lithium-ion batteries with multiple protection mechanisms like short circuit protection, two-way charging and discharging protection, overcurrent protection, and temperature protection to ensure safety and extend your KickScooter's lifespan.
Country of Origin: China
Skill Level: Beginner
Handlebar Style: T-Bar
Adjustable Handlebar: No
Foldable: Yes
Folded Height: 36 cm
Number of Wheels: 2
Wheel Material: Dual-density tires
Wheel Diameter: 9″
Color:Dark Grey
Dimensions: 16.54 in. W x 46.85 in. D x 14.17 in. H/42 cm x 119 cm x 36 cm
Weight: 14.4 kg
Extra Battery
With the external battery pack (sold separately), the Ninebot KickScooter E25 can take you even farther, offering you a maximum range of 27 miles and a speed of 17.4 MPH. *Note: The data comes from Ninebot laboratory testing; the actual range may be affected by temperature, terrain, and payload factors.
Safety Bell
The loud, crisp bell ring on your E22 is sure to alert riders and pedestrians, keeping you safe while you're on the go.
Electric Braking System
With the electronic E-ABS brake and the rear fender brake, the E25 can stop in as little as 13.1 feet.
| | |
| --- | --- |
| Unfold: Length x Width x Height | Approx. 45.7×16.5×46.1 in (116x42x117 cm) |
| Fold: Length x Width x Height | Approx. 46.9×16.5×14.2 in (119x42x36 cm) |
| Net | Approx. 31.7 lbs (14.4 kg) |
| Payload | 55-220 lbs(30kg -100kg) |
| Recommended Age | 14-60 years |
| Required Height | 3′ 11″-6′ 6″ (120-200 cm) |
| Max. Speed | Approx. 17.4 mph (28km/h) |
| Typical Range | Approx. 15.5 miles (25km) |
| Max. Slope | 15% |
| Traversable Terrain | asphalt/flat pavement; obstacles ≺ 0.4 in (1 cm); gaps ≺ 1.2 in (3 cm) |
| Operating Temperature | 14-104F (-10-40C) |
| Storage Temperature | -4-122F (-20-50C) |
| IP Rating | IPX4 |
| Duration of Charging | Approx. 3.5 h |
| Nominal Voltage | 36 VDC |
| Max. Charging Voltage | 42 VDC |
| Norminal Energy | 184 Wh |
| Nominal Capacity | 5960 mAh |
| Battery Management System | Over-heating, short circuit, over-current and over-charge protection |
| Number Of Batteries | 1 |
| Nominal Power | 300 W (0.3kW) |
| Output Power | 71 W (0.071kW) |
| Input Voltage | 100-240 VAC |
| Output Voltage | 42 VDC |
| Output Current | 1.7 A |
| Brake Light | LED rear light |
| Riding Modes | Speed limit mode, Standard mode and Sport mode |
| Tires | Dual Density Tires. Material: synthetic rubber. Size: 9 inches |
About Segway
The market leader in personal transportation is Segway. Dean Kamen, a well-known inventor, founded Segway in 1999. Segway has always worked to give its customers high-quality, safe, and dependable products. A multinational company specializing in service robots and intelligent short-distance transportation is called Segway-Ninebot.
Products are sold by the company's international businesses in more than 80 nations and regions. The company Ninebot is valued at more than USD 1.5 billion. Segway-Ninebot aims to lead users and the industry into the future with its internationally renowned intellectual property.
Best Budget Electric Scooters:
Disclaimer: The information presented in this article is derived from extensive research, user reviews, and publicly available information. Our aim is to provide accurate and up-to-date content; however, it is crucial to understand that the opinions expressed are based on the information available at the time of writing. We strongly encourage readers to conduct their own thorough research and carefully evaluate their individual needs before making any purchasing decisions.
eWheels 2023 Summer Deals and New Launches are here!!!
Cheap, reliable, and powerful! TurboAnt Electric Scooters 2023 Sale!
Hi guys! This post may contain affiliate links, sponsored content, and advertisements. We get a small commission for covering topics that interest us (helps us keep the doors open). For more information, please see our privacy policy and disclaimer. Ride safe yall!
2023 Electric Unicycles:
Coupons & Deals:
Apollo Scooters: Get $50 USD worth of free accessories, upgrades, or spare parts with the purchase of a scooter. Code: VROOOMIN
REV Rides: Save $50 off Scooters and EUC's, Code: VROOOMIN
EVOLV Electric Scooters: Free Folding Lock (worth C$80) for every EVOLV model! Use Code: VROOOMIN-LOCK
To keep the site running and information flowing, Vrooomin.com participates in affiliate linking programs. We're also an Amazon Associate, which means we get paid for referring people to Amazon. Please support the channel by clicking on our links.