The $2,299 Segway eMoped C80
Fantastic cruiser for your local streets
The Segway eMoped C80, at 121 pounds, is a powerful mid-level electric scooter ideal for novice riders who want more comfort for their hard-earned money. This robust middle-tier scooter can travel up to 20 miles per hour, has a range of up to 52 miles, and is built in the style of a traditional moped.
Beginner Friendly
The eMoped C80 has a 48V 1152WH lithium battery pack and an intelligent RideGo! system, grippy anti-skid tubeless tires, and other features with electric scooter enthusiasts raving. The eMoped C80 is a beginner-friendly scooter that is affordable and versatile enough to be used during the week for errands and on the weekend for adventure.
Max Speed 20 mph
Max Weight 220 lbs
Range 52.8 mile
Vehicle Weight 121 lbs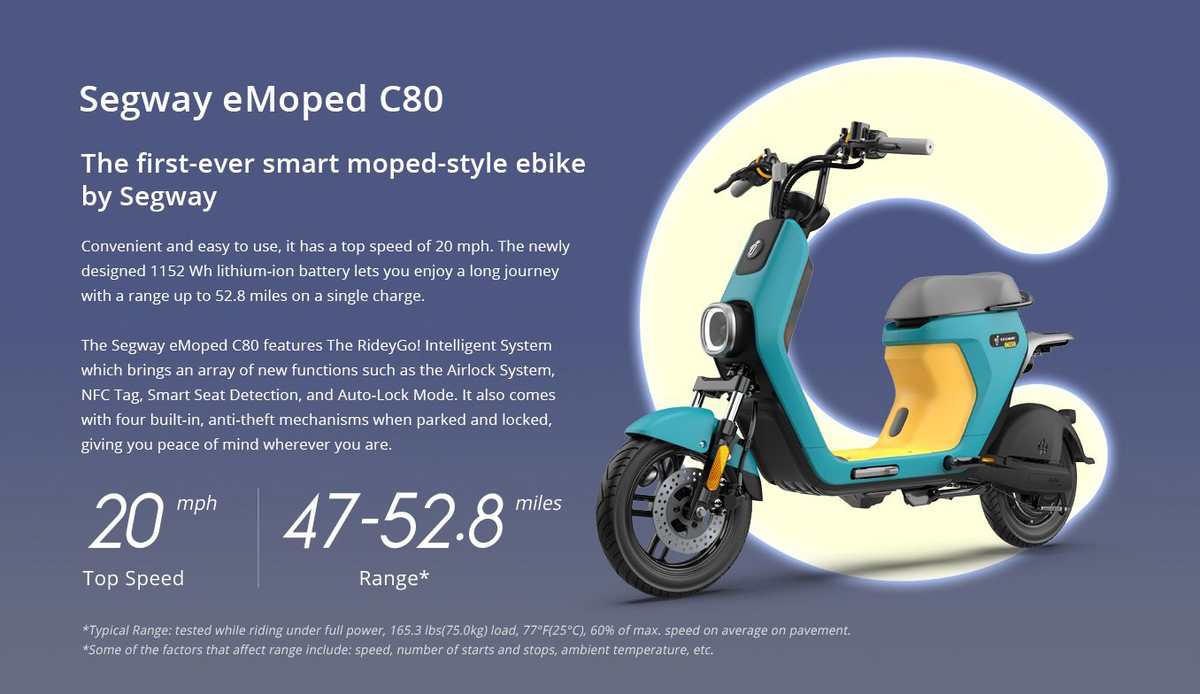 The eMoped C80 is the perfect vehicle for those in search of excitement. It lets the rider go on long trips without having to stay in an uncomfortable standing position. The eMoped weighs less than 125 pounds and is shorter than 5.3 feet, making it easy to take into elevators or stores. With the eMoped, you don't have to worry about anything. All you have to do is hop on and start your day.

Easy: It is easy to use and convenient, and it can go as fast as 20 mph. The new lithium-ion 1152 Wh battery lets you go up to 52.8 miles on a single charge so that you can take long trips.
Features: The RideyGo! Intelligent System is built into the Segway eMoped C80. It adds a number of new features, such as the Airlock System, NFC Tag Smart Seat Detection, and Auto-Lock Mode. It also has four built-in anti-theft features that work when the car is parked and locked, so you can feel safe wherever you are.
Legality: The Segway eMoped C80 is an electric bike that looks like a moped. In most states in the US, you don't need a license. Please check your local laws and rules to determine if you need a license.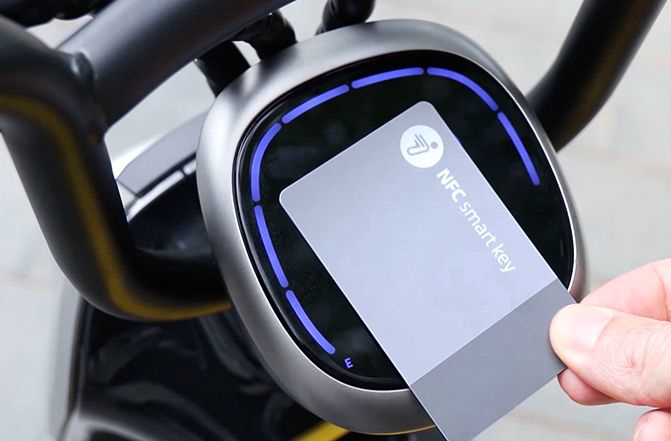 NFC Tag
Two NFC tags are provided, and all you have to do to lock or unlock the vehicle is swipe it above the dashboard.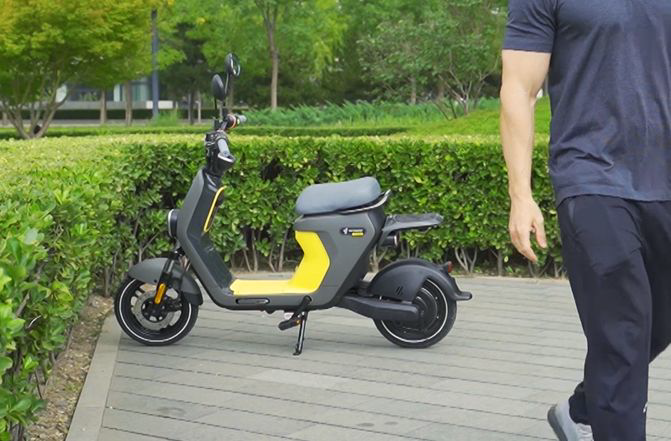 Auto-Lock
Your C80 can be secured with the help of the Auto-Lock feature. When the Auto-Lock is turned on, the vehicle will lock itself after a specified time.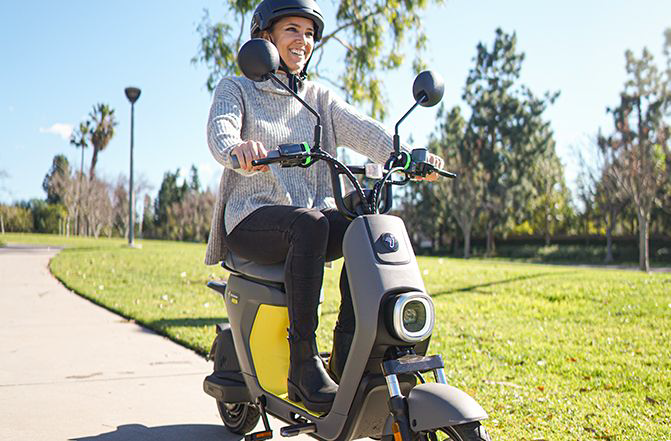 Smart Seat Detection
With intelligent sensors under the seat and an electric lock on the handlebars, the car will lock itself in 3 seconds after you get out of it. So that our riders are safe, the intelligent feature will only work when the driver is seated correctly and the kickstand is down. If there is no movement, even if you turn the throttle, the eMoped C80 will not be ready to ride.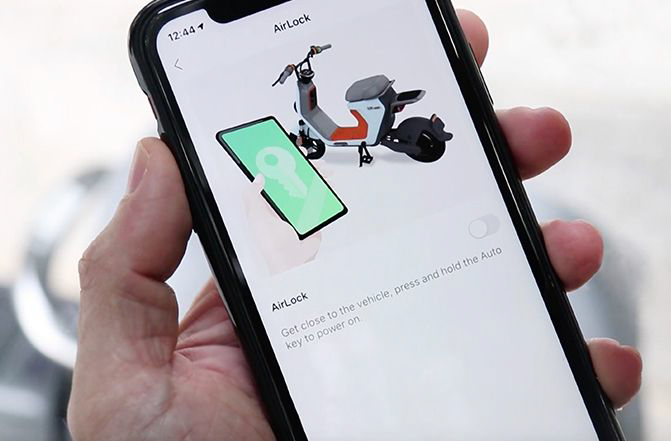 AirLock System
Leave your keys at home and ride with just your phone. With the AirLock system and the Segway Ninebot App, you can unlock the eMoped C80 with a tap on your phone. Once the vehicle is linked to the Segway Ninebot app, the eMoped C80 will know who owns it when the owner's smartphone with the app running is near the vehicle.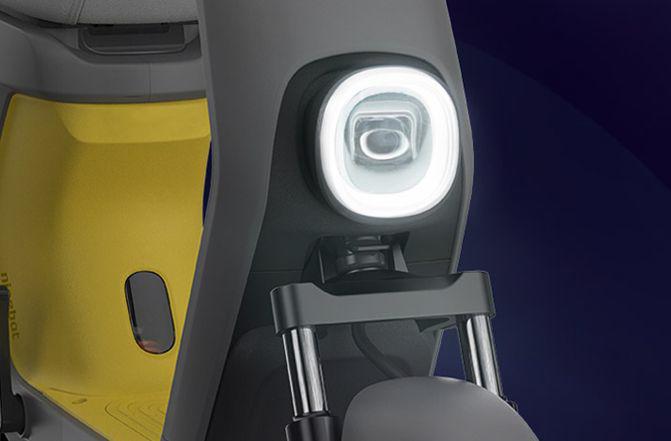 Halo-Shaped Headlight
The eMoped C80 LED front halo headlight comprises two rings of light, one inside the other. The headlight has a sensor that can tell how bright it needs to be based on the amount of light around it. The headlight will turn on when it gets dark, so you can see better while riding.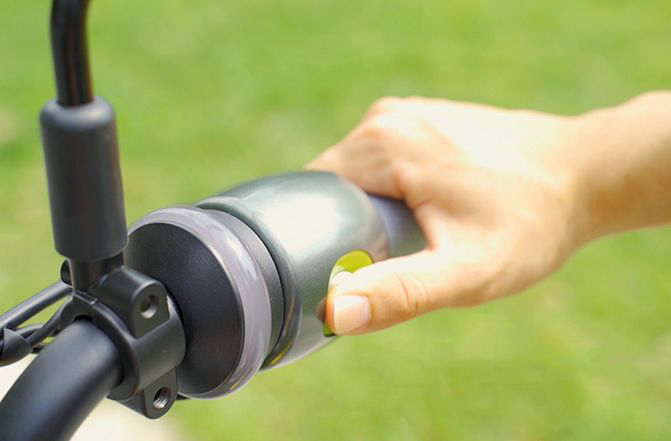 Auto Cruise
You can take a break and enjoy your trip using Auto Cruise. Just press the button that does more than one thing and choose the speed you want. You don't have to hold on to the handlebars all the time to keep your eMoped C80 steady.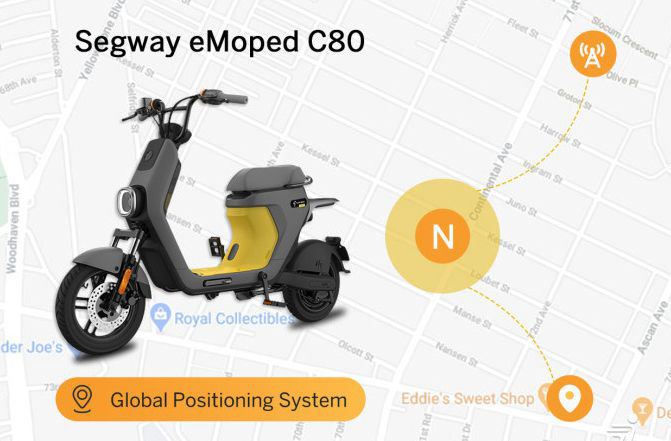 Anti-Theft System
With the help of GPS, you can always keep track of the eMoped C80 and get alerts sent straight to your phone. The moped C80's innovative security system can immediately tell when something isn't right and send a message to your phone. This gives you peace of mind. After you lock your C80, any strange actions, like pushing, moving, or getting into the car, will set off the alarm system.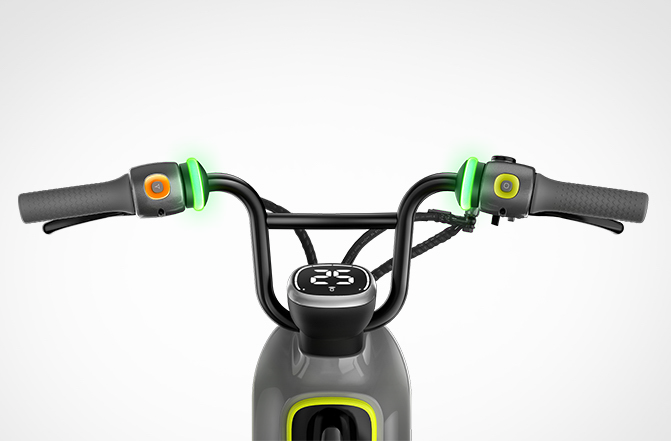 Two Buttons, All Your Functions
With just two buttons, you can control your eMoped because it is easy to use and there is no learning curve.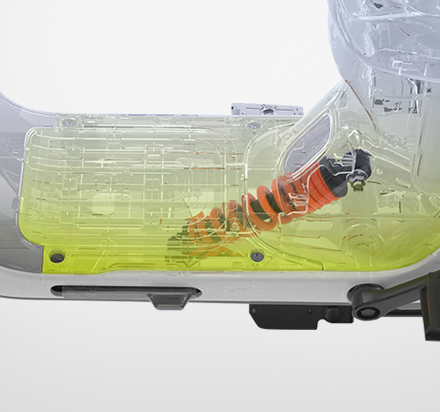 Two-Stage Central Shock Absorber
The two-stage central shock absorber is as dynamic as it looks and is ready to handle the bumps on the road and give you a smooth ride.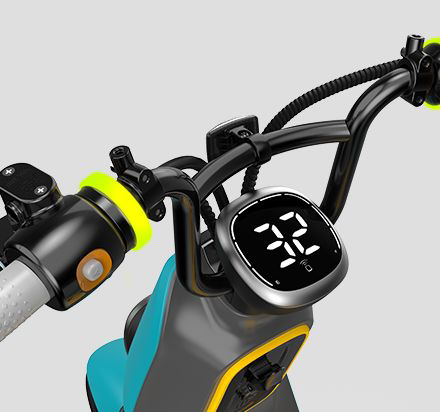 Dual Braking System
The electric bike has high-end features on the front disc and rear drum brakes to keep you safe when you must stop quickly and make riding more fun.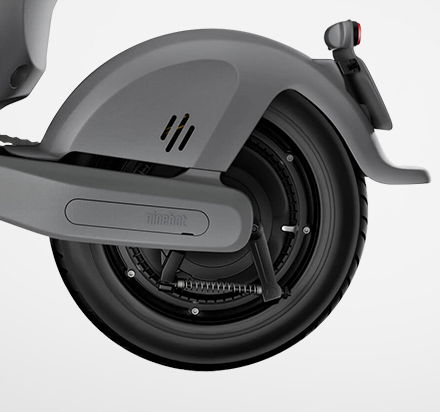 Regenerative Anti-lock Braking System
The front disk brake and the rear drum brake work together to ensure that stopping is fast and stable. The EABS System puts the energy back into the battery so you can go farther.
Technical Specs
20 mph Top Speed*
47-52.8 Miles Range*
165-220 lbs (75-100 kg) Payload
Segway-Ninebot Mobile App
NFC Swipe to Unlock
Dual Braking System
Built-In Front LED Lights
RideyGo! Intelligent System
Auto-Lock Mode
AirLock System
Smart Seat Detection
Shock Absorption
REV Rides
At REV Rides, you will find all the PEV parts and accessories for your electric scooters, bicycles, and unicycles. We don't just take away the inconvenience of public transport and the expense of rising gas prices from you, but we also give you peace of mind that your recreational electric vehicle will continue to be reliable every time you start it up for travel.
Getting to know our customers and building relationships with them is essential to us. Part of our promise to you is to always have the electric vehicle you want in stock and the features it needs to be upgraded and kept in good shape.
From King Song and Cycleboard to VSETT and Ninebot by Segway, we have the personal electric vehicle you've dreamed of in stock!
Best Electric Scooters:
Disclaimer: The information presented in this article is derived from extensive research, user reviews, and publicly available information. Our aim is to provide accurate and up-to-date content; however, it is crucial to understand that the opinions expressed are based on the information available at the time of writing. We strongly encourage readers to conduct their own thorough research and carefully evaluate their individual needs before making any purchasing decisions.
eWheels 2023 Summer Deals and New Launches are here!!!
Cheap, reliable, and powerful! TurboAnt Electric Scooters 2023 Sale!
Hi guys! This post may contain affiliate links, sponsored content, and advertisements. We get a small commission for covering topics that interest us (helps us keep the doors open). For more information, please see our privacy policy and disclaimer. Ride safe yall!
2023 Electric Unicycles:
Coupons & Deals:
Apollo Scooters: Get $50 USD worth of free accessories, upgrades, or spare parts with the purchase of a scooter. Code: VROOOMIN
REV Rides: Save $50 off Scooters and EUC's, Code: VROOOMIN
EVOLV Electric Scooters: Free Folding Lock (worth C$80) for every EVOLV model! Use Code: VROOOMIN-LOCK
To keep the site running and information flowing, Vrooomin.com participates in affiliate linking programs. We're also an Amazon Associate, which means we get paid for referring people to Amazon. Please support the channel by clicking on our links.