Ninebot KickScooter F65
If you're looking for a beginner scooter that can take you to work, school, or anywhere in town, the Ninebot F65 might be just what you need. This affordable scooter costs only $899 but still comes with some great features and standard performance specifications.
With a top speed of 18 mph and a range of 40 miles, the F65 is perfect for short to medium-length commutes. Additionally, the scooter offers three different riding modes: eco, standard, and sport. Riders who prefer to conserve battery life or don't want to ride at high speeds can use the eco mode, while those who want a bit more excitement can switch to sport mode.
The Ninebot F65 also boasts other features that make it an excellent choice for commuters. The scooter is lightweight and compact, making it easy to carry on public transportation or store in tight spaces. Its ergonomic design ensures a comfortable ride, even on bumpy roads, while the shock-absorbing tires help to reduce vibrations and increase stability.
The F65 electric scooter boasts 10″ tires, a slope rating of 20%, and can accommodate riders weighing up to 265 pounds, making it a powerful and reliable option for short commutes. Whether you're running errands or traveling across town, the F65 is an excellent way to save time, money, and fuel.
Overall, the Ninebot F65 is an excellent option for beginners or anyone looking for an affordable and reliable scooter for short to medium-length commutes. With its range, speed, and riding modes, the F65 offers riders the flexibility and choice they need to make their daily commutes more enjoyable and efficient.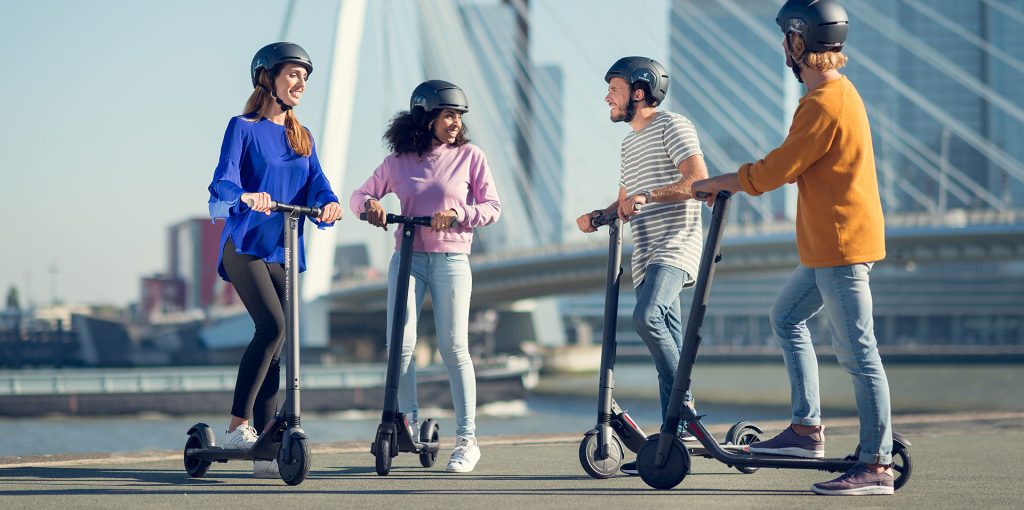 The Ninebot F65 electric scooter is a sleek and sophisticated scooter that has been designed to provide an outstanding riding experience. The scooter's design features a sleek chassis and a folding stem, making it easy to transport and store. Additionally, the F65 comes equipped with a bell, thumb throttle, and a sleek display that provides all of your riding stats and more.
One of the standout features of the F65 is its impressive range of over 40.4 miles, which makes it an ideal option for longer commutes. The scooter can also reach speeds of up to 18.6 mph, providing a swift and efficient mode of transportation. Furthermore, the F65 is equipped with a power regenerative system that helps to recharge the battery while you ride, ensuring that you can go further without worrying about running out of power.
The F65's display is another appealing feature, providing riders with all of the essential information they need during their ride, including speed, distance, battery level, and more. The display is easy to read and can be customized to suit your preferences, ensuring that you always have the information you need at your fingertips.
Technical Specs
Max speed: 18.6 mph
Miles Range: Up to 40.4 miles
Tires: 10-inch Pneumatic Tires
20% Hill Grade, Approx. 20% Max Slope
Built-In Front LED Lights
Over-heating, short circuit, and over-charge protection
3 Riding Mores: Eco Mode, Standard Mode, Sport Mode
6.5H Fast Charging
Easy Charging for up to 5 hours per charge
66.1-220.5 lbs (30.0-100.0 kg) Payload265lbs Max Payload
Ninebot KickScooter F65Take off at a whole new level
With a 40.4-mile range, you can go the distance in safety and style on the F65 electric scooter.
Max Speed: 18.6 mph
Max Payload: 265 lbs
Mile Range: 40.4
10-inch Pneumatic Tires
Eco Mode: 9.3 mph: Eco Mode gives you a chance to get used to the NineBot experience, and allows you to ride in safely through busy areas.
Standard Mode: 18.6 mph: Get to where you want to go at a comfortable cruising speed.
Sport Mode: 18.6 mph: Experienced riders love the pace and excitement of sport mode.
Ride Fast, Ride Freely
The exceptional power of the F65 lets you whiz through town at the top speed of 25km an hour, conquering up to 20% grade slopes.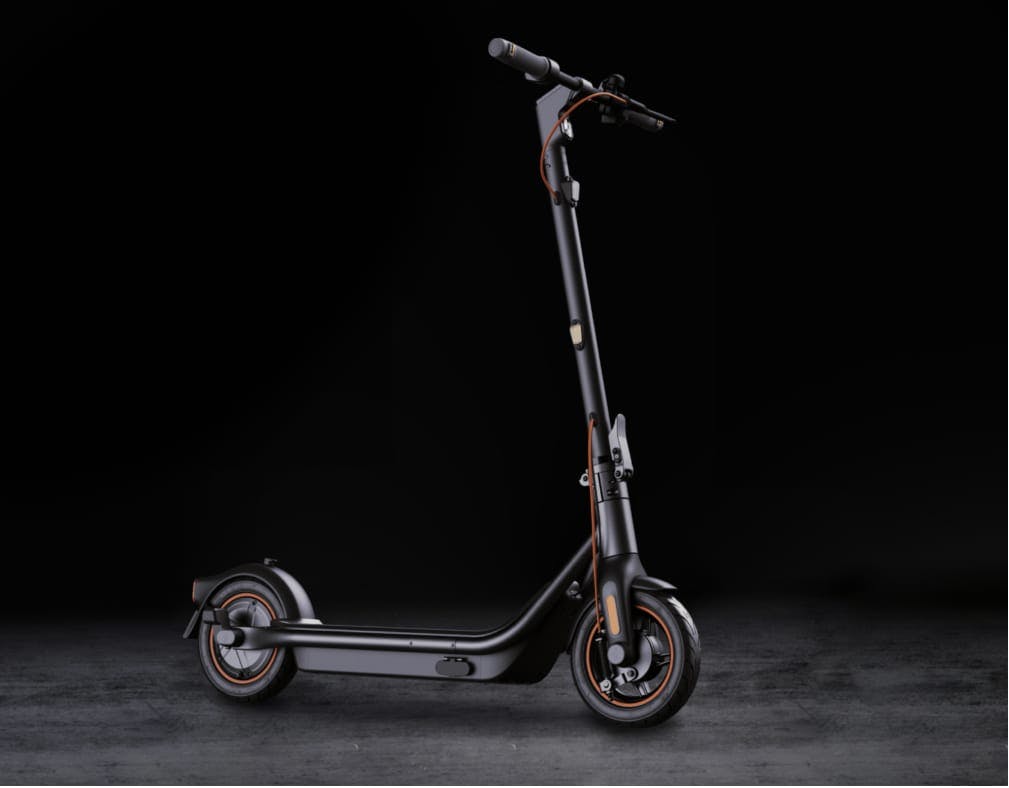 It provides more space for your free ride
The F65 provides an ergonomic design of classic black with stylish orange highlights, a perfect combination of fashion and athleticism.
Wider Footboard, Better Grip
The all-new, ultra-wide footboard provides more space, making the riding experience safe, comfortable, and stable.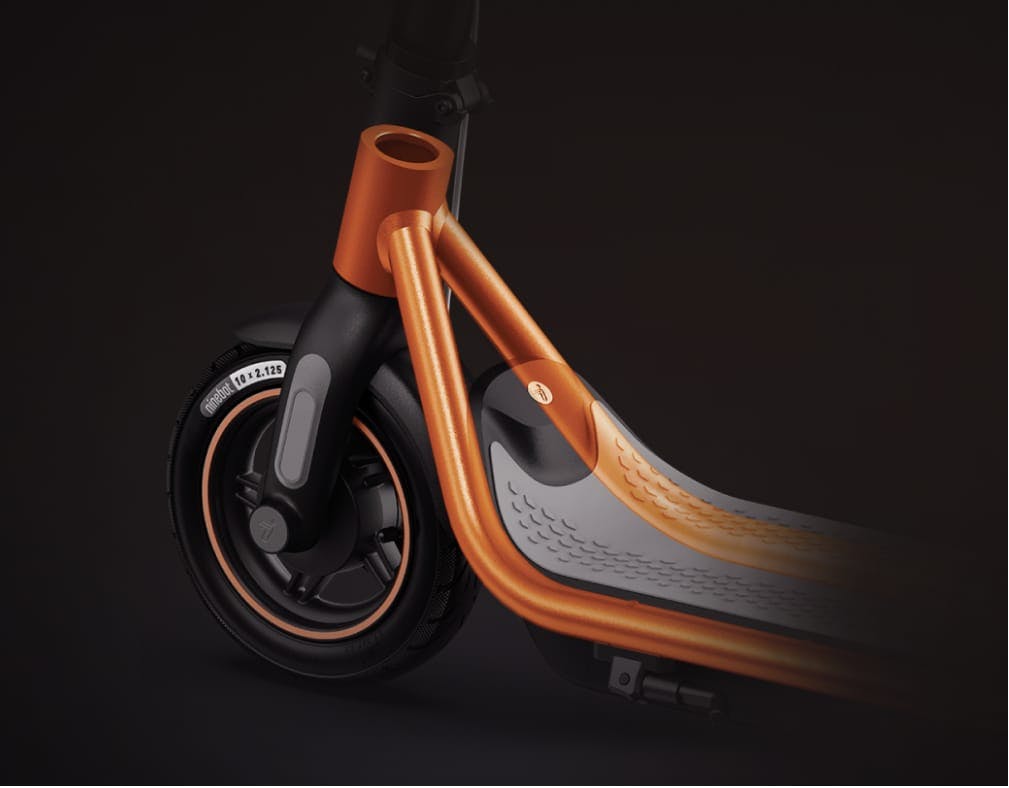 Compact and Robust
Steel frame, durable structure that holds a higher maximum weight.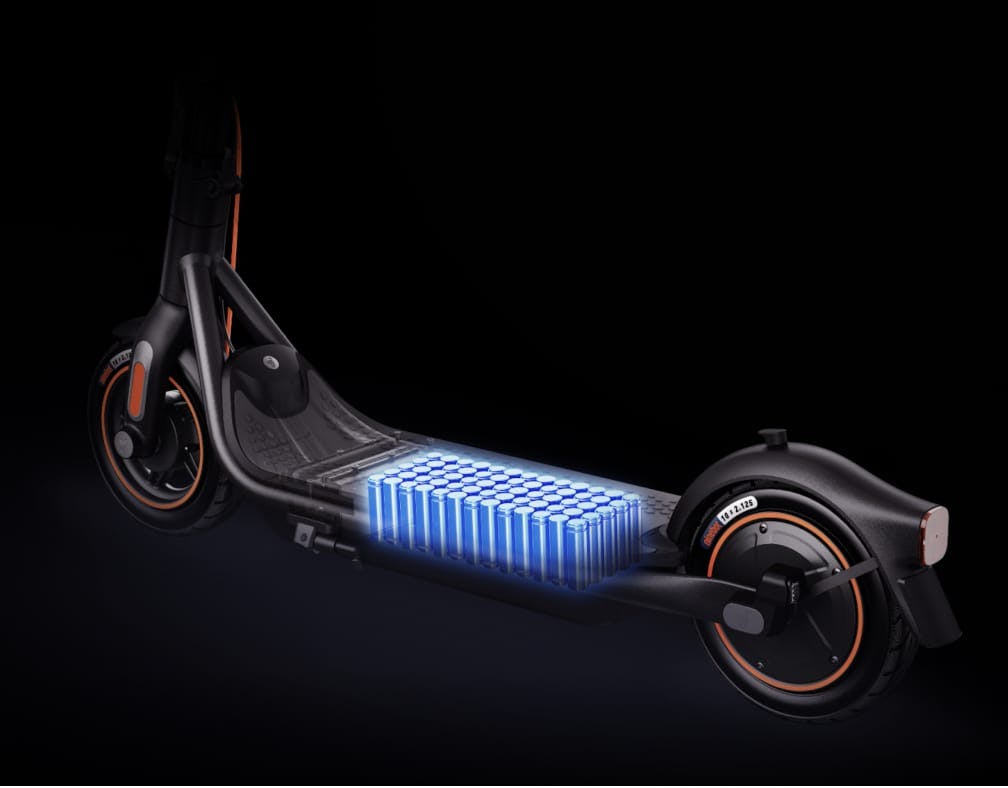 Extended Long Range For Your City Commute
Ride up to 65km on a single charge with the 1200mAh large battery with a dynamic power supply. The F65 takes you on easier commutes and longer adventures.
Simple, Easy Charger
With the built-in fast charger, you only need one cable and about 5 hours to fully charge your F65.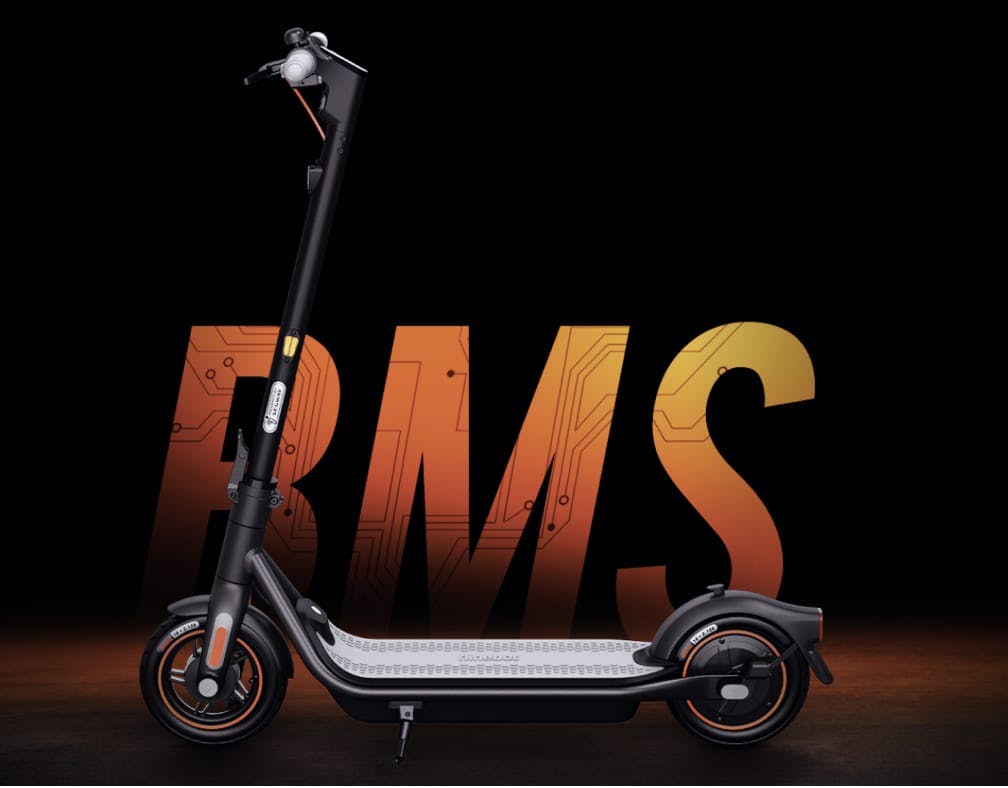 Ride With Protection:
Smart BMSThe Smart Battery Management system (BMS) closely monitors the battery status with a multifactored protection mechanism to ensure battery safety.
Ride Over Obstacles; Be Stopped By None
With 10-inch pneumatic tires, the F65 provides more durable compatibility for complex road conditions. You can enjoy a safe ride without worrying about tire punctures.
Anti-Skid Tread Tires For Better Grip
F65 tires with improved water channeling have a specially-designed tread. Diamond patterns help prevent sideslip and achieve a better grip.
Double Security, Simple Maintenance
The front drum brake and rear E-ABS electronic brake comprise a double braking system that ensures you can stop quickly and safely.
Safe Night Driving
The 2.1W front light illuminates the path ahead, making it easy to see and keeping you visible to others even at night.
Protects You With Every Turn You Take
Safety comes first with a front and rear direction indicator visible for 180 degrees, both front, and back. The tall light blinks to alert others and ensure your safety.
One Clear Display, Three Flexible Modes
The F65 display includes a clear LED dashboard with a real-time display of speed and battery life.
Take Full Control With the Smart APP
The APP has a firmware update, a sentinal mode, a Bluetooth connection, and data monitoring while you ride.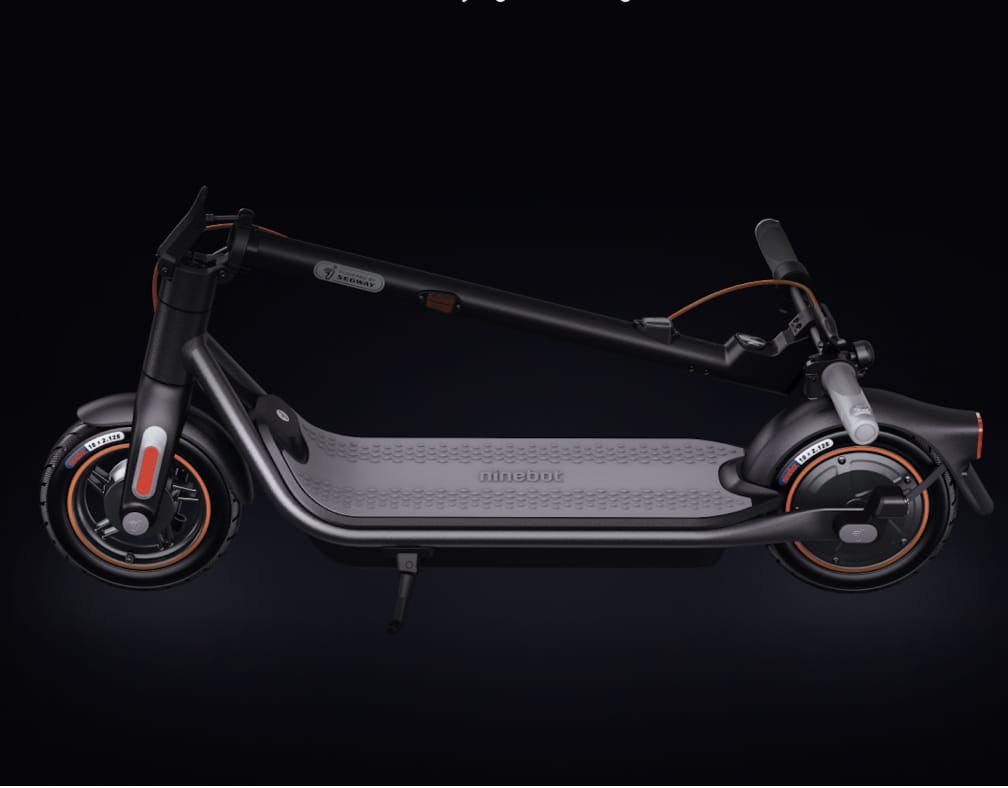 Easy Folding, Easy Lifestyle
The F65 is folded in three steps, making it simple to carry and store.
About Segway
Segway, founded by renowned inventor Dean Kamen in 1999, is the leader in personal transportation, providing high-quality and safe products. Segway-Ninebot, a multinational company specializing in service robots and intelligent short-distance transportation, sells its products in over 80 countries and regions and is valued at over USD 1.5 billion. Segway-Ninebot aims to lead the industry with its renowned intellectual property.
Best Budget Electric Scooters:
Disclaimer: The information presented in this article is derived from extensive research, user reviews, and publicly available information. Our aim is to provide accurate and up-to-date content; however, it is crucial to understand that the opinions expressed are based on the information available at the time of writing. We strongly encourage readers to conduct their own thorough research and carefully evaluate their individual needs before making any purchasing decisions.
eWheels 2023 Summer Deals and New Launches are here!!!
Cheap, reliable, and powerful! TurboAnt Electric Scooters 2023 Sale!
Hi guys! This post may contain affiliate links, sponsored content, and advertisements. We get a small commission for covering topics that interest us (helps us keep the doors open). For more information, please see our privacy policy and disclaimer. Ride safe yall!
2023 Electric Unicycles:
Coupons & Deals:
Apollo Scooters: Get $50 USD worth of free accessories, upgrades, or spare parts with the purchase of a scooter. Code: VROOOMIN
REV Rides: Save $50 off Scooters and EUC's, Code: VROOOMIN
EVOLV Electric Scooters: Free Folding Lock (worth C$80) for every EVOLV model! Use Code: VROOOMIN-LOCK
To keep the site running and information flowing, Vrooomin.com participates in affiliate linking programs. We're also an Amazon Associate, which means we get paid for referring people to Amazon. Please support the channel by clicking on our links.