Segway KickScooter P65
Segway Ninebot's new city commuter scooter
From an engineering perspective, the Segway P65 is an impressive piece of technology. The scooter's single motor, 10-inch wheels, and 25-mph top speed make it an excellent choice for beginner riders. With a 561-watt-hour battery pack, the P65 can provide riders with up to 40 miles of riding range per day, making it a reliable and efficient form of transportation.
The P65's 500-watt motor is a standout feature, as it can easily propel riders up inclines of 22%, making it ideal for riders who need to climb moderate hills on their commute. The scooter's improved design, folding mechanism, and rubber deck make it easy to store and transport.
In terms of safety, the P65 is equipped with lighting modules, including headlights and brake lights, which improve visibility and ensure that riders can see and be seen while on the road. Additionally, the scooter's improved suspension system helps absorb shocks and vibrations, providing riders with a smoother and more comfortable ride.
Overall, the Segway P65 is an excellent choice for anyone looking for an affordable, reliable, and high-performing scooter. Its impressive features and performance capabilities have raised the bar for what a $1,300, 25-mph scooter should look and feel like, and riders and Segway fans alike are thrilled with its performance.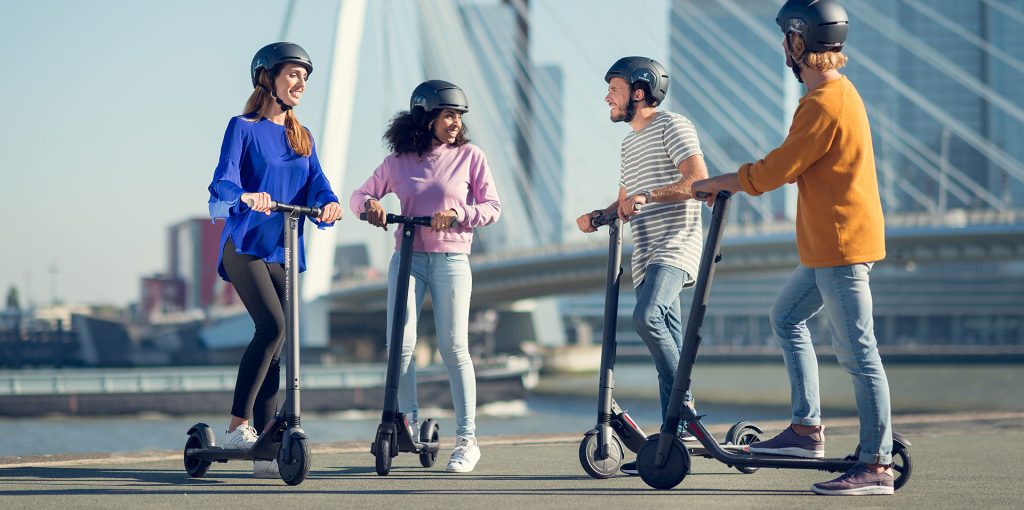 Top-performing commuter scooter
Great scooter for commuting to work and shopping
The Segway KickScooter P65 is an ideal transportation option for city dwellers, boasting a range of up to 40 miles and a top speed of 25 mph. With its wide tires, the P65 provides safe riding in all weather conditions. This smart KickScooter is equipped with a colored LED dashboard that enables you to unlock and lock it using your smartphone or NFC technology.
Features:
USB port type C behind the dashboard for smartphone charging while riding
Unlocking and locking with NFC technology or Segway-Ninebot App on smartphone
3 Riding modes: Eco, Sport, and Race modes, as well as Walk and Park modes
The LED-colored dashboard displays speed level, riding modes, connectivity, power progress bar, and more
Safety first
Loaded with the latest 2022 features
Upgrading to the P65 KickScooter model will provide you with a dual-piston disc brake on the front wheel and an electronic brake on the back wheel for a smooth and secure stop. The rear light will also illuminate when you apply the brakes, making you more visible to other riders. Along with the brakes, the P65 model boasts a powerful maximum output of 980W and can climb up to 22%, making it suitable for rough roads and helping you reach your destination safely.
Easy Charging
Charge before you ride
The P65 model of the Segway KickScooter features a charging indicator conveniently located in the front of the footboard, which is protected by a cover to prevent dust and debris from interfering with the charging process. This indicator allows you to quickly check the battery level while your KickScooter is charging, ensuring that you always have enough power for your next ride. The P65's 561W battery can travel up to 40 miles on a single charge and takes only 4 hours to fully recharge, making it easy to top up at home, work, or with friends before heading out again.
Protect Your Travel Safety
Double-breaking protection and power CrossSeason Tires provide extra grip, stability, and tracking and can withstand multiple punctures without tire deflation. At the same time, the intelligent alarm system keeps you safe at all times.
Multifunctional Atmosphere Light
The P65 light includes an alarm system, RGB colors, and simultaneous flash with turn signals.
Comprehensive Lighting System
The front LED Light, front and rear turn signal, daytime running light, and brake tail light gives you 360 degrees of protection.
High-Powered Functionality
The 5V2A output is protected from the rain, allowing it to safely meet the charging demand of digital products during travel.
One-step Folding Mechanism
The P65 is designed to be easily folded and compact enough to carry in seconds.
| | |
| --- | --- |
| Product | Name: Segway KickScooter |
| Model | P65U |
| Length × Width × Height | Approx. 46.9 × 25 × 47.8 in (1190 × 634 × 1214 mm) |
| Folded: Length × Width × Height | Approx. 46.9 × 25 × 22.3 in (1190 × 634 × 567 mm) |
| Net Weight | Approx. 61.7 lbs (28 kg) |
| Rider | Max. Payload: 265 lbs (120 kg) |
| Recommended Age | 18–60 years old |
| Required Height | 5'2"–6'6" (160–200 cm) |
| Machine | Wheelbase: 35.6 in (903 mm) |
| Ground Clearance | 3.1 in (79 mm) |
| Max. Speed[1] | Approx. 25 mph (40 km/h) |
| Typical Range[2] | Approx. 40.4 miles (65 km) |
| Max. Slope | Approx. 22% |
| Traversable Terrain | Bicycle lanes, parks, campuses and most of the flat road conditions and typical Belgian roads |
| Operating Temperature | 14 to 104°F (-10 to 40°C) |
| Storage Temperature | 14 to 122°F (-10 to 50°C) |
| IP Rating | IPX5 |
| Duration of Charging | Approx. 4 h |
| Battery | Model: NCAF4813A/NCAF4812D |
| Nominal Voltage | 46.8 V |
| Max. Charging Voltage | 54.6 V |
| Nominal Energy | 561 Wh |
| Nominal Capacity | 12 Ah |
| Charging Temperature | 32–113°F (0–45°C) |
| Battery Management System | Over-heating, short circuit, over-current, over-discharge and over-charge protection |
| Motor | Motor Type: Brushless DC (BLDC) motor |
| Nominal Power | 0.5 kW, 500 W |
| Charger | Input Voltage: 100–240 V ~ 50–60 Hz, 2.0 A MAX. |
| Max. Output Voltage | 54.6 V |
| Rated Output | 53.5 V, 3 A |
| Output Power | 0.16 kW, 160 W |
| Type | Built-in |
| Model | NBW54D603D0D |
| Features | Brake Light: Flashes when braking |
| Speed Modes | Energy-saving mode, Standard mode and Sport mode |
| Tire | Type: 10.5-inch Self-sealing tubeless tires |
| Tire Pressure | 30–45 psi |
| Material | Rubber |
| Others | Speed Modes: WALK mode, ASSIST mode, PARK mode, ECO mode, DRIVE mode and SPORT mode |
| Brake System | Disc brake & Electric brake |
About Segway
Segway has become a popular mode of transportation for people worldwide. Founded by the innovative Dean Kamen in 1999, Segway has always prioritized the safety, quality, and reliability of its products. Segway-Ninebot is a multinational company that specializes in producing service robots and smart transportation solutions for short distances. With international businesses operating in over 80 countries and regions, the company's value exceeds $1.5 billion. Segway-Ninebot aims to leverage its globally renowned intellectual property to drive innovation and shape the future of the industry.
Best Budget Electric Scooters:
Disclaimer: The information presented in this article is derived from extensive research, user reviews, and publicly available information. Our aim is to provide accurate and up-to-date content; however, it is crucial to understand that the opinions expressed are based on the information available at the time of writing. We strongly encourage readers to conduct their own thorough research and carefully evaluate their individual needs before making any purchasing decisions.
eWheels 2023 Summer Deals and New Launches are here!!!
Cheap, reliable, and powerful! TurboAnt Electric Scooters 2023 Sale!
Hi guys! This post may contain affiliate links, sponsored content, and advertisements. We get a small commission for covering topics that interest us (helps us keep the doors open). For more information, please see our privacy policy and disclaimer. Ride safe yall!
2023 Electric Unicycles:
Coupons & Deals:
Apollo Scooters: Get $50 USD worth of free accessories, upgrades, or spare parts with the purchase of a scooter. Code: VROOOMIN
REV Rides: Save $50 off Scooters and EUC's, Code: VROOOMIN
EVOLV Electric Scooters: Free Folding Lock (worth C$80) for every EVOLV model! Use Code: VROOOMIN-LOCK
To keep the site running and information flowing, Vrooomin.com participates in affiliate linking programs. We're also an Amazon Associate, which means we get paid for referring people to Amazon. Please support the channel by clicking on our links.