2022 King Song N12 Electric Scooter Technical Review
Pass through traffic quickly, save money, and enjoy yourself. With the King Song N12 electric scooter, go green and travel far.
Who would have imagined King Song would release a 60-volt, high-performance commuter scooter? I'm impressed. The easy fold system, 1KW drivetrain, full suspension, modern dash, lighting, and high grade-ability are all present and correct. The N12 is an excellent option for a commuter scooter for a limited budget. The sporty and lightweight 1400W 60V 14.5AH King Song N12 electric scooter is meant to save time and money while making commuting more of an experience. If you're looking for high performance from a 60V budget electric scooter, check out the latest King Song N12.
King Song's Budget 60V Scooter
The N12 is a fantastic premium entry model for adults, students, and city commuters
1000W High Torque Motor – Supplies rapid acceleration and power to climb city hills easily. a flat-surface top speed of 30 mph, and a 25-degree hill climb capability. On a single charge, a 18650 high-capacity lithium battery may travel up to 50 miles. The battery pack's health is safeguarded via intelligent battery management.
Fast folding in 3 easy steps – TUV Rheinland examined a unique folding system for a minimalist appearance and practical storage.
10″ Honeycomb Tires or 10″ Pneumatic tires – Innovative inner honeycomb non-inflatable tires allow you to easily navigate minor potholes and rocky terrain. No need for inflation and never having a puncture means uninterrupted riding enjoyment. Pneumatic tires also available for more plush comfort.
Multiple Braking System – Features regenerative anti-lock braking, drum braking, and disc braking for effective, quick stopping.
Vibrant Dashboard – The mode, speed, battery life, and distance are displayed on the clear LED dashboard. Luminous and simple to read
Smart Taillight – To warn oncoming traffic and pedestrians, the ambient and taillights blink when the brake lever is depressed. To improve visibility, the tail light also features a rear reflector function.
1.5W Ultra-bright Headlight – For excursions in the late evening, the brilliant front lamp provides wide and comprehensive night vision.
Smart phone control – You can connect to the scooter using the KingSong App, customize your riding style, modify the scooter's illumination, and keep track of your riding statistics and battery life.
A Song of Volts and Value
King Song is breaking in to the Electric Scooter Space
For the 2022 riding season, global distributors will be carrying this electric scooter, which can reach speeds of up to 31 miles per hour, as one of its top-performance commuter electric scooters. They're getting ready to ship. This compact, environmentally friendly, and the cutting-edge electric scooter has features that will make your commute safer, easier, and more enjoyable.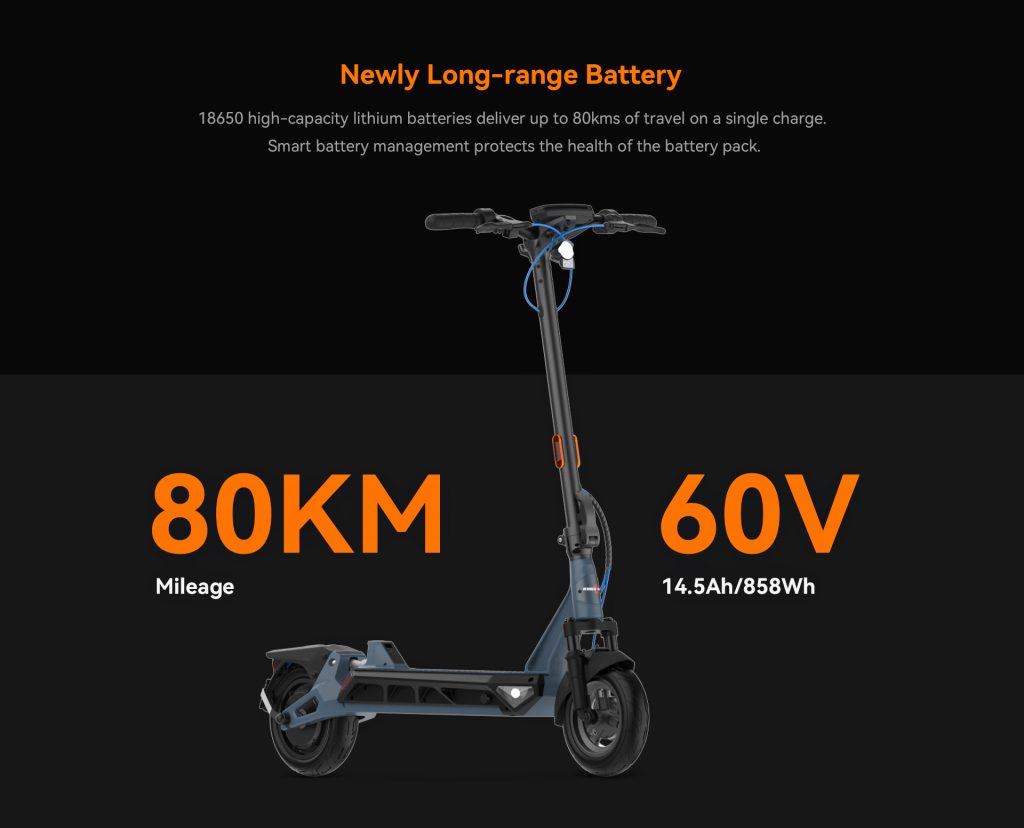 King Song Performance
30 MPH Performance for your Daily Needs
The King Song N12 has a 1400W single hub motor and an 858WH generic high-discharge lithium battery pack that allows riders to enjoy long-range riding up to 50 miles. The N12 weighs only sixty pounds, yet it is packed with amenities such as a premium aluminum alloy frame, revised handlebars, updated control modules, headlights/taillights, electric horn, turn signals, mudguards, drum/disc/regen braking system, and dual air suspension system.
Look at this scooter's performance, battery capacity, features, and chassis, which cost roughly $1,500. The N12 is a first-generation model; please let us know in the comment section below whether you believe these features make the $1500 price tag worthwhile.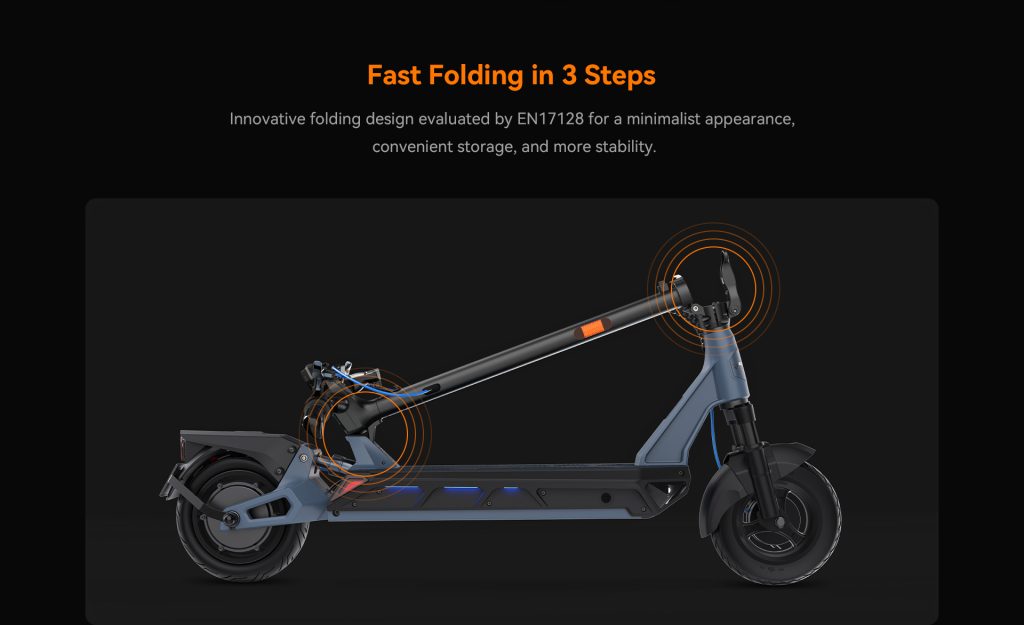 King Song N12 Features:
Voltage – First 60V scooter in the King Song commuter lineup.
Pricing – Very competitive for features.
Powerful Motor & Long Battery Life – The 1400W electric brushless hub motor allows for speeds up to 31 mph. high capacity battery (858WH) with a max travel range of up to 50 miles under specific conditions and a max load of 264 lbs.
Comfort – King Song N12 electric scooter is equipped with 10-inch (and full shock absorbers) to provide maximum comfort, even on rough surfaces or speed bumps.
Safety Features – King Song N6 scooter features ultra-bright headlights, LED lights, and taillights.
King Song N12 App – Simply connect the King Song electric scooter's app to customize the scooter's acceleration and ride preferences.
Reasons to Buy:
There's no other single motor 60V in this price class
Powerful scooter for its size
Fully functional mid-range commuter electric scooter
The lowest priced scooter in the King Song lineup
Same top speed as other scooters in its class
Ultra-premium features for a $1,500 scooter
Fantastic beginner performance models for adults, city workers and students
Reasons to Avoid:
Not a cheap scooter, much more pricier for riders on budget
+60 lbs heavy scooter, not portable
First generation model, no known issues at the moment
King Song has had first generation issues with QC in the past
Technical Specs:
Top Speed: 31 mph
Motor: 1400W Motor
Brakes: drum/disc/regen braking system
Materials: Aluminum Alloy Frame
Price: $1500
Gradient: 25 degrees
Battery: 60V 858WH lithium cell battery pack
Charge time: 8 hours
Max range: 50 miles
Tire Size: 10 inch
Suspension: dual-air suspension
Weight: 60 lbs
Max load: 264 lbs
Throttle: thumb throttle
Folding: 3-step easy-latch folding system
Lighting: 1.5W headlights/ambient taillights
Side Led: Side LED's
Horn: Electronic Horn
Signals: Left-right turning signals
Display: New TFT Display
Release Year: 2022
Ambient LED's: Side LED's
What is the King Song N12's top speed?
The King Song N12 has a top speed of 31 miles per hour. Although this number is advertised, most riders will be able to reach this maximum speed. To obtain this scooter's top speed, you need to ensure that the battery is fully charged and that you are in a location that allows you to ride it quickly while remaining safe.
What is the King Song N12's maximum range?
According to the manufacturer, the King Song N12 has a range of 50 miles, but in practice, it is more likely to have a range of 30 miles for the average adult (give or take), which is more than enough range to get around town and run errands.
Most riders may reasonably anticipate achieving at least sixty percent of the advertised range in actual riding conditions. Riders who weigh less and move at more sedate cruising speeds have a better chance of coming close to the claimed range.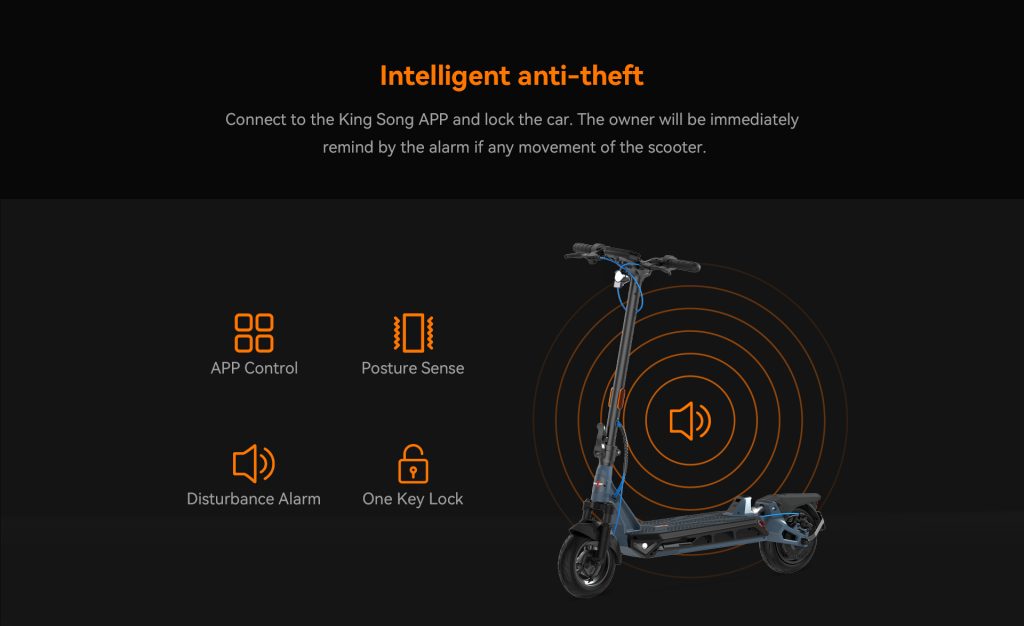 Is the King Song N12 capable of supporting heavier riders?
Riders weighing up to 264 pounds can ride on the King Song N12. Riders are advised to buy a scooter with at least a 25-pound buffer in the top load category so they may have the best riding experience, top speed, and range.
Is the King Song N12 capable of climbing a steep hill?
The King Song N12 1400W powertrain supports a 25-degree ascent. Riders should anticipate ascending moderate hills quickly. Please be aware that bigger riders may have slower acceleration than riders with low batteries.
Is the King Song N12 easy to ride?
Although the King Song N12 is quite simple to ride, it does need some practice to use the scooter securely. Before operating, we advise everyone to read the user handbook cover to cover. Before each ride, check the screws, brake calipers, and tire pressure.
2022 King Song Electric Unicycle Catalog
King Song wheels are regarded as the best in the industry. Compare the King Song EUCs based on speed, range, pricing, and weight. Here are some of the best King Song Electric Unicycles on the market:
About King Song
King Song Intell Co., LTD was established in 2012 and manufactures power bank protection boards using surface-mount technology. Before the establishment of King Song, the firm had already accumulated ten years of experience in SMT and OEM PCB development.
These talents have given us a competitive advantage over other manufacturers of high-quality electric scooters, motorcycles, and unicycles.
We have complied with the requirements of ISO 9001 management systems since 2017, and make sure to meet all of our client's expectations.The 11 internal divisions of King Song Intell Co., LTD help to create, produce, manufacture, and test the units from start to finish, guaranteeing that our goods are designed with our customers in mind.
We take on other personal electric vehicle ODM projects for businesses worldwide by utilizing King Song's strong relationships with its partners and riders who were able to make their dreams come true.
Safety has always been King Song's guiding principle, and when combined with our SMT protection boards, we can guarantee the highest quality of components.
King Song offers a variety of fun, eco-friendly personal electric vehicles, including electric unicycles (EUC), E-scooters to reduce the growing problem of urban congestion, an enjoyable outdoor vehicle, and a machine that blends seamlessly with urban life.
Disclaimer: The information presented in this article is derived from extensive research, user reviews, and publicly available information. Our aim is to provide accurate and up-to-date content; however, it is crucial to understand that the opinions expressed are based on the information available at the time of writing. We strongly encourage readers to conduct their own thorough research and carefully evaluate their individual needs before making any purchasing decisions.
eWheels 2023 Summer Deals and New Launches are here!!!
Cheap, reliable, and powerful! TurboAnt Electric Scooters 2023 Sale!
Hi guys! This post may contain affiliate links, sponsored content, and advertisements. We get a small commission for covering topics that interest us (helps us keep the doors open). For more information, please see our privacy policy and disclaimer. Ride safe yall!
2023 Electric Unicycles:
Coupons & Deals:
Apollo Scooters: Get $50 USD worth of free accessories, upgrades, or spare parts with the purchase of a scooter. Code: VROOOMIN
REV Rides: Save $50 off Scooters and EUC's, Code: VROOOMIN
EVOLV Electric Scooters: Free Folding Lock (worth C$80) for every EVOLV model! Use Code: VROOOMIN-LOCK
To keep the site running and information flowing, Vrooomin.com participates in affiliate linking programs. We're also an Amazon Associate, which means we get paid for referring people to Amazon. Please support the channel by clicking on our links.