Introducing Nami BURN-E 2 Max, now available at a discounted price!
A Game-Changing Electric Scooter for the Modern Adventurer
FluidFreeRide, a leading name in the electric scooter industry, has unveiled its latest innovation – the BURN-E 2 Max. This second iteration of the BURN-E series revolutionizes the ultra-high performance scooter market, offering a seamless, powerful, and safe experience. Developed with valuable community feedback, the BURN-E 2 Max delivers unmatched power, performance, and innovation.
Key Features of the Nami BURN-E 2 Max:
Powerful 1500W motors for speeds up to 60 mph
Precise control and rapid acceleration with 50A Sinewave controllers
Renowned smooth ride with hydraulic shocks and large 11″ tires
Sturdy build: one-piece aluminum frame, carbon fiber steering column, and stainless steel parts
Customizable performance options accessible on the smart display
Multiple riding modes and adjustable torque and braking strength
Impressive real-world range of over 50 miles and optimal range of 90 miles
72V 32 Ah battery with high-quality cells for reliable performance
Convenient folding mechanism for easy portability in just 10 seconds
Most portable scooter in its class
Unlock extra savings of 10% with our coupon code: MEMORIAL10!
Unleashing Unprecedented Power and Thrilling Speed:
Designed to provide an adrenaline-fueled ride, the BURN-E 2 Max is equipped with two formidable 1500W motors and 50A sinewave controllers. With this exceptional combination, riders can experience breathtaking torque and exhilarating acceleration, reaching thrilling speeds of up to 60 mph.
The scooter's peak output of 8400W guarantees an unforgettable adventure every time.
Unmatched Range and Battery Performance:
Empowering riders with extended journeys, the BURN-E 2 Max boasts a large 72V 40Ah battery. Featuring top-quality LG 21700 Li-ion cells, it offers an impressive maximum range of 115 miles. Even in practical usage scenarios, riders can expect a realistic range of approximately 50-60 miles, maintaining a constant speed of 18mph with a 160 lb rider.
The scooter's exceptional battery performance eliminates range anxiety, enabling riders to explore with confidence.
Top Speed: The product can reach a speed of 60 mph.
Power: It is equipped with 2 x 1500W base power, which can peak at 8400W.
Range*: The product offers a range of 115 miles.
Battery: It is powered by a 72V 40AH LG 21700 battery, which provides 2880 Wh of energy.
Unrivaled Stopping Power:
Safety remains a top priority with the BURN-E 2 Max's 4-piston LOGAN full hydraulic 160mm disc brakes. The scooter's integrated electric brake, featuring adjustable intensity, enhances stopping power and ensures reliable and responsive braking. Riders can enjoy a secure and controlled ride, no matter the terrain or speed.
Innovative Technology for Personalized Riding:
FluidFreeRide's commitment to community-driven development is evident in the BURN-E 2 Max's cutting-edge technology. The scooter features a large, waterproof smart display that enables riders to customize various settings according to their preferences. With five different ride modes available, including a thrilling turbo mode for an extra burst of power and fun, riders can tailor their experience to suit their individual style.
Weight: The product weighs 103 lbs.
Tires: It features tubeless 11″ tires.
Drive: The product has both front and rear wheel drive.
Suspension: It is equipped with adjustable front and rear hydraulic coil-shock suspension.
Charging Time: With the included 5A fast charger, it takes 8-10 hours to fully charge. An optional second 5A charger can reduce the charging time by 50%.
Additionally, the scooter allows independent adjustment of the acceleration strength of the front and rear motor, as well as the intensity of the electric brake, providing a truly personalized riding experience.
Smooth Ride in Any Terrain:
The BURN-E 2 Max prioritizes rider comfort with two adjustable 165mm hydraulic coil-shock suspensions and 11-inch tubeless tires (off-road tire options available separately). These features guarantee a smooth and enjoyable ride, regardless of the terrain. Furthermore, the scooter is equipped with a powerful 2000 lumen headlight, side LED strips, and a rear brake light, ensuring optimal visibility and safety during nighttime rides.
Craftsmanship and Durability:
Crafted with meticulous attention to detail, the BURN-E 2 Max stands out for its durability and reliability. A heat-treated aviation-grade welding frame, a full carbon fiber steering column, and polished stainless steel parts contribute to the scooter's robust structure, specifically designed to withstand high speeds and provide long-lasting durability.
Weight Limit: The product has a weight limit of 265 lbs.
Physical Brakes: It is equipped with dual disc brakes (LOGAN 4-piston full-hydraulic).
Electric Braking: The electric braking system is adjustable for regenerative braking.
Lights: The product features ultra bright front, side, and rear LED lights, including turn signals.
Throttle: It has a thumb throttle for control.
Display: The product includes a feature-loaded color smart display.
Despite its impressive performance, the BURN-E 2 Max weighs just 103 lbs, making it lighter than comparable models in its class. Additionally, its wobble-free folding mechanism allows for compact transportation, combining convenience with stability.
Enhancements Over the Original BURN-E
Building upon the success of the original model, the BURN-E 2 Max incorporates several notable improvements. These include 4-piston hydraulic brakes for enhanced stopping power, waterproof motor connectors for improved serviceability, upgraded charging ports, the inclusion of a 5A charger, improved turn signals, and a wider 27-inch handlebar.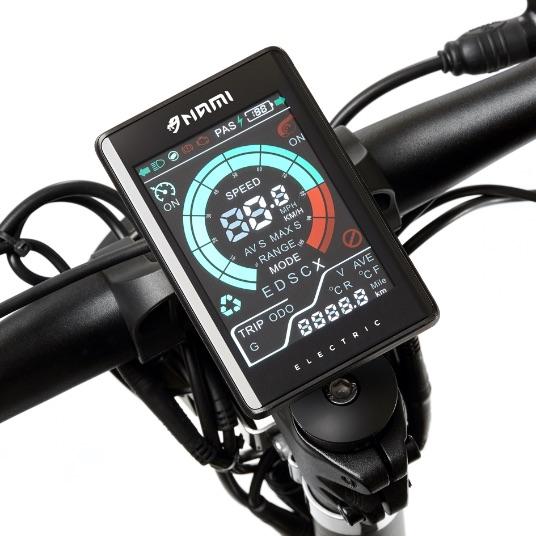 Ready to rock?
With its unparalleled power, exceptional range, innovative features, and meticulous craftsmanship, the BURN-E 2 Max secures its place among the most captivating scooters in its class. NAMI's commitment to community-driven development has resulted in an electric scooter that pushes boundaries, providing riders with an electrifying experience like no other. Embark on your next adventure with
Disclaimer: The information presented in this article is derived from extensive research, user reviews, and publicly available information. Our aim is to provide accurate and up-to-date content; however, it is crucial to understand that the opinions expressed are based on the information available at the time of writing. We strongly encourage readers to conduct their own thorough research and carefully evaluate their individual needs before making any purchasing decisions.
eWheels 2023 Summer Deals and New Launches are here!!!
Cheap, reliable, and powerful! TurboAnt Electric Scooters 2023 Sale!
Hi guys! This post may contain affiliate links, sponsored content, and advertisements. We get a small commission for covering topics that interest us (helps us keep the doors open). For more information, please see our privacy policy and disclaimer. Ride safe yall!
2023 Electric Unicycles:
Coupons & Deals:
Apollo Scooters: Get $50 USD worth of free accessories, upgrades, or spare parts with the purchase of a scooter. Code: VROOOMIN
REV Rides: Save $50 off Scooters and EUC's, Code: VROOOMIN
EVOLV Electric Scooters: Free Folding Lock (worth C$80) for every EVOLV model! Use Code: VROOOMIN-LOCK
To keep the site running and information flowing, Vrooomin.com participates in affiliate linking programs. We're also an Amazon Associate, which means we get paid for referring people to Amazon. Please support the channel by clicking on our links.