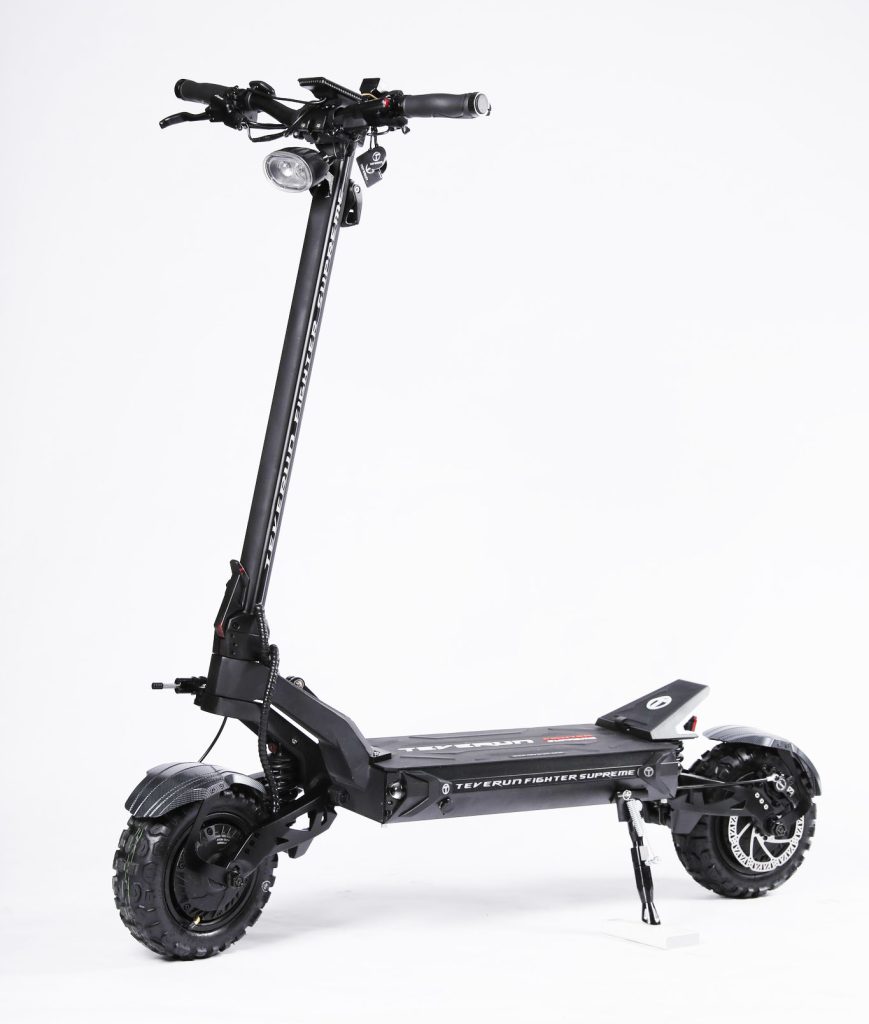 Teverun Fighter Supreme Electric Scooter
San Rafael, CA – MiniMotors USA, a leading electric scooter manufacturer, is thrilled to announce a summer sale for their highly anticipated Teverun Fighter Supreme Electric Scooter. With a discount of 20%, customers can now purchase this cutting-edge scooter for $3,359.20, down from its original price of $4,199.00. This limited-time offer allows scooter enthusiasts to save a whopping $839.80 on their purchase.
Dual 55 amp output sinewave controllers for fast speeds of 60+ mph
Fully hydraulic front and rear zoom brakes for quick stops
Newest folding mechanism design for easy storage and portability
Great accent lighting and bright dedicated headlight for enhanced visibility
3.5″ TFT display and thumb throttle for convenient control
Extended platform for increased stability and comfort
Adjustable hydraulic suspension for a smooth ride on various terrains
Stock damper for added support and stability
Smooth acceleration and impressive power
Standout design and features make the Fighter Supreme electric scooter a top choice
Performance
The Teverun Fighter Supreme Electric Scooter is designed for those who crave the thrill of speed and demand superior performance. With its tire size of 90/65-6 and 11-inch tubeless puncture-free tires, riders can confidently navigate various terrains without worrying about flat tires.
Equipped with dual 55 amp output sinewave controllers, this scooter reaches a staggering top speed of 62 mph, making it one of the fastest electric scooters on the market.
Safety
Safety and convenience are top priorities for MiniMotors, and the Teverun Fighter Supreme Electric Scooter reflects that commitment. The scooter features full hydraulic disc brakes and an E-ABS brake system, providing riders with reliable stopping power and enhanced safety.
The adjustable hydraulic suspension ensures a smooth and comfortable ride, even on uneven surfaces. With a maximum load capacity of 330 lbs, this scooter accommodates a wide range of riders.
Design
Crafted with a combination of aluminum alloy and steel, the Teverun Fighter Supreme Electric Scooter strikes the perfect balance between durability and lightweight design. Its unfolded dimensions measure L52″ x H53″ x W26″, while the folded dimensions are L52″ x H23″ x W13″.
This excellent folding functionality allows for easy storage and portability. The scooter weighs 100 lbs, making it manageable for transportation when needed.
The TFT 3.5-inch display provides riders with all the essential information, ensuring easy monitoring of speed, battery life, and other vital details. Additionally, the scooter comes with NFC capabilities, enabling convenient interactions with compatible devices and accessories.
Riding Range
With a maximum range of 74 miles, the Teverun Fighter Supreme Electric Scooter allows riders to embark on longer journeys without worrying about recharging frequently. The scooter's impressive performance is complemented by its widened pedals, forged widened neck, and a 40° grade, ensuring optimal stability and control.
Minimotors is thrilled to launch the summer sale for the Teverun Fighter Supreme Electric Scooter
This scooter represents the pinnacle of our engineering prowess, offering riders an exhilarating experience combined with top-of-the-line safety features.
With our limited-time discount, we hope to make this incredible scooter accessible to a broader audience.
Sale
The Teverun Fighter Supreme Electric Scooter has garnered significant attention and praise from electric scooter enthusiasts worldwide. Its sleek design, powerful performance, and advanced features set it apart from its competitors.
To take advantage of this summer sale and purchase the Teverun Fighter Supreme Electric Scooter, customers can visit the official MiniMotors USA website or authorized retailers. The discounted price of $3,359.20 is valid for a limited time, so interested buyers are encouraged to act swiftly.
Technical Specs
Tire Size: 90/65-6 11 inch tubeless tire puncture free
Display: TFT 3.5 Inch
NFC Capabilities
Speed: 62mph
Maximum Range: 74 Miles
Brakes: Full hydraulic Disc brake
E-ABS Brake Included
Suspension: Adjustable Hydraulic Suspension
Maximum Load: 330lbs
The Material: Aluminum allov/steel
Unfolded Dimensions (inches): L52 / H53 / W26
Folded Dimensions (inches): L52 / H23 / W13
Packing Size (inches): L55 / H25 / W14
Net Weight: 100lbs
Gross Weight: 115
MiniMotors USA
MiniMotors USA is a renowned electric scooter manufacturer known for its commitment to engineering excellence and providing top-notch products to customers worldwide.
With a focus on innovation, performance, and safety, MiniMotors USA continues to push the boundaries of electric scooter technology, delivering unparalleled riding experiences.
Minimotors is renowned for manufacturing some of the finest electric scooters available, including the Dualtron, Speedway, Futecher, Bluetran, Rovoron, and Teverun models. These scooters boast remarkable power and extensive range, catering to various riding preferences.
Notably, the Thunder 2 and the Ultra models are purpose-built for off-road adventures and can achieve impressive speeds of nearly 60mph. With reliable brake systems such as disc and ABS, hydraulic and ABS, or disc and electric brakes, safety remains a top priority across all Minimotors scooters.
Contact: Phone: 1-628-240-3880 Email: sales@minimotorsusa.com
Disclaimer: The information presented in this article is derived from extensive research, user reviews, and publicly available information. Our aim is to provide accurate and up-to-date content; however, it is crucial to understand that the opinions expressed are based on the information available at the time of writing. We strongly encourage readers to conduct their own thorough research and carefully evaluate their individual needs before making any purchasing decisions.
eWheels 2023 Summer Deals and New Launches are here!!!
Cheap, reliable, and powerful! TurboAnt Electric Scooters 2023 Sale!
Hi guys! This post may contain affiliate links, sponsored content, and advertisements. We get a small commission for covering topics that interest us (helps us keep the doors open). For more information, please see our privacy policy and disclaimer. Ride safe yall!
2023 Electric Unicycles:
Coupons & Deals:
Apollo Scooters: Get $50 USD worth of free accessories, upgrades, or spare parts with the purchase of a scooter. Code: VROOOMIN
REV Rides: Save $50 off Scooters and EUC's, Code: VROOOMIN
EVOLV Electric Scooters: Free Folding Lock (worth C$80) for every EVOLV model! Use Code: VROOOMIN-LOCK
To keep the site running and information flowing, Vrooomin.com participates in affiliate linking programs. We're also an Amazon Associate, which means we get paid for referring people to Amazon. Please support the channel by clicking on our links.