Top Performing PEV of the Year: Unleash the Power of the Dual Motor Inmotion Climber Electric Scooter!
Let's take a closer look at the specifications
The Inmotion Climber boasts a top speed of 23 mph, a lightweight 46-pound chassis, a seven-hour charge time, a 533-watt-hour battery pack, and an impressive weight capacity of up to 285 pounds. Considering its size and price, these features are quite remarkable. This dual-motor scooter from Inmotion is truly disrupting the expectations for a $1000 scooter.
Inmotion Climber Electric Scooter Review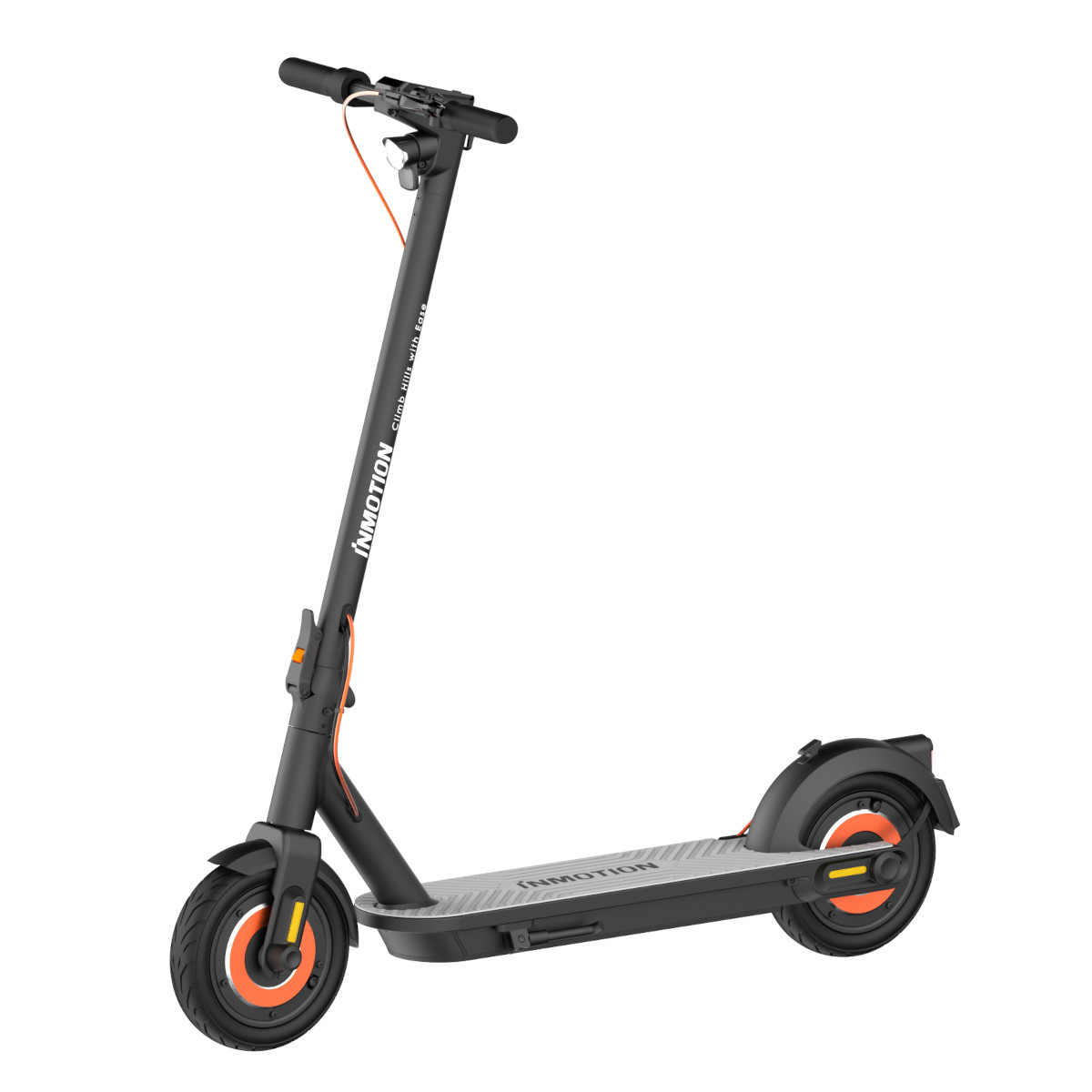 New York City Approved!
At just $1,000, the Dual Motor Inmotion Climber electric scooter delivers impressive performance and surprising quality. As someone who values a lightweight, powerful scooter capable of conquering hills, I was pleasantly surprised by the Climber's exceptional performance and easy maintenance. Its durable build, modular design, and IP rating make it perfect for daily use. Inmotion has truly hit it out of the park with this scooter!

After using this scooter for a month in NYC, going to the grocery store, work, and gym, here are my key takeaways:

Likes:

– Fast beginner scooter to replace all scooters
– High torque dual motor for easy hill climbing
– No frills, low cost, low weight, easy to setup
– Reliable, quality, cheap, fun machine
– Climbs hills with ease!
– Fantastic for errands, commuting, and storing at the office

Dislikes:

– Design looks similar to other beginner models
– No suspension system (lower weight and cost)
– Not the best for 30+ mile ranges, better for 5-20 mile trips
– Not the fastest, but has plenty of torque for everyday riding

Worth it!

While there are more powerful and heavier scooters available at a higher cost, the Inmotion Climber is designed for the masses with its affordable price and impressive features. If you're in search of a long-range scooter that combines quality, performance, and affordability, look no further than the Inmotion Climber, its 100% worth it for any rider, beginner or advanced!


Is the Inmotion Climber fast?
The Dual Motor Inmotion Climber Electric Scooter offers an average speed of 18 to 20 mph, with the capability to reach up to 24 mph on a full charge. It is advisable to cruise at around 15 to 20 mph while riding in the bike lane for safety purposes. The scooter's impressive torque allows for quick acceleration, providing a delightful riding experience. However, caution should be exercised with the throttle, as accidentally engaging it while the scooter is on can cause unintended movement. Stay mindful of throttle control to ensure a smooth and controlled ride.
Is the Inmotion Climber heavy?
Weighing in at just 46 pounds, the Inmotion Climber is remarkably light considering its capabilities. Most average-sized adults should have no issue carrying or maneuvering the scooter comfortably. However, individual experiences may vary based on factors such as size and fitness level. In general, the Climber's weight is manageable and suitable for most adults.
How much range does the Inmotion Climber have per charge?
The scooter is designed to provide a range of 30+ miles per charge. However, for riders with aggressive riding styles, the range may be between 15 to 25 miles per charge. If you ride at a slower pace, you can likely achieve the full 30-mile range with your daily usage. It's important to note that as the battery level decreases, you may experience the scooter cutting out and turning off if the charge is completely depleted.
Is the Inmotion Climber scooter great for commuting in to work?
Unlike heavier scooters that can take up a significant amount of space, I found the Climber to be a joy to ride due to its narrow profile, lightweight design, and ease of folding. It's convenient for commuting, and I can quickly bring it into the office without hassle. In comparison to faster and more aggressive scooters, the Climber has a sleek and less attention-grabbing appearance, allowing for a more low-key commuting experience.

How's the build quality of the Inmotion Climber electric scooter?
I'm thoroughly impressed with the outstanding build quality, finishes, and construction of the Inmotion scooter. Inmotion has established a reputation for producing top-notch personal electric vehicles, incorporating the highest quality materials and designs. Their interpretation of the classic entry-level scooter not only showcases aesthetic appeal but also delivers exceptional functional quality in its construction. In my opinion, it stands as one of the best affordable scooters available in the market, offering remarkable performance.

Who is the Inmotion Climber made for?
The scooter is an ideal choice for individuals seeking a reliable mode of transportation to get from point A to point B, conquer hills, and serve as either a secondary or primary vehicle. Inmotion has truly excelled with this scooter, catering to the needs of regular adults who prioritize value for their money. It is particularly well-suited for students, working professionals, or any adult looking for an affordable and enjoyable means of traveling around town. However, it is important to emphasize that proper training and wearing full gear are crucial safety measures to consider when operating the scooter.

Dual motor, double the fun!
Two motors are better than one!
I am extremely impressed with the Inmotion Climber electric scooter. I had no idea that Inmotion would release their first dual-motor scooter with a top speed of 23 mph, and it truly is a performance beast. At first glance, it may appear to have a standard beginner scooter frame, but it surpasses expectations by being a super high-torque hill climbing machine.
Equipped with two powerful motors, the INMOTION Climber electric scooter is a revolutionary ride.
The dual 750W motors combine to provide an impressive nominal power of 1500W, enabling the Climber to effortlessly handle steep slopes and challenging terrains.
Conquering inclines up to 36% without breaking a sweat, the Climber showcases its remarkable power and capability.
With its dual motors and exceptional performance, the Climber sets a new standard in the world of electric scooters.
Navigating rugged landscapes becomes effortless for the Climber, making it an ideal companion for adventurers and thrill-seekers.
Sleek, cheap and portable
Fast, affordable, and easy to carry
Inmotion has truly outdone itself by producing one of the best scooters available for its price tag, coming in at around $1000 and weighing only 46 pounds. With its remarkable performance, exceptional build quality, and lightweight chassis, I believe the Inmotion Climber is likely to be the top scooter of 2023. It is perfect for any adult seeking a scooter that can conquer hills while providing a fun commuting experience to work or the gym.
Constructed from aircraft-grade aluminum, the Climber electric scooter offers exceptional durability and sturdiness.
With a maximum load capacity of 285 pounds, it is suitable for riders of all sizes, including those on the heavier side.
The impressive weight capacity ensures a confident and reliable ride, even in demanding conditions.
Whether cruising through the city or conquering steep hills, the Climber delivers a smooth and comfortable ride.
With its sleek design and remarkable capabilities, the Climber stands out as a top-of-the-line electric scooter that is sure to impress.
High Performance, low price.
Zippy acceleration, make sure to war a helmet when enjoying
The Inmotion Climber electric scooter truly stands apart from the competition in several ways. As the best beginner long-range scooter available, it boasts 2x 450W sustained motors and a large capacity 533Wh battery pack, delivering exceptional high-performance capabilities within a compact and lightweight package. What's even more impressive is that Inmotion managed to achieve this while reducing the weight by over 7 pounds compared to their previous L9/S1 model, providing enhanced capabilities at a lower overall weight.
The Climber electric scooter is equipped with a highly advanced braking system, offering enhanced control and precision during braking.
Featuring electric brakes on both tires and a rear disc brake, the Climber enables quick and responsive braking within 0.01 seconds.
With this system, you can stop quickly and safely, even in emergency situations, ensuring your peace of mind.
The combination of dual electric brakes and a rear disc brake ensures superior braking performance, allowing you to navigate any terrain confidently.
Whether you're cruising in the city or conquering steep hills, the Climber's powerful braking system provides reliable and effective stopping power.
Fantastic quality, made to last.
Top quality scooter for price, hardware and firmware
The construction quality of the Climber is top-notch, utilizing aircraft-grade aluminum for durability and strength. With a maximum carrying capacity of 285 pounds, it can accommodate much heavier riders compared to other scooters in the market.
Inmotion's attention to detail extends to the convenience of maintenance, thanks to the scooter's modular design and split-rim motor. This feature makes tire and tube replacement considerably more straightforward and hassle-free.
Commuting in various weather conditions is a breeze with the Inmotion Climber, thanks to its impressive IP56 rating for waterproofing. This high rating ensures protection from harsh environments, making it the perfect machine for all your commuting and transportation needs.
Powerful battery, smart design.
High-quality cells with safety features
The Climber is equipped with an advanced Battery Management System (BMS) that monitors and manages the status of each battery cell.
The BMS improves the overall capacity and performance of the battery pack, optimizing its efficiency.
With a battery balancer, the BMS ensures even and safe charging of all cells, maximizing the battery pack's lifespan.
This intelligent combination of battery management technologies sets the Climber apart, providing a truly exceptional and reliable user experience.
The Climber's advanced BMS guarantees consistent and reliable performance, making it a standout choice among electric scooters.
Safety is always first.
One of the easiest scooters to set up, operate, and fold down!
Safety is a top priority for Inmotion, and the Climber excels in this aspect as well. Its advanced braking system benefits from the dual-motor setup, with each motor providing variable regenerative force for quick and efficient braking in emergencies. Additionally, the rear disc brake provides additional stopping power, ensuring a safe and reliable riding experience.
Highly recommended for any adult!
I highly recommend this scooter for beginners, you won't need a stronger one!
Overall, the Inmotion Climber sets new standards for affordable, lightweight, long-range scooters. Its exceptional performance, lightweight design, robust construction, maintenance-friendly features, superior waterproofing, and advanced braking system make it a top choice for riders seeking the best scooter experience.
Technical Specs:
Model: Climber
Charging Time: approx. 9 hrs
Wheel Types: Front & Rear Pneumatic Tires
Max Range*: 35 miles (56 km)
Max Speed: 23.7 mph (38 km/h)
Net Weight: 46 lbs (20.8 kg)
Max Slope*: 36%
Max Loading: 286.6 lbs (130 kg)
Motor Power (Rating): 450W*2
Max. Power: 750W*2
Charger Output Voltage: 42V
Charger Output Current: 2A
Brake Types: Electronic & Disc brake
IP Ratings (Body): IP56
IP Ratings (Battery): IPX7
Unfolded Dimensions: 45.98″ x 20.08″ x 47.05″ (1167 x 510 x 1195 mm)
Folded Dimensions: 45.87″ x 20.08″ x 23.23″ (1165 x 510 x 590 mm)
Is the Inmotion Climber right for you?
When compared to scooters from brands like Segway, Gotrax, Niu, or any other Chinese clones, you'll notice that they may share a similar design but are implemented differently. The construction, firmware, and quality of alloys and polymers used will vary.
Inmotion has designed the Climber to exceed the bar for what is expected from an entry-level scooter, catering to the masses rather than just appealing to high-performance scooter enthusiasts. It's a game-changer that will dominate the market.
Disclaimer: The information presented in this article is derived from extensive research, user reviews, and publicly available information. Our aim is to provide accurate and up-to-date content; however, it is crucial to understand that the opinions expressed are based on the information available at the time of writing. We strongly encourage readers to conduct their own thorough research and carefully evaluate their individual needs before making any purchasing decisions.
eWheels 2023 Summer Deals and New Launches are here!!!
Cheap, reliable, and powerful! TurboAnt Electric Scooters 2023 Sale!
Hi guys! This post may contain affiliate links, sponsored content, and advertisements. We get a small commission for covering topics that interest us (helps us keep the doors open). For more information, please see our privacy policy and disclaimer. Ride safe yall!
2023 Electric Unicycles:
Coupons & Deals:
Apollo Scooters: Get $50 USD worth of free accessories, upgrades, or spare parts with the purchase of a scooter. Code: VROOOMIN
REV Rides: Save $50 off Scooters and EUC's, Code: VROOOMIN
EVOLV Electric Scooters: Free Folding Lock (worth C$80) for every EVOLV model! Use Code: VROOOMIN-LOCK
To keep the site running and information flowing, Vrooomin.com participates in affiliate linking programs. We're also an Amazon Associate, which means we get paid for referring people to Amazon. Please support the channel by clicking on our links.