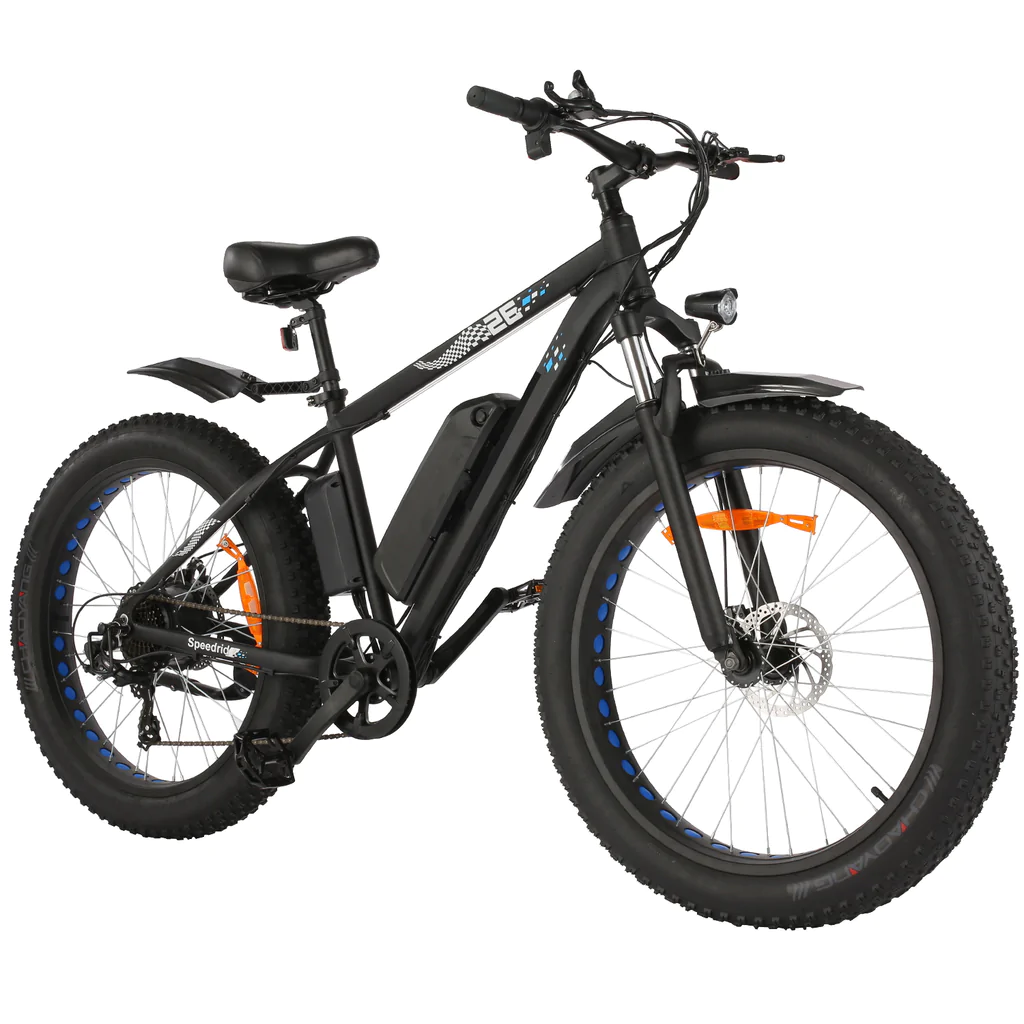 Unbreak My Wallet
Affordable e-bikes that won't hurt the wallet
There are many different types of e-bikes on the market, including fast bikes, slow bikes, small bikes, and fat bikes. The type of bike that most people want but rarely discuss is the affordable bike.
Who wants to talk about the best deal when so many mopeds and dirt motorbikes compete for all the attention?
For me, it's the quiet pleasers and accessible 48v e-bikes that truly govern the land and the many hearts it serves. Let's have a look at one of the most affordable and high-quality e-bikes under $1,000.
ANCHEER 26 Inch Wheel 500W Fat Tire Electric Mountain Bike
The bike that was promised
The Ancheer Speedrid is a large e-bike for its size and offers a lot to offer for its affordable $969 price. The Speedrid has a 48V 500W system, a 480WH battery pack, upgraded LCD, 26 x 4 fat tires, front suspension, and all of the standard Shimano gearing and mechanical disc brakes seen on most inexpensive mountain bikes.
There's no need to go into too much detail about these components; the most expensive ones are the battery and motor. Ancheer advertises a top speed of 15 mph, although it can reach +20 mph. Is it quick enough?
Is it adequate for your requirements? What can you acquire these days for $1,000? Not much, but with Ancheer, you may obtain a reasonable bundle to enjoy in your neighborhood park while commuting to work during the week.
Fear not, wallet; it will not cry this time, mainly because $1000 is the new $800. I believe this bike is worth the money; let's look at their marketing specs below:
SPEEDRID 26 inch Big Wheels Fat Tire Electric Bike
You shouldn't restrict your rides to only a single terrain type because the SPEEDRID can lift the limits. Rugged trails, gravel, city streets, back roads, and bike paths are all available options, and you can ride them.
You may take things further if you want to broaden your horizons by using an electric bicycle, allowing you to ride further and more quickly and discover more of the world around you.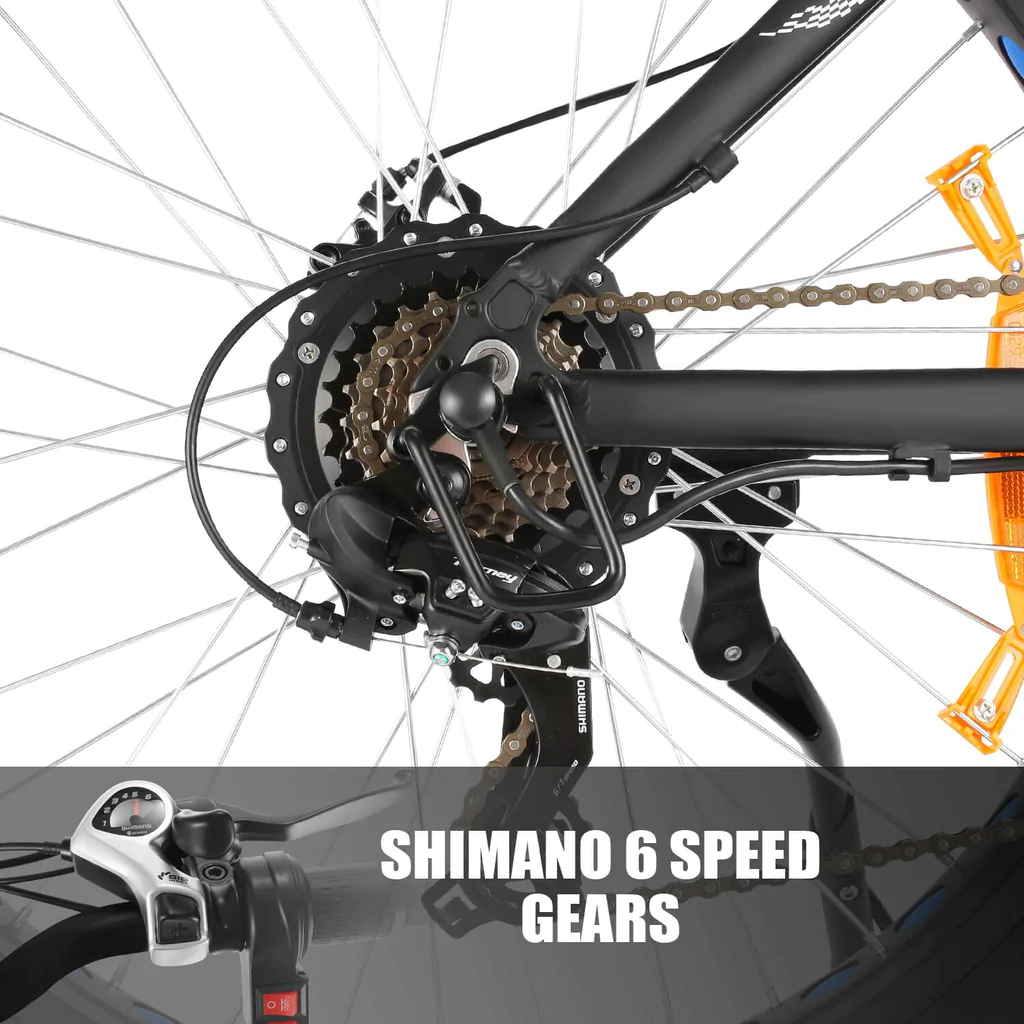 Electric Commuter Bike
The most up-to-date model of the SPEEDRID 26″ Big Wheels Fat Tire Electric Bike comes with all of the necessary features and specifications to guarantee your best performance while riding on hills, trails, and city streets.
Electric Mountain Bike
No road will be off-limits because of the combination of the 7-speed gearing, 500W, five levels of pedal assistance, and throttle acceleration to speeds of up to 15 mph that come standard on the vehicle.
The SPEEDRID is equipped with high-strength shock-absorbing forks and 4.0 tires, allowing it to handle any bumps or slopes on the path to the promised land.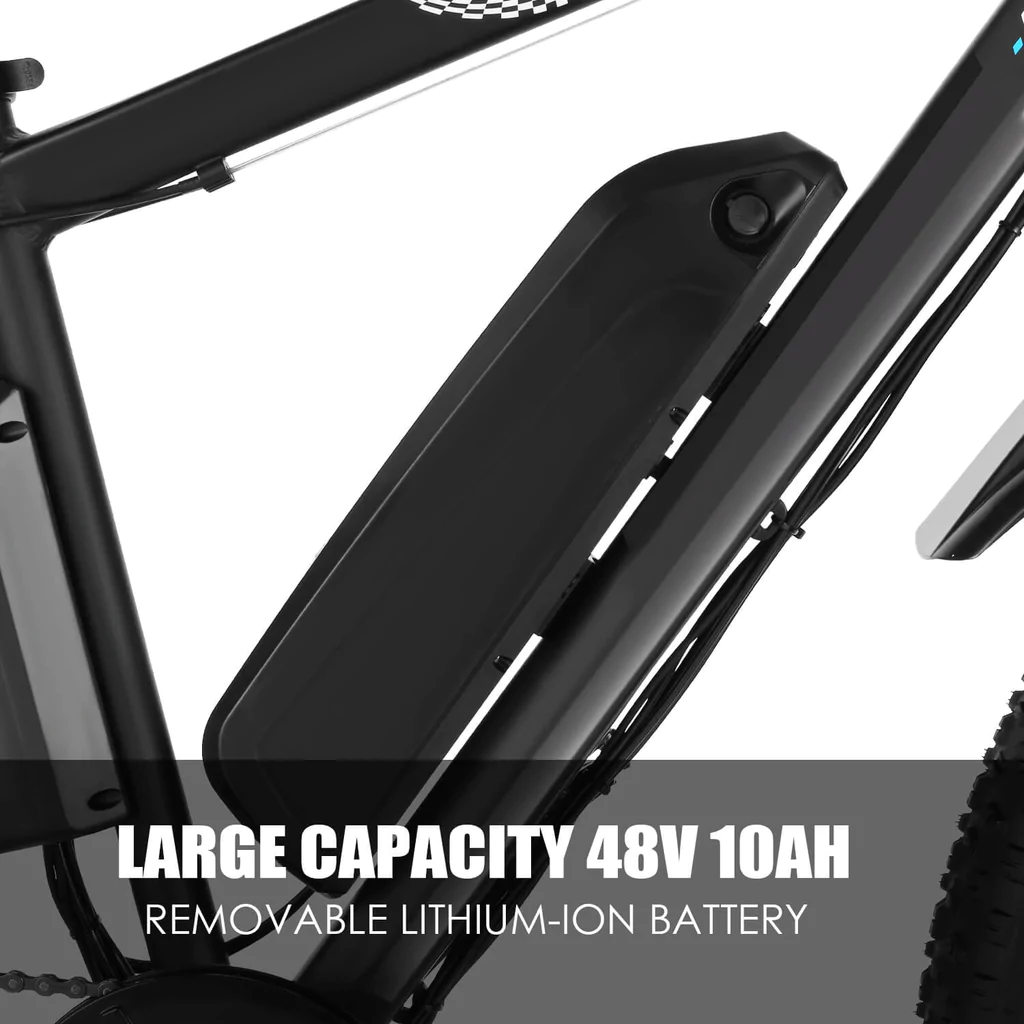 Electric Beach Bike
Powerful Motor: Equipped with a 48V 500W high-speed brushless motor, it provides more than enough power for your daily commute, a mountain cruise, or a meander along your favorite trail. With speeds up to 15 mph, it will get you there swiftly.
BATTERY WITH A HIGHER CAPACITY: Up to 22 miles per charge with the powerful 48V 10Ah battery. Plenty for a day's adventure or most trips to work and back. You can charge on/off the e-bike at your convenience. No worries about being stolen.
LCD DISPLAY UPGRADE: 5-speed display, speed display, battery level display, mileage. You can have more choices for the 5-speed mode than usual. The LCD lets you read your statistics easily.
UPGRADED CONFIGURATION: Double-layer aluminum alloy wheel rim. Front high-strength carbon steel front fork shock absorption. Mechanical front and rear disc-brake designs and a 7-speed professional transmission system. Cost-effective configuration for off-road riding.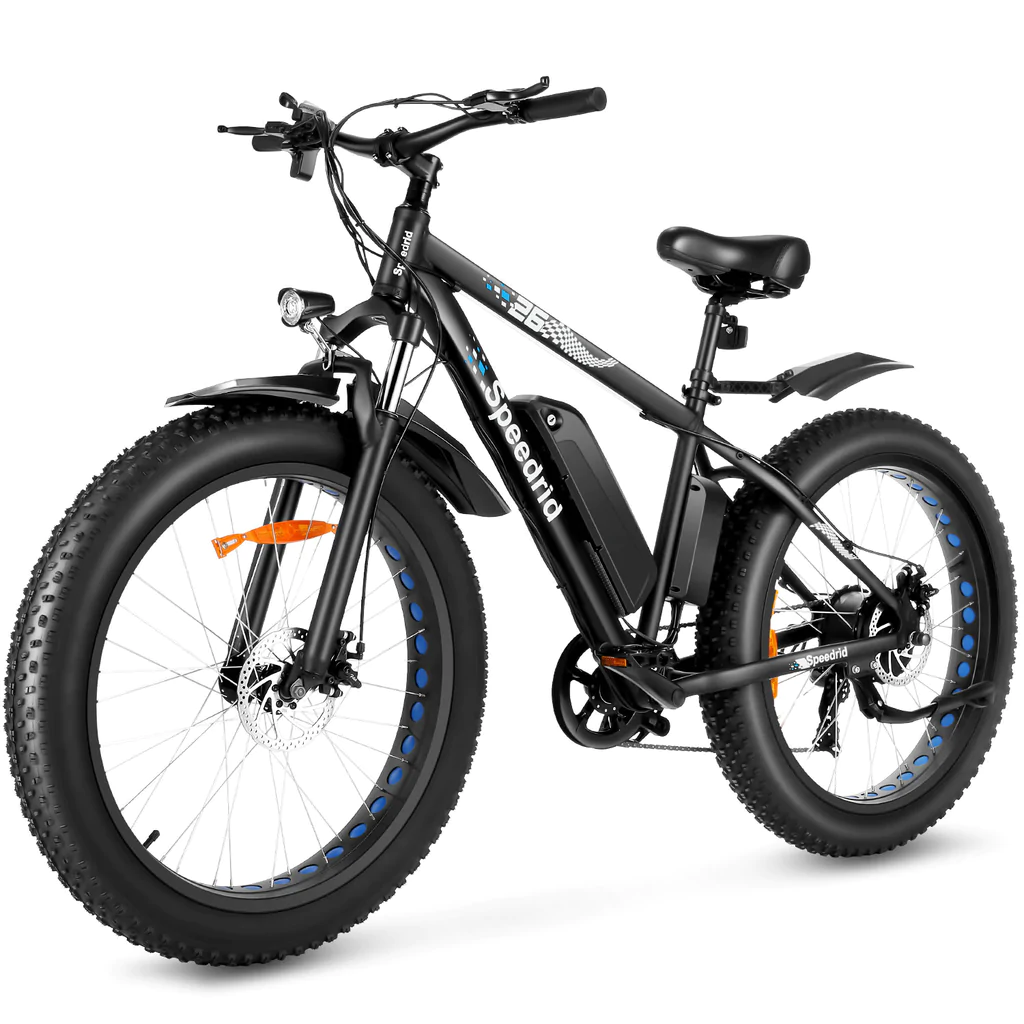 Features
48V 500W Stronger Powerful Motor – When climbing the mountain, the 48V 500W high-speed powerful motor gives more power than the standard 36V motor, giving you more speed, freedom, and fun. Enough to cover your daily commute and leisure weekend rides.
Large Capacity 48V 10Ah Battery – The battery is extremely secure when riding but easily removable, and it can be charged at any household outlet, both on and off the bike. The long-range battery and off-road performance make it ideal for go-anywhere hybrid riders who crave adventure. The battery has a range of 22 to 40 miles. The range is determined by the rider's weight, the type of use, the gradient, the external temperature, and other factors.
Updated LCD Display – Smart meter with 5-speed assist settings. Speed Display, Battery Level Display, Mileage, and Error Reporting You have more options in 5-speed mode than in normal 3. The LCD display allows you to conveniently read your statistics. The updated LCD display allows you to see your riding pace and mileage, control your riding state more effectively, and obtain greater exercise outcomes.
26″ * 4.0 FAT TIRE ANTI-SLIP WEAR RESISTANT WHEEL – The 26″ * 4.0 fat tire wheel is still workable, and the ride quality is generally superior to the standard 1.75 or 1.95 wheels. A high-quality anti-slip, wear-resistant tire that is suitable for a variety of terrains.
PROFESSIONAL TRANSMISSION – You can handle slopes and uneven roads with a 7-speed professional gearbox system. In a nutshell, gears allow us to maintain a comfortable cycling speed (or cadence) regardless of the gradient or terrain, which no single gear can do.
FRONT AND REAR DISC BRAKES – Disc brakes provide more stopping power, which might be useful on long descents. Disc brakes provide for more precise braking, reducing the likelihood of wheel locking. Disc brakes perform better in wet weather than rim brakes and enable forceful, progressive braking in a variety of road conditions.
FRONT SUSPENSION FORK – Softens the ride on the arms, making it more pleasant, and keeps the front wheel on the ground for better handling, especially when cornering. Allows you to ride in a straighter line than you would normally be able to.
Worth it?
Ancheer believes we do not need to spend much money on a high-quality e-bike, and I agree. You'll receive the 20 mph top speed, the 480WH battery pack, the chassis, the big tires, and everything else you need to go around town and back home safely for less than a thousand dollars.
If you're looking for an e-bike on a budget, the 20 MPH SPEEDRID is one to consider, especially with high inflation rates.
Technical Specs
Motor: 48V 500W powerful brushless gear motor
Battery: Removable 48V 10Ah lithium-ion battery
Maximum speed: 15mph
Meter: LCD digital display meter
Pedal-assist levels: 1-5 levels
Charging time: 6-8 hrs
Mode: 3 working mode– Human riding, pure electric, pedal assistance time: 6-8 hrs
Mileage range: throttle mode (22Miles)~pedal assist mode(22-40Miles)
Wheels: 26″ * 4.0
Net weight: 59lbs
Load capacity: 300lbs
Recommended age range: 16-60
Suspension Type: Front-suspension
Brake Style: Dual-disc-brakes
Speeds: 7-speed gears
Wheels: Double layer Aluminum Alloy wheel
Front Fork: High-strength carbon steel comfort shock absorption
Best Electric Unicycles
Disclaimer: The information presented in this article is derived from extensive research, user reviews, and publicly available information. Our aim is to provide accurate and up-to-date content; however, it is crucial to understand that the opinions expressed are based on the information available at the time of writing. We strongly encourage readers to conduct their own thorough research and carefully evaluate their individual needs before making any purchasing decisions.
eWheels 2023 Summer Deals and New Launches are here!!!
Cheap, reliable, and powerful! TurboAnt Electric Scooters 2023 Sale!
Hi guys! This post may contain affiliate links, sponsored content, and advertisements. We get a small commission for covering topics that interest us (helps us keep the doors open). For more information, please see our privacy policy and disclaimer. Ride safe yall!
2023 Electric Unicycles:
Coupons & Deals:
Apollo Scooters: Get $50 USD worth of free accessories, upgrades, or spare parts with the purchase of a scooter. Code: VROOOMIN
REV Rides: Save $50 off Scooters and EUC's, Code: VROOOMIN
EVOLV Electric Scooters: Free Folding Lock (worth C$80) for every EVOLV model! Use Code: VROOOMIN-LOCK
To keep the site running and information flowing, Vrooomin.com participates in affiliate linking programs. We're also an Amazon Associate, which means we get paid for referring people to Amazon. Please support the channel by clicking on our links.