MiniMotors set to launch 2 brand new models, the Dualtron Spider 2 and Dualtron Achilleus
MiniMotors, the King of Variety and Choices
What I love about Dualtron's and Speedway models is that, they have a variety of choices for weight, size, price, and power. Have a 2K budget? Get a +40 MPH Eagle Pro. Need a light weight, low cost commuter? Get the Dualtron Mini. Want to hit +60 MPH? Consider the upcoming Dualtron Storm Limited.
Ever since MiniMotors launched the Dualtron Storm and Dualtron Ultra 2, it hasn't been clear with what other models and developments have been cooking up behind the scenes. Their latest models, the Achilleus and Spider 2 seem to be the latest iterations that will approach size, weight, cost, power, and price in the mid-tier Dualtron lineup.


Dualtron Achilleus Electric Scooter
The Replacement to the Dualtron Thunder
This heavy weight scooter seems to be a 60V version of the Dualtron Thunder 2. Having a smaller series battery pack, while boasting the latest 5th generation chassis, the Achilleus looks to be a sub 3K or low 4K 4.6KW electric scooter. The Achilleus may serve to fill the void and price point of the current Thunder, sitting below the Thunder 2 in the pecking order.
Model: Dualtron Achilleus
Battery: 60V 35AH LG21700 Cells
Power: 4,648W
Dualtron Thunder will be discontinued
4.6KW Achilleus will be lower power than 5.4KW Thunder
Lighter and Thinner than Thunder
Max Speed: 50 MPH/80 KM
Range: 75 Miles / 120KM
Weight: 88 lbs/ 40.2 KG
Brakes: Hydraulic
Dualtron Spider 2 Electric Scooter
The Evolution of the Legendary Dualtron Spider
The original Dualtron Spider has a legacy for having a light weight chassis and powerful drivetrain, the Spider 2 takes it further. Equipped with what could be 30A controllers found in the Dualtron Victor, 21700 Cells, and the Spiders upgraded light weight chassis, the Spider 2 may be the more expensive but lighter weight, 3.9KW performance commuter scooter that could take you past +40MPH, and up a flight of stairs with ease to boot.
Model: Dualtron Spider 2
Battery: 60V 24AH/30AH LG21700 Cells
Power: 3,984W
Charging ports on headset stem/neck
Upgraded Foot Rest and External Controller
Upgraded Side Arms
Upgraded Dual Clamps
Max Speed: 43 MPH/ 70 KM
Range: 120 KM
Weight: 57 lbs / 26.2 KG
Brakes: Mechanical
Ready for an upgrade?
It's unclear when these models will go in to production and arrive at your local distributor. I would assume the factory would focus on their first batches of the Thunder 2 and Storm Limited. There's so many electric scooter models coming out, it's almost impossible to keep up with.
Let us know in the comment section below if you're ready or interested in the latest Dualtron models.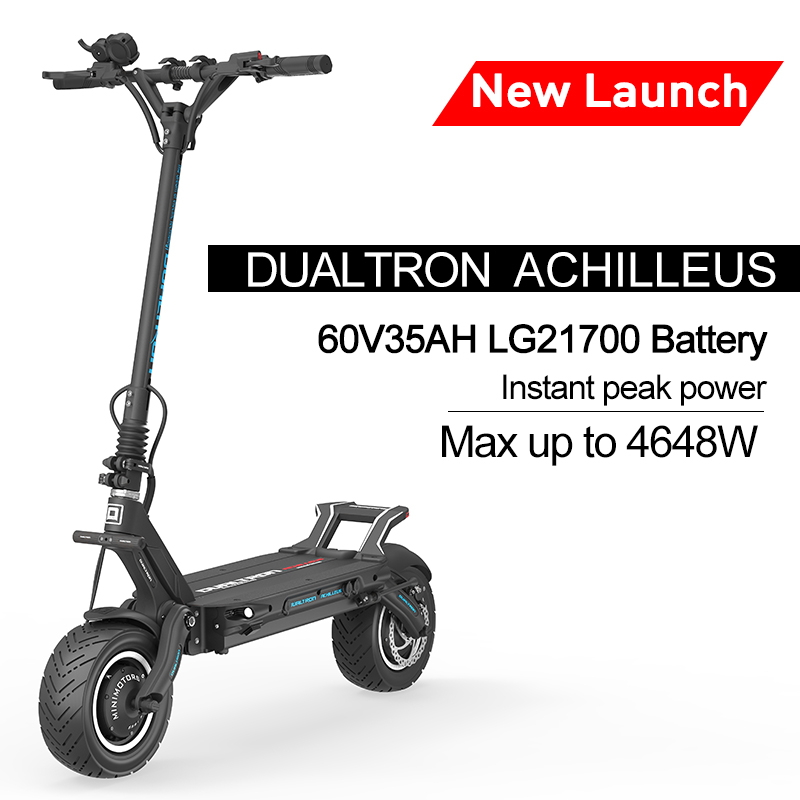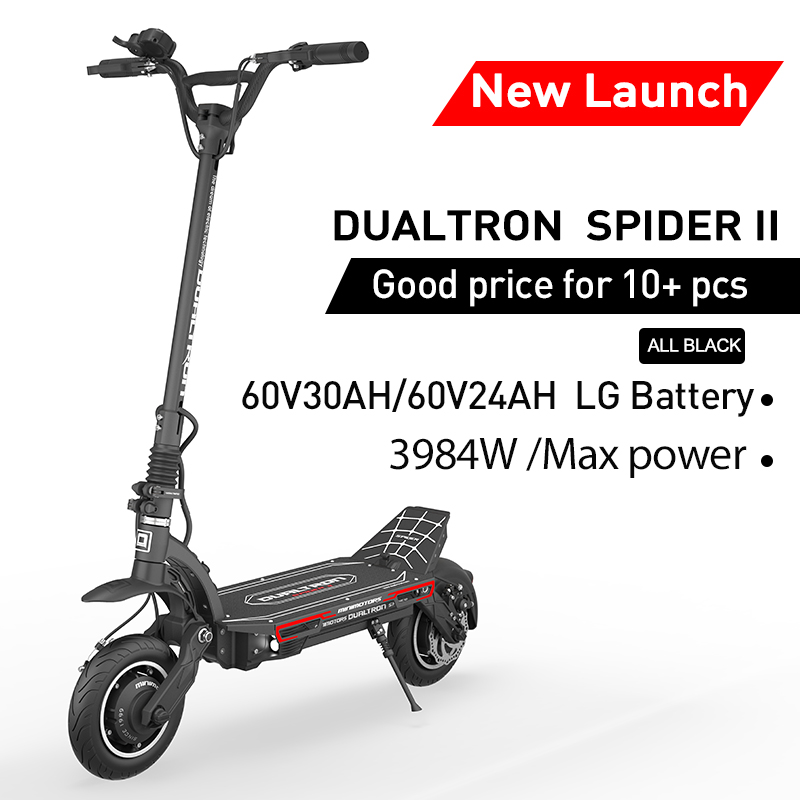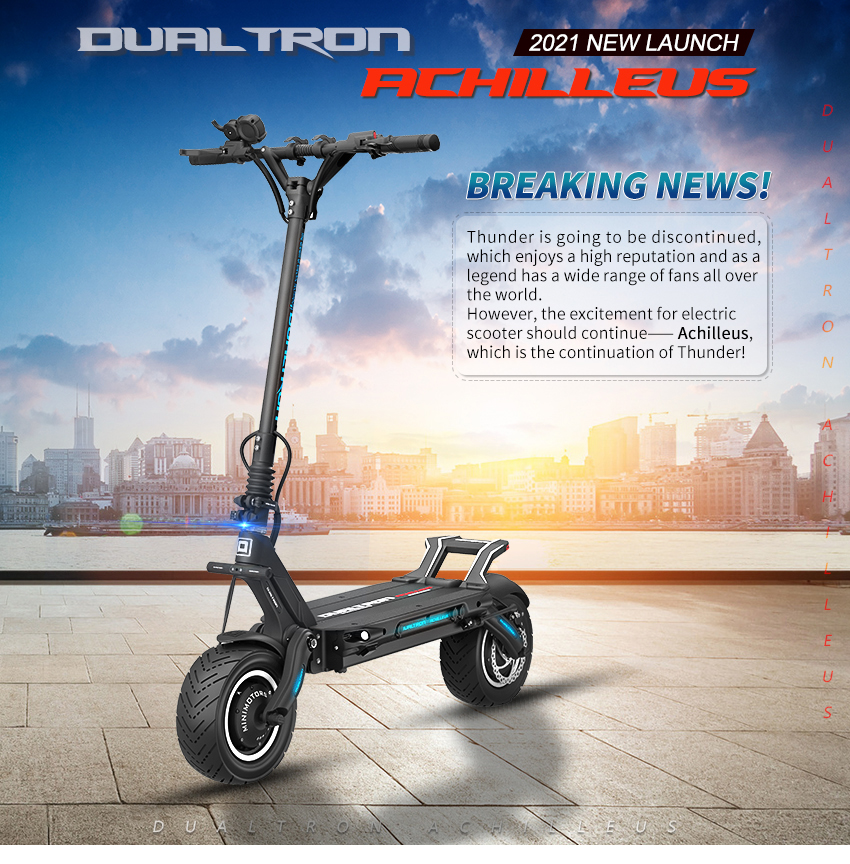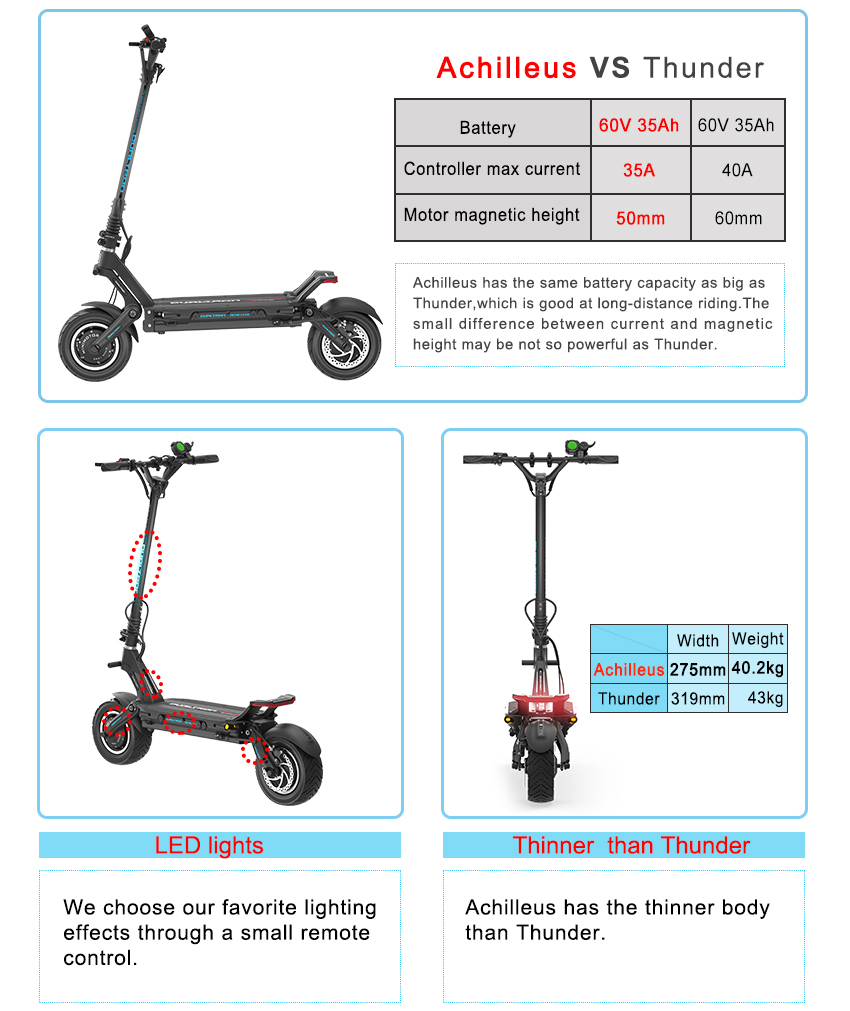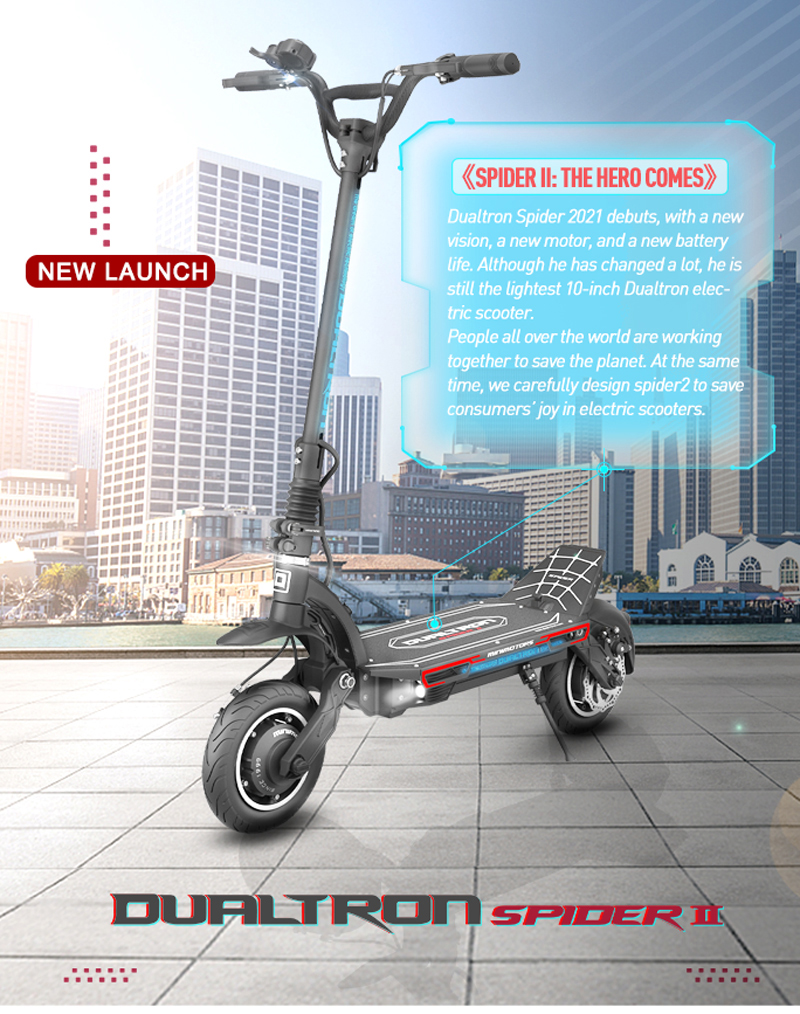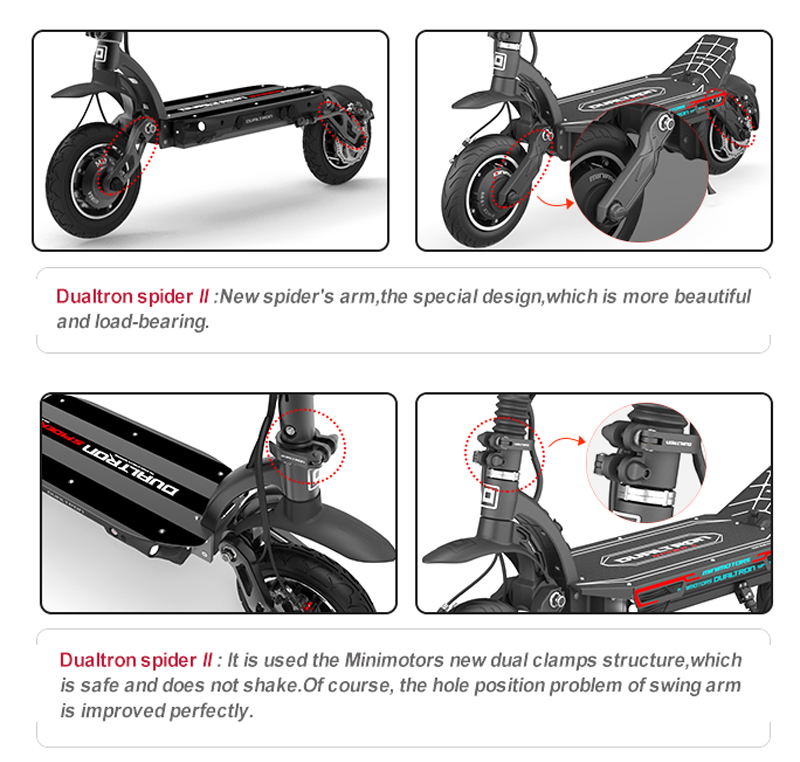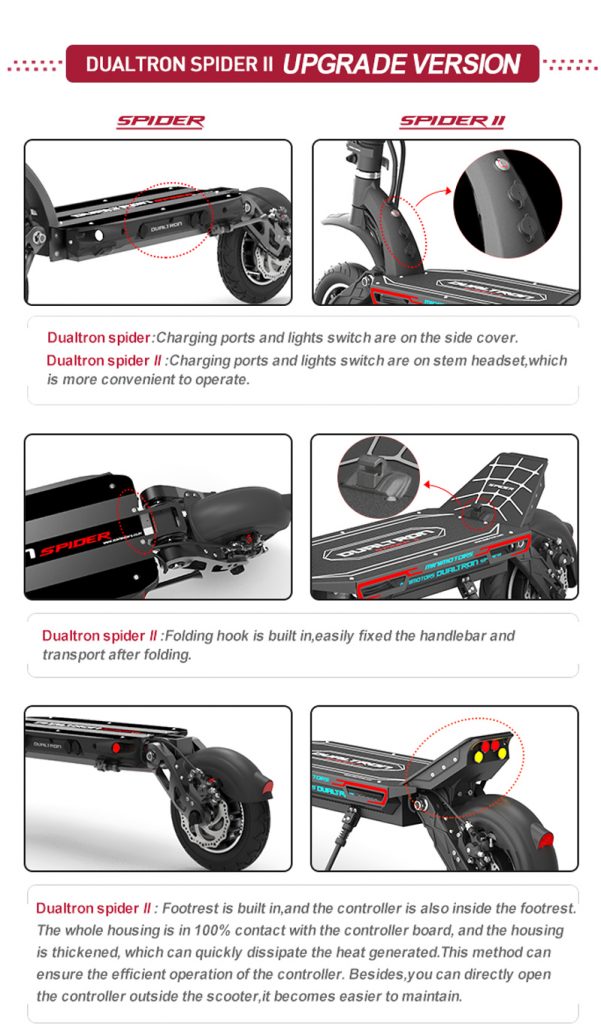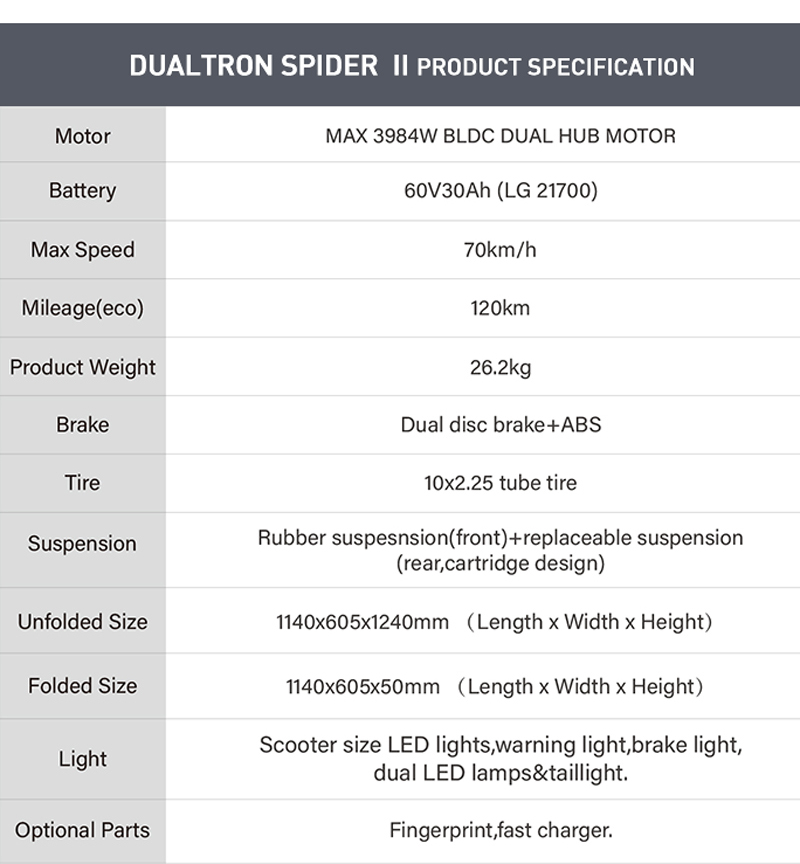 More Minimotors Electric Scooter Resources