Speed and Safety
Buckle up, because electric unicycles are here to take you on a wild adventure! These funky contraptions offer a thrilling and eco-friendly way to roam the streets and conquer untamed terrains. But hold your horses (or unicorns) – as with any exhilarating ride, there are risks involved. Fear not, because we've rounded up some expert tips to help you rule the electric unicycle kingdom while keeping your crown intact. Get ready to ride with style, sass, and a touch of safety!
Master the basics: Practice balancing and maneuvering before hitting the road.
Gear up: Wear a helmet and protective gear to stay safe.
Know your limits: Understand your electric unicycle's capabilities and weight limits.
Ride defensively: Obey traffic rules and anticipate the actions of others.
Watch the weather: Adjust your speed and be cautious in wet or slippery conditions.
Manage battery life: Keep an eye on your battery levels and plan your rides accordingly.
Stay focused: Avoid distractions and maintain awareness of your surroundings.
Keep learning: Stay updated on safety practices and maintenance tips.
Safety in numbers: Join online communities to learn from experienced riders.
Embrace the adventure: Ride with confidence and prioritize safety for a fun experience.
The Thrills of Electric Unicycles
Let's face it, electric unicycles are the cool kids on the block. With their powerful motors and sleek design, they give you the superpower to zip through traffic and tackle rough terrains like a boss. Say goodbye to boring commutes and hello to the wind in your hair as you cruise at lightning speed!
Speed: Unleashing the Beast
Fasten your seatbelts (or not, because who needs them?). Electric unicycles are all about speed, baby! Depending on the model, these babies can hit speeds of up to 30 miles per hour or even faster. Get ready to leave bystanders in awe as you zoom past them with an ear-to-ear grin.
The Dark Side: Embracing the Danger
Alright, let's not sugarcoat it. Electric unicycles can be a little rebellious and unpredictable. They come with a touch of danger that only adds to the excitement. Novice riders or those who throw caution to the wind may encounter spills and thrills. But fear not, fellow daredevils, because we've got your back.
Safety First: Expert Tips to Conquer the Ride
To ensure you conquer the electric unicycle world like a true legend, keep these expert tips in mind:
Master the Art: Before you become the fearless speed demon you were born to be, master the basics. Practice your balance, braking, and sharp turns in a safe and controlled environment. Trust us, it's worth the extra effort.
Channel Your Inner Superhero: Safety gear isn't just for comic books. Gear up like a true superhero by strapping on a helmet, knee and elbow pads, wrist guards, and any other protective gear that screams "I'm invincible!" Look the part and ride like a champ.
Know Your Limits: Every superhero has their limits, and your electric unicycle is no different. Understand its capabilities and don't push it beyond its boundaries. Respect the weight limits and usage guidelines. Remember, even superheroes need some downtime.
Ride Like a Ninja: Defensive riding is the name of the game. Obey traffic rules, use hand signals like a pro, and anticipate the moves of your fellow road warriors. Stay vigilant, because you're the guardian of your own safety.
Weather or Not, Here I Ride: Mother Nature can be unpredictable, but that won't stop you! Adjust your speed and be extra cautious when riding on wet or slippery surfaces. Take on rough terrains with finesse and show them who's boss.
Battery Power, Activate! Keep an eye on your battery levels like a superhero watching over their power source. Don't drain it to the last drop, or you might find yourself in a powerless predicament. Plan your rides wisely and ensure you have enough juice to conquer the streets.
Eyes on the Prize: Stay focused, my friend. Avoid distractions like scrolling through your Insta feed or blasting tunes that make you forget the world around you. Keep your eyes on the road, scan your surroundings, and be the hero Gotham deserves.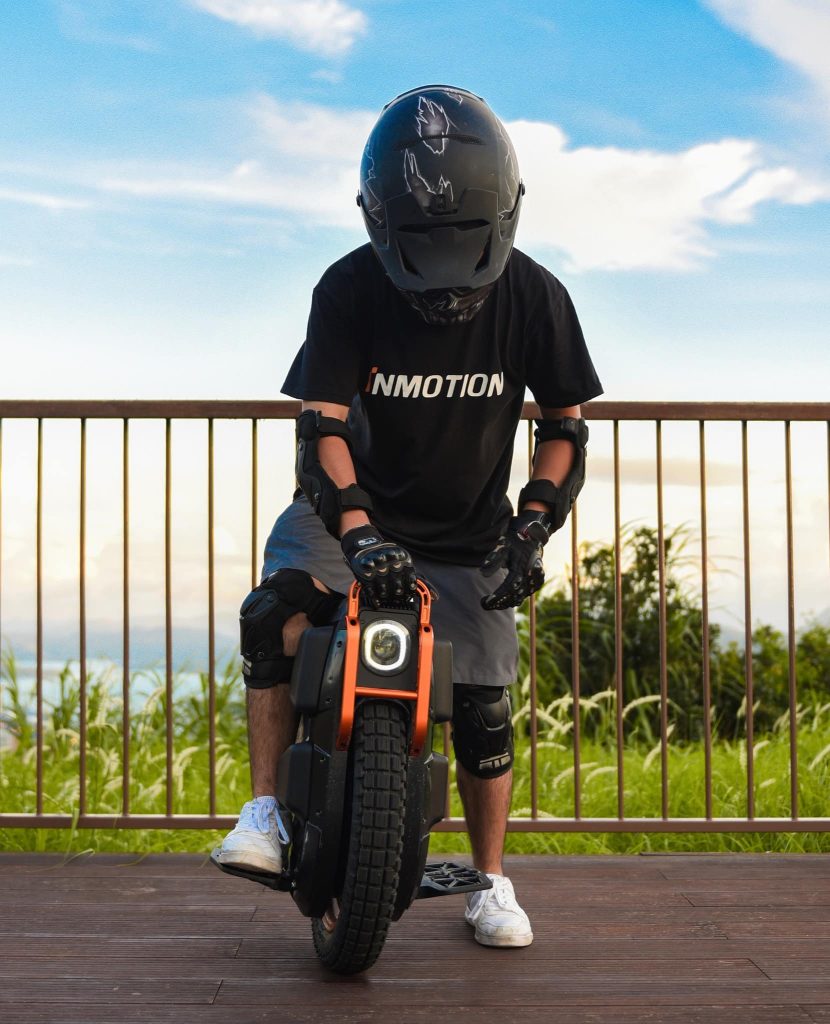 Keep Learning, Keep Shining:
The journey to electric unicycle mastery never ends. Stay up to date with the latest safety practices, firmware updates, and maintenance tips. Join online communities and connect with fellow riders who share your love for the ride.
Congratulations, fearless adventurer!
With these expert tips in your arsenal, you're ready to conquer the electric unicycle world with style and safety. Embrace the thrills, feel the wind in your hair, and let your inner superhero shine. Ride like a boss, but always remember to ride responsibly and respect your own limits. Now go forth and unleash your electric unicycle powers upon the world!
FAQ
Are electric unicycles difficult to ride?
They may take some practice, but with time and patience, most people can learn to ride an electric unicycle.
How fast can electric unicycles go?
Electric unicycle speeds vary, but some models can reach speeds of up to 30 miles per hour or more.
Are electric unicycles safe?
When ridden responsibly and with proper safety gear, electric unicycles can be a safe mode of transportation.
How far can electric unicycles travel on a single charge?
The range varies depending on the model and riding conditions, but many electric unicycles can travel 15-30 miles on a single charge.
How long does it take to charge an electric unicycle?
Charging times vary depending on the battery capacity, but it typically takes a few hours to fully charge an electric unicycle.
Can electric unicycles handle hills?
Electric unicycles vary in their hill-climbing capabilities. More powerful models can handle steep hills, while others may struggle.
Do I need a license to ride an electric unicycle?
Regulations vary by location, so it's important to check with local authorities to determine if a license or permit is required.
Can electric unicycles be used off-road?
Some electric unicycles are designed for off-road use and can handle rough terrains, while others are better suited for smooth surfaces.
How much do electric unicycles weigh?
Electric unicycle weights vary depending on the model, but they typically range from 20 to 50 pounds.
Are electric unicycles suitable for beginners?
Many electric unicycles are beginner-friendly, but it's important to start with proper training and practice in a safe environment.
More Extreme Performance EUC's
Disclaimer: The information presented in this article is derived from extensive research, user reviews, and publicly available information. Our aim is to provide accurate and up-to-date content; however, it is crucial to understand that the opinions expressed are based on the information available at the time of writing. We strongly encourage readers to conduct their own thorough research and carefully evaluate their individual needs before making any purchasing decisions.
eWheels 2023 Summer Deals and New Launches are here!!!
Cheap, reliable, and powerful! TurboAnt Electric Scooters 2023 Sale!
Hi guys! This post may contain affiliate links, sponsored content, and advertisements. We get a small commission for covering topics that interest us (helps us keep the doors open). For more information, please see our privacy policy and disclaimer. Ride safe yall!
2023 Electric Unicycles:
Coupons & Deals:
Apollo Scooters: Get $50 USD worth of free accessories, upgrades, or spare parts with the purchase of a scooter. Code: VROOOMIN
REV Rides: Save $50 off Scooters and EUC's, Code: VROOOMIN
EVOLV Electric Scooters: Free Folding Lock (worth C$80) for every EVOLV model! Use Code: VROOOMIN-LOCK
To keep the site running and information flowing, Vrooomin.com participates in affiliate linking programs. We're also an Amazon Associate, which means we get paid for referring people to Amazon. Please support the channel by clicking on our links.