💪 Hi friends! We hope you find our content useful! Make sure to use our affiliate links, it helps support our site and keep the fresh content, apps, videos, and updates coming. Ride safe!

- Team VROOOMIN
⚡New: 2022 Best Electric Scooters
⚡New: 2022 Best Electric Unicycles
60V 50AH 55+ MPH WEPED RHINO Standing Electric Scooter
If you're reading this site, you've likely already viewed the most recent WEPED Cyberfold Rhino promotional videos.
This 132-pound, 60-volt electric scooter looks like something from an anime film. WEPED designs some of the strongest, fastest, and most stunning electric scooters available on the market, not even the Rhino is an exception.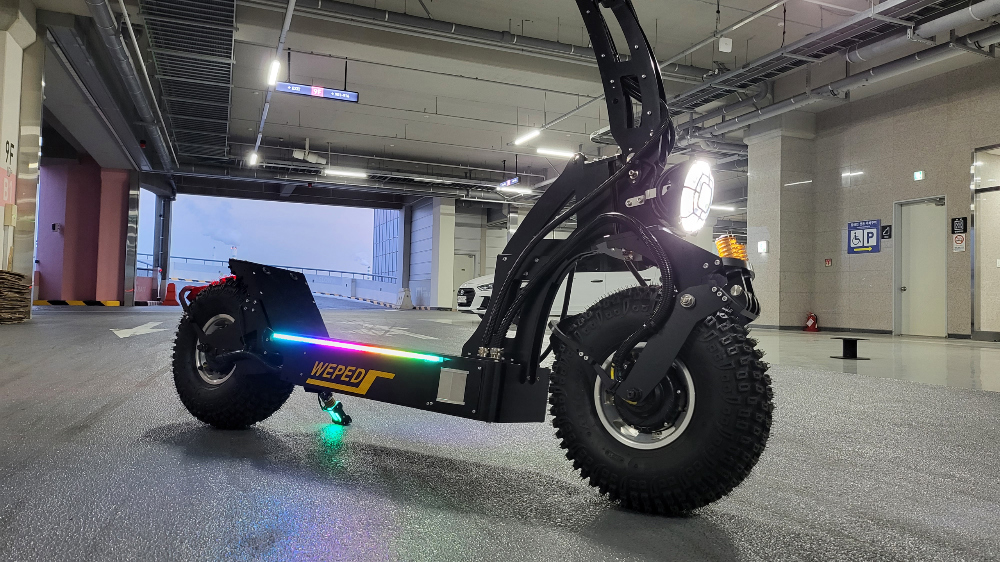 Equipped with 16″ off-road tires, 3000WH Samsung 50E battery pack, full spring shock suspension, dual hub motors, and a high amperage electric speed controller, the Rhino pledges up to 93 miles of high-speed adventure.
News & Events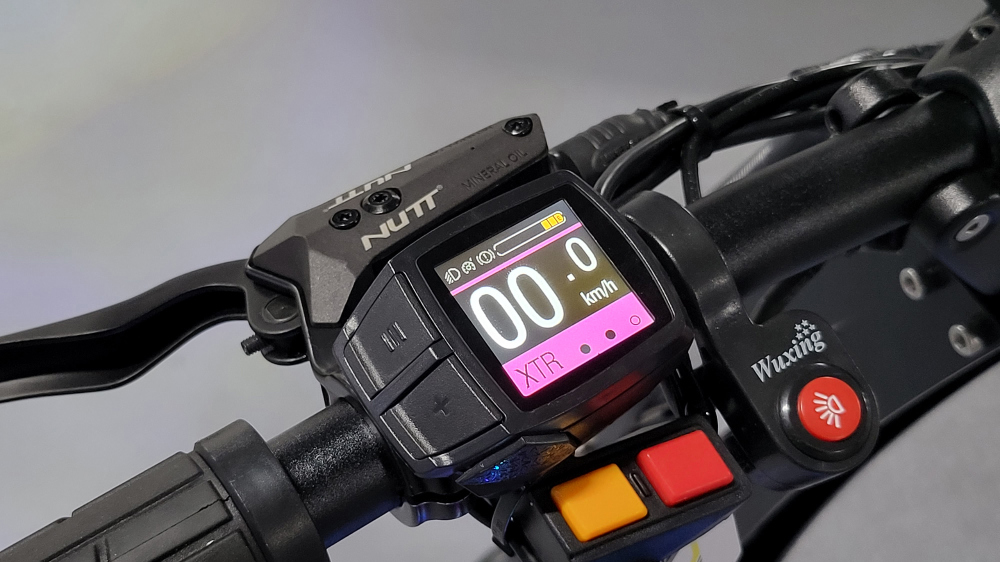 It's going to cost you.
With a starting price of $6,990, it is not surprising that such an exquisite scooter is priced so much. In addition, the Rhino is neither the quickest nor the most costly 2022 WEPED model, and there are even more potent 72V alternatives to consider.
Are you curious about a WEPED Rhino? Each scooter is custom-built and exceedingly difficult to acquire. The initial stage would be to accumulate sufficient funds to obtain such an illusive scooter. Contact JK for information on how long it would take to acquire one of these highly prized creatures.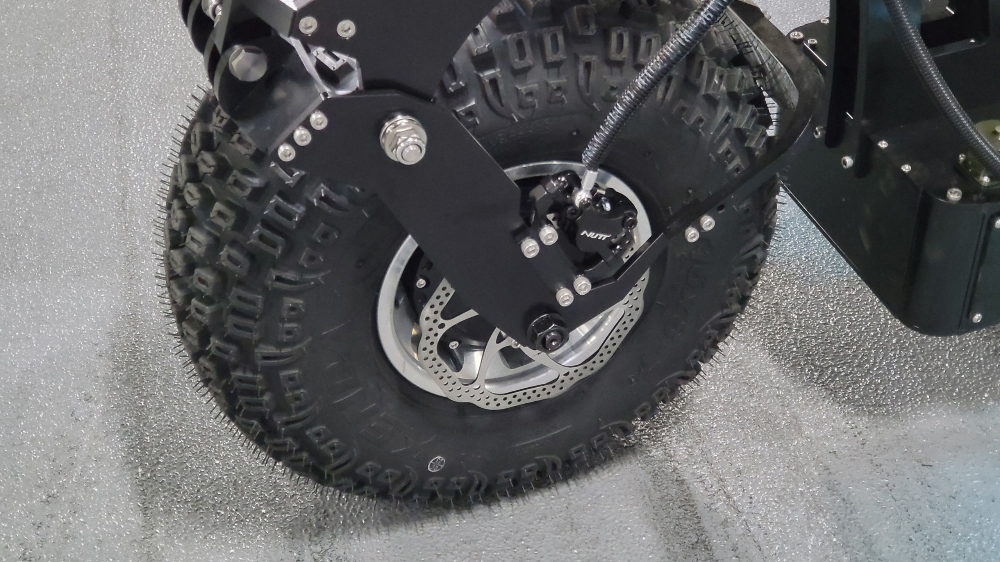 WEPED RHINO Standing Electric Scooter
Electric ScooterWorldwide: Free ShippingThis scooter is a made-to-order product. When you order a product, production begins and it takes about a month to produce.
This product does not include a charger.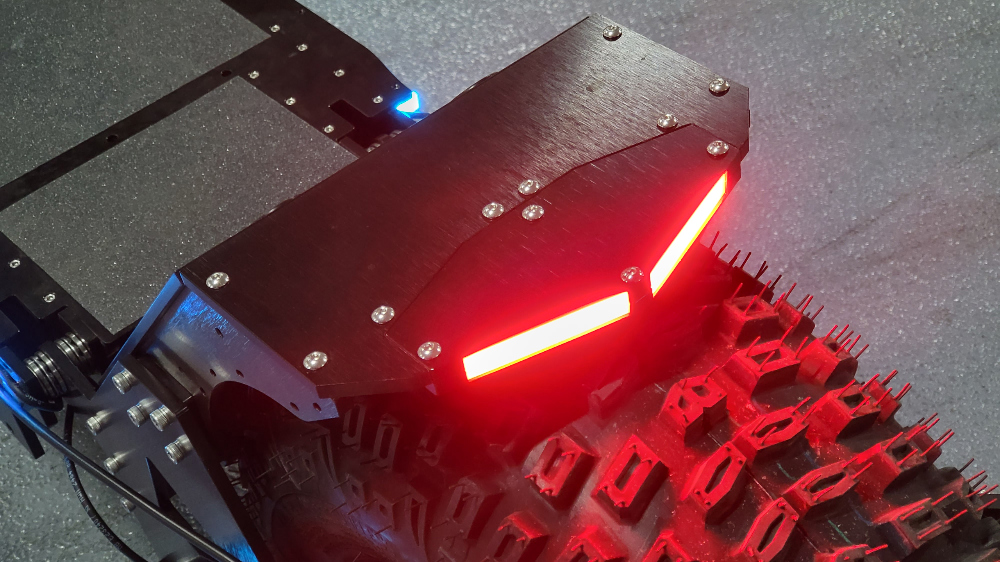 Optional Add On's:
Charged: 67.2V 4.4A ChargerExternal Battery 60V 30Ah & Bracket Samsung SDI 21700 50E
[Tuning] WEPED Weped LED Front Garnish – Dark Knight Standing, Rhino Standing
[Tuning] WEPED Weped LED neck garnish – Dark Knight Standing, Rhino Standing
[Tuning] WEPED Weped LED Rear Garnish – Dark Knight Standing, Rhino Standing
[All Color Tuning] WEPED Weped Anodizing Color Tuning – FX, FS, Rhino
TECHNICAL SPECS:
MODEL: Cyberfold Rhino Standing
COLORS: Black
Battery cell: 60V(Samsung SDI 21700 50E)
Capacity: 50Ah
PERFORMANCE
Power: Extreme Controller/Dual hub motor
Range : about 150km / 93 miles
peed : 90±10 km/h / 55 MPH
Tire : 16″ Off-load Tires
BRAKE
FRONT : Hydraulic brake
REAR : Hydraulic brake
E-BRAKE : Included

SUSPENSION
Front: Spring Shock Absorbers
Rear: Dual Spring Shock Absorbers
Weight: 60kg

DIMENSIONS
Unfold : 1648x 294 x 1222 mm
Fold : 1250 x 294 x 749mm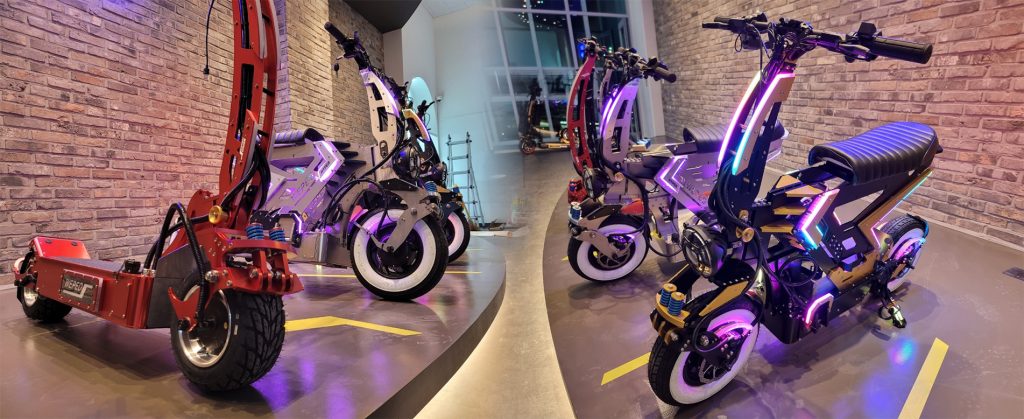 2022 Best Electric Scooters for Everyday Adventures
BEST CHEAP ELECTRIC SCOOTERS • BEST 30 MPH SCOOTERS • BEST 40MPH SCOOTERS • BEST 50 MPH SCOOTERS • BEST 72V ELECTRIC SCOOTERS • FASTEST ELECTRIC SCOOTERS
2022 WEPED Electric Scooters Catalog
WEPED ELECTRIC SCOOTERS
WEPED was created in 2014 with the intention of revolutionizing the more than 100-year-old scooter business and accelerating the widespread adoption of electric vehicles in urban areas. Growing up in KOREA, we yearned for speedy and autonomous urban mobility, but our only options were loud, cumbersome, and ecologically harmful combustion engine scooters. We discovered a few years ago that the recent advancement of electric drivetrains and batteries presented prospects for a new electric two-wheeler idea.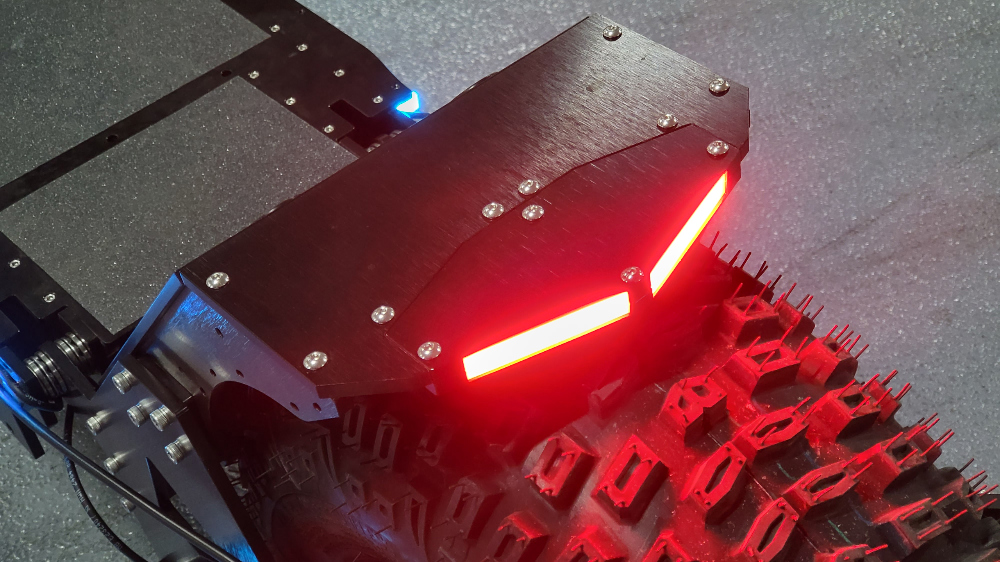 Instead of adhering to the conventional scooter architecture and changing the drivetrain, we adopted a novel design strategy and created something from scratch. The outcome? A new vehicle category consisting of a lightweight, exhilarating-to-ride, and incredibly user-friendly bicycle-motorcycle hybrid.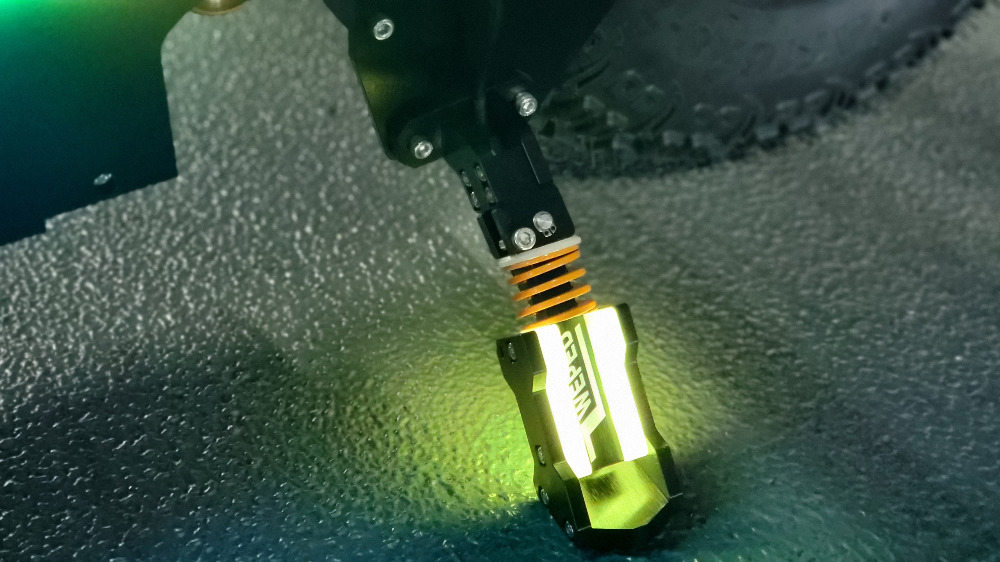 Whether you're commuting to work or exploring your neighborhood, riding WEPED is dependable, low-maintenance, and always exciting. We strive to prevent a climate catastrophe, build a community of riders, and give riders of all backgrounds the freedom of travel.
Join us, and let's WEPED our way to a cleaner future!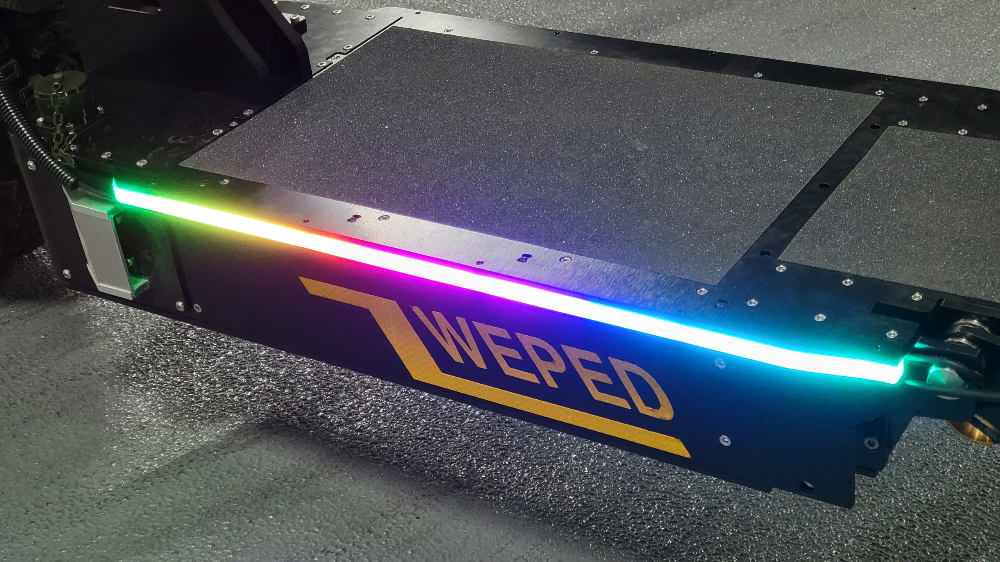 Are you interested in the WEPED Cyberfold Electric Scooters?
The Cyberfolds will run you over $6,990 – $9,000 USD before fees and shipping. Reach out to WEPED directly to order.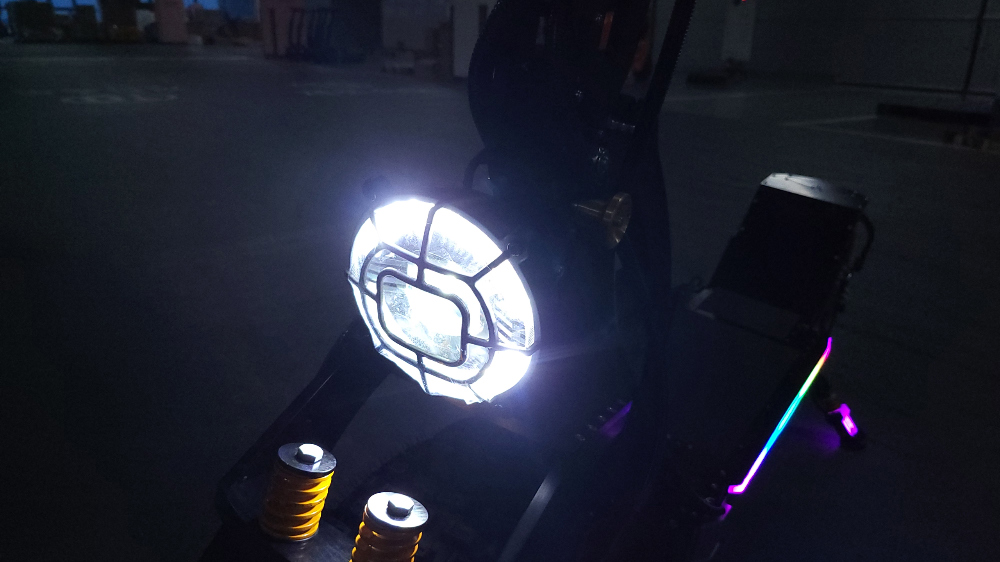 Editor's Note: VROOOMIN.COM reports the advertised speed and range from the manufacturer. The exact results will vary depending on the rider's weight, overall payload, road conditions, and charge level. Most PEVs will deliver at least 60-70 percent of the quoted range, if not more. The top speed and range will be decreased for heavier riders.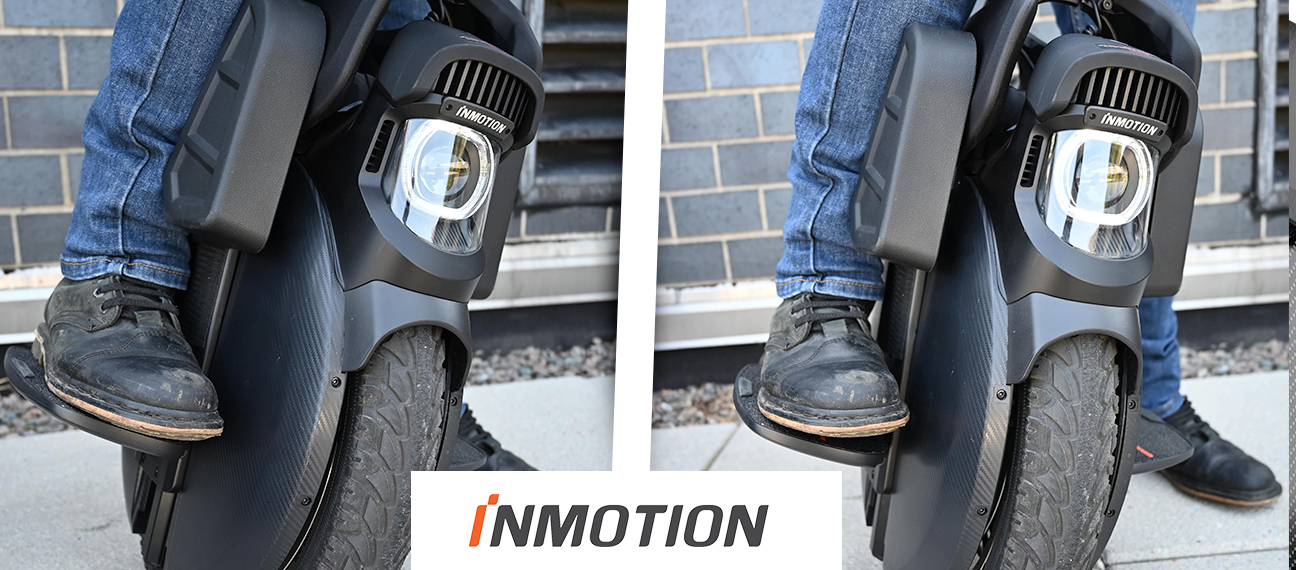 '

2022 Electric Scooters:
2022 Electric Unicycles:
International Electric Scooter and Unicycle Distributors:
Check out the Best Personal Electric Vehicle Dealers in Europe, Asia, and South America:
EMEA + APAC Dealers & Distributors: FASTRIDE, Dualtron Russia, Dualtron Mega Store, SoloRueda, Dualtron Colombia, Kaabo Philippines, eWheels Thailand, Dualtron Greece, Dualtron Chile, MiniMotors Nordic, MiniMotors Korea, Dualtron Ukraine, iScoot Australia, WEPED Australia, WEPED Korea, Czech Republic: Eco Vehicle, Dualtron Turkey, Dualtron Serbia, EUC Sale, Dualtron Indonesia, New Zealand: eScoozi, UK: Ride + Glide
Coupons & Deals:
REV Rides: Save $50 off Scooters and EUC's, Code: VROOOMIN
EVOLV Electric Scooters: Free Folding Lock (worth C$80) for every EVOLV model! Use Code: VROOOMIN-LOCK
To keep the site running and information flowing, Vrooomin.com participates in affiliate linking programs. We're also an Amazon Associate, which means we get paid for referring people to Amazon. Please support the channel by clicking on our links.