There's no question, MiniMotors is ringing in the new year with bigger wheels, bigger chassis, and bigger promises.
Just when you thought MiniMotors couldn't deliver any more for 2022, they stun us with an additional electric scooter model. The Dualtron City may be the first production level electric scooter to sport 15″ motors, but why would you want tires this big?
MiniMotors bets big on it's first 15″ Electric Scooter
SUMMARY
Dualtron City is a the latest 60V electric scooter from MiniMotors
Features larger chassis and larger 15″ wheels to absorb potholes easier than traditional 8-11″ electric scooter motors
Offers power, weight, and range of most mid tier high performance commuter Dualtron Scooters
Design is a cross between a small ebike and electric scooter
Battery Pack: 60V 25AH LG 21700 Cells
Top Speed: 40 MPH
Power: Max output 4KW
Save 5% off Armor-Dilloz tire sealant with Coupon Code vrooomin05
Save $10 off Magicshine Lights with Coupon Code vrooomin10
Check out the Vrooomin Youtube Channel for Escooter & EUC Videos
Big wheels, big pot holes, no problem.
Have you ever hit a pot hole that you just didn't see coming? Did you have the "oh sh*t" moment where you saw your life flash before your eyes? Well, the Dualtron City is here to solve that. The thing with smaller motors and tires, is that any unseen pot hole could send us flying off our electric scooters, dangerous if we're riding with traffic.
For ebike, bicycle, and moped riders, most pot hot holes will not send them flying over their handle bars. Given that most city dwellers already ride bicycles, could the Dualtron City serve as the gateway scooter to acquire new electric scooter enthusiasts?
Dualtron City, 15″ Electric Scooter
The City features the familiar 5th generation Dualtron chassis and the same coveted features that set Dualtrons apart, but with larger 15″ wheels to take on bumps, uneven roads, and more. The City draws a familiar look to the older generation Razor Eco Smart scooter, which utilizes 16″ wheels.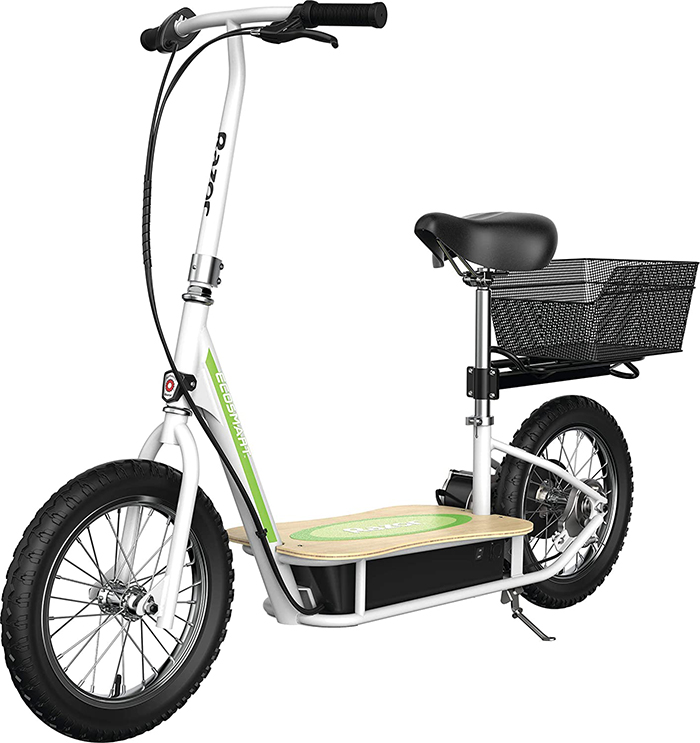 For beginner or seasoned riders, the 4KW drivetrain and 90 lb chassis makes the Dualtron City a large and powerful Dualtron option to take you across town, to the bank, and to work. Whether if it's cruising in the bike lane or keeping up with traffic, the Dualtron city has you covered.
A few questions for MiniMotors
Will the handling be stable or require a speed damper? Smaller tires scooters handle securely with speed dampers.

When will the City be available in the US?

When will MiniMotors venture into building an actual Fiido style Dualtron Electric Bike? Would any readers be interested in one? Let me know in the comment section below!
Dualtron City Electric Scooter Technical Specs:
Power: Max 4000W Dual Hub Motor
Battery: 60V 25AH LG 21700
Controller: 60V 30A x 2
Max speed: 44 MPH / 70 km/H
Range: 55 miles / 90 km
Weight: 90lb / 41 kg
Brakes: Zoom Hydraulic
Tires: 15″ Road Tires
Suspension: Front and Rear Cartridges
Lighting: LED fenders, arms, brake lights, turning and hazard lights
The Latest Dualtron Electric Scooter Models coming in 2021-2022
For riders looking for even more pep in the step, check out the Dualtron Achilleus, Dualtron Thunder 2, and the Dualtron Storm Limited.
More Minimotors Electric Scooter Resources