eWheels latest flagship high performance offering, the VSETT 10+, are in stock now.
Many riders have been searching for the 25AH and 28AH Vsett 10 models, here's your chance. Secure a Vsett 10+ at eWheels now, while inventory last.
In this Article
eWheels unveils the VSETT 10+ electric scooter
Now Shipping!
25.6AH and 28AH Models are available!
Starting at $2,190 – $2,590
VSETT 10+R is a contender for the best value +50 MPH electric scooter
Overview of VSETT 10+R electric scooter specs & features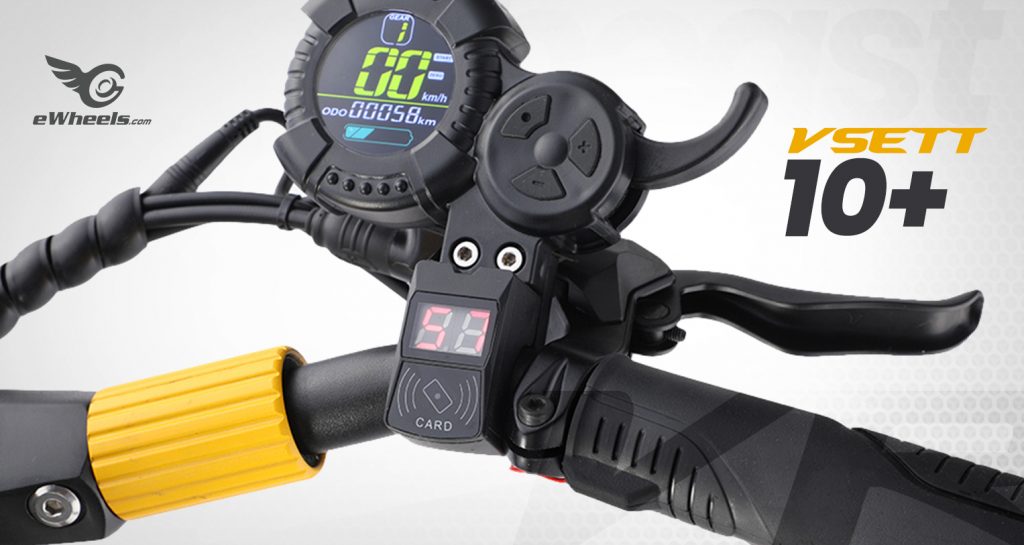 Aggressive Chassis, Powerful Motors, Big Battery Pack, Reasonable Price Tag
The Evolution of the 10X
Some thing about this electric scooter reminds me of a Suzuki GSXR or even the King Song 16x Unicyle, it has a strong, bold, sporty vibe.
With its sharp edges, soft lines, bold colors, and smooth curves, theres no mistake that the 10+ is a high performance, high capacity, sport electric scooter.
This scooter embodies the evolution of the 10X, the development team behind the VSETT, made a checklist of all the structure/handling shortcomings of the 10X, and solved them in this iteration of the 10+.
Crafted with meticulous details and an aggressive stance, this scooter will definitely draw the attention and envy of any bystander caught in the wake of your path.
Vsett 10+ Electric Scooter Review
Power – Dual 1400W BLDC Motors
Battery Pack –  60V 28AH LG Cells
Top Speed – 46-50 MPH
Range – 70 miles
Build Quality
Ride Comfort
Price – $2,599 – Great price for power
Weight – 79 lbs
Brakes – Hydraulic
Customer Service – eWheels
Summary
Who is this Scooter for?
The VSETT 10+ is a high power electric scooter and is not the best choice for most beginners. Now, if you've owned a budget commuter scooter in the past, the VSETT 10+ is for riders who are ready to upgrade from their 20 MPH to 30 MPH electric scooter.

Riders who want more power, more range, and a sporty chassis should definitely consider the VSETT among other scooters such as the Apollo Phantom, Dualtron Eagle Pro, Dualtron Ultra 2, Wolf Warrior King, and Dualtron Thunder.
With a $2,600 price tag, new chassis, premium features, the VSETT10+ is a strong contendor in the 60V, +50 MPH electric scooter category.

For similar electric scooter options, check out the Best 72V Electric Scooters.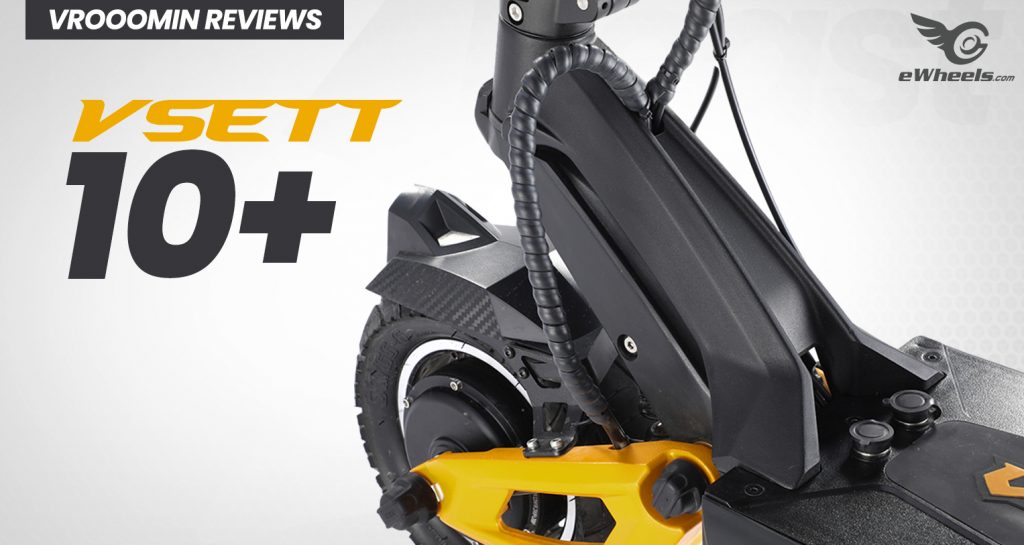 Fastest 10″ Electric Scooter on market?
Powered by a 60V 28AH battery pack, the 10+ promises to deliver big range, with capacity that can deliver up to 115 heart pumping miles on the open road.
From a discharge perspective, the 10+ controllers delivers a peak 35A jolt of current to take you speeds past 40MPH. Touting a +50 MPH top speed, the 10+ is an absolute beast of an electric scooter. It may be the fastest production 10″ motor electric scooter on the market.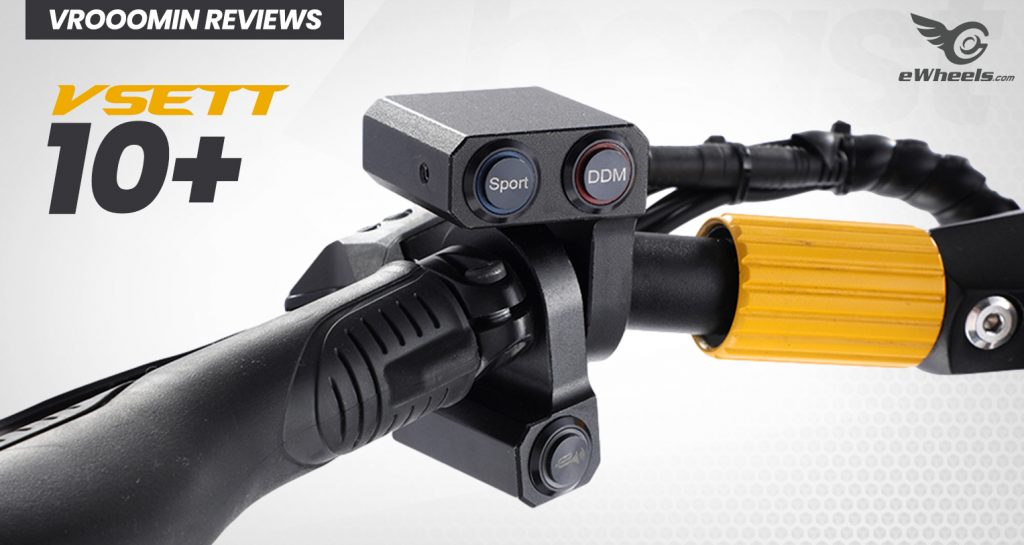 Vsett 10+ Electric Scooter Features Review
The VSETT has the looks and muscles, but also has the premium features to make your scooter choice even easier.
The upgraded folding stem latch will make wobbly handle bars a thing of the past, the high performance suspension coils will provide comfort on any uneven road, and last but not lease, the universal display/throttle is upgraded!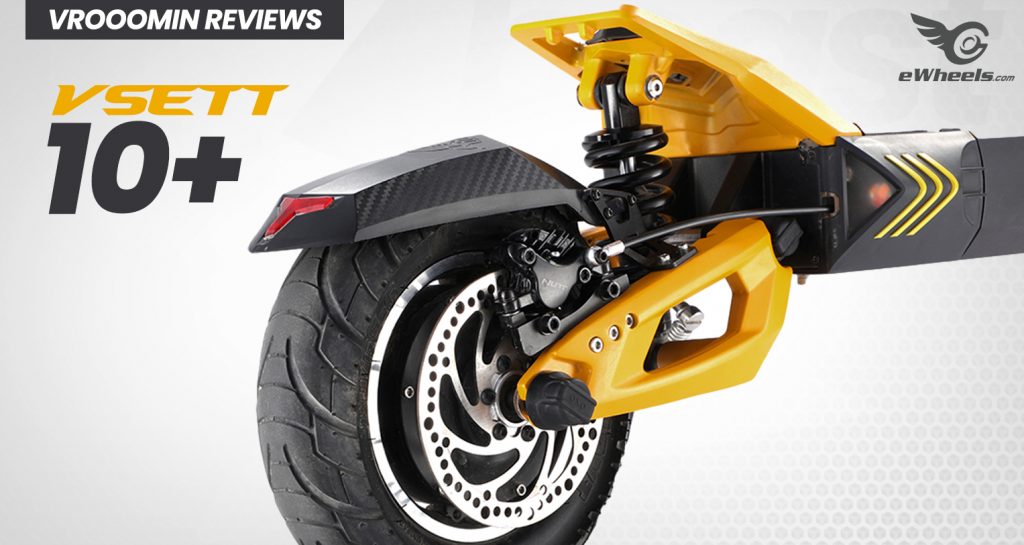 I personally thought the TYPE H universal display throttles were lacking in design and materials quality, it's great to see the new ones have similar quality to the MiniMotors EYE throttle.
Another awesome feature is the turn signal lightings. Turn signals seem to be a popular feature amongst 2021 electric scooter models. I think they're great for leading group rides, however, I would not totally rely on cars to see them in traffic. Please make sure you make your turning intentions abundantly clear on the road.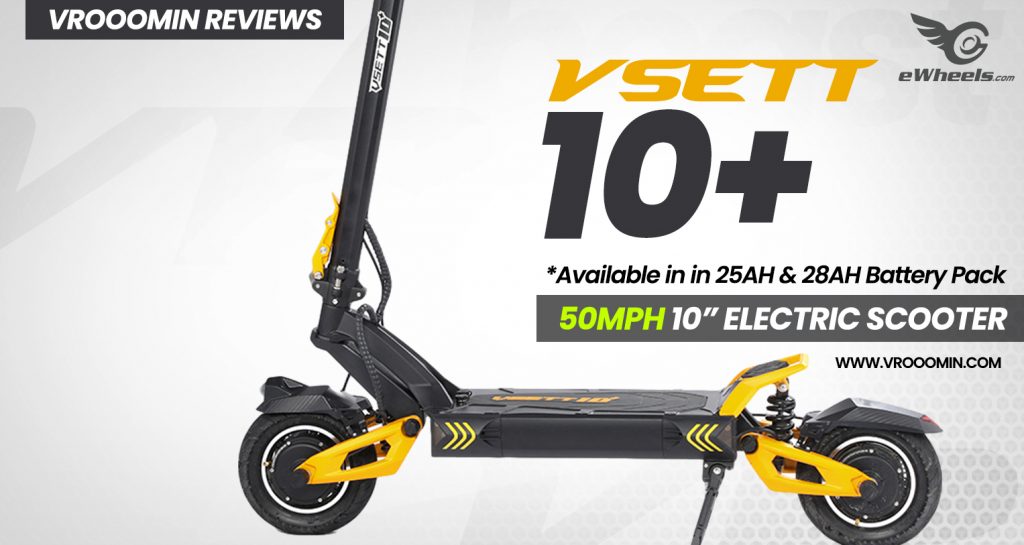 Price: $2,599 – Great price for power
Shipping: Free – Standard for most companies
Top Speed: 46-50 MPH – Powerful for 10″ motors
Range: 70 Miles
Motor: 2800W – Powerful!
Watt Hours: 1680 – Great size for power and price
Controller: 60V (35A) – Powerful!
Climbing Grade: 27 Degrees
Battery: LG Cells – Great Quality
Voltage: 60V
Hours: 28AH – Great power price
Charge Time: 14 hours
Tires: 10″ Pneumatic – Great power for price
Weight: 79 lbs – Great size for power and price
Max Load: 285 lbs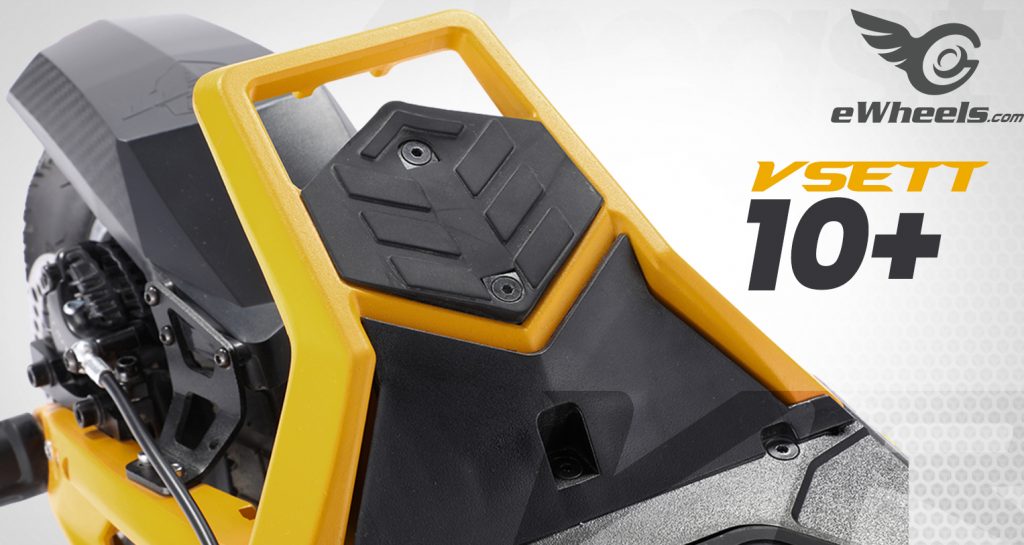 Dual 1400W BLDC Motors (powerful 10″ motors)
35a controllers (Highest Amp controller for 10″ motors)
Upgraded Chassis (Stunning design)
Pneumatic Tires
Dual Hydraulic brakes
Upgraded Throttle Display with NFC Key Card Lock
Large LED lights, front and rear turn signals (Rare feature for modern scooters)
Adjustable Hydraulic coil and swing arm suspension
Upgraded foldable stem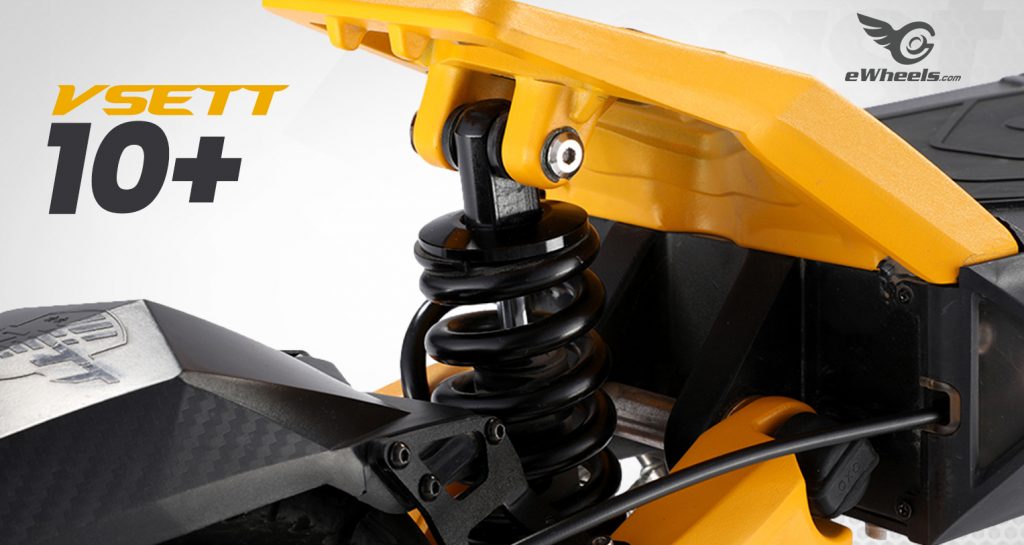 Looking for a 72V Electric Scooter?
The Fobos company has made big promises and has a large order to fill. Since not enough information is known yet, check out these models from established brands for your high performance electric scooter needs: TurboWheel Phaeton, Dualtron Storm, Kaabo Wolf King, and the Dualtron Ultra 2.
Vrooomin.com is ad free and participates in affiliate linking programs. We're also an Amazon Associate and earn from refferal commissions.