The Dualtron Mini is both Beauty & BEAST!
Theres no question, the Dualtron Mini is a stunning 48 lb electric scooter.
Equipped with its low profile mud guard, slim deck, and foot rest, every thing from the sharp lines of the chassis, to the smoothed curved edges of its tail, the Dualtron Mini is an absolute stunner. I often get complemented on the Mini whenever I'm taking her out for a food run at the grocery store or at a red light by random onlookers!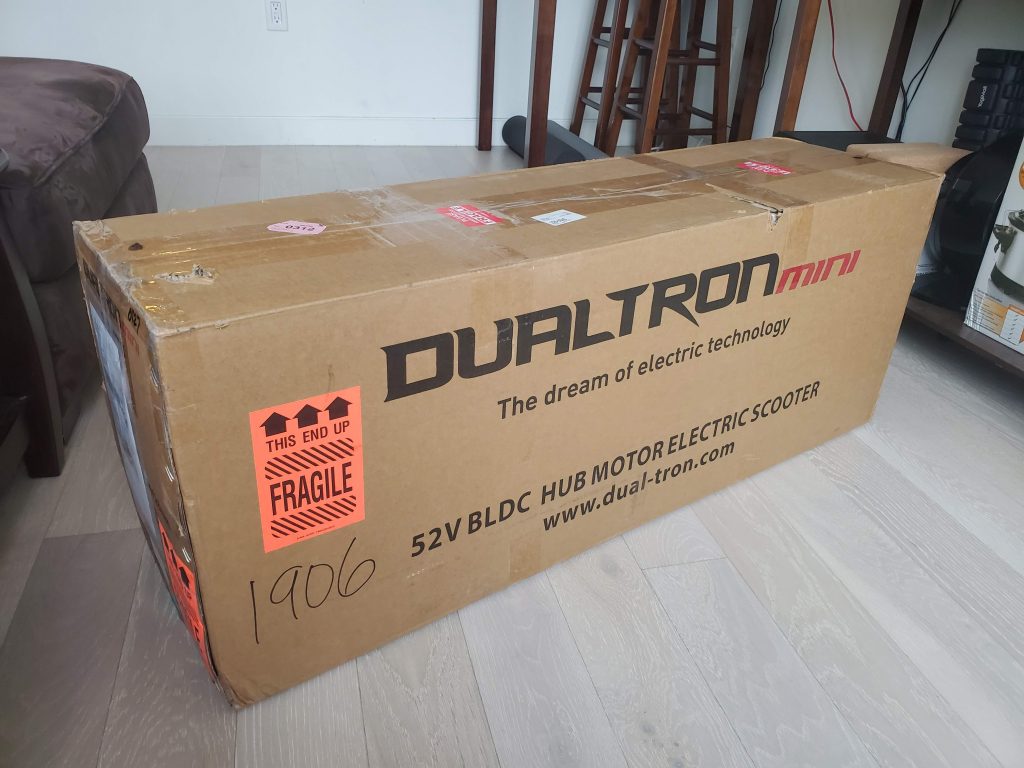 Why Riders Love the Dualtron Mini
This Mini-Beast will make for the best performance commuter that pairs stunning design, high quality chasis, and just enough performance to take any rider to and from work, the grocery store, or getaways from your everyday responsibilities.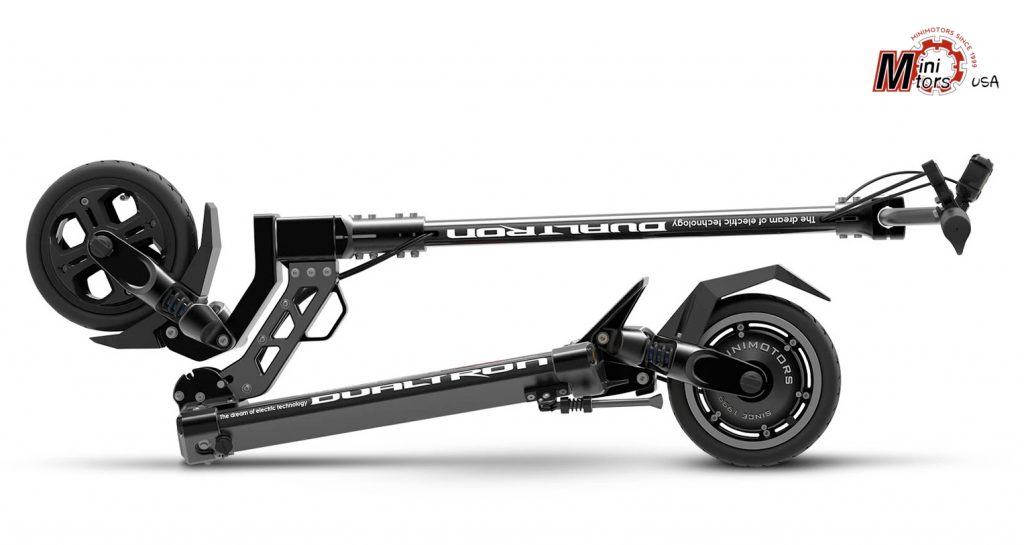 Who is the Dualtron Mini for?
The Dualtron Mini is designed for your everyday rider who requires a strong and reliable method of transportation, but who isn't ready to brake the bank for a heavier and stronger electric scooter, and maybe they don't want or need one. The Mini will satisfy any rider and will take them from point A to point B in style! Designed by the MiniMotors engineers in Korea, the Mini was designed to be fast, light weight, affordable, and very low maintenance.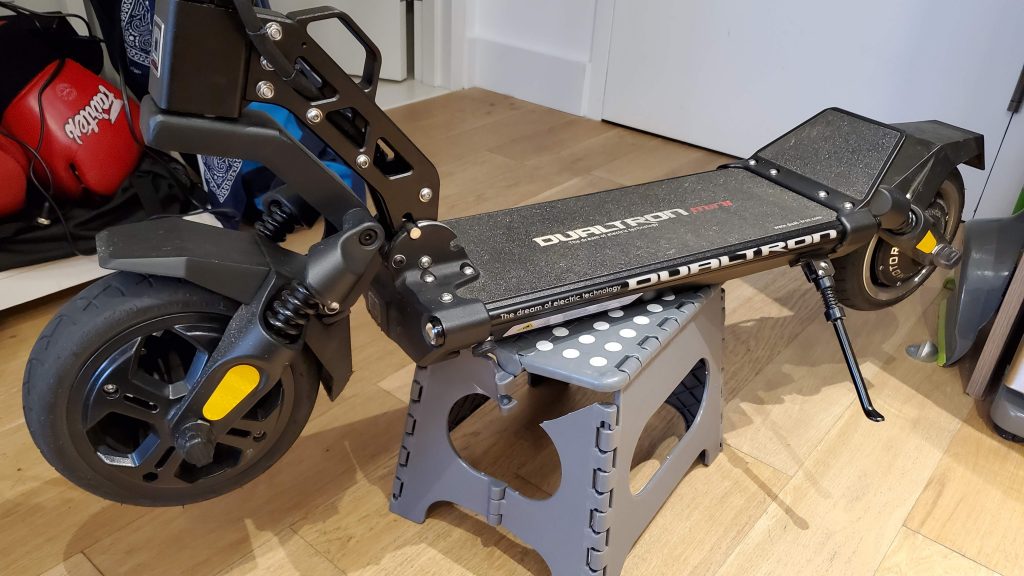 The Dualtron Mini Cost and Maintenance
The most you'll need to do is check to see if your tires are at the right pressure, and change your tires every now and then, and thats it! This electric scooter uses a drum brake, which require little to no maintenance and pneumatic tires. By design, the Mini is your quality and budget scooter that only requires charging and checking your tire pressure, every now and then. Aside from that, its charge, ride, park and repeat!
The Dualtron Mini Performance & Drivetrain
The Dualtron Mini is powered by a by single BLDC 500W nominal (1,500W max) hub motor that can produce a speed up to 32 MPH. The Mini was built for power, speed, and portability in mind, for most riders, an average cruising speed of 15-25 MPH is more than enough excitement for their commute.
Top Speed: 32 MPH at the top speed
Cruising Speed: 15-25 MPH for most riders in the bike lane and inner city
Gradient: Rated at 37%, the Mini's single hub motor is quite powerful and can take riders on very steep hills and bridge inclines
Motor: 500W Nominal, MAX 1,450W BLDC hub motor
Controller: The Mini is powered by a 52V 25a controller and EYE throttle display


Watch the Duatron Mini Top Speed Test Video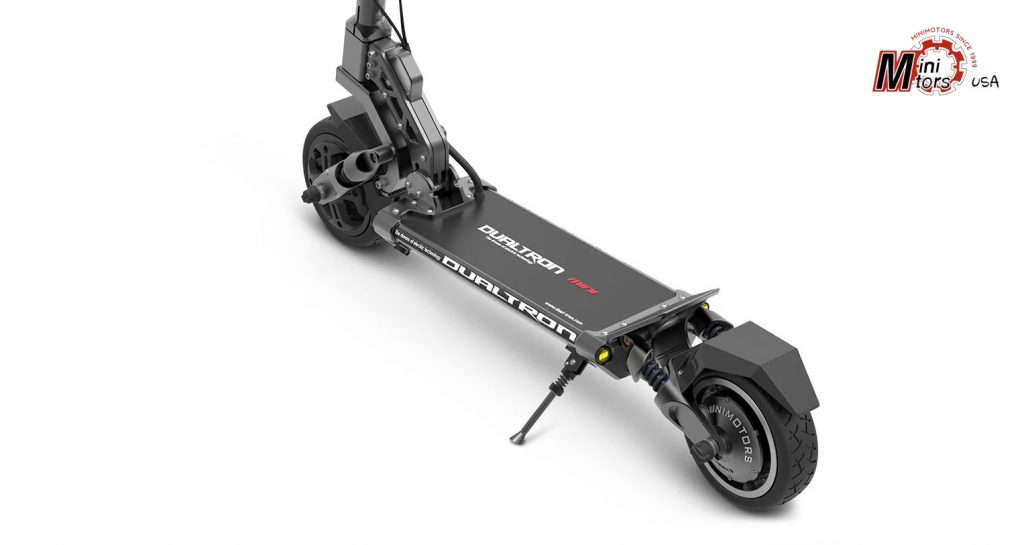 The Dualtron Mini Battery Pack and Range
The Mini is powered by 52V, 17.5AH, LG MJ1 cells, these are some of the most premium high discharge battery cells on the market. MiniMotors is known for only using LG cells in their Dualtron electric scooters, which provide high power and longevity for their electric scooters.
Battery Pack: 52 volt – 17.5 Ah – 1,050Wh – LG MJ1 cells
Real World Range: rated at 34 miles, the Mini can take you around town and back with out fear of running out of battery range. With aggressive riding, riders may get 20-30 miles per charge, it really depends on how hard and fast your ride, and if you're riding in hilly areas. When you're getting close to 20-30% battery, like with all electric scooters, you will notice your top speed lower, this is due to less voltage/pressure of your battery pack
The Dualtron Mini Ride Experience
Designed with quality, performance, and portability, the Dualtron mini sports aggressive, compact, low, and sharp stance. The goal of the Mini is to take you places its bigger brothers can't. The Mini sports a narrow deck to fit its 52V battery pack, providing a staggered stance position with the riders front foot at the top corner of the deck, and their rear foot on the tail of the foot rest.
While the Mini can take light off road trails, the tires are suspension we're built for on road gravel. The suspension is quite firm and built for speed and on road riding. The Mini's suspension can take bumps, uneven roads, and can provide a smooth experience compared to other scooters ins weight class.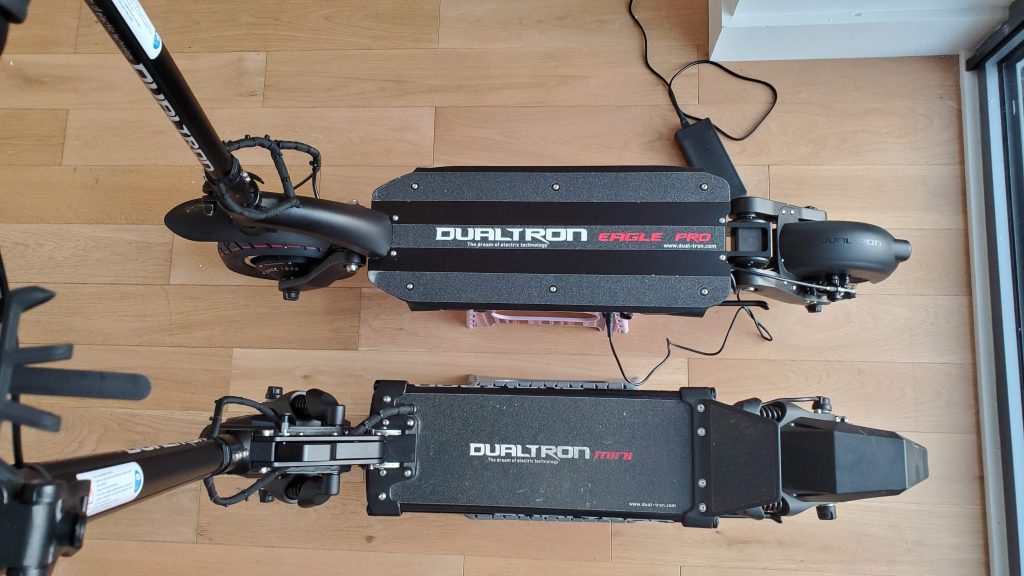 Compared with mechanical and Hydraulic brakes, the drum brake is much easier to maintain, but does has less braking power compared to its disc brake counterparts. The tradeoff for the drum brake is, riders would need to be mindful of their speed and braking patterns, but is way easier to maintain from a maintenance perspective.
Some riders have upgraded their drum brakes to disc, I find the drum brake and ABS braking provides more than enough stopping power for most riders. If you find yourself riding at the very top speed and needing to brake in a very short amount of time, I would consider upgrading to a stronger scooter with stronger brakes.
Chassis: Aviation grade 6082-T6 aluminum alloy, the shaft is SCM440 steel for stability and longevity
Suspension: Swappable rubber rod system
Foot Space: Narrow and stagger deck space and rear foot rest
Braking: Drum brakes
The Dualtron Mini Review & Recommendation
If you're the type of rider who knows that want to go fast, but think $1,500 is your budget, I would consider upping your budget and picking an even stronger scooter to grow into, speed tolerance is raised quite fast (pun intended).
The Mini is a great entry-level Dualtron electric scooter for its price and performance. For riders who want a quality, reliable and great looking scooter to get around town in style, this is the one for you.
Looking for a 72V Extreme Performance Electric Scooter?
A few other 72V extreme performance electric scooters include the Nami Burn-E Viper, TurboWheel Phaeton, Wolf Warrior King, Dualtron Storm, and Dualtron Ultra 2.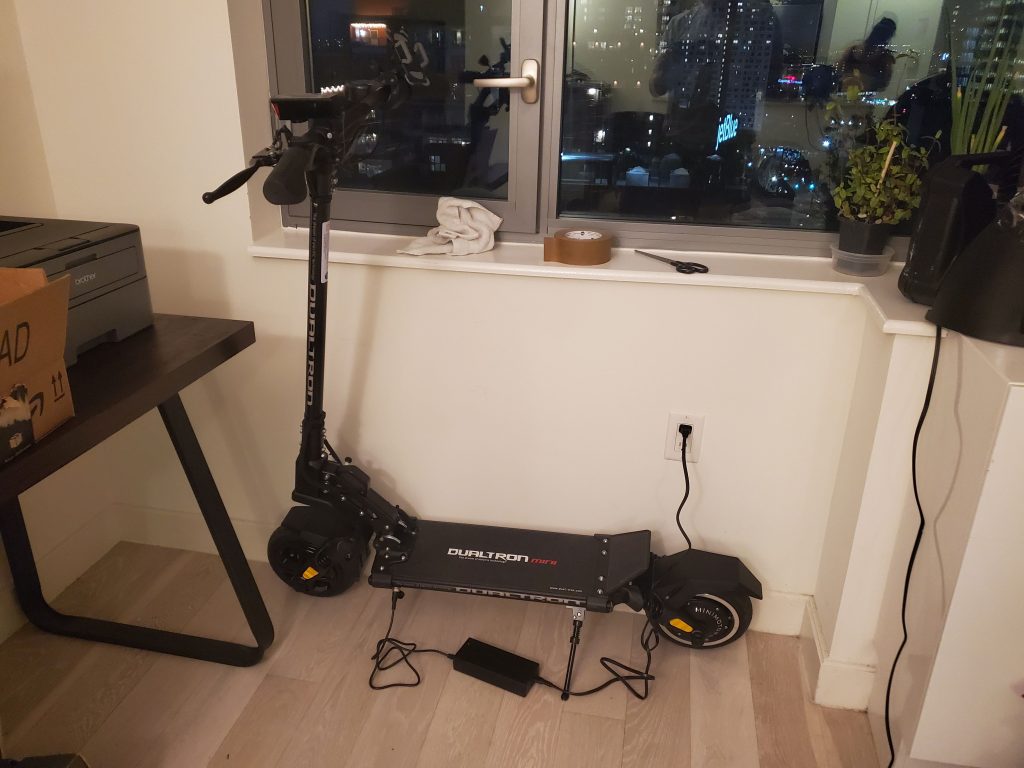 The Dualtron Mini SPECS
Motor: MAX 1,450 watt BLDC hub motor
Battery: 52 volt – 17.5 Ah – 1,050Wh – LG MJ1 cells
Charge time: 10 hours with standard charger, 2.6 hours with the quick charger
Max mileage: 34 miles (mileage may vary depending on rider weight and road conditions)
Max Speed: 32 mph
Climbing Grade: 37% or 20 degrees depending on rider weight and state of charge
Braking System: Rear Drum Brake with ABS standard
Tires: 9″x2″ Pneumatic Tube
Max Load: 220 lbs
Scooter Weight: 48 lbs
Product Material: Frame is aviation grade 6082-T6 aluminum alloy, the shaft is SCM440 steel, and plastic covers