Dualtron Thunder, High Performance Electric Scooter
The Thunder is not what people would consider a "beginner commuter" electric scooter. Far from it. No, you can not easily lift this scooter into your car trunk. She's heavy. Coming in at 95 lbs, the Thunder has a big body, thick chassis, 5,400W dual hub motors, and a 2,060WH LG battery pack. By the way, the Thunder tops off at 50 MPH in its highest settings.
Need help finding the right scooter? Check out the MiniMotors USA Dualtron Comparison Guide and Dualtron finder Quiz. Both of these apps will help you find the right Dualtron model for your needs.
SUMMARY
Dualtron Thunder is one of the fastest electric scooters in the market
This scooter is large, heavy, and powerful, not for most beginner scooter riders
The drivetrain is a solid upprade for advanced riders who want more power, speed, torque, and a quality chassis
The Thunder's chassis is built for off-roading and is the choice scooter for modders to build 72V to 100V custom builds
Save 5% off Armor-Dilloz tire sealant with Coupon Code vrooomin05
Save $10 off Magicshine Lights with Coupon Code vrooomin10
Check out the Vrooomin Youtube Channel for Escooter & EUC Videos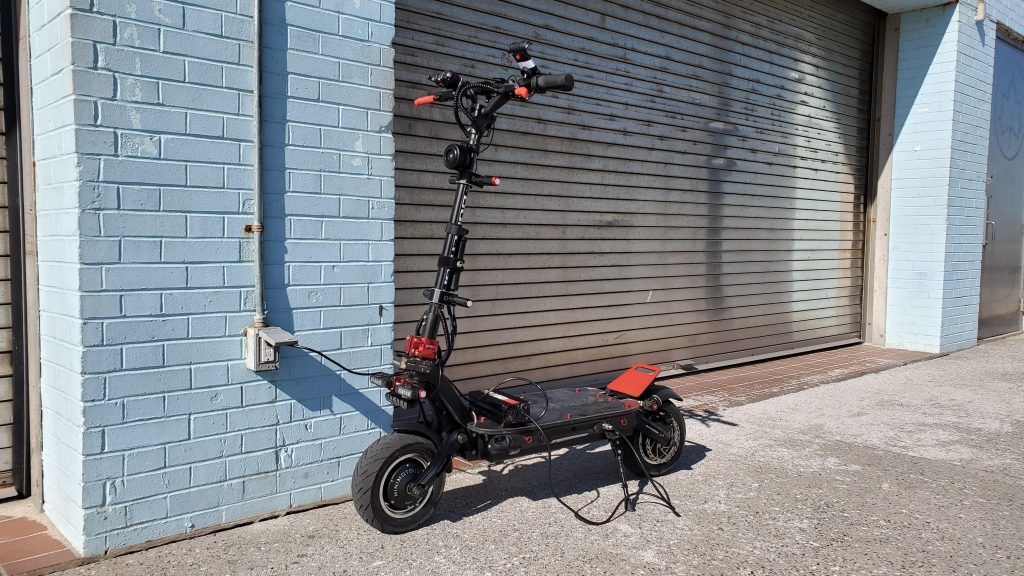 Dualtron Thunder Electric Scooter Review
Dualtron Thunder Drivetrain
When the Thunder first debuted, it was the fastest electric scooter in the world. While it no longer holds the title, 3 glorious years later, the Thunder is still stronger and faster than 99% of the electric scooters in the market! Equipped with 5,400W motors, 40 amp controllers, and a 2,050WH battery pack, the Thunder has the heart and muscle to keep your adrenaline dumping, over and over again!
One of the fastest electric scooters in the world
Capable of 50 MPH and 5,400 watts for the thrill seekers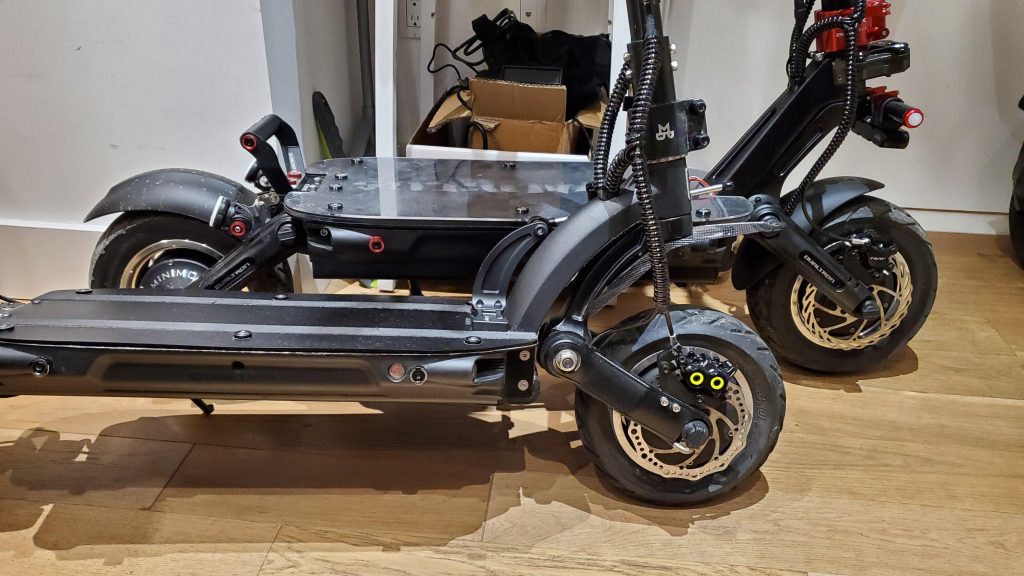 Whats the Thunders Top Speed & Cruising Speed?
For the beginners, 5,400W is a lot of electric current, the Thunder was designed for veteran riders, or beginners who ride with caution at lower speeds. 50 MPH is extremely fast on an electric scooter, bare in mind, you will need to max out all of your settings and have sufficient battery charge to reach that speed.
For most people, we usually dial down the settings for neighborhood and bike lanes, day to day cruising speeds range from 15-35 mph, depending on the person.
Top Speed: 45-50 MPH
Cruising Speed: 15-40 MPH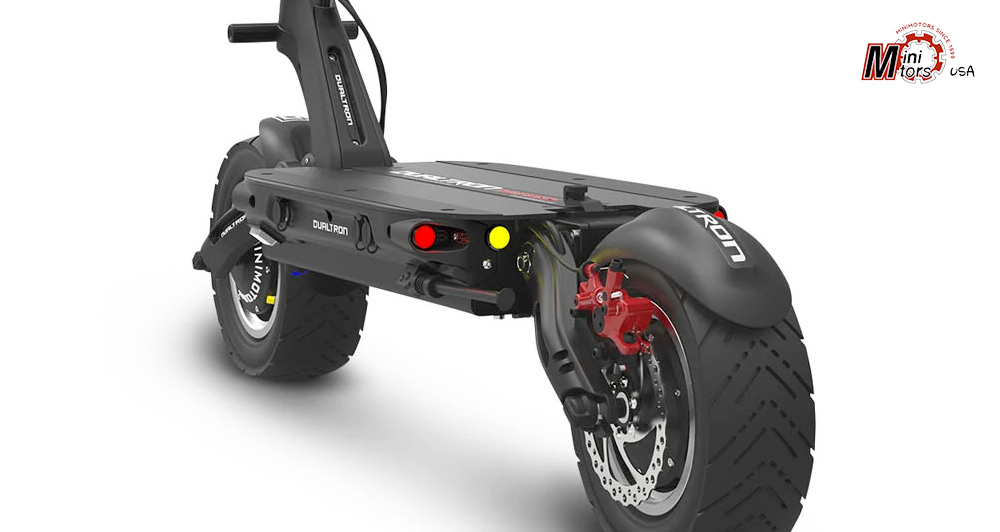 Dualtron Thunder Battery Pack
Where motors are muscle, the controllers being the brain, the battery pack is the heart of an electric scooter! MiniMotors only uses quality battery cells and BMS's for their Dualtron battery packs. The Dualtron Thunder is powered by LG MJ1 lithium ion cells, some of the best cells in the industry, known for its strong current and stability. These cells are rated up to 500 cycles, which could last over 10,000 miles before noticeable degradation.
Built with MJ1 cells, some of the best in the industry
Dualtron battery packs are known for quality and high power


Dualtron Thunder Range
What does this all mean? The Thunder is built to last and can to you up to 75 mile range in conservative low torque settings. In high torque and high speed settings, the Thunder will produce any where between 30-40 miles of high speed riding. The Thunders real world range depends on a few conditions, but generally you can expect 30-75 miles.
Low Speed Range: 50-75 miles
High Speed Range: 30-45 miles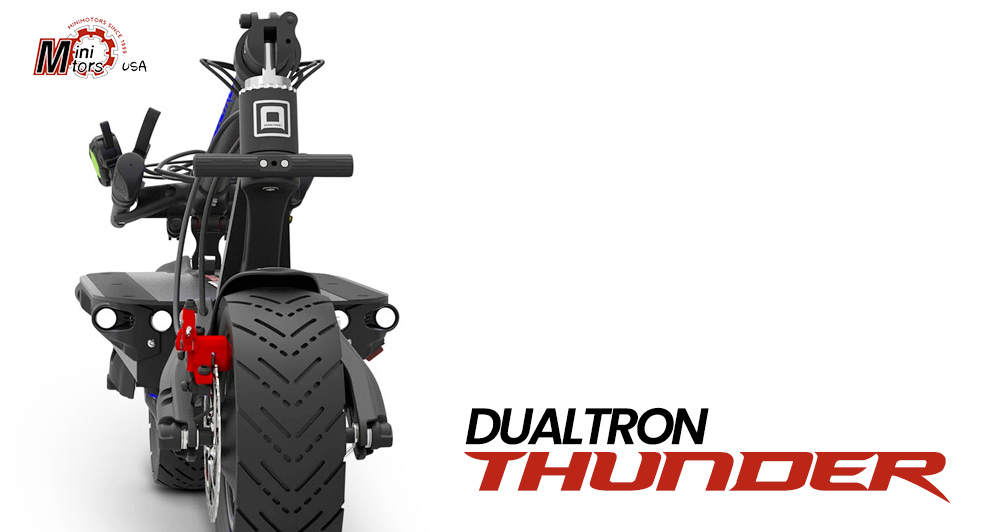 Dualtron Thunder Chassis
Ask yourself, is the Thunder one of the best looking electric scooters on the market? The answer is going to be yes, and not only that, the chassis is strong, reliable, and built for off-road riding. Forged with aviation grade aluminum alloy, steel, and hard plastic, the Thunder's chassis is ready for abuse (while we don't encourage it), it's chassis represents one of the strongest and modular chassis on the market, making it a modders dream to build 70 or even 90 MPH electric scoters on top of.
4th Generation Dualtron chassis, one of the most advanced chassis in the market
Favorite scooter for modding and going pas 70-90 MPH
One of best designed and quality chassis, most other chassis look cheap and unfinished
Dualtron Thunder Key Features
Cartridge suspension system – these allow you to control the suspension system for hard (high speed) and soft (off road) settings. You can also adjust height of the Thunder, essentially lower or raising the scooters height
Modular Wheel Design – Tire changes should be easy, the Thunders modular wheel design makes changing 11×4 tubeless road tires relatively easy for most riders.
EYE LCD Display – The EYE display is one of the most innovative displays on the market. It functions as a throttle, voltmeter, acceleration curve, battery performance, and controller for all of the Thunders essential functions and settings.
Mood Lighting – The Thunder has some of the best LED lightings on the stem and under deck. This allows for more visibility and customizations of led colors while riding!
Hydraulic Brakes – With all that torque and speed, the Thunder is equipped with Nutt hydraulic brakes, making stopping at high speed a breeze.
Customizations – The Thunder is one of the most popular and heavily modded electric scooters in the market. Everything from the tires, handlebars, deck covers, to even the handle bar grips, the Thunder is customized to make each riders scooter their own. Check out the Dualtron Owners Guide for inspiration.
Riding Experience: Firm suspension and large tires for high speed and smoothing out bumps and gravel
Comfort: large deck for foot space and comfort, and heavy chassis for stability at high speed
Stopping Power: Solid hydraulic brake and 160mm rotor combo for high speed and low speed
Technology: High end throttle/display for customizing acceleration, battery performance and ride info
Maintenance: Doable, easy to maintain, once you purchase the tools and watch how to videos.
Check out the Dualtron Owners Guide for more maintenance information.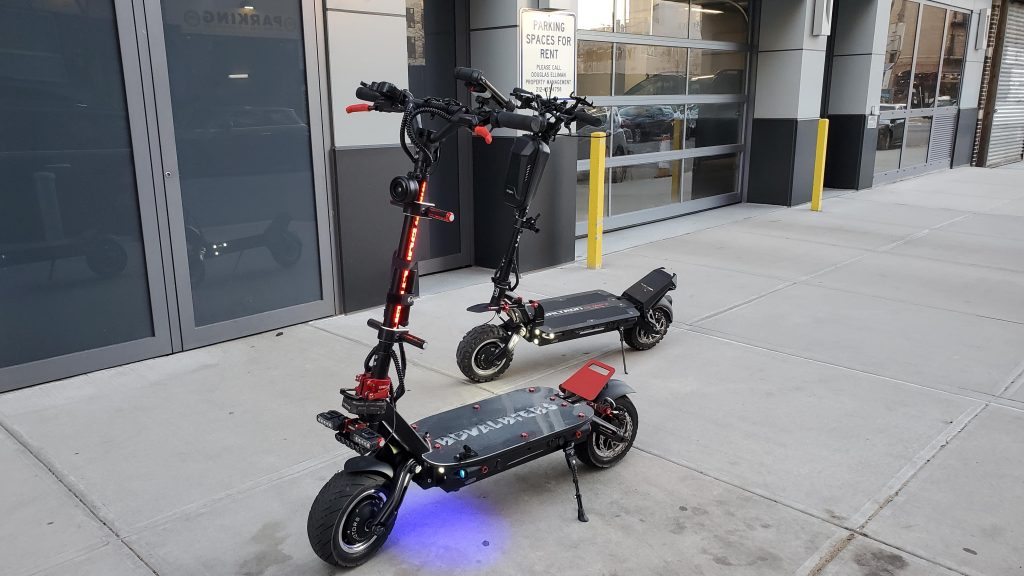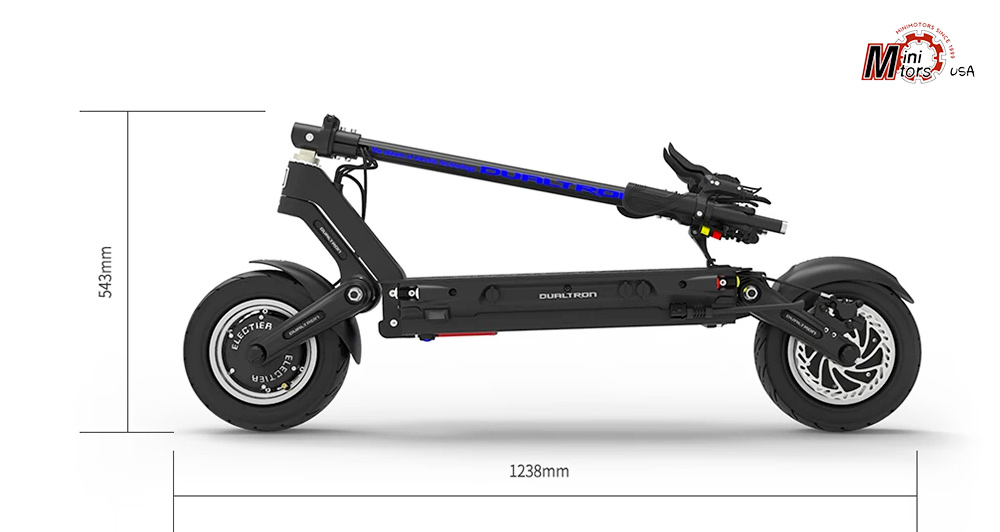 Is the Dualtron Thunder right for me?
Why the Thunder isn't right for you
The Thunder is large, heavy, powerful, and expensive. If you don't accept any of these traits, the Thunder would not be a good option for you. I would consider smaller, less powerful, and lighter scooters instead.
Why you would want the Thunder
Now, if you want power, comfort, speed, stability, and one of the most popular and best looking 50 MPH electric scooters on the market, the Thunder is for you. At the $3,700 price range, the Thunder will deliver on size, performance, speed, and range. Yes you can buy a used car (albeit a run down one) at that price tag, but how much fun could you have riding a beat up, run-down Toyota Camry, when compared to a brand new 50 MPH electric scooter? Check out MiniMotors USA, they have same or next day shipping, you'll have your Thunder in no time.
Warranty and Customer Service
Dualtrons are great out of the box! To start riding, all you need to do is inflate the tires, check bolts and latches, discard the box and packaging materials, and you're good to go. Check to see if you have at least 70% battery and you can take off and let your scooter adventures begin! MiniMotors USA provides a 6 month warranty on scooter parts and a 12 month warranty on the battery pack. It's rare for Dualtrons to arrive defective, if you have any issues, the guys at MiniMotors have a reputation for great customer service and will walk you through any issues or send replacement parts if needed.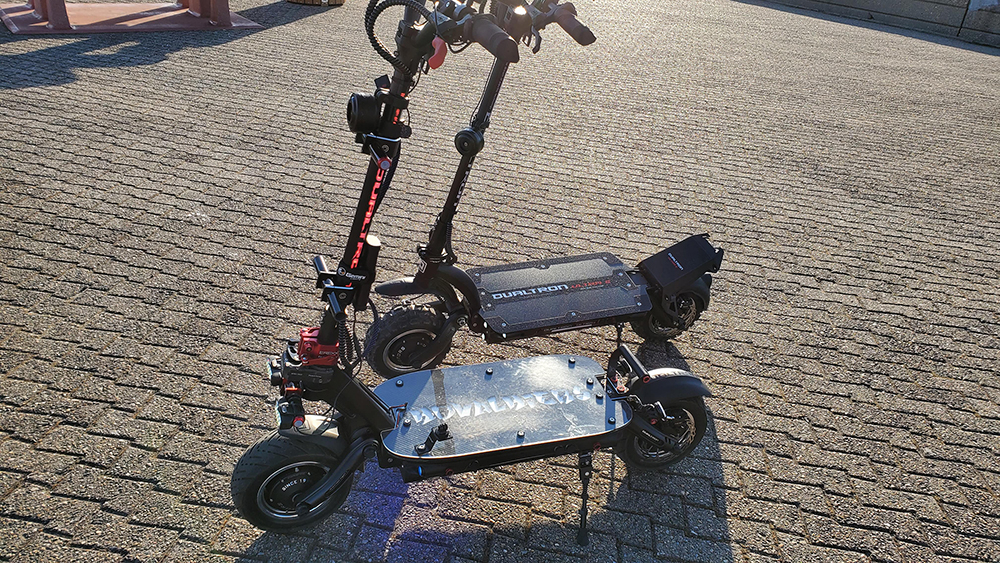 Motor: MAX 5,400 watt BLDC dual hub motor
Battery: 60 volt – 35 Ah – 2,060Wh – LG 3500 cells
Charge time: 20 hours with standard charger, 10 hours with 2 standard chargers, 5.3 hours with the quick charger
Max mileage: 75 miles (mileage may vary depending on rider weight and road conditions)
Max Speed: 50 mph
Climbing Grade: 47% or 25 degrees depending on rider weight and state of charge
Braking System: Hydraulic brakes with ABS standard and 160mm disks
Max Load: 265 lbs
Scooter Weight: 95 lbs
Product Material: Frame and Handle are aviation grade 6082-T6 aluminum alloy, the shaft is SCM440 steel, and plastic covers