Electric Unicycles are Sweeping the Globe
They're fun, fast, compact, and don't take up much space
Electric unicycles are fundamentally simple, battery-powered devices. To simplify, there's a motor, battery, shell, motherboard, pedals, trolley handle, wiring, and tire. To accelerate, you place your feet on the pedals and lean forward. To break, lean back. Isn't it simple? They're a lot of fun! They're quick, compact, lightweight, and packed with extreme high-speed power! Check out the EUC Models Explained and EUC Buyers Tips and Tricks for more informative guides.
Benefits of Electric Unicycles:
It feels like floating and flying!
Speed: Electric unicycles are fast. Some can reach 20–55 MPH!
Weight: Electric unicycles are lightweight, and they can weigh between 20 and 100 lbs.
Portability: Electric unicycles are so small that you can store them indoors without worrying about them being stolen.
Comfort: Electric unicycles are enjoyable, as riding one feels like you're flying above the ground.
Affordable: Electric unicycles are simple to ride once you learn how to balance your feet and weight on one. Unicycles are inexpensive, with more expensive models costing $4,000 or more.
Ownership: Electric unicycles are low-maintenance. All you need to do is pump your tires and change them once in a while.
Popularity: Electric unicycles are life-changing and taking over the world! They're becoming more popular than e-bikes and E-scooters
Best Electric Unicycles for Beginners, Advanced, and Expert Riders:
Beginners: 10-20 MPH Electric Unicycles • Advanced: 30 MPH Electric Unicycles • Expert: +40 MPH Electric Unicycles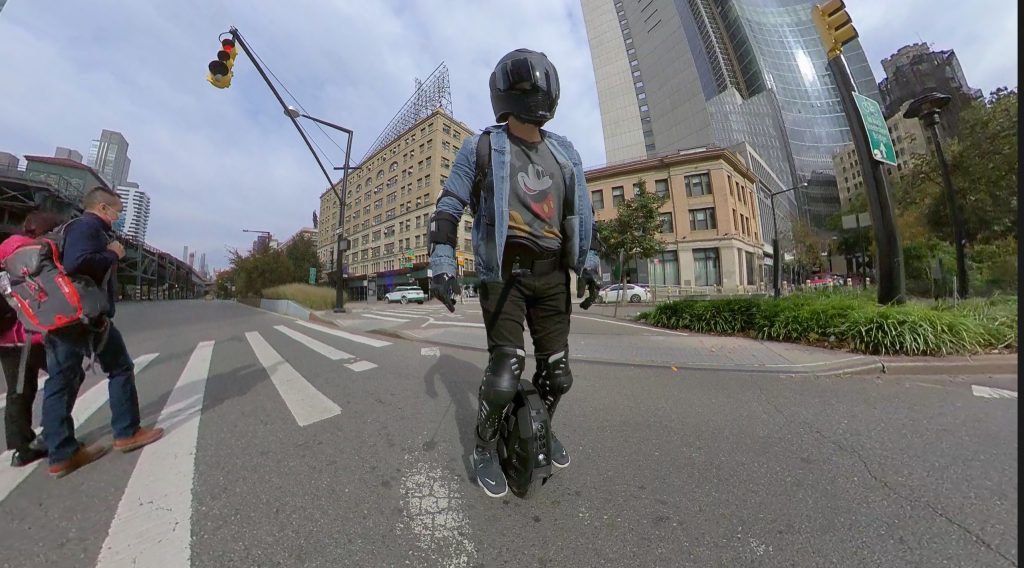 Best Electric Unicycles by Make, Model, and Price
🔌 Electric Unicycle Specs are updated weekly.
Please let us know if any of the specs are off. Good luck with your search! You're going to have a blast on your new wheel! Contact info@vroomin.com for any help selecting a wheel!
Rider note: there have been issues with defects with Electric Unicycles. Check out this tracker for more information.
💪 Hello everyone! We hope you find this material beneficial! Please support our site by clicking on our affiliate links; it costs you nothing and allows us to keep the site up to date with fresh information, graphics, videos, and web development. We appreciate your help, and please ride safely!
Electric Unicycle News & Deals
Most Popular Electric Unicycles for 2023
The price of an electric unicycle is determined by its power, range, speed, design, battery pack, outer shell, and added features. The following EUCs are extremely powerful and should only be used by adults. To begin, new riders should get a lower-powered beginner wheel. More advanced and powerful wheels will be easier to control as your balance, foot muscles, and coordination improve. Ride safely, and it's recommended that you wear a helmet while having fun!
Are Electric Unicycles Superior to Electric Bikes and Electric Scooters?
Half the team at VROOOMIN.COM think so! There are several reasons why an electric unicycle is preferred over an e-bike or electric scooter for commuting. If you ask us, we'll tell you it's because it's more enjoyable! Electric unicycles are popular because they are lightweight, small, powerful, long-range, and can be easily kept indoors or at the workplace.
While we have covered and still have a soft spot for e-scooters and e-bikes, the unicycles are winning us! The electric unicycle, unlike e-bikes and e-scooters, requires extremely little maintenance. To keep an electric unicycle in good working order, pump its tires and make sure it's charged.
Electric unicycles come in various sizes, forms, drivetrains, and pricing; make sure you start with the proper model because these one-wheeled, lithium-powered machines may be costly. They are the most acceptable commuting alternative and are well worth the money!
One Wheel Electric Unicycle
Electric unicycles are among the most enjoyable, light, powerful, and portable. Electric unicycles, also called EUCs or Unis, are taking over the market for personal electric vehicles. They have gone from being a niche market to one of the most popular personal mobility devices.
Electric unicycles are directed by leaning and twisting your body and feet and are controlled by leaning forward or backward. A self-balancing gyroscope and an accelerometer control the electric unicycle's speed and stopping.
BEST 2023 EUCs by Category – Editors Pick
Electric Unicycles come in various sizes, battery configurations, performance specs, and premium features. Check out the best Electric Unicycles for beginner, advanced, and extreme riders.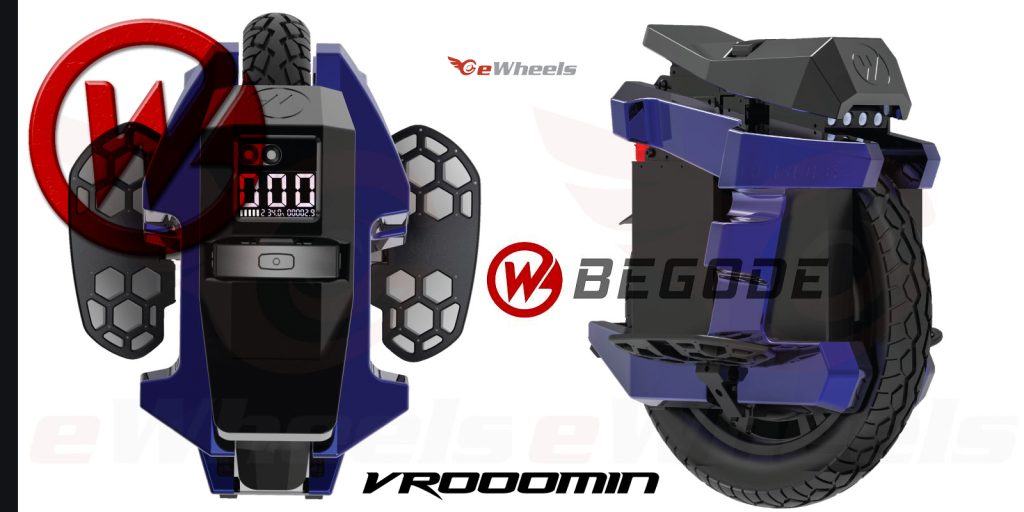 Database Updates:
Updated Molicel wheels by eWheels (4/19/2022)
Added Inmotion V12HT (4/4/2022)
Added Begode Master (3/22/2022)
Best Beginner Electric Unicycles (+20 MPH):
Best Advanced Electric Unicycles (+30 MPH):
Best Extreme Performance Electric Unicycles (+40 MPH):
Best Electric Unicycles by Price, Top Speed, and Range
2022 New Electric Unicycle Wheels – Updated April 19, 2022
2022 will be an exciting year for electric unicycles, with extreme performance wheels especially. Begode, one of the industry's oldest EUC businesses, has been producing new high-torque and suspension wheels at a breakneck pace. Below are some of the most recent and eagerly anticipated performance wheels:

Do you want power, speed, and acceleration? Come get some.
People fail to understand that when push comes to shove, it's all about thrust, baby. While everyone is obsessed with high speeds, the off-the-line acceleration captures our hearts and eyes; Inmotion understands this and launches the Inmotion V12HT. Inmotion has upped the ante further by equipping the V12HT with a beefier 2.8KW motor, high-capacity durable MOSFETs, a wider rim, and all the high-quality construction materials, features, and software that Inmotion is renowned for.
Let's face it, quality and performance are crucial, and just as you wouldn't want to wear a cheap watch or pair of shoes, why should an electric unicycle be any different? Inmotion is supplying it with the performance that enables riders to climb 45-degree slopes effortlessly. Do you want muscle, speed, and quality? With the 37 MPH V12HT, you can have it all and more.
Model: Inmotion V12HT Electric Unicycle
Wheel Type: Advanced Riders
Price: $2,499
Power

: 2.8KW

Top Speed: 37 MPH
Range: 70 Miles
Battery: 100.8V, 1,750Wh
Weight: 64 lbs
Features: Color touchscreen display, Bluetooth speaker, atmospheric LED lighting
The S22 has received the most attention as one of the best electric unicycles available. Its robust suspension, exoskeleton shell design, fully integrated amenities, and seductive raw appearance make it one of the most sought-after wheels in 2022. The reviews have been mostly positive, thanks to a slew of YouTubers releasing video after video of the S22. Most riders want a high-quality machine with a top speed of 40 mph and a reasonable range that isn't too hefty to carry anywhere. Whoever was in charge of the s22's design and marketing deserves a round of praise; the s22 is a well-made machine and one of the most sought-after.
Model: King Song Electric Unicycle
Wheel Type: Expert Riders
Price: $3,200
Max Speed: 43 MPH
Battery: 126V 2220wh, Smart BMS
Motor: 3300W
Suspension: 130mm suspension -75mm spring travel
Display: Integrated Display
Features: Spiked Pedals, Custom Power Pads, Replaceable Bumper, Integrated Kickstand
Lighting: Rear Turn Signals
The Master, which uses a large 134V 2400WH battery and a C38 High Torque motor, will go head-to-head with the King Song S22. The Begode Master EUC is expected to arrive in the United States in July.
Undoubtedly, the Begode Master is one of the most anticipated high-performance electric unicycles for 2023. Everything about it, from its 134V powertrain to its peak speed of more than 50 mph and a slew of extras like cushioning, pedals, lights, and suspension, makes it a viable competitor in the category of "fastest wheels on the globe." While Begode has had some troubles with quality control and battery fires, manufacturers have been aware of the most common problems. Here's hoping it's enough to demonstrate a flawless wheel.
Each stage of the process, from the battery pack to the third-party inspection, stress testing, and preproduction evaluation, has been meticulously planned and executed to ensure that this 50-mph wheel is durable and reliable and maybe put an end to the debate over who has the best damn wheel on the market.
Even though the master is not as polished or well-marketed as its rivals, Begode hopes to seize the limelight and reclaim the trust of riders seeking the most significant distance and speed possible. The issue now is which is more critical: increased range or speed?
Pricing: The Begode Master is expected to cost $3,250 for either battery option, plus $500 to secure your spot in line.
Battery

: Two LiTech battery pack choices include: High Range Samsung 50E (10A, 2400WH) or High Power Samsung 40T (35A, 1920WH) capacity

LiTech Battery Pack: Max voltage of 134.4V/102.4V nominal, in a 32s4p
Max Voltage: 134.4V/102.4V nominal (32s4p)
Tires: 18×3″ knobby tire
Suspension: 80mm/3.15″ of travel, the shock has a reverse chamber for a rebound
Pedals: Die-cast 13.1″ XL
Shipping: The Master's first shipment will be in May, with arrival in US ports in June/July.
🚀 OPTION 1: High-power Samsung 40T 21700 cells
35A output, 1,920Wh capacity
Less risk of overheating in sustained output, less risk of low-voltage brownouts
Superior hill climb
Faster charging
Improved cycle life
Controller to regulate the max speed under low battery conditions
🚀 OPTION 2: High-range Samsung 50E 21700 cells
10A output, 2,400Wh capacity
Longer range & capacity for long distance
Controller to regulate the max speed under low battery conditions
Begode has released another set of suspension wheels, this time with a 100V pack, 20″ wheels, and a C38 High Torque Motor; this one may even compete with Begodes/Extreme Bull's previous extreme performance wheels. The Begode EX2S EUC is expected to arrive in the United States in April or March.
The XMEN is another Begode performance wheel with a metal frame and 100V, 1800WH, HS C30, and HT C38 motor options. As a bonus, the wheel comes with spiked pedals and performance pads. There is no news on who will carry the Extreme Bull XMEN or when they will arrive in North America.
Although there isn't much information available, riders should expect another Inmotion extreme performance wheel. Inmotion would not budge for any information or specifications. The V13 has the potential to compete with the most potent EUCs from King Song, Veterans, and Begodes.
The RS variant has been updated to include a 116V LiFePo4 battery pack and a C38 High Torque motor in reaction to the wheel fires concerning Begode's build quality.
How many miles can you expect per battery charge?
Riders may expect at least 50-60% of the quoted range per battery charge on most electric unicycles. Riders traveling at lesser speeds than top speeds can approach the promised range. Temperature, hill climbs, and net weight all have an impact on range. Most range claims are based on 160-pound riders riding at low speeds.
The expected range will be lowered by high-speed, steep hill climbs.
It's best to have more range than your average commute when looking for commuter models
It's better to have more if you forget to charge your battery pack.
How Heavy are Electric Unicycles?
Each electric unicycle has its components and features and is designed for specific applications. Beginner 20 MPH electric unicycles weigh between 15 and 35 pounds, advanced 30 MPH models weigh between 40 and 60 pounds, and extreme performance 40 MPH versions weigh between 60 and 100 pounds. Heavier vehicles have more extended range, higher torque motors, and higher top speed. At least one model from each category is standard among enthusiasts!
20 MPH EUC's are lightweight and perfect for last mile solutions (train stops, groceries, work, etc)
30 MPH EUC's are powerful, light, and great for commuting (train stops, groceries, work, etc)
+40 MPH EUC's are heavy, powerful, long-range, and great for extreme performance riders (heavy, not the best for commuting)
How much is an Electric Unicycle?
Electric unicycles are a fun, portable, and pricey mode of transportation; new electric unicycles can cost anywhere from $500 to over $4,000. The price of each unicycle is determined by essential features such as the motor, top speed, battery quality, extra features, and brand reputation.
The more expensive a unit is, the better the brand's reputation, build quality, and features are. The cost of a wheel is directly proportional to its weight; the heavier the wheel, the larger the battery, and the longer the range, the higher the price.
EUC's are priced by performance, reputation, and build quality
Heavier wheels tend to cost more, owing to larger batteries and more extended range
Beginner models range from $500 – $1,400
Advanced models range from $1,500 – $2,100
Extreme models range from $2,200 – $5,000
What does EUC mean?
EUC is a short acronym for "Electric Unicycle." Newer riders in the community often call electric unicycles by other terms such as monowheel, one-wheel scooter, motorized unicycle, electric wheel, one-wheel electric scooter, electric one-wheel, single-wheel scooter, single-wheel scooter, and more.
All of these terms refer to the same type of electric unicycles. Riders in the EUC community also refer to their wheels as unis for short.
Are Electric Unicycles safe?
It's best to enjoy and operate it while wearing personal protection equipment, much like any other electric vehicle, such as electric scooters and electric bicycles. In the event of a fall, wear protective gear such as a full-face helmet, gloves, knee pads, and wrist guards.
While electric unicycle technology is still in its infancy, most models are safe to own and ride. Please verify with your local dealer and study the EUC faults section below for product recalls and component malfunctions.
Benefits of Riding Electric Unicycles
Powerful: New models can reach up to 50 miles per hour.
Long-range: Premium models can travel more than 100 miles on a single charge.
Lightweight: Electric unicycles are small, light, and easy to transport.
Portability: It is simple to transport and carry on buses, trains, and other modes of public transportation.
Silent: Does not produce noise pollution
Cost savings: Beginner EUCs can save money on gas and public transportation.
Fun: Riding a EUC is far more exciting than sitting in traffic or waiting for a bus.
What is the Best Electric Unicycle?
For each rider and situation, the optimal electric unicycle will be different. Some riders prefer light starting models that reach 20 mph, others like 30 mph wheels with a more extended range, and the brave prefer +40 mph wheels with a range of over 100 miles!
The higher the cost and experience required to buy and run a more significant and faster wheel, the higher the cost and experience required.
Beginner 20 MPH Electric Unicycles: Beginner wheels are popular because they are easy to learn, have short commutes, and are affordable. 20 MPH wheels typically weigh 20-30 pounds, have a top speed of 20 MPH, and cost $500-$1,500.
Advanced 30 MPH Electric Unicycles: Advanced wheels are in the center of the EUC range, with a top speed of 30 MPH, a chassis weight of 30-60 lbs, and a range of 30 to 60 miles. Advanced EUCs might cost up to $2,500, but they are well worth having.
Extreme +40 MPH Electric Unicycles: Extreme performance models are the most expensive and for a good reason. They are the most fun, heaviest, and fastest of the groupings. Extreme variants include a 60-pound chassis, a top speed of +40 miles per hour, and a range of more than 100 miles!
These extreme-performance electric unicycles are not for the faint of heart and can travel great distances at rapid speeds.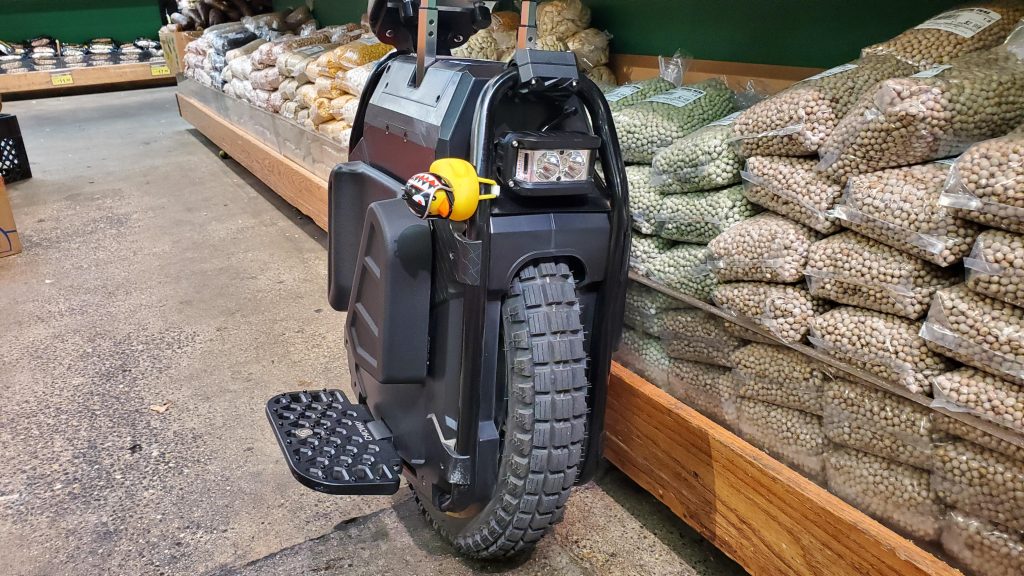 eWheels Electric Unicycle Riding Hack
How Hard is it to Ride an Electric Unicycle?
Easy to ride but challenging to learn
It's much easier to master the electric unicycle than you may imagine; once you get the feel of it, it's relatively straightforward. We've seen EUC riders range from 10 years old to 60 (age isn't a factor). No unique physical abilities or athleticism is required, and it's much like acquiring a new skill in that you can learn, grow, and improve with consistent practice.
It's like learning to ride a bike for the first time; it's challenging at first, but once you get the hang of it, it's a lot of fun.
How Long Will It Take To Learn?
Take it easy
Everyone progresses at their own pace when learning to ride. Some riders can mount and balance in hours, while others require several days. The goal is strengthening your foot muscles, balance, and coordination to ride at maximum speed.
Learning to start, move, and safely flow with traffic could take weeks. As a result of the process, you should expect mild bruising on your feet, ankles, and calves. Please take your time, learn at your own pace, and proceed safely in each scenario. Try to relax and enjoy the experience; it will be one to remember.
What is the Best EUC Brand?
Begode (previously Gotway), King Song, Inmotion, and Leaperkim are the top players in the electric unicycle industry. Even though the EUC sport and market are still in their infancy, these significant players now produce the most excellent quality and volume of wheels available. Each company has had product quality difficulties, recalls, and even battery fires due to implementing new technology.
King Song Intelligence Co., LTD
King Song, founded in 2012, made power bank protection boards with their patented surface mount technology. With ten years of experience in the board industry, king song has used its knowledge to make electric scooters, electric unicycles, and bicycles, as well as other types of boards.
At the moment, King Song has 11 departments that deal with invention, manufacturing, and quality control. The main goal of King Songs is to give the world a safe and fun way to get around, cut down on urban congestion, and let riders enjoy the outdoors.
Guangzhou Veteran Intelligent Technology Ltd.
Leaperkim is a venture-backed technology company founded by a group of engineering partners. Leaperkim develops software and technology for self-balancing electric vehicles, such as electric unicycles. The Leaperkim team is focused on research, development, production, sales, service, and manufacturing.
Our organization is dedicated to developing more robust and safe electric unicycles and scooters. By strictly supervising manufacturing and maintaining quality control, we ensure that our customers receive high-quality, high-performance unicycles.

Inmotion Technologies co.,LTD
Inmotion, formed in 2012 and headquartered in Shenzhen, China, is dedicated to becoming the global leader in self-balancing technology to enhance the commuter experience. Our team members at Inmotion are passionate about researching, creating, testing, and promoting robots and sensor-controlled vehicles. The company's philosophy is to keep life dynamic, fascinating, and pleasurable.
Inmotion is committed to bringing electric scooters and unicycles to every home and revolutionizing short-distance mobility. Through continuous research, invention, and manufacture, Inmotion's primary goal is to build the most lightweight, ecologically friendly, and portable personal electric vehicles possible.
Dongguan Begode Intelligent TECHNOLOGIES CO.,LTD
Begode, founded in 2014, is a pioneer in researching and developing mainboard hardware, software, and brushless motors for personal electric vehicles. Begode's research and development department have the industry's most extensive library of electric unicycles.
Electric unicycles, skateboards, and scooters are all part of Begode's product line. Begode's primary goal is to supply commuters with the highest-quality and most efficient electric vehicles available.
Electric Unicycle defects, recalls, and malfunctions
Electric unicycles are a reasonably new invention that is usually safe to buy and ride. As the market has grown, product flaws, malfunctions, and even fires have occurred. Keep an eye on the electricunicycle.org live tracker for controller failures and battery fires.
Begode is credited with advancing EUC technology to its current state. While Begode has some of the best-performing models, it also has the highest rate of battery fires and controller failures.
The root causes of battery fires are unknown. However, they could be related to quality control, batteries, overuse, and other factors.
King Song and Inmotion are powerful brands; their models are catching up to Begode in performance and surpassing them in innovation and built quality.
Leaperkim is a newcomer to the industry, but its Sherman and Abrams wheels are among the best-performing and highest-quality.
Warranty: Major/Minor issues with materials, controllers, tires, rims, and other minor aspects have plagued all brands. In the event of a quality issue, your purchase warranty should cover it.
Research: Any problems, quality control difficulties, or model batches should be sent to your distributor since they are the most knowledgeable about their products.
Water Usage:

Riding in deep water or crashing your EUC can cause it to malfunction; therefore, please ride carefully. In most circumstances, light rain riding is acceptable.

Protective gear: While the EUC sport is enjoyable, there is a chance of injury. Please use caution when operating your equipment and wear PPE.
One of the first companies to offer Personal Electric Vehicles in North America, eWheels is noted for its lightning-fast service and quick response time. With the help of Jason and the eWheels team, major PEV manufacturers collaborate on creating and enhancing new products. eWheels sells electric unicycles, bicycles, and E-scooters. As part of their EUC roster, Begode (Gotway) is joined by Inmotion and Veteran Sherman.

Electric unicycles, bicycles, and scooters are for sale in North America. Among the brands they represent are Vsett, Segway, Gotway, Inmotion, and King Song.