Hi guys! VROOOMIN.COM uses affiliate links on some of the products we cover. Please support the channel and use our links if you find the content helpful! Contact us at info@vrooomin.com.
LATEST DEALS & NEWS
Portable Rocket Commuter Electric Scooter
Taking the bus to work? There's much funner ways to get where you need to go, and they involve personal electric vehicles. The VSETT 9+ is one of many, but many scooters don't come in a light weight, dual motor, high torque, and low price package like the VSETT 9+ does.
PROS:
POWERFUL: VSETT's entry level dual motor commuter electric scooter
BEGINNER FRIENDLY: 32 MPH top speed and 45 range is perfect for any inner city of suburban commute
AFFORDABLE: Starting at $1,625, great value and performance package for price
CONS:
Color: Only one color, would prefer to have a variety of option or a neutral black/grey color scheme.
Brakes: Mechanical brakes are a step up from drum brakes. I prefer hydraulic brakes, easier on the hands, but also more expensive and would raise price of the VSETT 9+.
Power: Some riders prefer even stronger scooters. While pricier, they're even more fun than 30 MPH electric scooters. I personally prefer 40 MPH scooters, but to each their own! Check out the Best 40 MPH Electric Scooters for more power, range, and torque.
The VSETT 9+ is a light weight, high torque, budget friendly, commuter electric scooter.
Is the VSETT 9+ electric scooter worth it?
If you want the most for your $1,600 of hard earned cash, the VSETT is a great value for money spent. The VSETT can go 32 MPH, has high torque, features mechanical brakes, can take you up to 45 miles around the block, and weights about 62 lbs in weight. The VSETT 9+ has all you need, right out of the box. For other scooters with similar performance, check out the BEST 30 MPH electric scooters.
Power – The VSETT 9's 1,300W dual motors will send you flying up hills without a problem. Riding with dual motors is much more exciting than single motor scooters.
Battery – 48V21AH LG cells provide plenty of power for inner city commutes. For more range, consider 60V scooters like the VSETT 10+.
Top Speed – 32 MPH top speed is perfect for keeping up with city traffic. Most riders average 15-25 MPH in the bike lane in city commutes.
Range – Expect around a 45 mile range with moderate cruising speeds (20 MPH). Faster speeds or steeper hills will reduce the battery charge.
Build Quality – Has good materials and build quality for price tag.
Ride Comfort – Decent deck space, comfort for price and size of scooter.
Price – Great price for dual motor performance and added features.
Weight – Good weight for performance package, not the lightest scooter.
Brakes – Decent mechanical brakes, good stopping power for price. Hydraulics would be a nice upgrade.
Features – The 9+ is loaded with added on features not found on any other scooter in its class: NFC security module, volt meter, button controls, front/rear turn signals.
Warranty – eWheels has some of the best warranty and customer service on the market.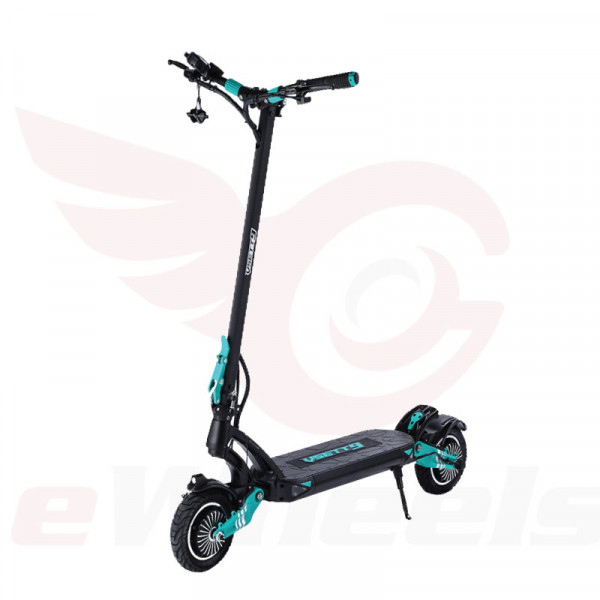 Dual motor power & up to 32 MPH top speed
Up to 45 miles of range, great for long commutes
61.7 LB weight & 265 LB max load for reliable and easy transport
Dual suspension for smooth riding
Dual mechanical calipers for easy braking and maintenance
Power – Dual Motor 1300W
Battery Pack –  48V/21.5AH LG 1,008WH
Top Speed – 32 MPH
Range – 45 Miles
Build Quality – Upgraded suspension, dashboard, folding bars, folding lock
Ride Comfort – Dual Suspension, Wide handlebars
Price – $1,625
Weight – 61.7 LB
Brakes – Mechanical Disc Brakes
Features
Warranty & Customer Service – eWheels
Summary
The VSETT 9+ may be the best value and performance dual motor electric scooter currently on the market. Most of the single motor and or dual motor scooters in its class are either under powered, or cost hundreds of dollars more when compared to the 9+. If you're a rider on a budget and don't have 2-3K to drop on an electric scooter, the VSETT 9+ will be the best bang for your buck, adrenaline dumping, electric scooter for your needs.

Pros: Great value for dual motor performance and added features. You can't beat the price and value. Most riders will upgrade to a VSETT 9+ from Segways or Gotrax's.

Cons: For some riders, 32 MPH top speed may not be enough power and want more. You could use the VSETT as a daily rider and a more powerful scooter for the weekends or joy rides. The 9+ is also on the heavier side. There are lighter scooters that can provide a 32 MPH top speed.

Often times, riders grow out of their commuter scooters and want more top speed. For riders who are traveling further distances at higher speed, check out the Best 30 MPH Electric Scooters, Best 40 MPH Electric Scooters, Best 50 MPH Electric Scooters, and Best 72V Electric Scooters. These scooters are more expensive and more fun, and worth every single penny!

NOTE: All scooters are rated amongst entry level to extreme performance scooters. Including +50 MPH scooters: Rion, Dualtron, Kaabo, Weped and more.

VSETT 9+ Electric Scooter Preview Video
Vrooomin's Favorite Electric Scooters 2021 by Speed
Vrooomin's Favorite Electric Scooters 2021 by Price
Vrooomin's Favorite Electric Scooters 2021 by Weight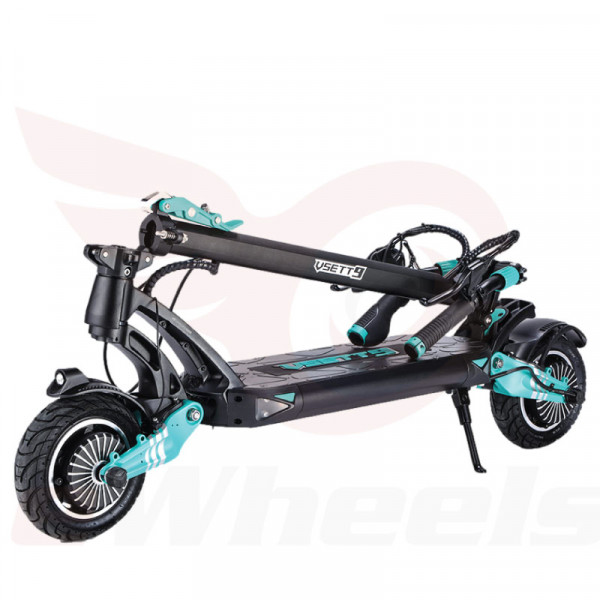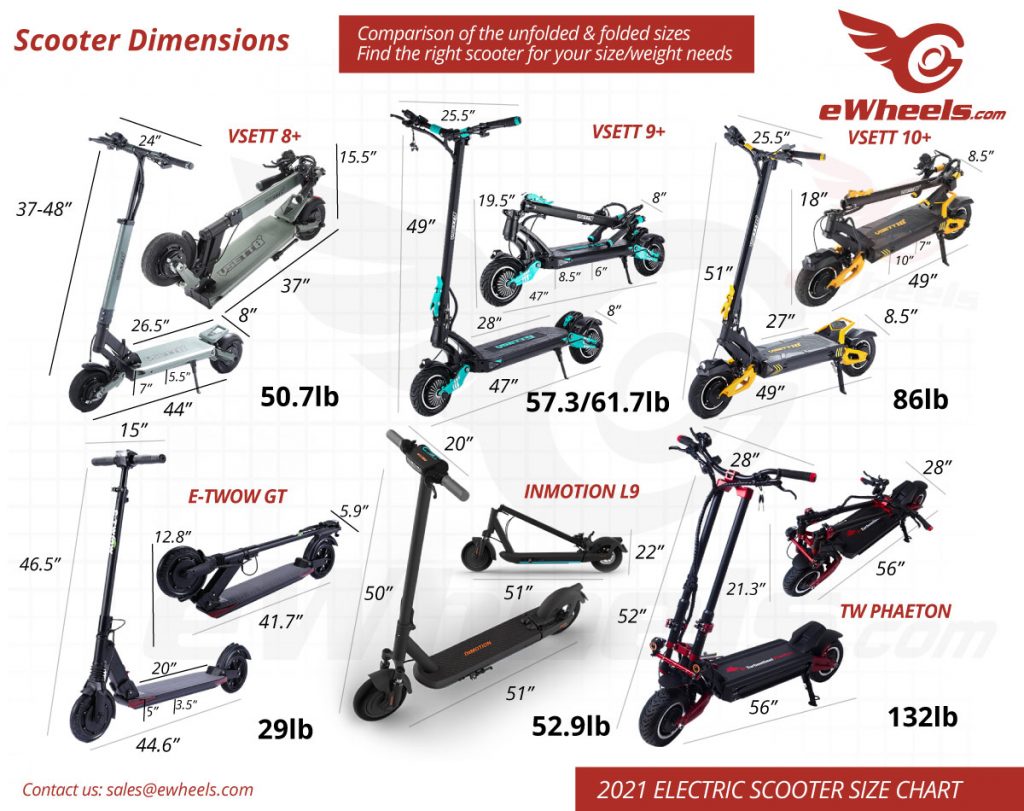 You May Also Like
Latest News:
International Electric Scooter and Unicycle Distributors:
Check out the Best Personal Electric Vehicle Dealers in Europe, Asia, and South America:
EMEA + APAC Dealers & Distributors: FASTRIDE, Volt Ride, Dualtron Russia, Dualtron Mega Store, SoloRueda, Dualtron Columbia, Kaabo Philippines, eWheels Thailand, Dualtron Greece, Dualtron Chile, MiniMotors Nordic, MiniMotors Korea, Dualtron Ukraine, iScoot Australia, WEPED Australia, WEPED Korea, Czech Republic: Eco Vehicle, Dualtron Turkey, Dualtron Serbia, EUC Sale, Dualtron Indonesia, New Zealand: eScoozi, UK: Ride + Glide
Vrooomin.com participates in affiliate linking programs to help keep the site going and content coming. We're also an Amazon Associate and earn from refferal commissions. Please use our links and support the channel!