Hi guys! VROOOMIN.COM uses affiliate links on some of the products we cover. Please support the channel and use our links if you find the content helpful! Contact us at info@vrooomin.com.
The Prince of Kaabo is back. Bigger, better, and bolder.
Voro Motors 2022 Kaabo Mantis Special Edition, 40 MPH Electric Scooter
Tired of riding your underpowered $500 electric scooter? Looking for a +40 MPH beast to rip the streets on the way to work or to run errands? Want a 2KW 60V torque monster to take you up steep hills without breaking a sweat? Voro Motors has the answer for you, the mighty 2022 Kaabo Mantis SE.
Summary
Voro Motors has updated the 2022 Mantis SE with new features

Upgraded headlights and turning signals

Upgraded Stem and headset for secure riding and folding
Features new 24AH battery for more range
Don't forget to check out Voro Motors new NYC location
Kaabo Mantis Special Edition Electric Scooter Review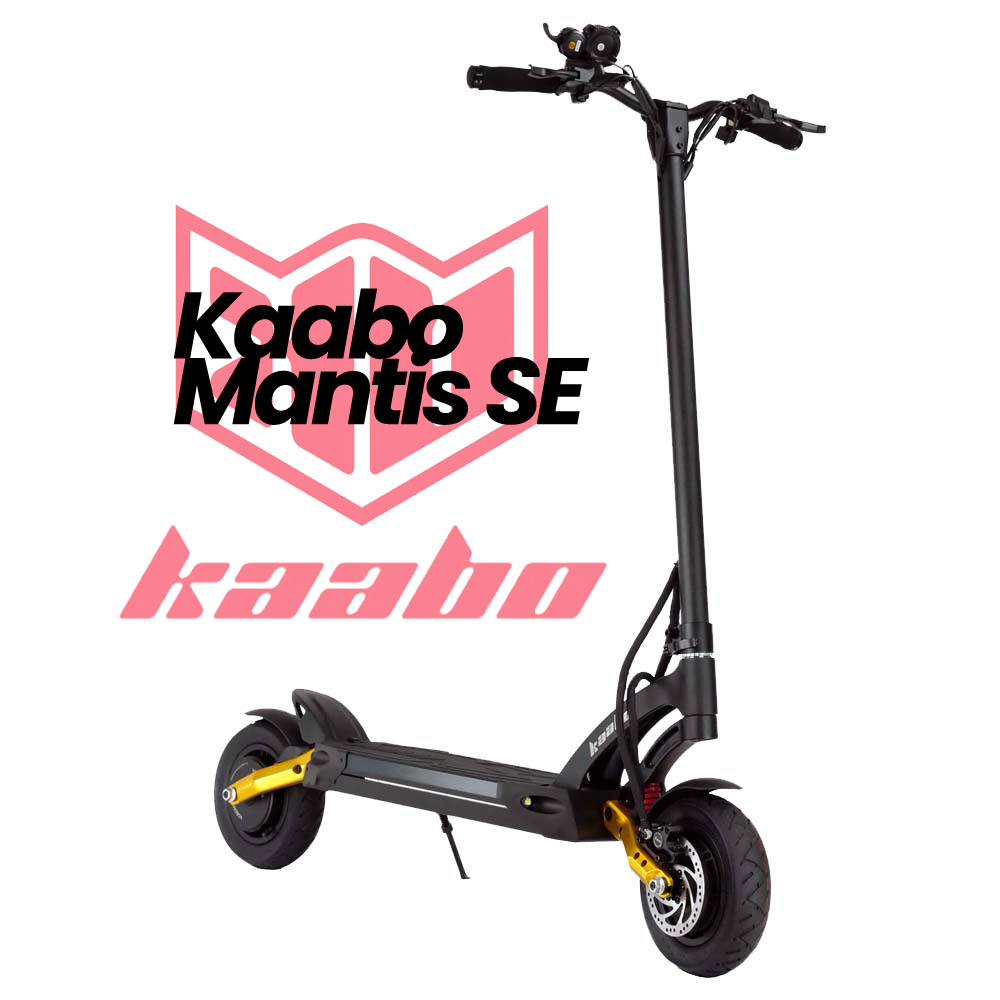 The Mantis SE is sleek, powerful, comfortable, and the best value 40 MPH Kaabo electric scooter to date. The Mantis is a thrill to ride and one more reason for you to get some fresh air and enjoy the bike pathways, parks, and adventures outdoors.
Power – 3,600W
Battery Pack –  60V 24Ah
Top Speed – 45 mph (72.4 km/h)
Range – 50 mi (80.4 km)
Build Quality
Ride Comfort
Price – Around $2,299
Weight – 65 lbs (29.5 kg)
Brakes – Zoom Hydraulic Brakes
Features – Headlights, turn signals, EYE Throttle
Warranty & Customer Service – Voro Motors
Summary
This Mantis was designed to take beginners riders to the next level, adding a little more spice to any city or suburban commute. Coming in at 65 lbs and brandishing 2KW motors, the +40 MPH Mantis is all the scooter you need to get to work, run errands, and enjoy life a little.

For similar electric scooter options, check out the Best 50MPH Electric Scooters, and Best 72V Electric Scooters.

The Special Edition Kaabo Mantis is loaded with performance features:
New 24AH larger battery for long range and more torque
Upgraded lighting (front, rear, side lights, turning signals) to be seen
Front & rear Air suspension for smooth riding on-road or off-road
Improved folding stem for wobble free riding
60V 27A controllers that allow high torque agility and hill climbing
MiniMotors controller and EYE display for comfortable handling and power customization
Full Hydraulic brakes, spring suspension, and 10×3 street tires for easy and fluid handling
The Mantis SE is a great option for the mid class, $2,000, 40MPH, range of electric scooters. Not too big, not too small, fast acceleration, the Mantis is a competitive option for riders who want speed with out sacrificing weight. With headlights, hydraulic brakes, headlights, and turn signals, the Mantis SE is complete outside of the box, no need for additional upgrades.
For similar models, checkout the 2022 Best 40MPH Electric Scooters and the Electric Scooter Database.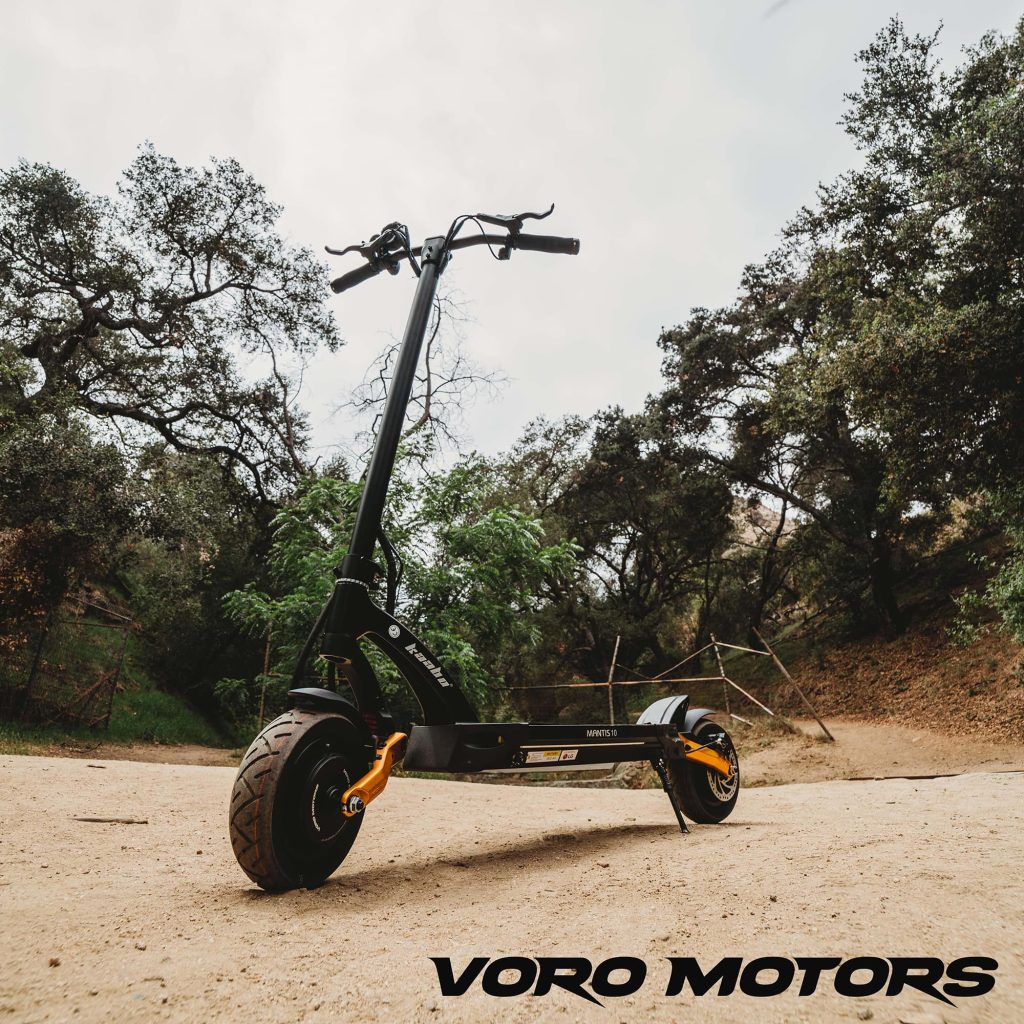 Top Speed – 45 mph (72.4 km/h)
Acceleration – 0-15 mph (2 sec)
Range 24Ah Battery – 50 mi (80.4 km)
Hill Climb Angle – 30 degrees
Max Load – 330 lbs (149.6 kg)
Weight – 65 lbs (29.5 kg)
Motor – (2) 1000W
Charge Time – 9-12 hrs
Battery – 60V 18.2Ah or 24Ah
Controller – (2) 60V 27A Sq Wave
Throttle – Finger Throttle
Display – EY3 Display
Tire Type – 10″ Inner Tube
Brakes – Zoom Hydraulic Brakes
Suspension – Air Shock
Water Rating – (2021) IPX4 | (2022) IPX5
Charging Port – GX16 3P
Headlights – 2022 model
Deck Lights – Yes
Brake Lights – Yes
Signal Lights – 2022 model
Dimensions Folded – 48" x 24" x 19"
Dimensions Upright – 47" x 24" x 48"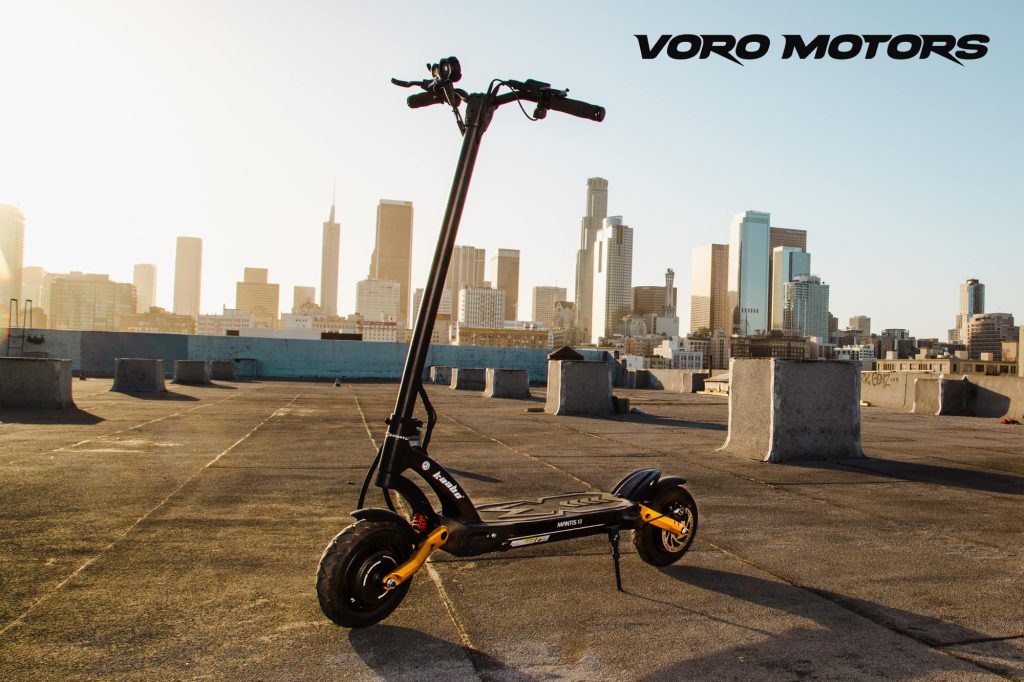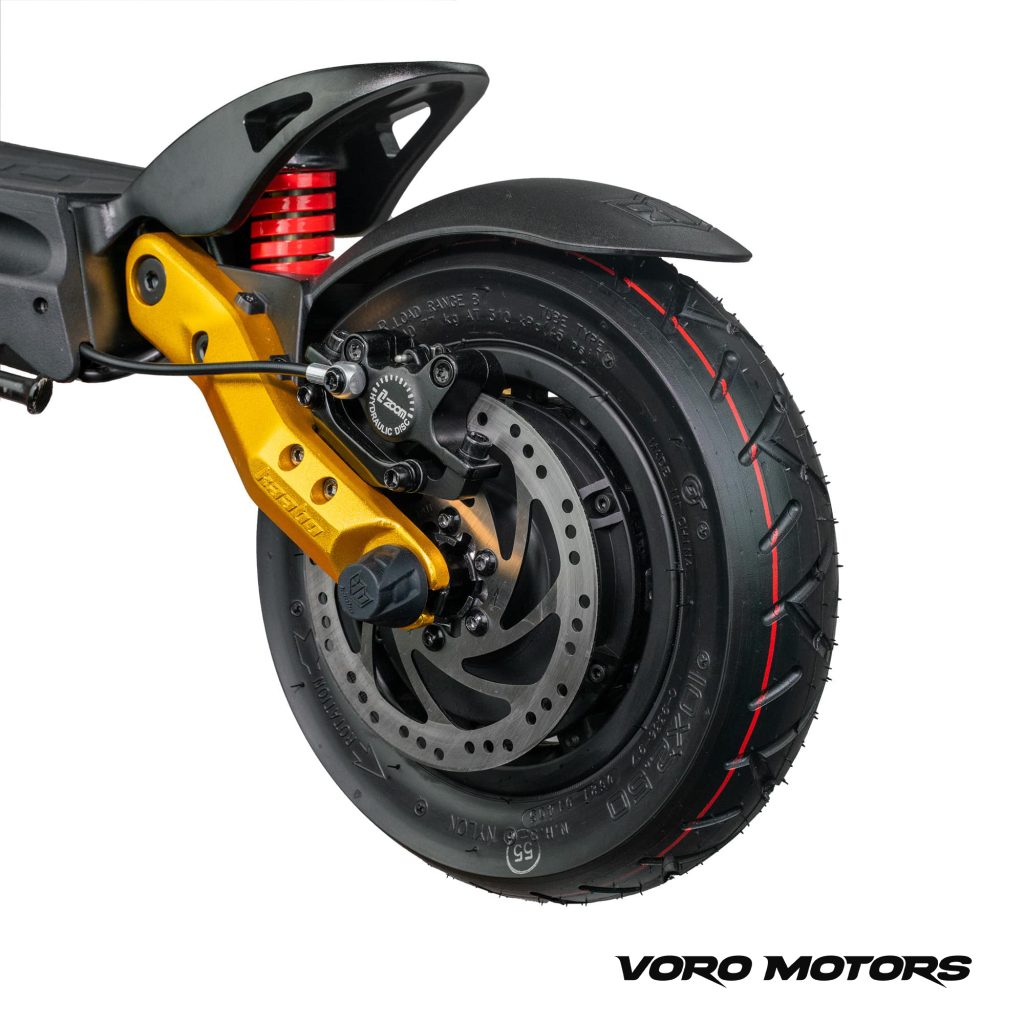 You May Also Like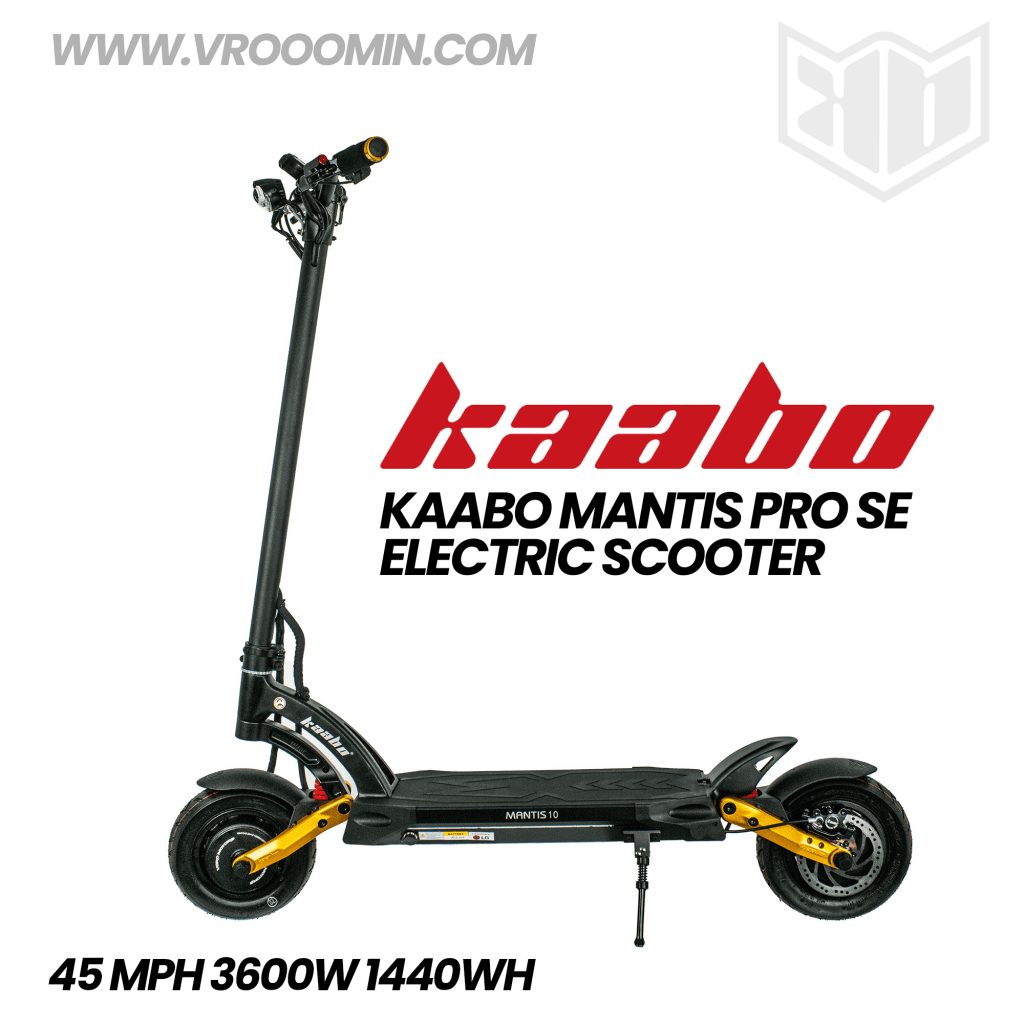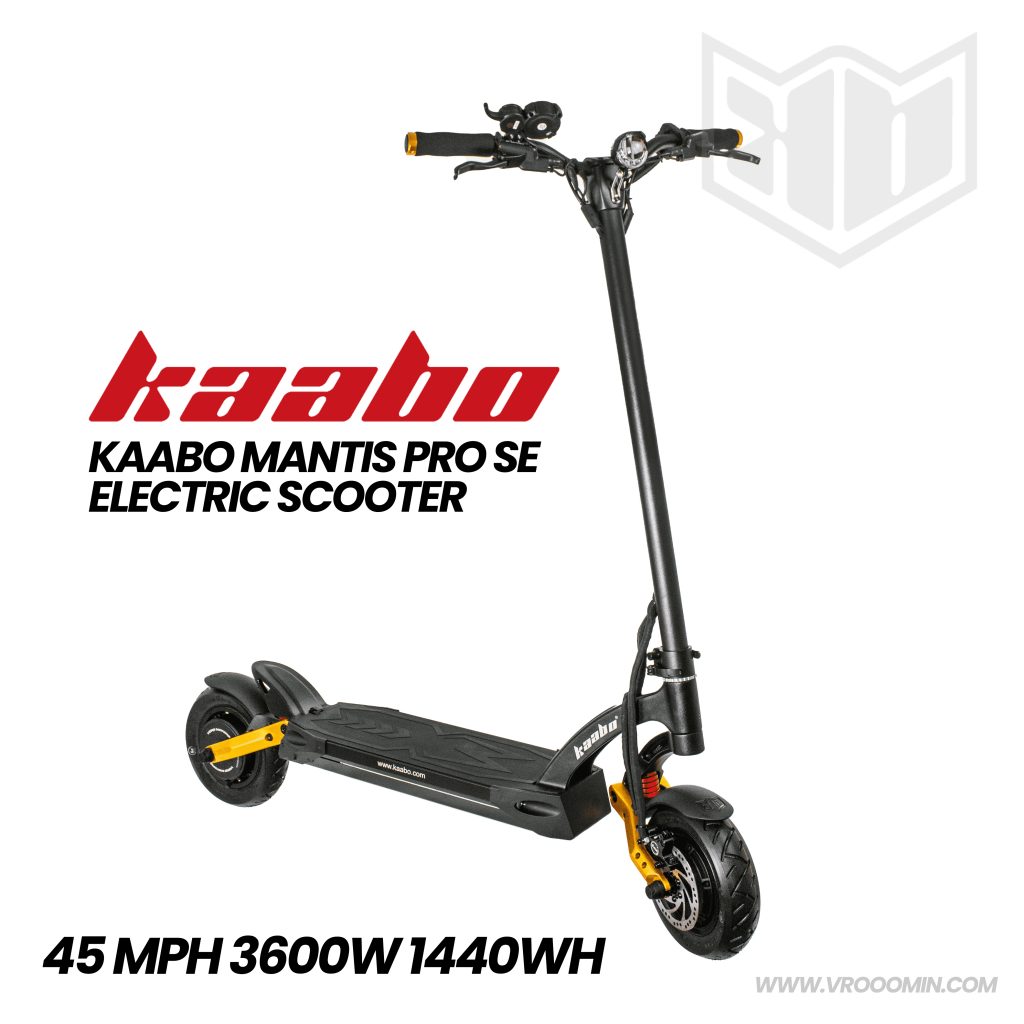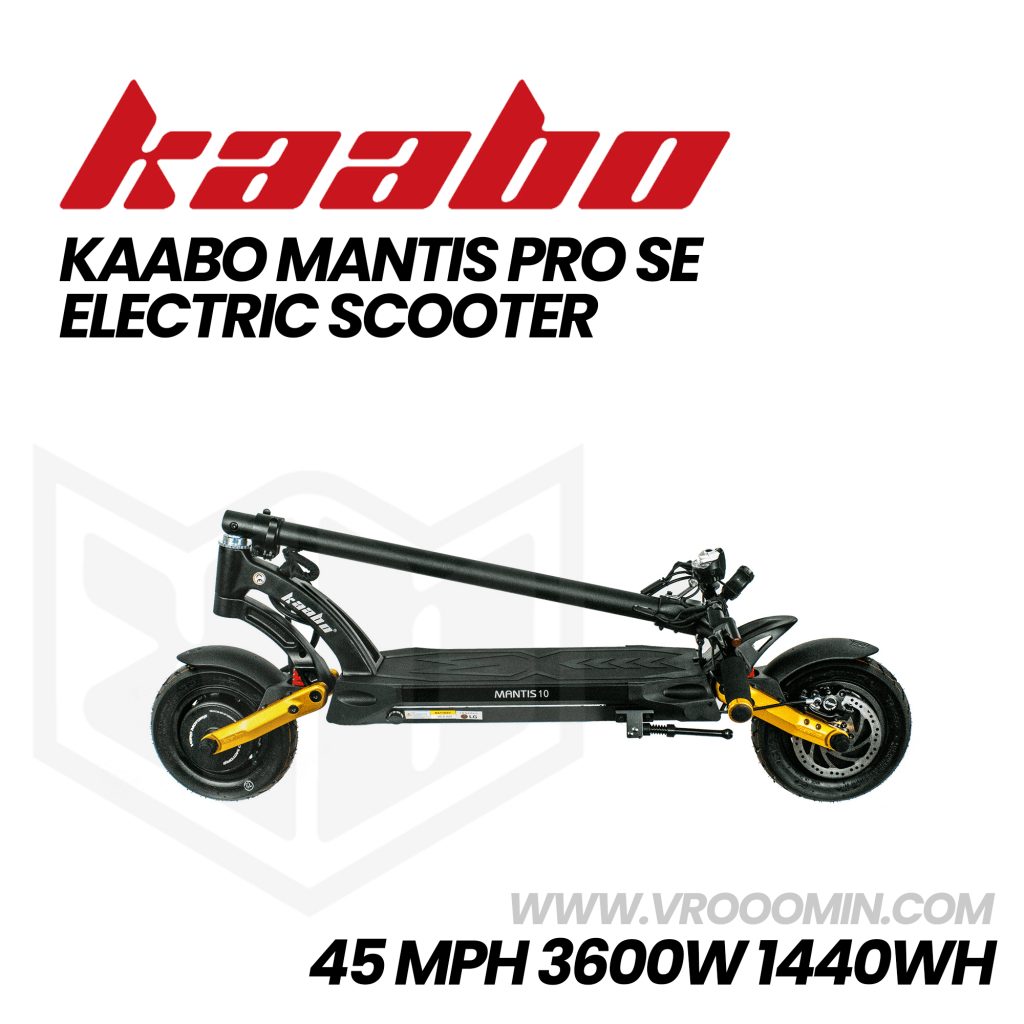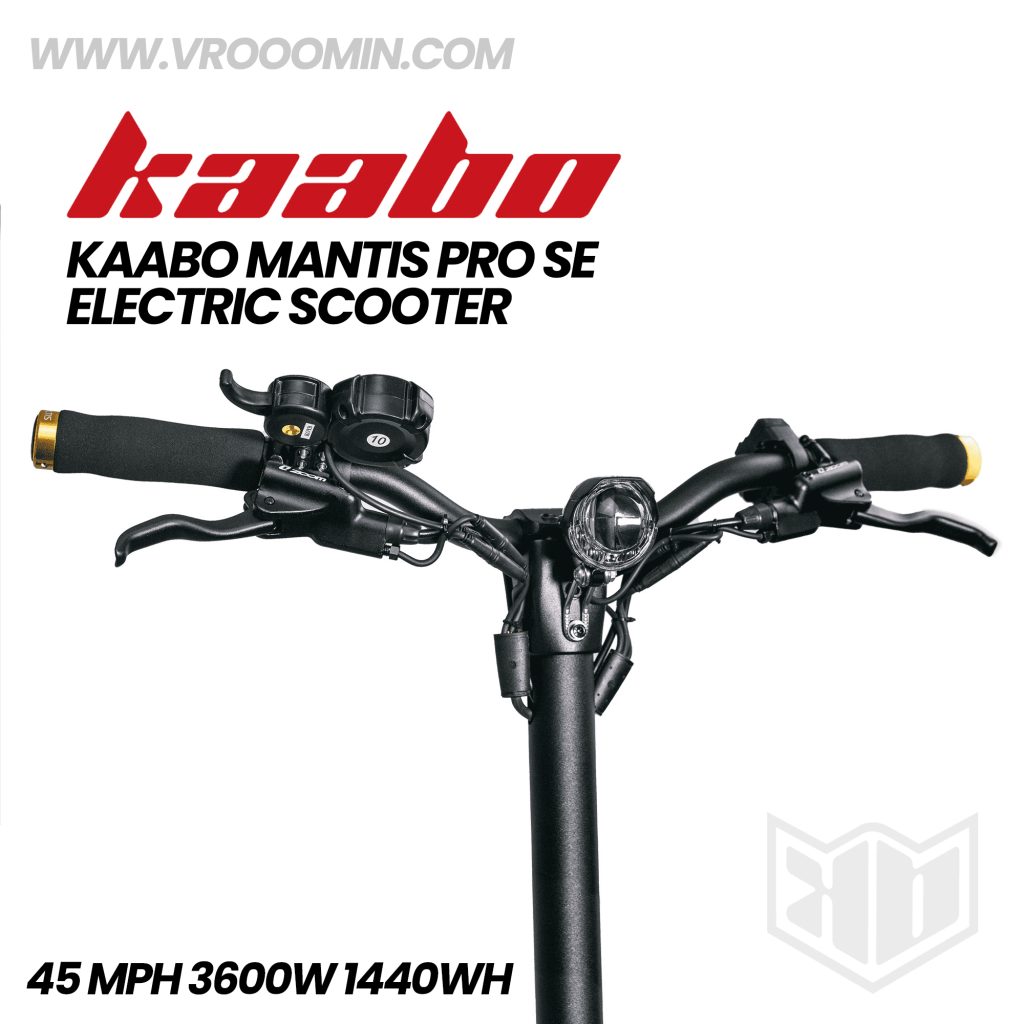 Latest News:
International Electric Scooter and Unicycle Distributors:
Check out the Best Personal Electric Vehicle Dealers in Europe, Asia, and South America:
EMEA + APAC Dealers & Distributors: FASTRIDE, Volt Ride, Dualtron Russia, Dualtron Mega Store, SoloRueda, Dualtron Columbia, Kaabo Philippines, eWheels Thailand, Dualtron Greece, Dualtron Chile, MiniMotors Nordic, MiniMotors Korea, Dualtron Ukraine, iScoot Australia, WEPED Australia, WEPED Korea, Czech Republic: Eco Vehicle, Dualtron Turkey, Dualtron Serbia, EUC Sale, Dualtron Indonesia, New Zealand: eScoozi, UK: Ride + Glide
Vrooomin.com participates in affiliate linking programs to help keep the site going and content coming. We're also an Amazon Associate and earn from refferal commissions. Please use our links and support the channel!