KEY POINTS:
The Turbowheel Phaeton is back for the 2021 riding season
The 132 lbs electric scooter can reach speeds past +60 MPH
The 2,520WH Battery pack can produce up to 80 mile range on single charge
Order now and receive a Free 84V Fast Charger and Steering Damper
The Phaeton starts at $3,999 + Free Shipping
Save 5% off Armor-Dilloz tire sealant with Coupon Code vrooomin05
Save $10 off Magicshine Lights with Coupon Code vrooomin10
Check out the Vrooomin Youtube Channel for Escooter & EUC Videos
The Phaeton Electric Scooter is Back
Theres two kinds of people in this world, people who love the Phaeton, and people who can't handle the Phaeton. Lucky for you (who we can assume both love and can handle the Phaeton), eWheels has brought this mythical beast back to the market. For a limited amount of time, you can get your hands on a Phaeton plus a 84V fast charger and steering damper for free!
For $3,999, thats a pretty solid deal for a 72V 60 MPH juggernaut of an electric scooter.
Turbowheel Phaeton Electric Scooter Review
Drivetrain
Not only is the Phaeton built like a tank, its the pinnacle of electric scooter technology and made for high speed riding. Under the stem and rear side arms, you can find the twin 11″ BLDC motors, capable of 6,480 watts in its max output. 6.4KW is a lot of current, so much so, these motors can take you up to speeds past 60 MPH.
While hitting tight turns would be challenging at 60 MPH, most riders enjoy the Phaeton between 15-45 MPH for cruising speeds.
Controllers & Battery Pack
Powering the Phaeton are 72V 45A controllers a 2,520WH Samsung 35E battery pack, thats a whole lot of current that can make any long commute much, much shorter.
Chassis
It's not for everybody, 132 lbs is a whole lot of scooter, not many people can handle the sheer size of the Phaeton, its a powerhouse. You won't be able to store this scooter in the trunk of your Toyota Corolla, and thats okay, this scooter wasn't made to. The Phaeton was designed for riders who value high torque, high-speed, performance, value, comfort, and stability.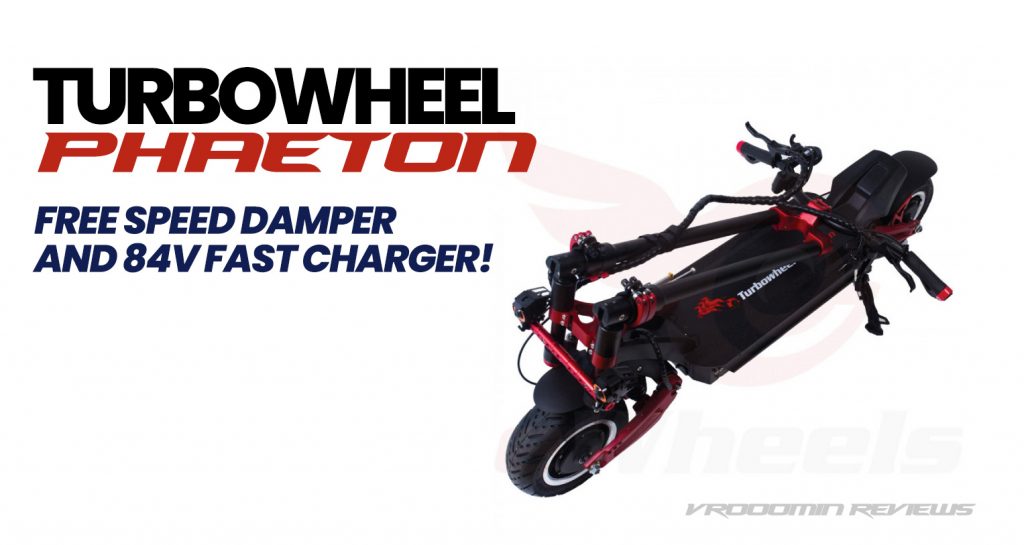 Get the Phaeton Electric Scooter
Free Speed damper and 72V Fast Charger
These Phaeton are in limited stock, check out eWheels and take advantage of this deal while you can.
Voro Motors opens preorders for Wolf King GT, +62 MPH Electric Scooter