The King of Off-Road Extreme Performance
Theres no doubt, the brand-new Wolf King GT is a beef cake of an electric scooter. Kaabo built this extreme performance scooter for riders itching to harness the sheer power of a 72V, 35AH, 50A speed demon.
SUMMARY
Fluid Free Ride has opened preorders for the Wolf King GT Electric Scooter
The Wolf King GT is Kaabo's strongest Electric Scooter on the market
6 Reasons to consider the Kaabo Wolf King GT
Save an extra $200 with Coupon Code: KINGGTINNOV200
6 reasons to consider the Wolf King GT Electric Scooter
1. Long Range and Raw Performance Electric Scooter
The GT is equipped with dual 2KW motors and twin 50A sine wave controllers, the King GT delivers raw torque and heart racing top speeds. While on road, the GT can deliver up to a 62 MPH top speed on full charge. It's huge 72V 35Ah battery can last for up to 90 miles on moderate cruising speeds, perfect for commuting to and from work.
2. On and Off Road Warrior
The Wolf Warrior lineage was built for power and comfort. The Wolf GT is no different and features motorcycle grade inverted hydraulic front shock absorbers and rear springs, enabling a smooth ride on any terrain.
3. Wolf King GT features Full Hydraulic Brakes
Safety comes first. The GT is equipped with Full hydraulic brakes and optional ABS to safely stop this scooter on a dime. Safe, reliable, and dependanble stopping power.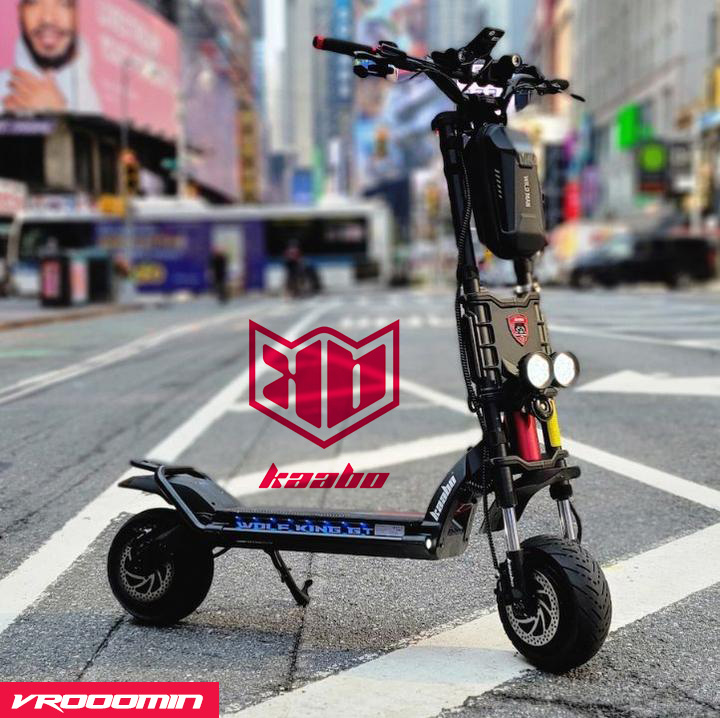 Safety is seeing and being seen. Powered by dual front and rear LEDs, front and rear turn signals, the GT ensures optimal visibility and rider intention.
5. Comfort Made for a King
The Wolf King GT features an upgraded cockpit with a thumb throttle and a centered 4.2″ TFT-display, showing you your speed, mileage, and more at a glance. The display is fully visible on bright and sunny days.
At 115 lbs, the King GT was not made for easy portability. The GT is a vehicle in its self and should be ridded by owners who understand the power, weight and size of the GT.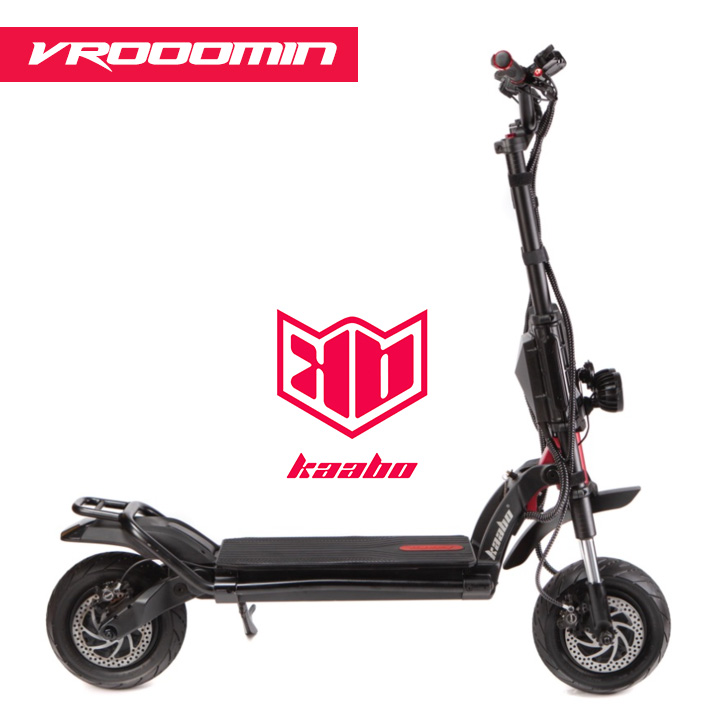 Top Speed: 62 mph (96.5 km/h)
Range: 70 mi (112 km)
Acceleration: 4.8 s (0-50 mph)
Hill Climb Angle: 50 degrees
Max Load: 330 lb (150 kg)
Item Weight: 115 lb (52 kg)
Motor: 2000 watt (2)
Controller: 50A sine wave controller (2)
Battery: 72V 35 Ah LG or Samsung battery
Charge Time: 7 hours
Throttle: Thumb throttle
Tire Type: Front and rear 11" tubeless street
Brakes: Front and rear hydraulic
Suspension:Front hydraulic shock and rear spring
Display: TFT display
Lights: LED headlight, deck headlights, deck sidelights, turn signals, brake light
Water Rating: Rated IPX5
Dimensions Folded: 61.1 x 29.5 x 18.5in
Dimensions Unfolded: 49.6 x 29.5 x 51.2in
Wolf King GT Electric Scooter Video
Vrooomin.com is ad free and participates in affiliate linking programs. We're also an Amazon Associate and earn from refferal commissions.