At long last, the Dualtron Victor Electric Scooter is now available to order
It wasn't too long ago that the electric scooter community was stunned by the unveiling of the Dualtron Victor by Dualtron Thailand. For months, perspective riders have been speculating on when this performance electric scooter would be available for purchase, until now.


SUMMARY
The Victor is the latest entry-level High Performance Dualtron Electric Scooter
Starting at $2,699
Dualtron Victor

is one of the strongest 10″ electric scooters on the market

MiniMotors took some of the best features of the Thunder/Storm and applied them to the Victor
First stock Dualtron to feature 10×3″ Touvt Tube Tires
First 10″ Dualtron to feature Zoom Hydraulic brakes
First Dualtron to feature LG 21700 cells
Top Speed is 50 MPH
The Dualtron Victor is starting at $2,699
Visit MiniMotors USA to learn more about the Victor
Save 5% off Armor-Dilloz tire sealant with Coupon Code vrooomin05
Save $10 off Magicshine Lights with Coupon Code vrooomin10
Check out the Vrooomin Youtube Channel for Escooter & EUC Videos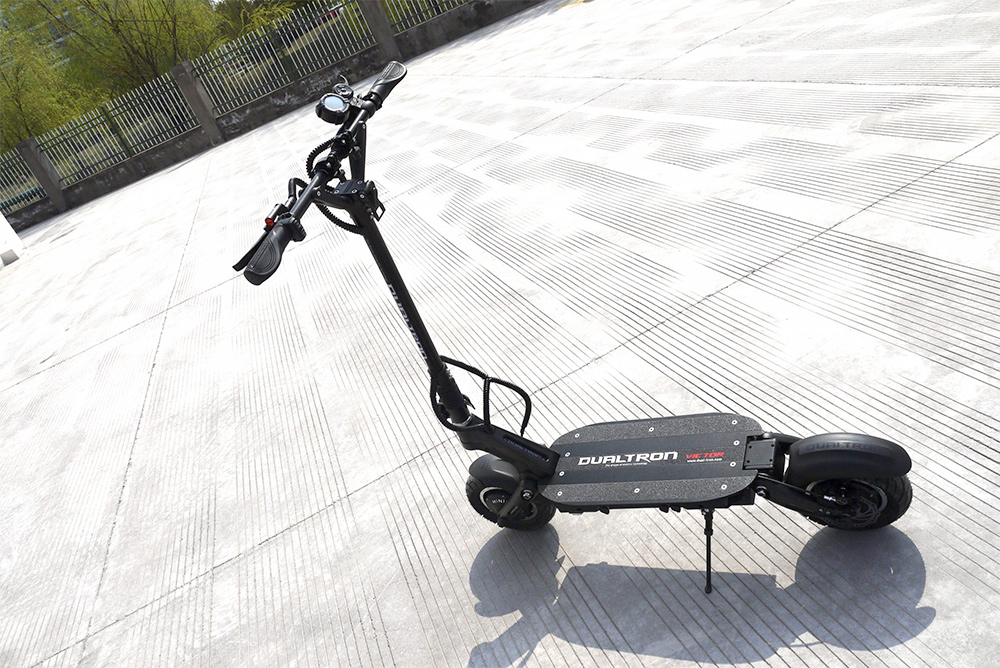 2021 Dualtron Victor Electric Scooter Review
Fast, Furious, & Lightweight
The Dualtron Victor is designed to be a powerful, compact, and price-friendly, high performance commuter electric scooter. This model is perfect for riders who want a powerful scooter thats not too heavy to carry, take up too much space for storage, and doesn't quite break the bank.
For its size and power, the Victor sits right between the Dualtron 3 and the Dualtron Thunder in the pecking order.
Dualtron Victor Review & Unboxing Video
Check out the latest review and unboxing video by Jeff Riide at Fast Ride France.
Not too big… not too small… just right!
The Victor is the answer for work commuters who want to avoid public transportation, traffic, and parking spaces. But just because you can take this scooter to the office, doesn't mean you can't unleash its max 30 amp controllers and 4KW motors on street corners or steep hills. The Victor can send you zipping to any destination in style with your heart thumping.
For veteran Dualtron riders, the Dualtron Victor can be described as an upgraded Dualtron 3 with an updated chassis, drivetrain, and braking system.
Need help finding the right Dualtron model? Check out the MiniMotors USA Dualtron Comparison Guide and Dualtron Finder Quiz. Both of these apps will help you find the right Dualtron model for your needs.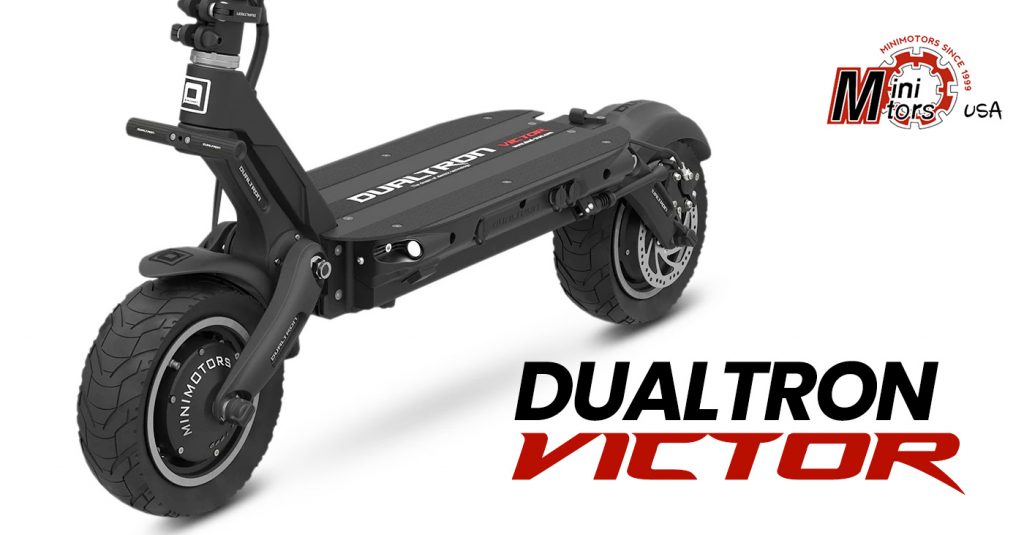 8 Reasons to Consider the Dualtron Victor:
The Dualtron Victor is designed for the performance commuter in mind. For anyone thats currently riding a single motor or an underpowered dual motor electric scooter, the Dualtron Victor would be a good option to upgrade to if you want the 4KW/50 MPH drivetrain.
50 MPH Top Speed, the Dualtron Victor is one of the fastest 10″ electric scooters on the market
LG 21700 cells, these 30AH battery packs have larger capacity and discharge than its predecessors
4KW Max Output will allow you to cruise between 20-45 MPH comfortably
30 Amp Controllers are a step above the 25-27 amp controllers of the past
Zoom Hydraulic Brakes for powerful stopping power above any mechanical disc brake
4th Generation Dualtron chassis with upgraded headset for ride and transporting stability
10×3 Touvt Tubed Tires for wider grip and easy tire changes
At 73 lbs, the Victor is light for a 4KW 50 MPH Electric Scooter, it won't break your back if you need to lift it
All at a price less then $3,000! You get more features for less money with the Dualtron Victor.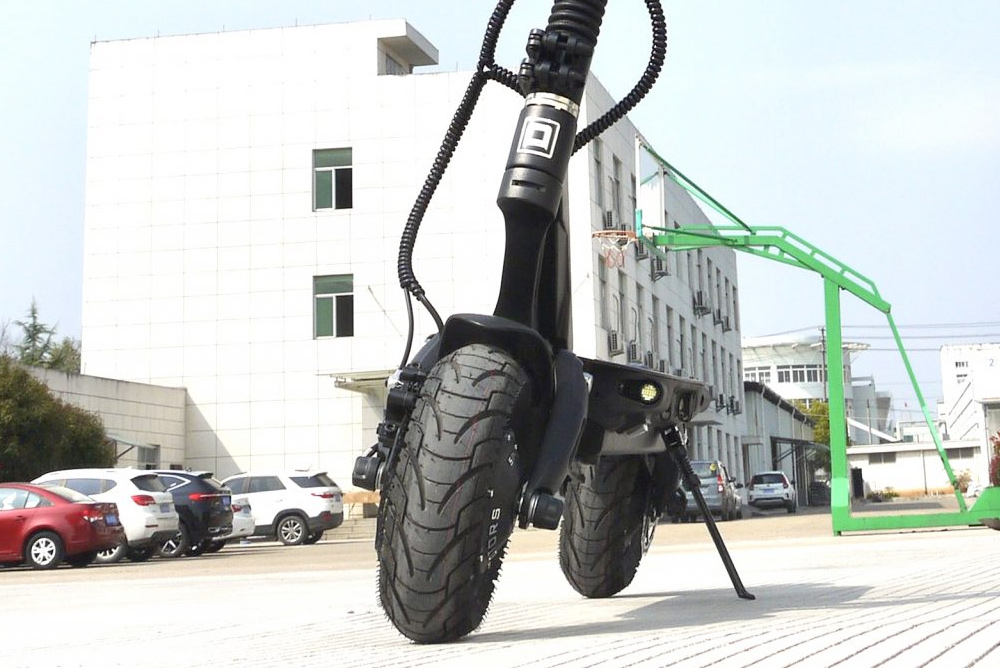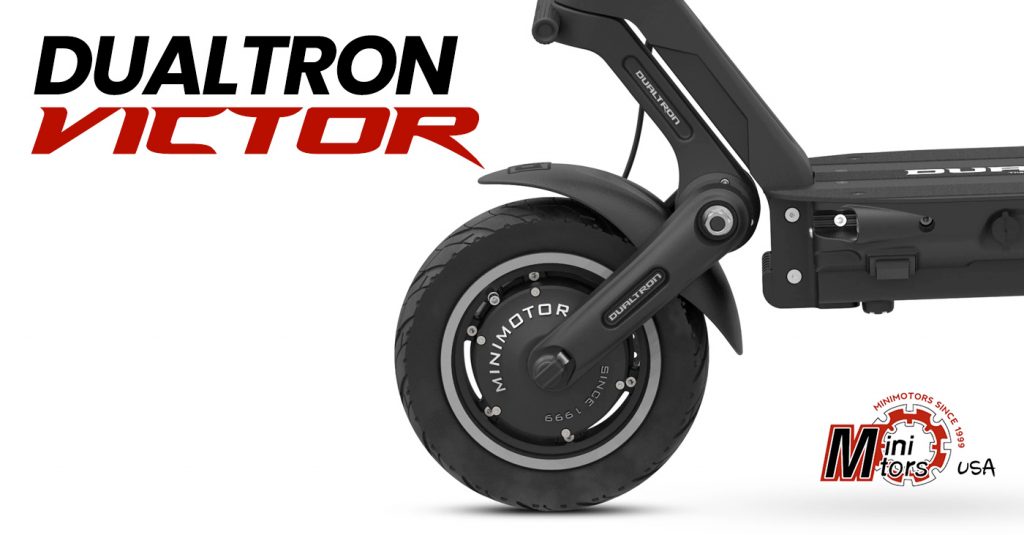 Motor Power: MAX 4,000 watt BLDC dual hub motors
Battery Pack Specs: 60 volt – 30 Ah – 1,800Wh – LG 5000 cells
Charge: 20 hours with standard charger, 10 hours with 2 standard chargers, 4.6 hours with the fast charger
Range: 62 miles
Top Speed: 50 mph
Climbing Grade: 43% or 23 degrees
Braking System: Front and Rear Zoom Hydraulic Disc Brake with ABS Standard
Max Load: 265 lbs
Scooter Weight: 73 lbs
Product Material: Frame and Handle are aviation grade 6082-T6 aluminum alloy, the shaft is SCM440 steel, and plastic covers
Are you Team Victor?
The 2021 riding season is heating up, let me know in the comment section below if you would consider the Dualtron Victor or any other electric scooter model.
Dualtron Victor Unboxing Video
Check out the Dualtron Victor Unboxing video by MiniMotors Philippines.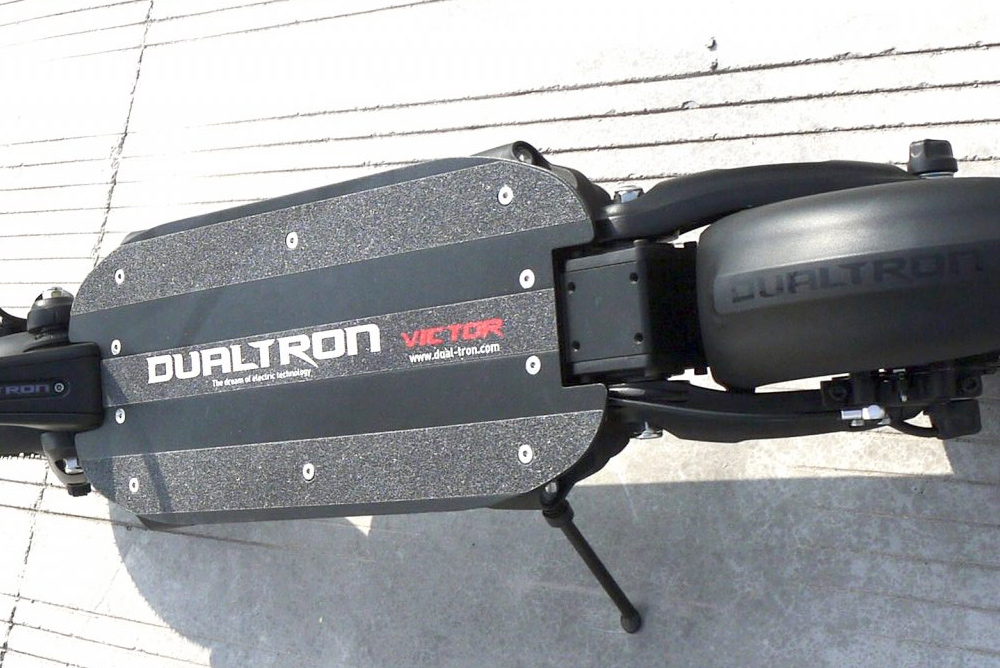 Dualtron Victor Modded by ScooterMania
Thai aftermarket vendor, ScooterMania, just released a whole line of Dualtron Victor after market upgrades. Please reach out to Scooter Mania for speed dampers, mud guards, brake caliper mounts, foot rests, and led decks.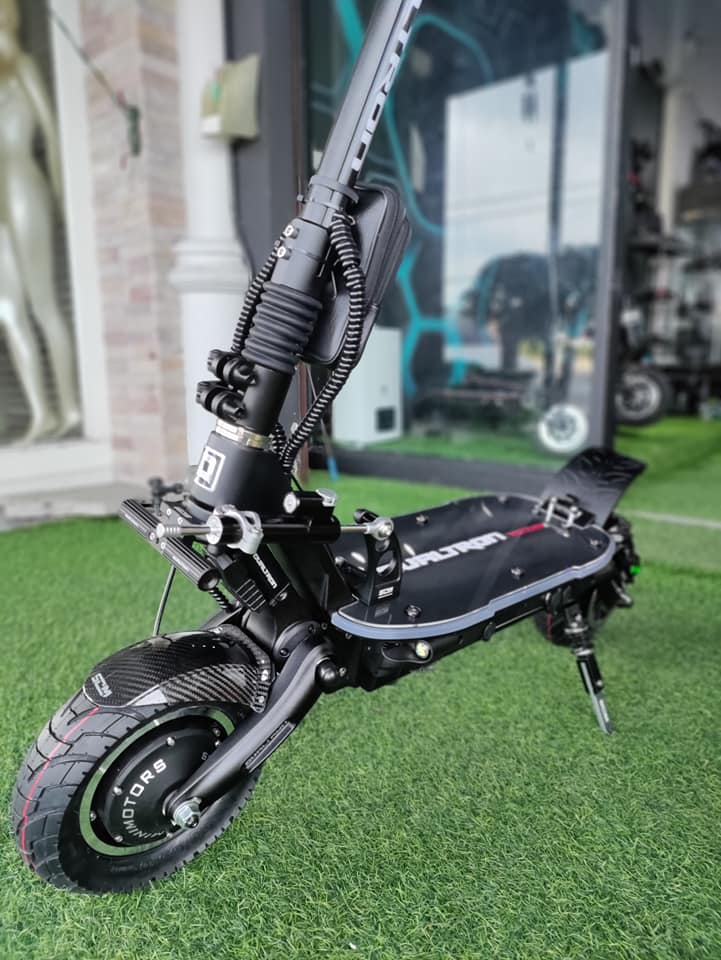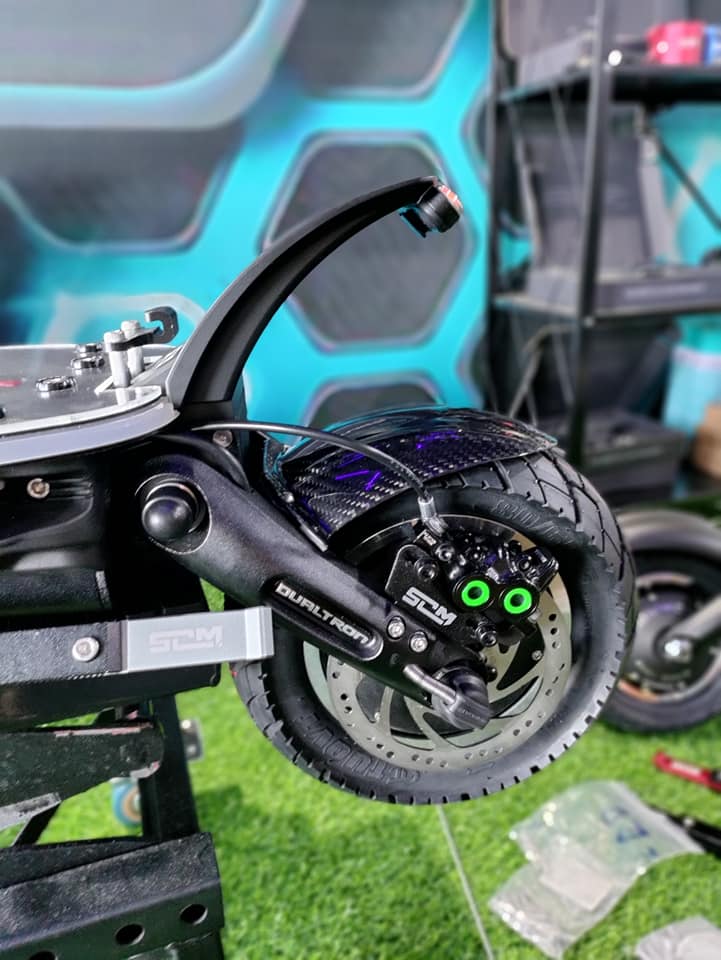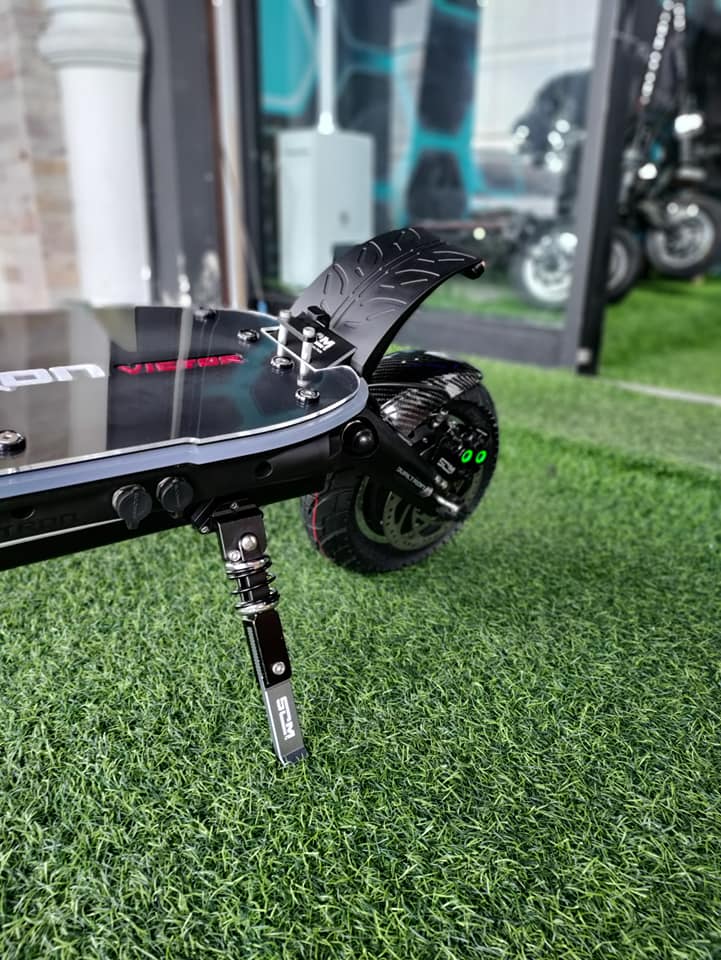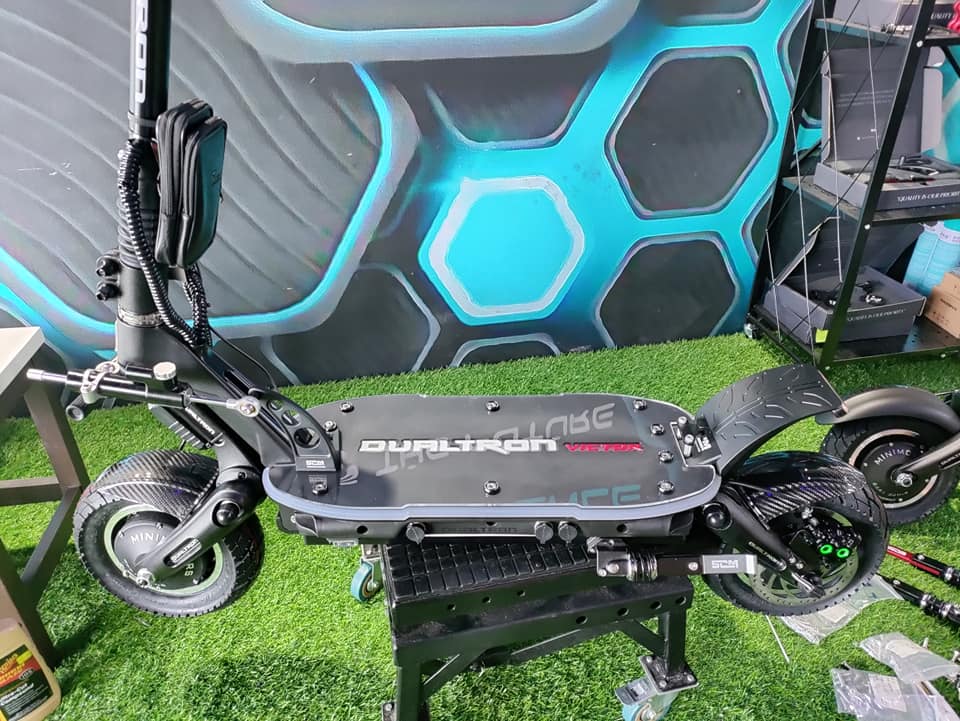 More Minimotors Electric Scooter Resources