Ride & Glide breaks the internet with their jaw dropping video review of the Nami Burn-E Viper Electric Scooter
We've got to hand it to these guys, this has got to be one of the best electric scooter review videos ever created! Major kudos and congratulations to the Ride & Glide team, they have really set the bar out of reach for any of the current electric scooter reviewers of present time.
Nami Viper Electric Scooter Review Video
Covering the top level facets of any electric scooter, the Ride & Glide team cover all of the many features of the Nami Viper, and meticulously answer any questions respective riders would have, including:
00:00 – Introduction 01:00 – Design and specification 06:56 – Off-roading 11:54 – Top speed test 16:40 – Acceleration 17:28 – Braking 19:11 – IP Settings
For any perspective rider, especially in the UK, check out their youtube channel and make sure subscribe to their channel. They have some of the best quality electric scooter vehicles and inventory to send you rocketing in to the 2021 riding season.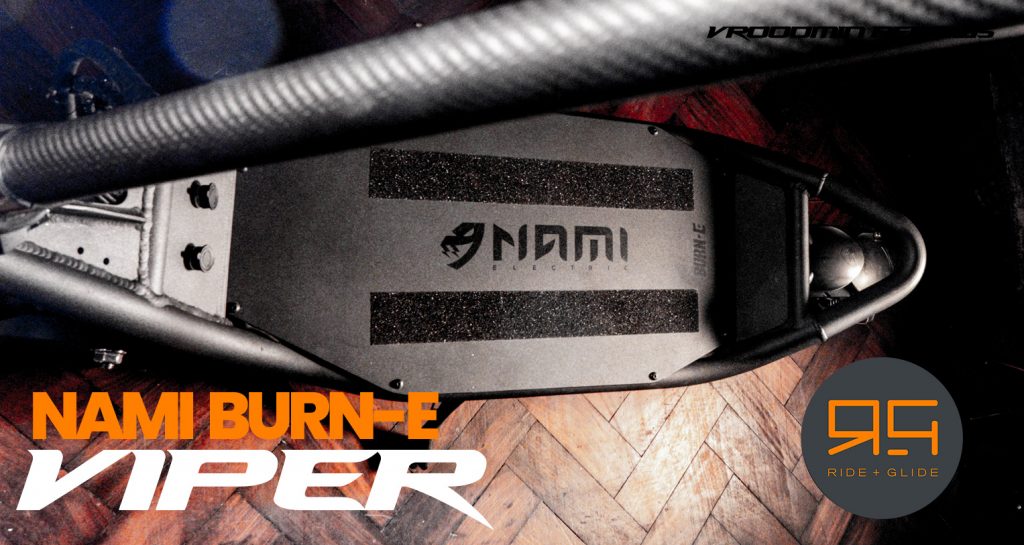 Nami Burn-E Viper Electric Scooter Features
72V 35Ah battery pack powered by Panasonic 18650 cells
Adjustable 165mm hydraulic coil suspensions for ultimate comfort
NUTT hydraulic disc brakes with 160mm discs for superior stopping power
Innovative Carbon Fibre Steering Column for flexible and comfortable handling
Water resistant IP Rating for peace of mind in most wet conditions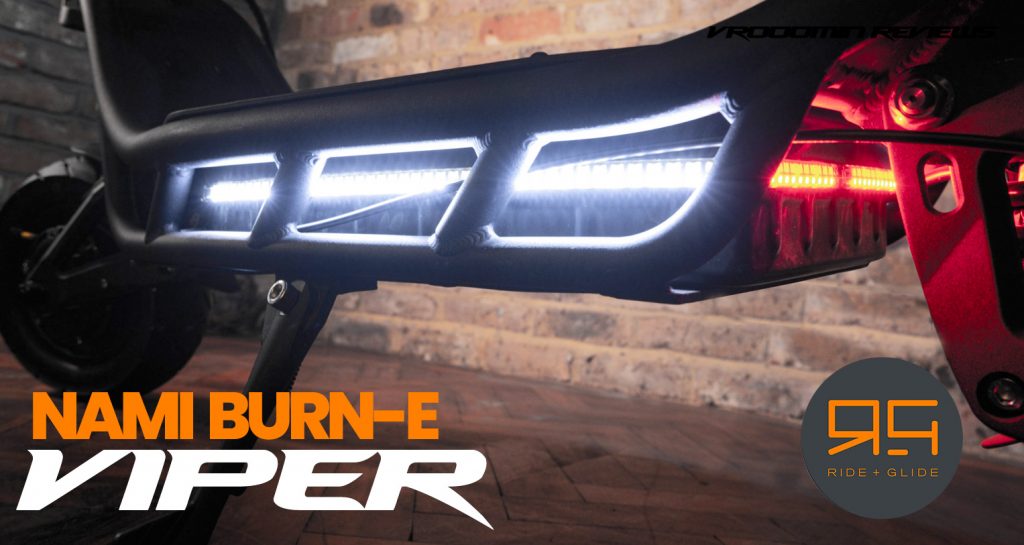 Frequently Asked Questions
Whats the Nami Burn-E Vipers top speed?
Depending on the rider and road conditions, the top speed can reach 60 mph or 100 km. For most riders, a speed between 15 mph to 40 mph is more realistic in city riding conditions. Please accelerate with caution and in open safe spaces.
Whats the battery pack charge time?
Up to 12 hours, depending state of charge. With two chargers, up to 6 hours to charge to 100%.
Which tires do you recommend?
For street riding, we recommend street tires, for off-road and gravel riding, we recommend off road tires. Both tire types are available.
Whats the Nami Burn-E Vipers max load?
The Viper can take up to 330 lbs. The Viper is designed for one person to ride, do not load more than 1 person while riding.
Whats the difference between sine-wave and square-wave controllers?
Sine-wave uses a smooth and constant push while you accelerate, while square-wave attempts to simulate the same acceleration but uses constant jabbing/nudging instead of an even "push". Sine-wave controllers are way smoother acceleration in comparison.
Top Speed
60 mph, 100 km
Max Range
Up to 100miles, 150km (60kg load, 25 degrees of ambient temperature Based on the flat road 30km/h constant speed driving)
Standard Charge Time
12 hours charging time with two chargers is 6 hours
Weight
103 lbs, 47 kg
Max Load
330lb, 120 kg
Braking
Front and Rear Nutt full hydraulic brake with 160mm rotor and cooling fin pad
Motor Size
1500Wx2 with hall sensor / Peak at 4200Wx2
Display Features
Smart display with riding mode setting ability / Parameters setting for each controller is independent Smart cruise control / Over heat protection built in / IP65
Lighting
2000 lumen front led light, / Side LED strip integrated with turn signal / Motorcycle horn /
IP55
Size when folded LxWxH
1346mm x 620mm x 640mm
Tyres
11 inch tubeless tire 90/65- 6.5 / Street or off road
tyre available
Cable System and IP Rating
Quick connection for all electric component, for the
cables near handle bar and under the deck / IP 55 for the whole scooter
Motor Type
1500Wx2 with hall sensor / Peak at 4200Wx2
Battery
72V 35AH 18650 panasonic cell
Frame
One piece aviation aluminum welding frame / Solution and aging heat treatment
Suspension
165mm length KKE hydraulic coil shock with rebound adjustment
Controller
12 mosfet / 50a max current controller x2 / Sine
wave, ip65
Folding System
Patent designed thread lock taper folding system /
304 stainless steel folding parts
Charger
Standard 2x 3a quick charger / Dual charging port
in the scooter
Handlebar
31.8mm diameter / 620mm length handle bar
Main Dimension
Overall size:
1346mm x 620mm x 1446 mm
Hanlde bar to deck, 1090mm in height
Deck cover:
564x312mm, 766mm in length
include rear foot rest
Ground clearence:
150mm min at kickstand
base,Top of the deck to the
ground 292mm
Package size
1405mm x 355mm x 690mm
PREORDER now and save $300 with code NAMIINAUGUST300. Shipping at the end of May. 
Join Michael on Facebook and Instagram to get the latest scoop on his journey.