eWheels just released their latest 67V Rocket, the 2021 Weped GTR Electric Scooter
Multi-colored LED's, curved stems, thick ultra wide tires, and aggressive chassis's are what come to mind when you hear the name Weped. The legendary Korean electric scooter manufacture has been producing extreme performance electric scooters for a few years now and have become a coveted brand for the few who look to ride past +50 MPH.
For those who dare, the Weped GTR will take you past 60 MPH.
SUMMARY
eWheels is now a US distributor

of

Weped Electric Scooters
Weped electric scooters are highly sought after hyper electric scooters
All Weped scooters are designed and hand built in South Korea
Each scooter is produced in small batches to assure the highest quality
The Weped GTR Electric Scooter starts at $5,300
BONUS: Order Now & receive Free 5A Fast Charger
It's undeniable, the Weped GTR may be the fastest production 60V electric scooter on the market
Like lightning and thunder, the GTR comes in at 77 lbs and armed with a 20KW drivetrain. Making the Weped GTR one of the lightest and strongest electric scooters on the planet. The GTR will outperform any 60V electric scooter on the market, most 72V scooters included.
Definition of performance.
Ascending to 60 MPH will only take a few beats.
Thoroughly tested, honed, and perfected, the Weped GTR is the epitome of pure electric scooter performance. The fire-breathing heart of the GTR is its signature twin 80A/5KW motors (same as the SST), wired to its twin 60V 100A controllers and 2,700WH Samsung battery pack, this dragon has been tuned to output a combined peak of 20,000W.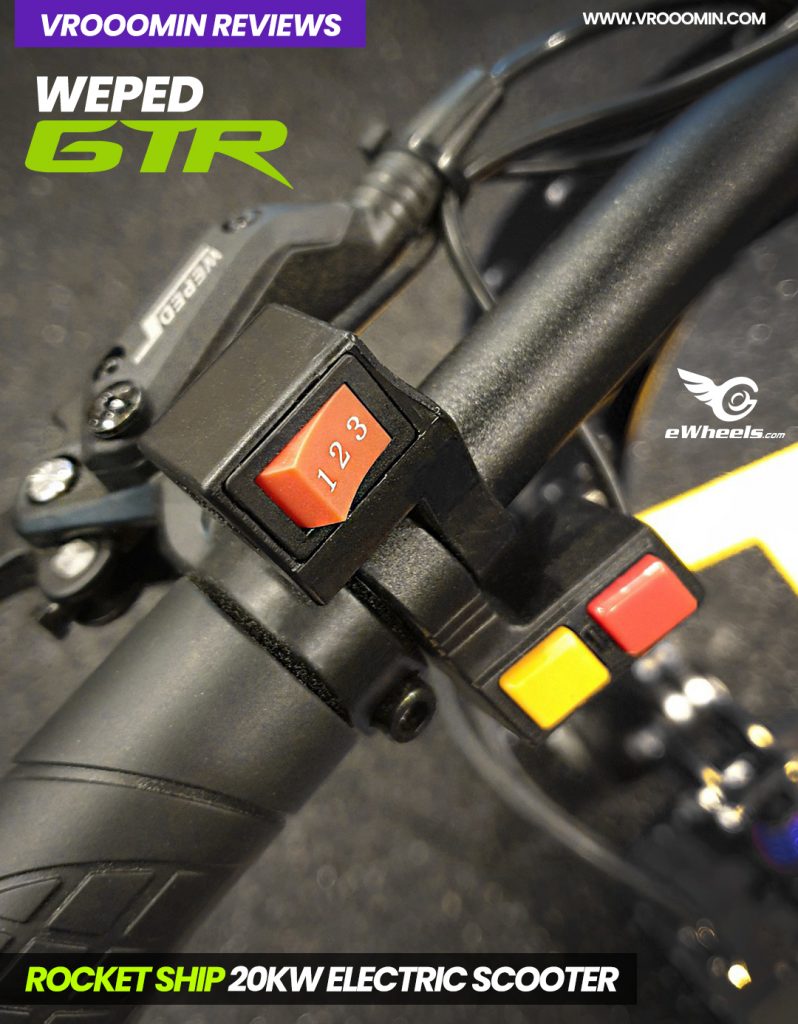 Designed by passion.
Developed and Hand made in Korea
From start to finish, each aspect of the Weped GTR's creation was a true labor of love. Taking in the GTR's iconic curved stem, 10×4″ Ultra wide tires, clutter free & minimal cockpit, to its 77 lbs aggressive chassis, the GTR is compact, light weight for its power, and screams high performance. The GTR is produced in small batches ensuring the highest quality assurance.
Pure Riding Pleasure.
Speed Modes: 1, 2 & 3
Because daily driving isn't a top speed contest, the GTR offers 3 levels ranging from normal to sport driving modes. Level 1 (Normal mode) is perfect for your commute, offering a smooth, easy and effortless acceleration. Levels 2 and 3 allows you to up the ante with her acceleration curve and top speed, transforming the GTR into a true track-dominating beast.
Weped Hydraulic brakes & Thumb Throttle
High speed acceleration and fatigue-free braking is what makes for unforgettable ride experiences. With each release of the Weped hydraulic caliper and light press of the thumb throttle, all of the GTR's senses heighten, giving you instant gratification and a whole lot of adrenaline.
Front and Rear Active Motor Control
The Weped Active Motor Control system applies variable current and torque between front and rear motors, allow for smoother acceleration at higher wattage. Without the system, the GTR would be too difficult to control, especially when you're pumping +5KW through each motor.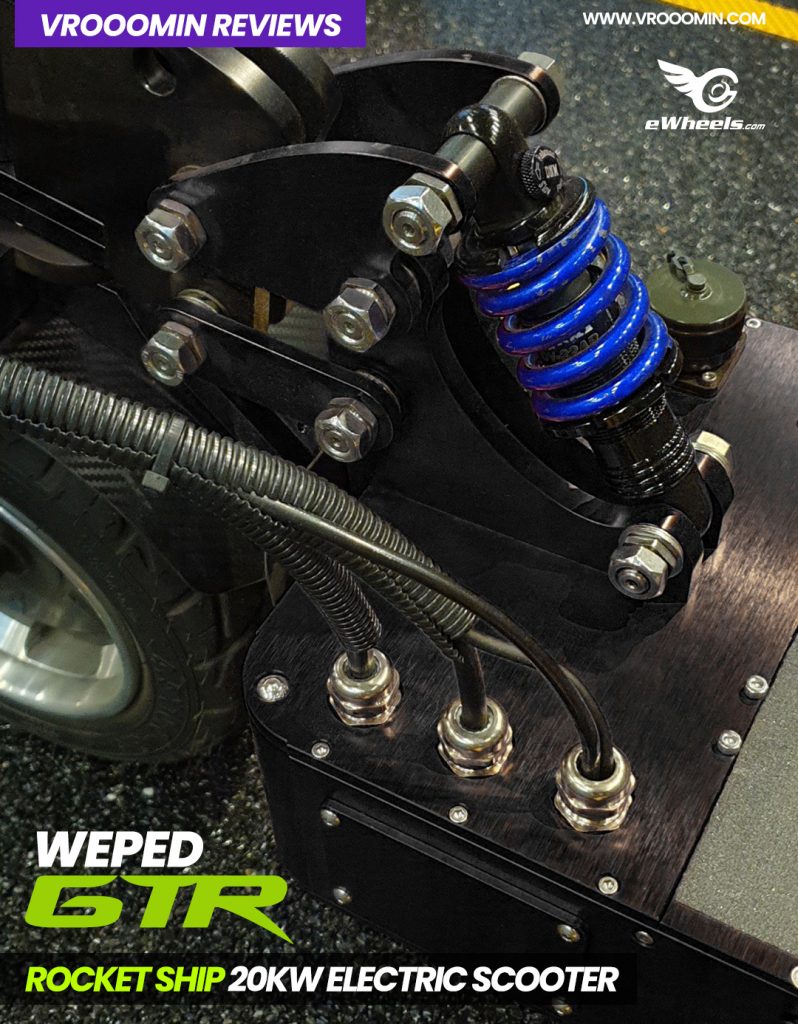 Can you handle 20KW?
With so many extreme performance beasts entering the 2021 riding season, it's challenging to keep up with the latest models hitting the market!
For the latest sports electric scooters, check out the 2021 Electric Scooter Directory and Database, you can also compare the GTR specs with all the latest scooters on the market.
For even more power, check out the GTR's bigger brother, the Weped SST electric scooter.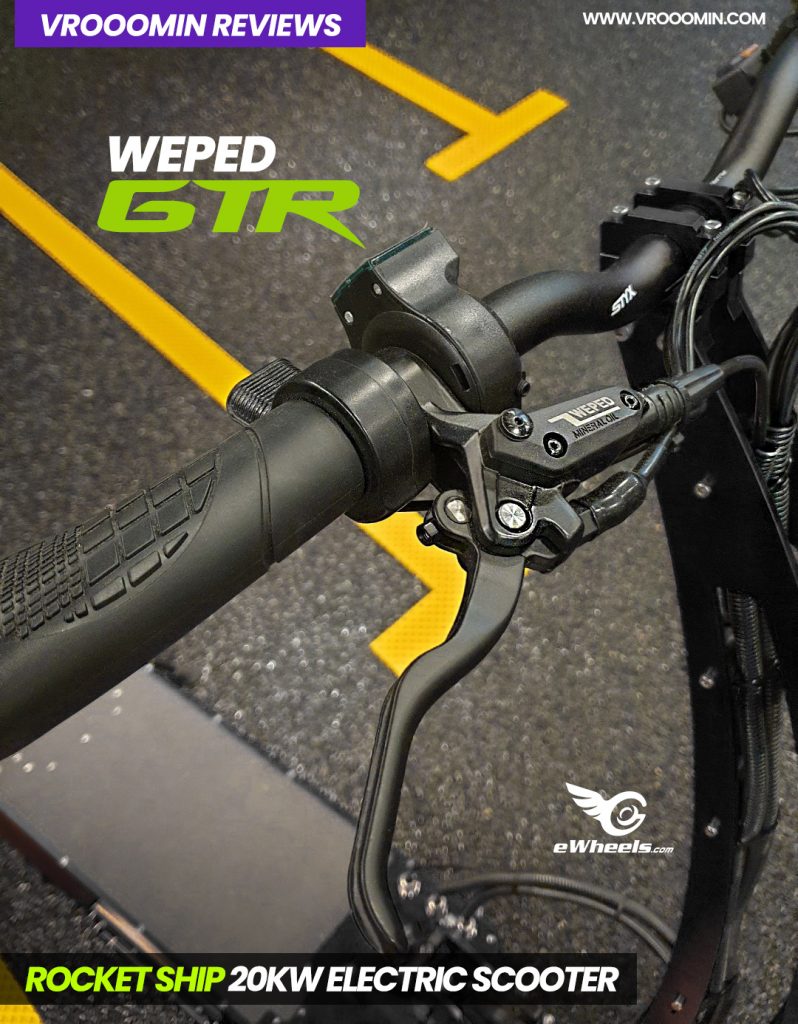 Price: $5,300 + Free Fast Charger!
Motor: MAX 20,000 watt BLDC dual hub motors – Powered by the same motors as Weped SST
Controller: 60V 100A x 2 Controller
Battery: 60V – 45 Ah – 2,700Wh – Samsung 21700 cells
Charge time: 5 hours with fast charger
Max mileage: 80 miles – average could be 30-60 mixed speed miles, all depends on usage
Max Speed: Up to +65 MPH (depends on road conditions and state of battery charge)
Climbing Grade: 70% or 35 degrees depending on rider weight and state of charge (climbs very steep hills with no problem)
Braking System: Front and Rear disk brakes with ABS standard (powerful stopping power with Weped Hydraulic brakes)
Suspension: Front coil & rear spring shocks
Tires: 10×4.5″ Ultra wide tubeless tires
Max Load: 300 lbs – Stronger motors and battery supports heavier riders
Scooter Weight: 77 lbs – Made for high speed stability, one of the lightest chassis for its power and size
Dimensions: The approximate box dimensions are 52x14x20″
Weped GTR Acceleration Test Video by Numo
Free 60V Fast Charger when you order through eWheels!