SUMMARY
The 62 mile long range electric scooter starts at $1,400
Save 7% off the EMOVE Cruiser with Coupon Code: "vrooomin"
New Color Options: purple, white, red, black, orange
Drivetrain upgraded with 20% Increased Top Speed
Upgraded handlebars
NEW Fenders
NEW Battery Packs use 21700 cells
The EMOVE Cruiser is one of the most popular beginner electric scooters of 2020 and 2021
The Cruiser tops off at 25 MPH, more than enough power and speed for inner city and bike lane riding
Save 5% off Armor-Dilloz tire sealant with Coupon Code vrooomin05
Save $10 off Magicshine Lights with Coupon Code vrooomin10
Check out the Vrooomin Youtube Channel for Escooter & EUC Videos
2021 Emove Electric Scooter Review
Last week, a work colleague of mines asked for a recommendation for an electric scooter, naturally, my knee jerk response was, "Get the Dualtron Ultra 2, Nami Burn-E Viper, or the Weped SST would be awesome!".
Then it dawned on me, most electric scooter beginners:
Want a strictly commuter scooter to get from point A to point B
Don't have the need for speed, 25 MPH is fast enough for them
Aren't familiar with all the scooter specs, features, and lingo

Looking for best option their money can buy

Have a strict/set budget, $1,000-$1,500
What's the highest range, best value, $1,400 electric scooter on the market?
People say it's the EMOVE Cruiser because she's reliable, light weight, low cost, and provides an insane 62 mile range! Sporting a max 1,600W drivetrain, 52V 30AH battery pack, 52 lbs chassis, and a $1,400 price tag, the EMOVE cruiser is proof the practicality, quality, and affordability can be packaged into a "just right" electric scooter.
SPEED & DRIVETRAIN
The Cruiser's drivetrain and power is perfect for casual riders, Not too fast, not too slow, just right for getting things done! The single hub motor is great for beginner riders, advanced riders prefer dual motors for sport riding.
Single 1,600 Watt motor and 25A controller can take riders up to 25 MPH
20% gradient will allow riders to get up most hills, inclines, and bridges without a sweat
20 MPH is the speed limit for most inner city and bike lanes

Controller provides calm acceleration curve for smooth and controlled riding experience

Perfect power for riding to work, errands, and picking up takeout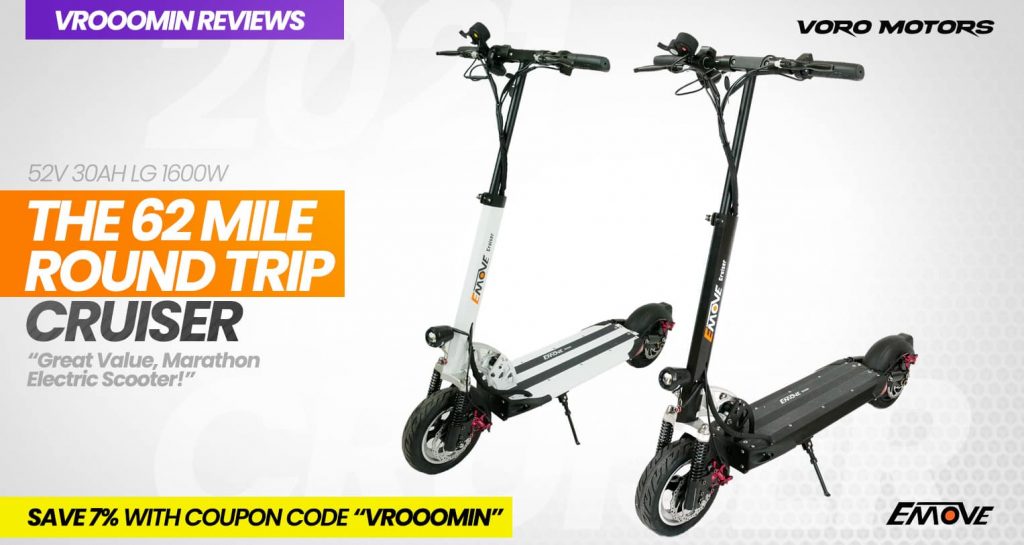 BATTERY PACK
The Cruiser sports a 52V, 30AH, 1,560WH LG 21700 cells battery pack that can take you around the block for up to 62 miles! Thats alot of range for a scooter of this size. While the Cruiser isn't the quickest in terms of acceleration power, it makes up for it in range and distance.
Great for riders who want to go the distance without charging frequently
Perfect for long rides to get air and relaxation
LG cells are some of the best in the market for long life cycles
Allows riders to enjoy without fear of running out of battery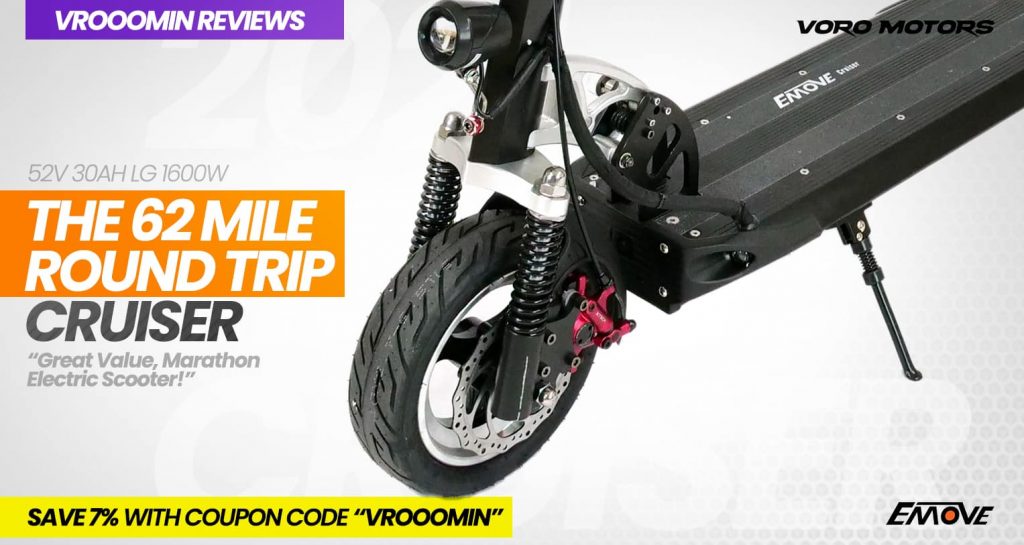 CHASSIS & SUSPENSION
The Cruiser is built on the classic first generation Speedway 5 chassis with curved front folding stem. The folding handle bars, front stem, and curved neck make for the classic scooter look and feel that we are all familiar with. Cruiser owners love the classic design and creates for a more friendly non aggressive look. What I love about the Cruiser is that it provides upgraded comfort features not found in many scooters within its price range:
Easy folding handlebars for storage
Dual spring suspension for comfort over bumps and city riding
Semi hydraulic brakes that allow for less hand fatigue (regular mechanical brakes will make your hands and wrist sore after long usages)
Secure folding lock mechanism
Wider deck for standing comfort
Tubeless pneumatic tires for comfort and less punctures
IPX6 Water Resistant Rating: While not recommended, the Cruiser can withstand riding in light/medium rain
Key locking system
Seat options available!
Thumb and Twist throttle options available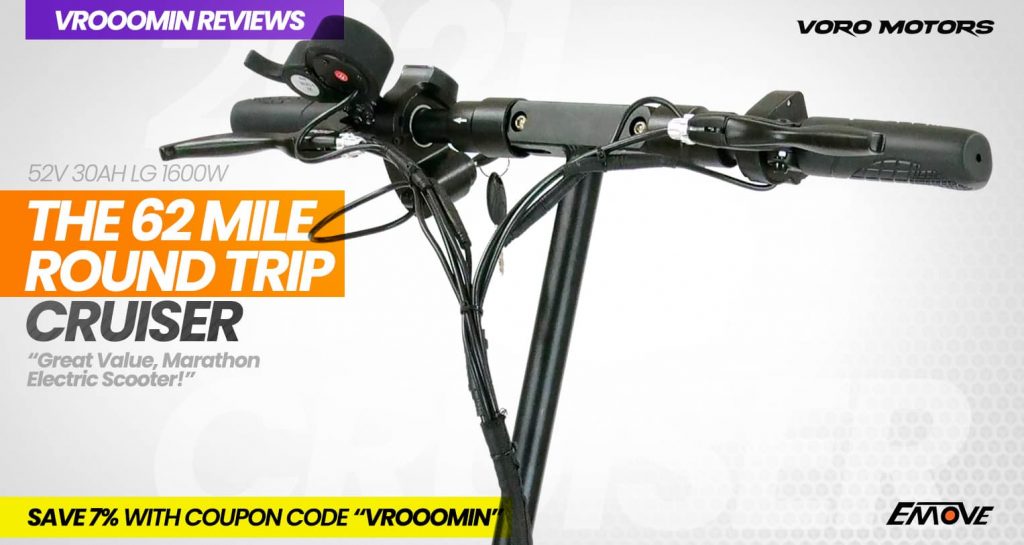 SAVE 7% OFF THE EMOVE CRUISER WITH COUPON CODE "VROOOMIN"
Is the EMOVE Cruiser Fast?
For most people, 25 MPH is plenty of speed to get them from point a to point b. As a matter of fact, the speed limit for bike lanes is 25 MPH for safety reasons. The Cruiser's 1,600W motor can top off at 25 MPH, which is more than enough speed and power to climb hills, bridges, and overpasses to get you to the office without a sweat.
For Cruiser riders, you can expect the acceleration curve to be smoother and not jerky. Perfect for riders who want a calm and tame riding experience. To get to the max speed, riders will need to go full throttle to reach its top speed of 25 MPH. Half to 3/4 throttle will take you to 15 – 22 MPH.
For riders who have the need for speed, check out the Best Extreme Performance electric scooters for 2021, these scoots can go past 60-70 mph! They also cost $4k minimum, out of scope and budget for most beginner riders.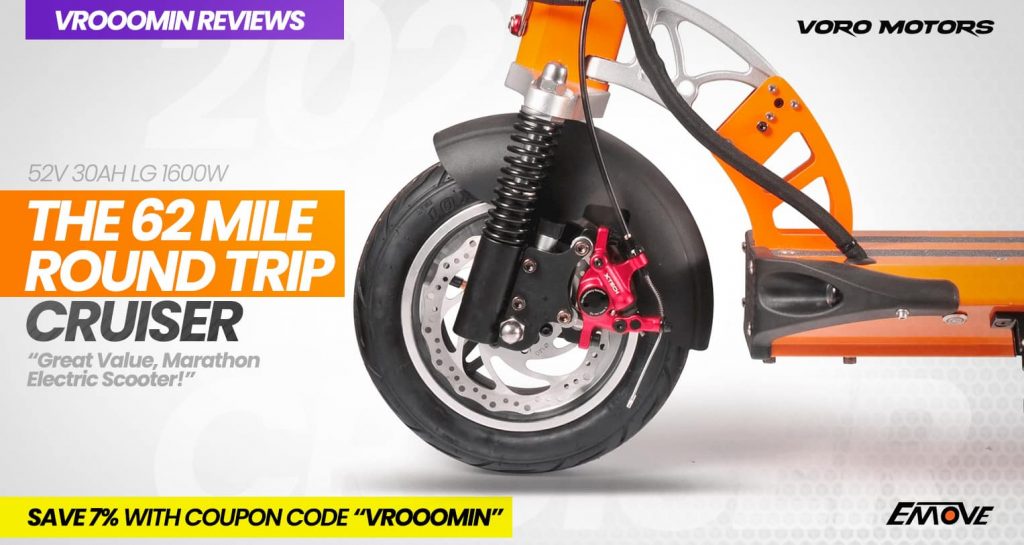 Is 62 Miles enough range?
62 miles is a lot of range for an electric scooter, most other scooters in the same class as the Cruiser have 1/2 of the range. The reason being, the other scooters in the price range have smaller batteries and larger watt motors and controllers, which allow for those scooters to hit higher speeds 25-32 MPH, but only have 25-35 miles of range. The Cruiser was built for riders who don't have the need to ride at high speeds (20-25 MPH), but rather go the distance (up to 62 miles).
Is the 2021 EMOVE CRUISER worth it?
If you're looking to pick up food, run errands, get to work, and not worry about running out of battery, the Cruiser is definitely worth considering. The Cruiser is a long distance scooter, it's meant to be tame, light weight, and fit within most peoples budgets. For $1,400, the Cruiser has everything most people need and want.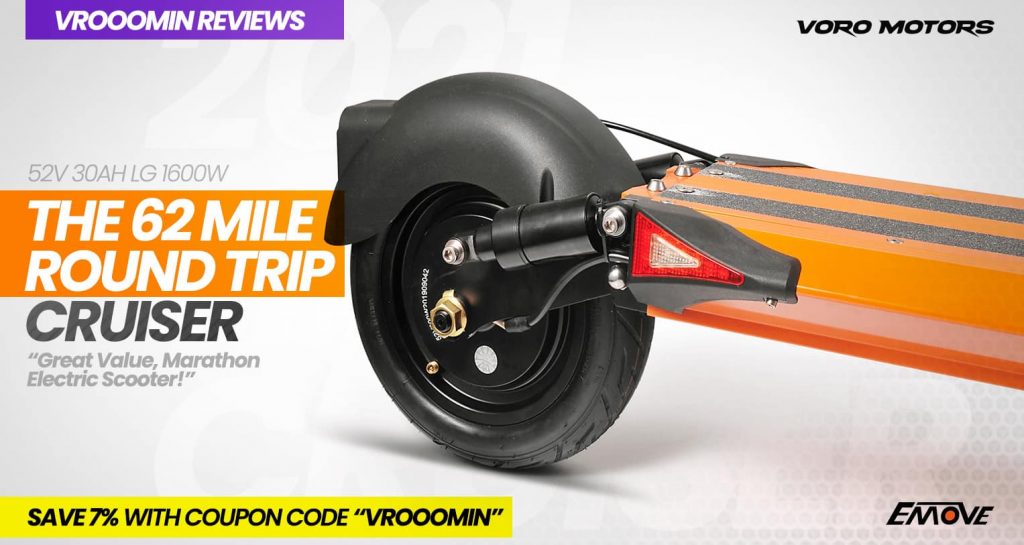 Emove Cruiser 2021 Quick Review Video
Price: $1,399 (Save an additional 7% off with Coupon Code: Vrooomin)
Motor: MAX 1,600 watt BLDC dual hub motor – Powerful for size and cost
Controller: 52V 25a Controller – Great for calm acceleration and long range
Battery: 52V – 30 AH – 1,560Wh – LG 21700 cells – Quality LG 21700 cells battery pack for long usage
Charge time: 8 hours with standard charger
Max mileage: Up to 62 miles – Depends on usage, climbing gradient, rider weight
Max Speed: 20-25 MPH, depending on state of charge and road conditions
Climbing Grade: 20% Gradients
Braking System: Semi Hydraulic Brake Calipers
Max Load: 352 lbs – Cruiser can support heavier riders, performance may be effected
Scooter Weight: 52 lbs – Lighter and more portable compared to stronger dual motor scooters
Are you team Cruiser?
Let me know in the comment section below!