The Magicshine MJ906 lights are some of the best high-output, low-cost lights available for Electric Scooters
Cheaper $20 Amazon lights just don't cut it
For the past year, I've had countless close calls during my night rides, all due to not having sufficient vision of potholes on the road. My low cost Amazon lights claim to have 800-1200 lumens, but their feint output says otherwise. This is extremely dangerous as one wrong move and you can find your self flipping over your handlebars.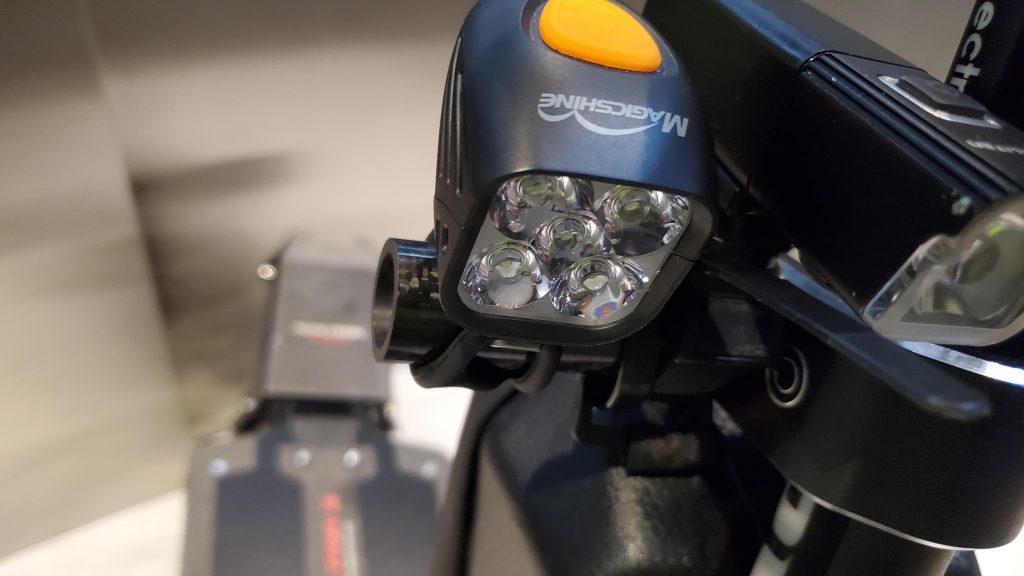 Magicshine MJ906 Headlight are Insanely Powerful
At $160, the Magicshine lights are pricier then most beginner lights but for good reason. These lights output 5K lumens in its a highest settings! 5k lumens is more than enough lumens to keep you riding safe during the night rides.The biggest obstacles us riders face while riding is avoiding dangerous objects and pot holes. Be careful though, these lights can blind other people if used improperly.
The Magicshine has 5 different modes and battery life per usage:
Mode 1 – 20% – 1000 lumens – 10 hours
Mode 2 – 50% – 2500 lumens – 5 hours
Mode 3 – 75% – 3750 lumens – 3 hours
Mode 4- 100% – 5000 lumens – 2 hours
Mounting and usage Tips:
Mounting the Magicshine lights is easy! Make sure to first charge your battery pack and then plug the headlights and tail lights into the battery pack. I use a portable scooter bag to house the battery pack, along with either misc tools and bike pump for maintaining my scooter. Once the batter pack is secure, mount the headlights, taillight, and remote to the handlebar with the rubber mounts.
Make sure to angle the beam down towards the ground, anything higher can blind oncoming traffic and pedestrians.
Magicshine lights are highly recommended for Electric Scooter riders
The Magicshine MJ-906 is one of the brightest and best value electric scooter headlight combo sets on the market. These lights are highly recommend for riders who riders who need to upgrade their lighting systems. Watch the full review video below.
Magicshine MJ906 Review Video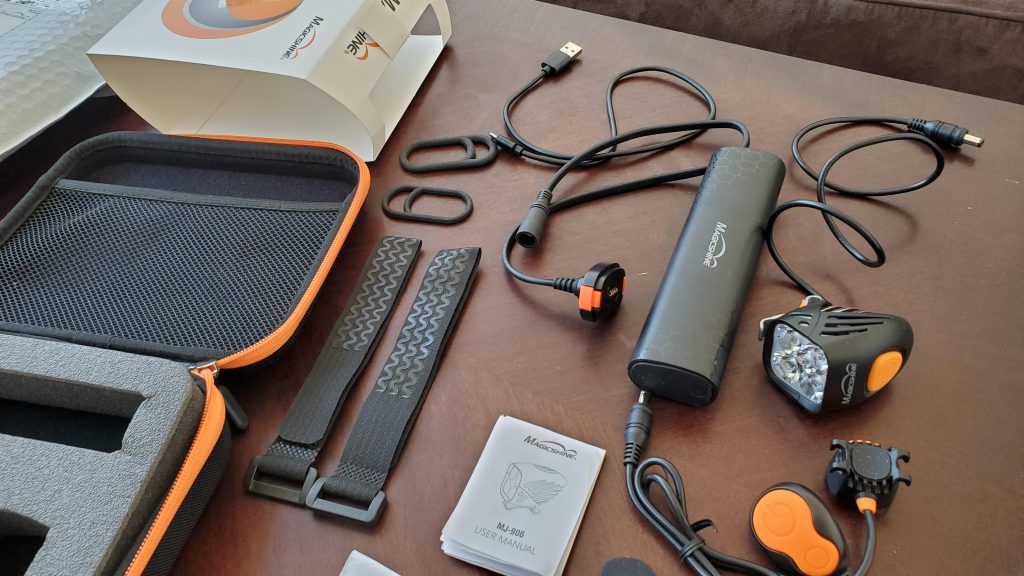 Magicshine MJ906 Review Summary
Insanely bright lights – 5000 lumens of max possible output from 5x CREE XM-L2 LEDs
Far reaching beam – 210m max beam distance, 11000CD beam intensity
5 different modes – 100 – 75 – 50 – 20% power modes plus flash mode
Long battery – 1.8 hours runtime on full brightness, 10 hours in lowest settings
Easy to charge – 7000mAh USB rechargeable battery pack that can charge other mobile devices
Easy to use – 2.4G remote control, handlebar mountable
Safety – 15 lumen red rear light
Easy to mount – O-ring mount
Weather resistant – IPX4 water resistant
How does the Magicshine MJ906 work?
Magicshine MJ-906 bike light combo. Including a front light head, a wired rear light and 2.4G remote control. Ideal for most mountain bikers and electric scooter riders.
The Magicshine MJ906 combo includes:
1 headlight 5 x CREE XM-L2 LED's 210m max beam distance, 11000CD beam intensity
1 red taillight – for extra visibility from the rear
USB rechargeable 7.4V 7.8Ah battery pack
2.4G remote control, handlebar mountable
Mounting straps & accessories