Hi guys! VROOOMIN.COM uses affiliate links on some of the products we cover. Please support the channel and use our links if you find the content helpful! Contact us at info@vrooomin.com.
SUMMARY
Latest Electric Motorbike by SUPER73
Starting at $4,500
Top Speed: +32MPH
Battery Pack: 960 watt-hours, 21700 cells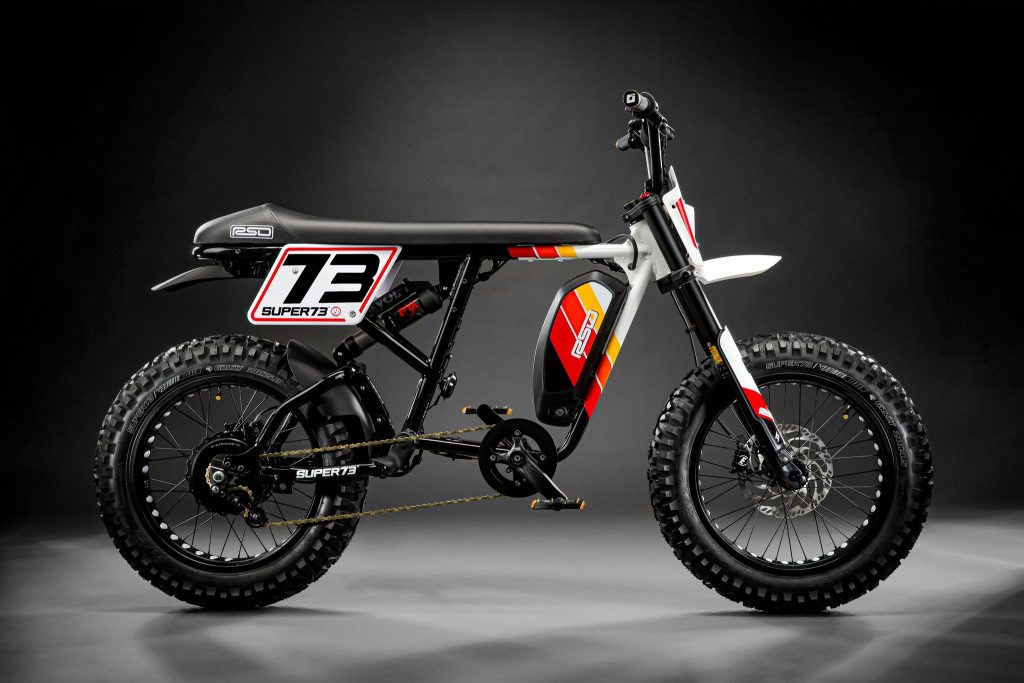 Electric Motor Bike company, SUPER73 launches new collaborative ebike with Roland Sands Design, RSD. The new e-bike offering is based on the flagship SUPER73-RX, reimagined into an off-road racing style prototype. The Malibu is upgraded with Fox suspension, Magura hydraulic calipers, and R series 2KW motor.
SUPER73 RX with major performance upgrades:
Relocated battery lowers the center of gravity and makes the bike feel lighter for improved handling
Adjustable Fox shock for better handling and a smooth ride on and off road
Magura performance hydraulic brakes for superior stopping power at low and high speed
Moto-style seat developed with RSD making the ride super comfortable
Custom paint and graphics that make your RSD x SUPER73-RX MALIBU stand out from the crowd
Moto-style seat developed with RSD making the ride super comfortable for long and short rides
20" x 4.5" front, 20" x 5" rear SUPER73 GRZLY tires can tackle the roughest roads on any occasion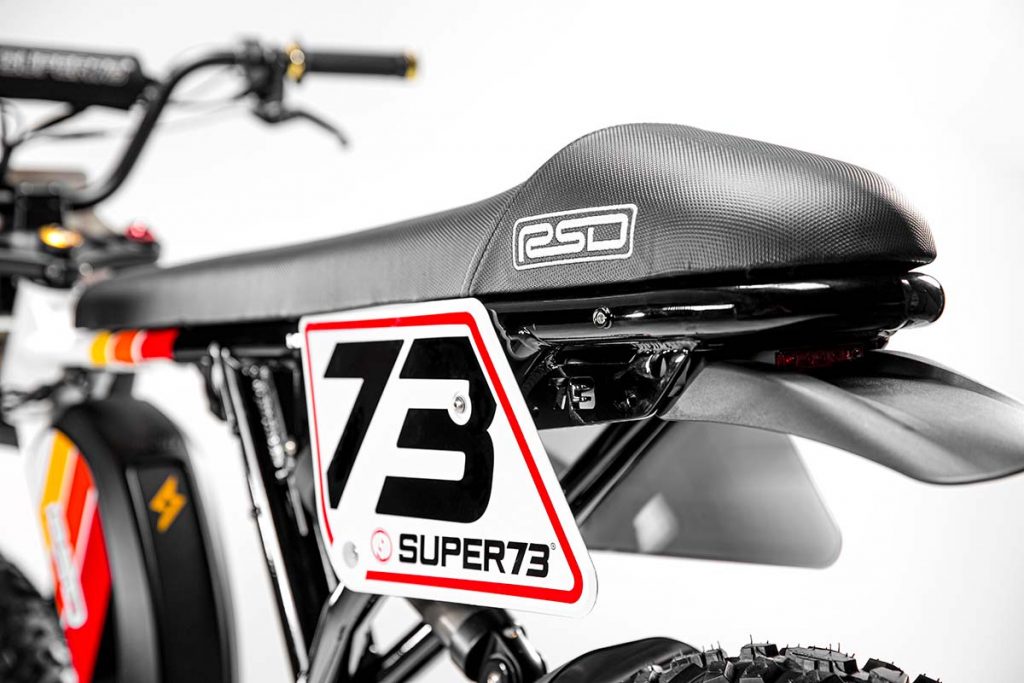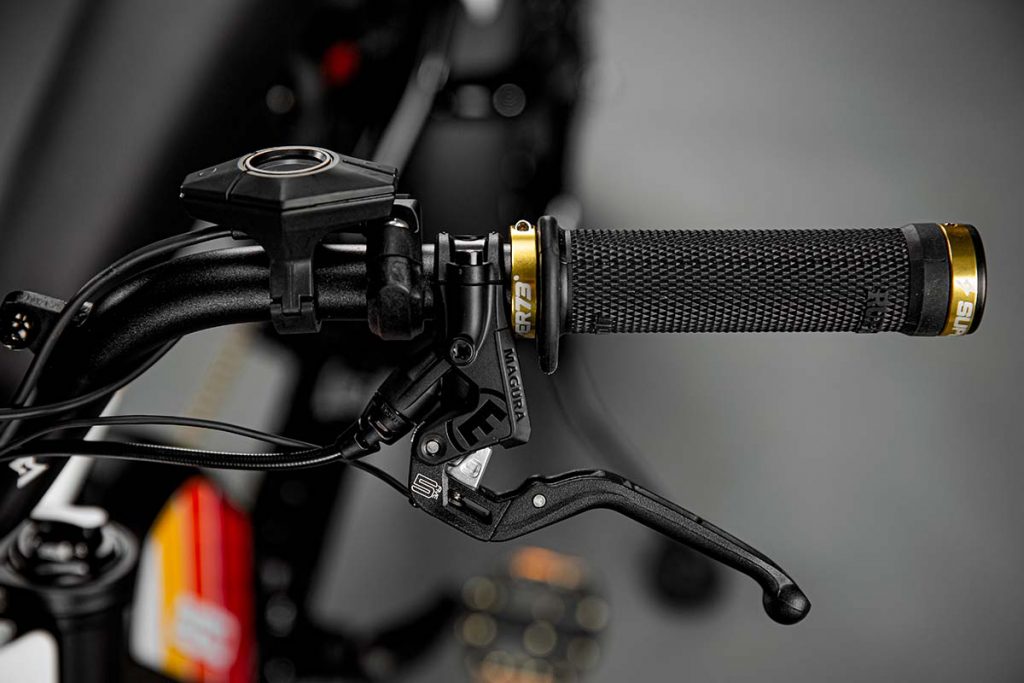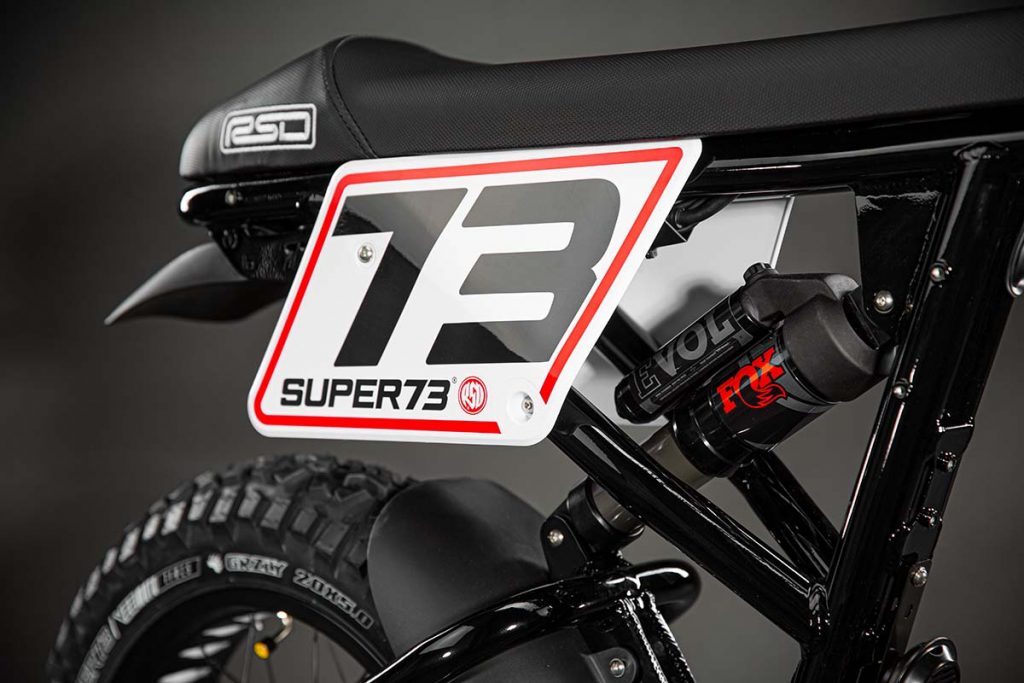 PARAMETER
SPECIFICATIONS
Frame:
6061 / 7005 Aluminum Alloy, 1-1/8″ to 1.5″ tapered head tube
Color(s):
Malibu
Motor:
Class-1 Mode Output: 750 watts nominal / 1200 watt peak Class-2 Mode Output: 750 watts nominal / 1200 watt peak (Default) Class-3 Mode Output: 750 watts nominal / 1200 watt peak Unlimited Mode Output: 1200 watts nominal / 2000 watt peak
Top Speed:
Class-1 Mode: 20mph (throttle deactivated, pedal assist only) Class-2 Mode: 20mph Class-3 Mode: 28mph (throttle deactivated, pedal assist only) Unlimited Mode: 28mph +
Battery:
960 watt-hours, 21700 cells
Weight:
80lbs (w/ battery), 70lbs (w/o battery)
Front Hub:
15 x 150mm thru-axle aluminum alloy
Rims:
20″ x 100mm alloy with lightening cutouts
Tires:
Front: 20 x 4.5″ / Rear: 20″ x 5″ GZRLY
Inner Tubes:
20″ x 4.5-5″, angled valve stem
Brakes:
Magura 8.P/9.P
Suspension:
Inverted Coil Spring Fork Adjustable preload and rebound damping, 120mm travel
Fox Float 3 Evol Shock w/ adjustable main and Evol air springs
Display:
Transflective Monochrome LCD + Mobile Device
iOS + Android Compatible:
Yes
IoT Connectivity:
Optional accessory sold separately
DC/DC Converter:
48v to 12v (120 watt)
Headlight
Roxim Z4E Elite, 600 Lumen LED
Tail Light
Roxim R3E LED w/ brake light
Turn Signals:
Optional accessory sold separately
Horn:
Roxim ZHRK-01 w/ integrated horn switch
Charger
3A (6-7 hour charge time) / Optional: 5A (3-4 hour charge time)
Throttle:
Thumb throttle
Pedal Assist:
4 modes (ECO, TOUR, SPORT, SUPER)
Bottom Bracket:
120mm sealed bearing, square taper
Crank / Front Chain Ring
125mm alloy crank arms, 36T chainring / Optional: 44T chainring for 10 speed gearing
Gearing:
Single speed 16T rear cog / Optional: 10 speed gearing (11-36T)sold separately
Rear Derailleur:
Single speed chain tensioner / Optional: 10 speed Shimano Zee: accessory sold separately
Seat:
Long – Moto style
Passenger Foot pegs:
Optional accessory sold separately
Seat Height:
32″
Weight Limit:
325lbs
You May Also Like
Latest News:
International Electric Scooter and Unicycle Distributors:
Check out the Best Personal Electric Vehicle Dealers in Europe, Asia, and South America:
EMEA + APAC Dealers & Distributors: FASTRIDE, Volt Ride, Dualtron Russia, Dualtron Mega Store, SoloRueda, Dualtron Columbia, Kaabo Philippines, eWheels Thailand, Dualtron Greece, Dualtron Chile, MiniMotors Nordic, MiniMotors Korea, Dualtron Ukraine, iScoot Australia, WEPED Australia, WEPED Korea, Czech Republic: Eco Vehicle, Dualtron Turkey, Dualtron Serbia, EUC Sale, Dualtron Indonesia, New Zealand: eScoozi, UK: Ride + Glide
Vrooomin.com participates in affiliate linking programs to help keep the site going and content coming. We're also an Amazon Associate and earn from refferal commissions. Please use our links and support the channel!